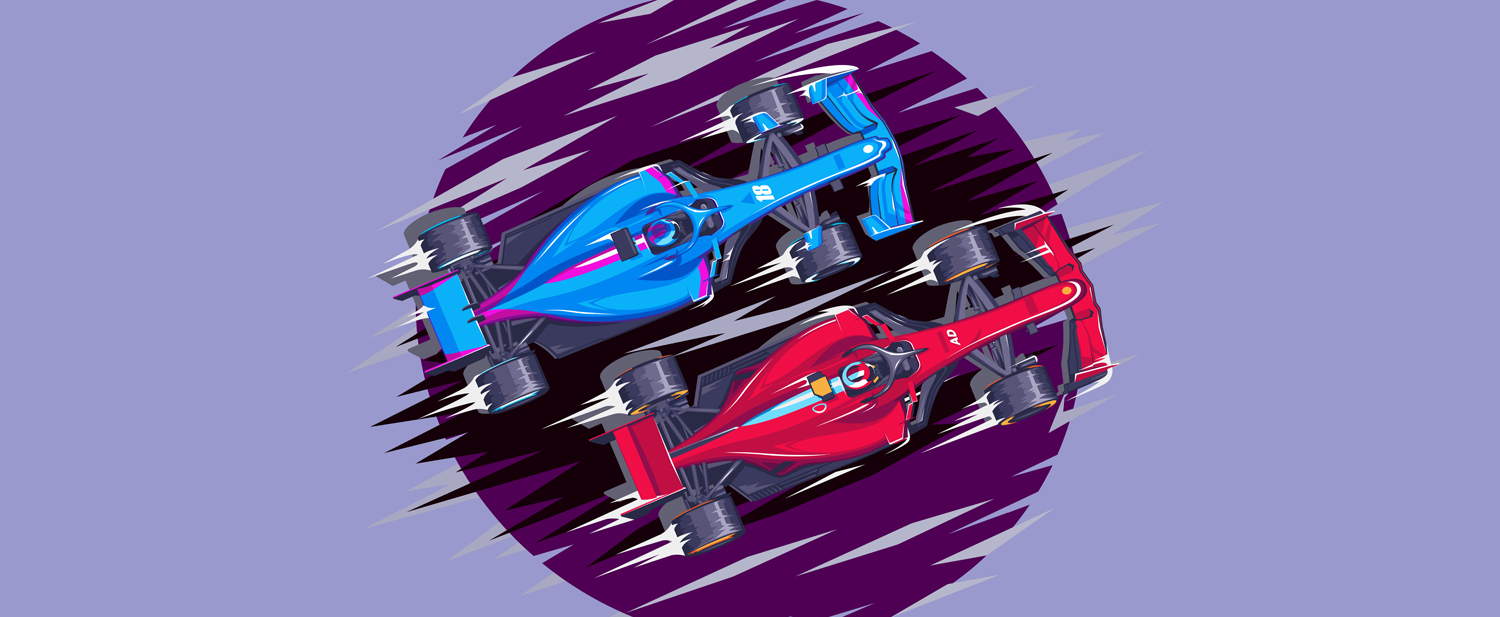 Watch all the races of the 2022 Formula 1 Championship live for free!
Yes! Formula 1 is back for its 2022 season! And what was that madness in the final three laps of the Bahrain Grand Prix? The season opener of the new Formula 1 World Championship was absolutely epic and truly what we had missed!
Red Bull's first nightmare involving Verstappen, who had staged a resilient and thrilling fight against Charles Leclerc up until lap 54, gave Carlos Sainz a window to move into second behind the Monegasque star.
Left with no options, the defending champion retired, paving the way for his teammate Sergio Perez to take the fight to Scuderia while holding off Hamilton. The night, however, disappointed the bulls further as Perez complained of losing power in the last lap of the race.
Mercedes' loose Hamilton, who had seemingly settled for a finish outside the podium, capitalized on the second Red Bull woe, adding onto his podium tally.
But if there is any takeaway after the first race of the 2022 season: It's everything we could have hoped for, and we can't wait to see what comes next.

You can't afford to miss the excitement!
Get ExpressVPN and stream all of the races for free!
Highlights and Key Takeaways so far
Following the conclusion of the first of twenty-three races, it appears Ferrari and Mercedes had a case playing down their expectations ahead of the season. The two alongside Red Bull were (and will likely be for the rest of the season) the talking points under the lights of Bahrain.
As big fans of the sport, here are our takeaways from the start of the season, and everything you can expect going forward.
Ferrari got the perfect start in Leclerc, who converted pole, and Sainz, who made it a 1–2 finish for the Italian outfit. Ferrari! This is the first time Ferrari managed to pull this feat since 2019, and boy did we ever miss Ferrari being an actual contender for once.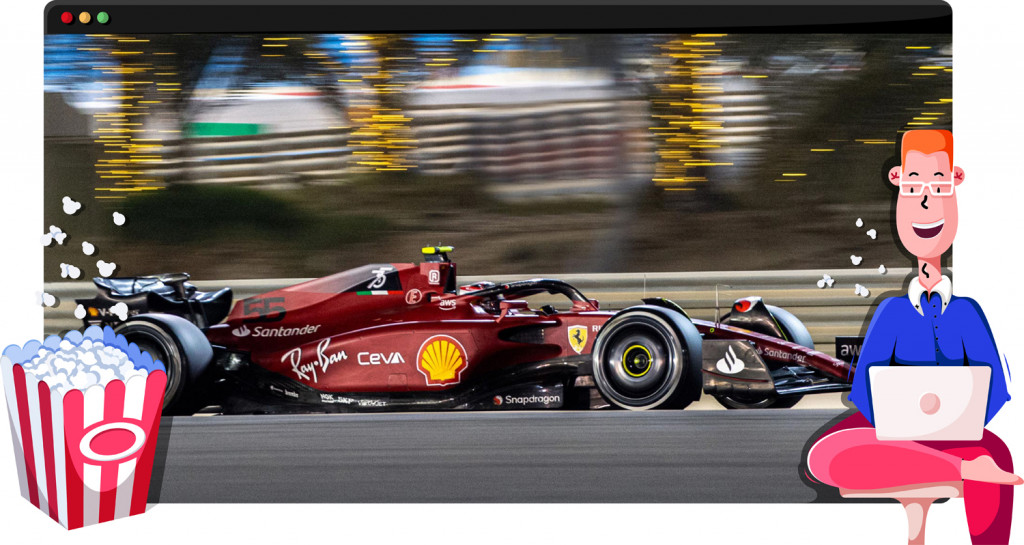 In all honesty, Mercedes had a lusterless start that was better than they expected. Merc can now choose to either continue playing it safe or go all out and try to restore the glory lost in 2021's controversial finale. Either way, the Englishmen have a really long season ahead and Hamilton has a lot to make up for.
Many fans' favorite Red Bull, however, is not off to a great start. Some may argue they are getting what they deserve for trying to bring too many upgrades to their ride within a short period. Nonetheless, the season is only getting started. With wings to fly and a remedy for their fuel system problems, they are still very much in the title fight.
The F1 races you can't miss in 2022!
The 2022 season of Formula 1 is just starting and it's going to be a long one (at least we hope so).
Not sure you will be able to watch every single race? We've gathered the ones you definitely shouldn't miss!
25-27 March – Saudi Arabia

Jeddah Corniche Circuit
The true kick-off of the new season, where we will see where the teams truly stand. This might not be the most exciting race, but it's definitely one you shouldn't miss.

06-08 May – USA

Miami International Autodrome                                    
A new track in the parking lot of an American stadium. What could be more exciting? The track seems to be really fast and could provide for some amazing spectacle.

27-29 May – Monaco

Monaco Circuit
The legendary Monaco Circuit might not often provide for exciting races, but it's definitely a staple for any F1 fan. And the narrow streets should provide for some excitement when the competition is that fierce.

01-03 July – the UK                           

Silverstone Circuit
It's the home race for a lot of teams, so you bet they are going to show off. Every year this is one of the most exciting races of the season, one you definitely shouldn't miss.

08-10 July – Austria

Red Bull Ring
Red Bull's own home race comes right after the British GP, so the team gets an immediate advantage. The track is also extremely fast pace and leaves plenty of room for speed and overtaking.

26-28 August – Belgium

Spa-Francorchamps Circuit
The completely renovated Spa is sure to give a lot of writers headaches. After a lot of crashes in recent years, the Spa Circuit is not something you would come to expect. And uncertainty always means fun races.

28-30 October – Mexico

Autodromo Hermanos Rodriguez                                           
The Mexican Grand Prix is a beautiful one, and that alone makes it worth a watch.

The Championship may very well be decided here, but let's hope this is going to be a long season!
How can you stream Formula 1 in 2022?
Unless you're already in Saudi or have plans to be there in the next few days, then, like most fans, you will be streaming this and any of the following Grand Prix. It's the norm for most of us, and yes, we still get to shout just as much.
Streaming services serve to provide this much-desired sporting action and, more often than not, have proven reliable. If a tad expensive.
In the US, ESPN and ESPN Deportes have the rights to broadcasting the races, including practice and qualifying sessions.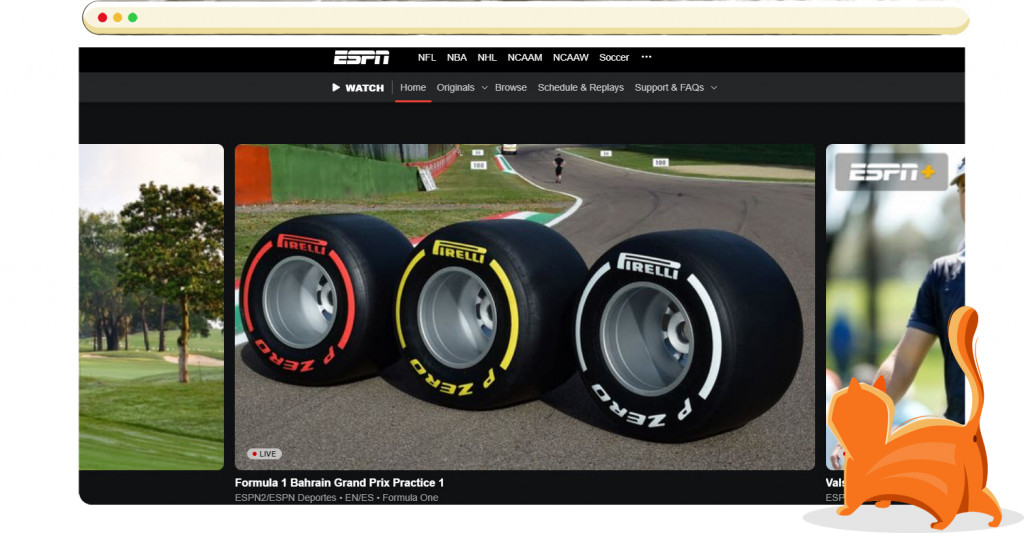 Canadians can enjoy the new season just as in the US but on TSN and RDS.
Kayo Sports and Foxtel (both via Fox Sports, which has the rights to F1 broadcast) suffice as options for the Aussies, while Sky Sports has exclusive rights for all live F1 live streams in the UK.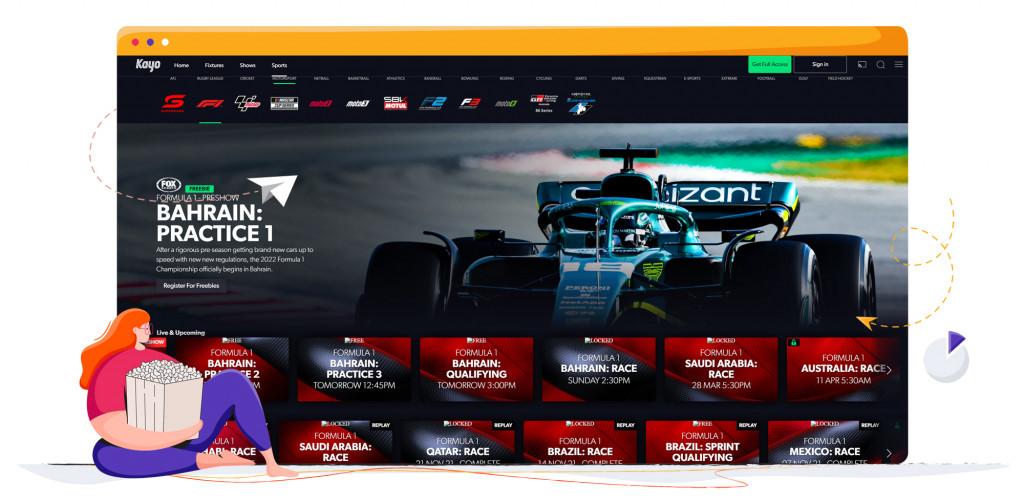 As many options as there are, there is at least one thing all of them have in common. Each and every one of them is barricaded behind massive paywalls, or an ever more expensive, destructive, and highly usually highly specific cable subscription.
It begs the question, where can you some free live streams then? Well, here. OK, technically not here, but we have the fix if you stick with us.
Is there a way to stream Formula 1 live and free in 2022?
If you are a true Formula 1 fan, you definitely have to catch this season. But what you might be less inclined to do is take out expensive sports streaming subscriptions to just watch the races.
We mean, have you seen the prices?!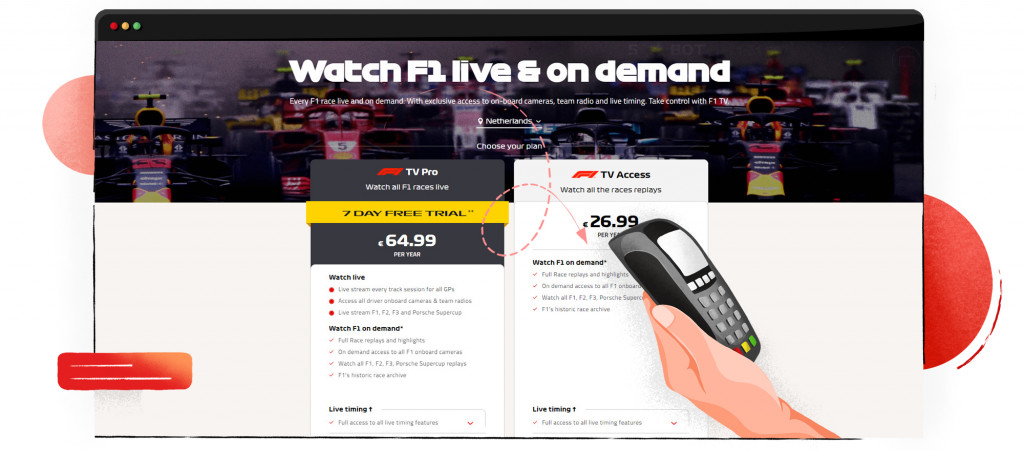 So this world-class injustice begs the question: Are there better, more acceptable options for streaming this year's races?!
---
Believe it or not, some places of the world still put sportsmanship before lining their pockets, and are actually streaming most, or even all of the races for free.
Granted, each year there are fewer and fewer options for some free Formula 1 streaming. But if you are willing to venture into the world of obscure live streams you have never heard of (l), you just might find what you're looking for.
The problem there? – Well, most of those streaming options are regional. And as such, they are not really available to everyone who wants to check them out. Quite contrary! All of them are blocked behind some of the toughest geoblocks in the industry.
Check out how geoblocks might be effecting you!
So, is that it? No, say we!
If you have the right tools, you can access pretty much any live stream you want. And when it comes to streaming live sports, there is only ONE tool you should consider: ExpressVPN!
Why ExpressVPN?
Why, you ask? Well, there's nearly an infinite number of reasons for that. But we will try to condense that into a neat little list that will surely have you convinced:
ExpressVPN is the VPN provider that lets you have it all: both security, streaming, and unrivaled online freedom.
This is the VPN that lets you access pretty much anything you want!
This VPN excels when it comes to streaming sports.
Able to access almost any sports stream in the world, this is the VPN you need if you are a fan!
When it comes to streaming sports, speed is key. And no other VPN does speed quite like ExpressVPN.
ExpressVPN has THE best speeds in the industry. And this means you won't miss a single thing during your live stream.
Free sports streams get obscure. You never know which country will decide to make their sports streams free this year.
ExpressVPN might not have the biggest server network, but it definitely has the most diverse one. This means wherever you need to connect to, there's probably an ExpressVPN server right around the corner!
Need more?
Check out our complete ExpressVPN review!
Convinced? We told you so!
Now it's time to get into the actual streaming options!
Who is broadcasting which Formula 1 races for free in 2022?
We understand that you need a streaming platform that serves you best. You want to be able to enjoy the usual drama of Mercedes claiming to have a slow car while actually seeing how 'slow' their car is, right?
Take a pit stop here and find out from our curated list what streams you should be looking out for to get that F1 sporting action going.
ServusTV
ServusTV is the first stop on our list.
Just like last year, this Red Bull-owned Austrian channel has the rights to stream half of the F1 races in 2022 as well. This means 12 races – live and completely free!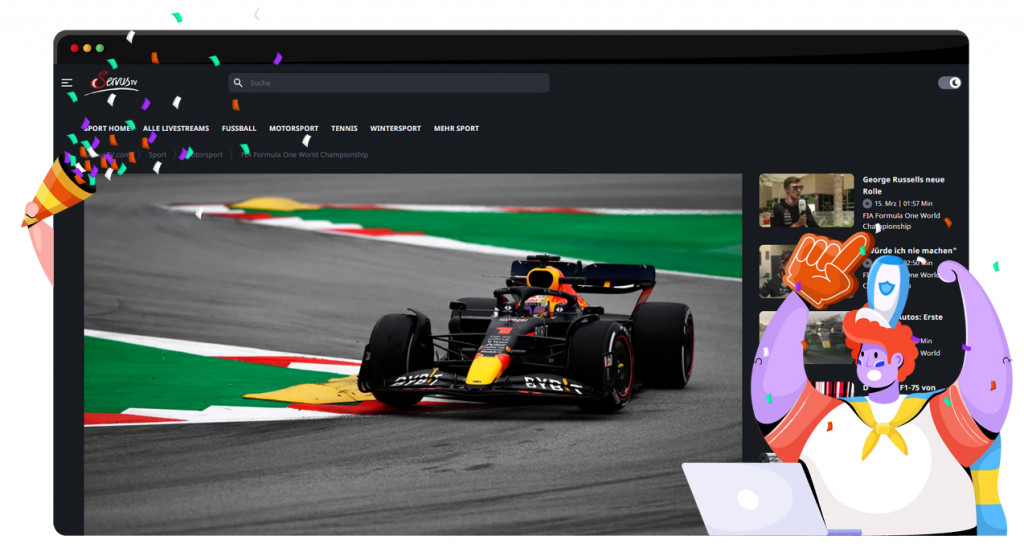 Fans will also be getting access to Formula 2, Formula 3, and the Porsche Supercup during the race weekends.
And here's how you get to overtake those pesky geoblocks and enjoy the races in all their glory:
Get ExpressVPN!
Connect to an Austrian server.
Go to the ServusTV website and enjoy the live stream! Simple as that!
ORF 1
OK, so ServusTV has the right to just half of the races. What about the rest?
ORF 1 – another Austrian channel – is showing the other half of the races this season. This makes Austria the best place to be for Formula 1 fans!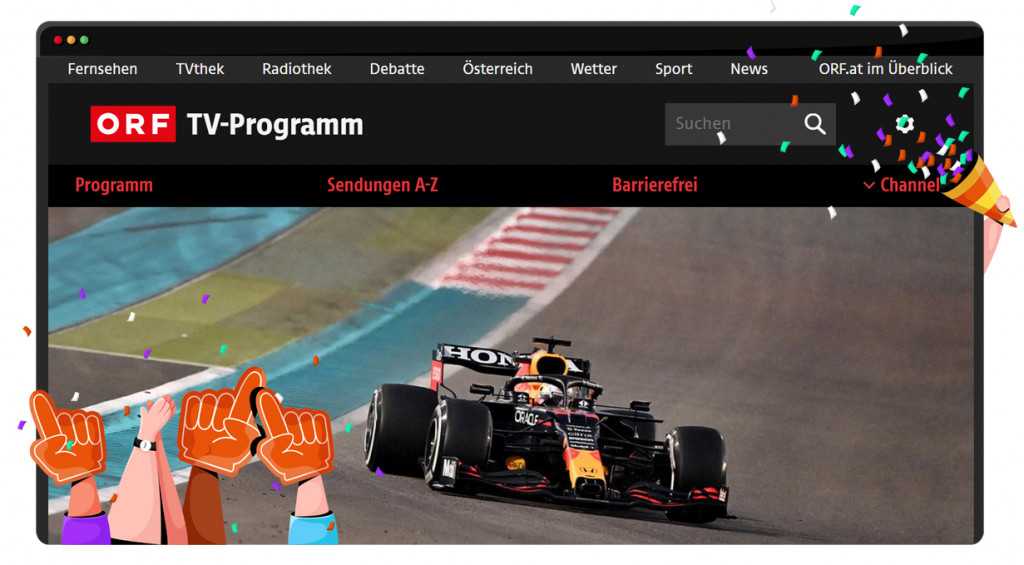 It gets better. ORF 1 is also free, and also available via ExpressVPN!
And here's how you get it:
Get ExpressVPN, if you hadn't already.
Connect to a server located in Austria.
Visit the ORF 1 website.
Enjoy the rubber on asphalt action!
RTL Zwee
But it's not just about Austria!
RTL Zwee will be taking you to Luxembourg. While the country hasn't featured in the last dozen F1 calendars, it offers the broadcast to the 2022 Formula 1 races and qualifying rounds.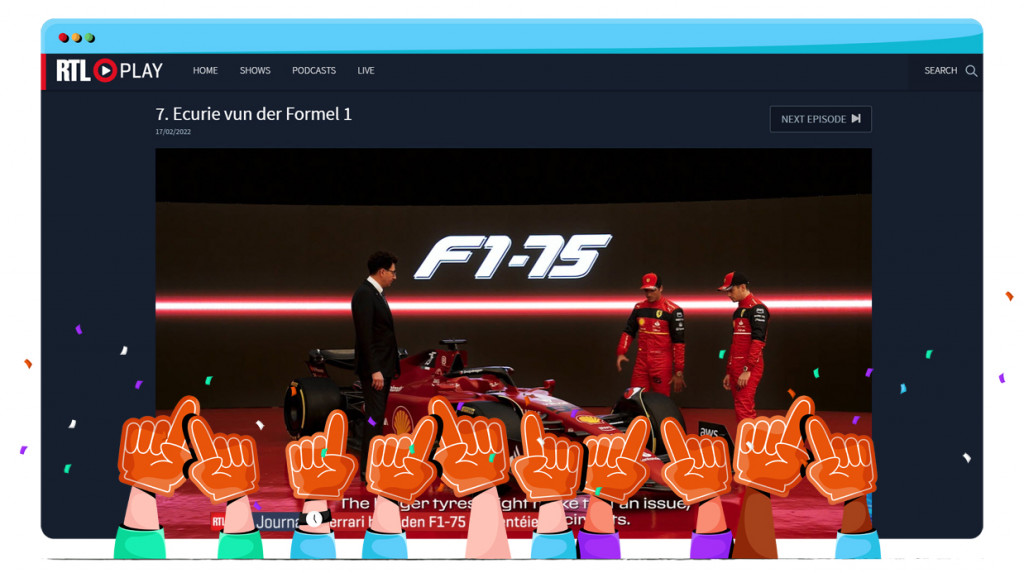 Here's how ExpressVPN – one of the very few VPNs with a server in the country – can get you into the Luxembourgian airwaves so you can catch the adrenaline-filled races.
Get ExpressVPN as it is the best option.
Connect to any top server based in Luxembourg.
Now, head on over to the RTL Zwee website.
Register by creating a free account with your preferred credentials.
Log in and enjoy!
RTBF
That part of Europe seems to be treating its Formula 2 fans much better than the rest of the world in 2022.
RTBF is a Belgian streaming service that decided to showcase all of the Formula 1 races completely free for their local fans. And that's just awesome.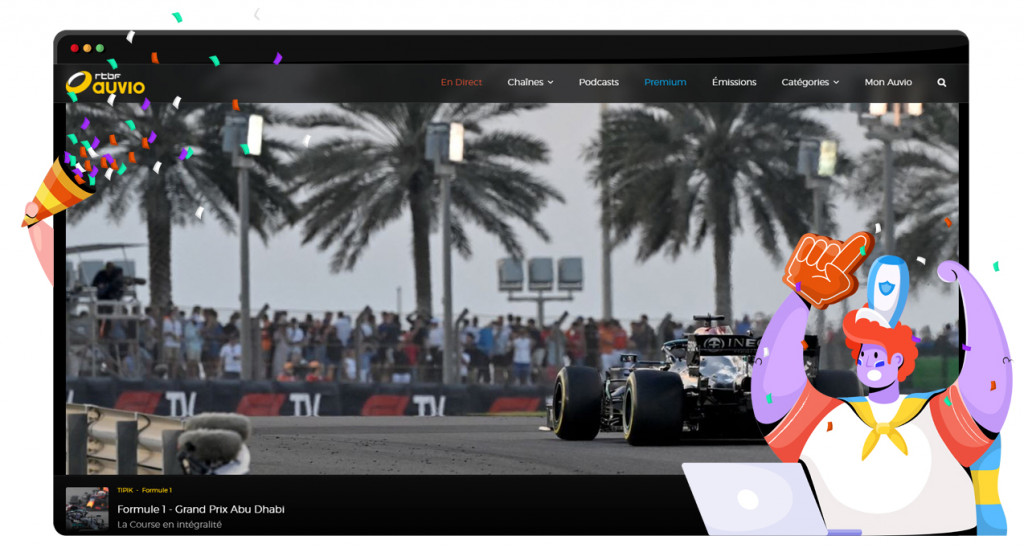 Lucky for all of us, ExpressVPN managed to plop a server or two in the county, so if French is your thing, you can tune into this live stream too by following these steps:
Say it with us now: Get ExpressVPN!
Connect to a server in Belgium.
Head on over to the RTBF Auvio website and create a free account.
Come up with a Belgian postcode to complete your registration.
Enjoy the live stream (if you manage to navigate the website)!
Formula 1: Stream it live, stream it free, stream it in 2022 and beyond!
Picking right off from a season-long drama that ended on the final day with both drivers tied at the top, the first race of the 2022 calendar truly delivered.
We don't know about you, but we're all in for the remaining races.
Whether you kept tabs with the first one or not, it's F1, and there's always more. This weekend, and all of the following weekends to come, you've got some heart-pumping action to look forward to!
So grab our annual list of streaming solutions! Grab ExpressVPN! And enjoy!