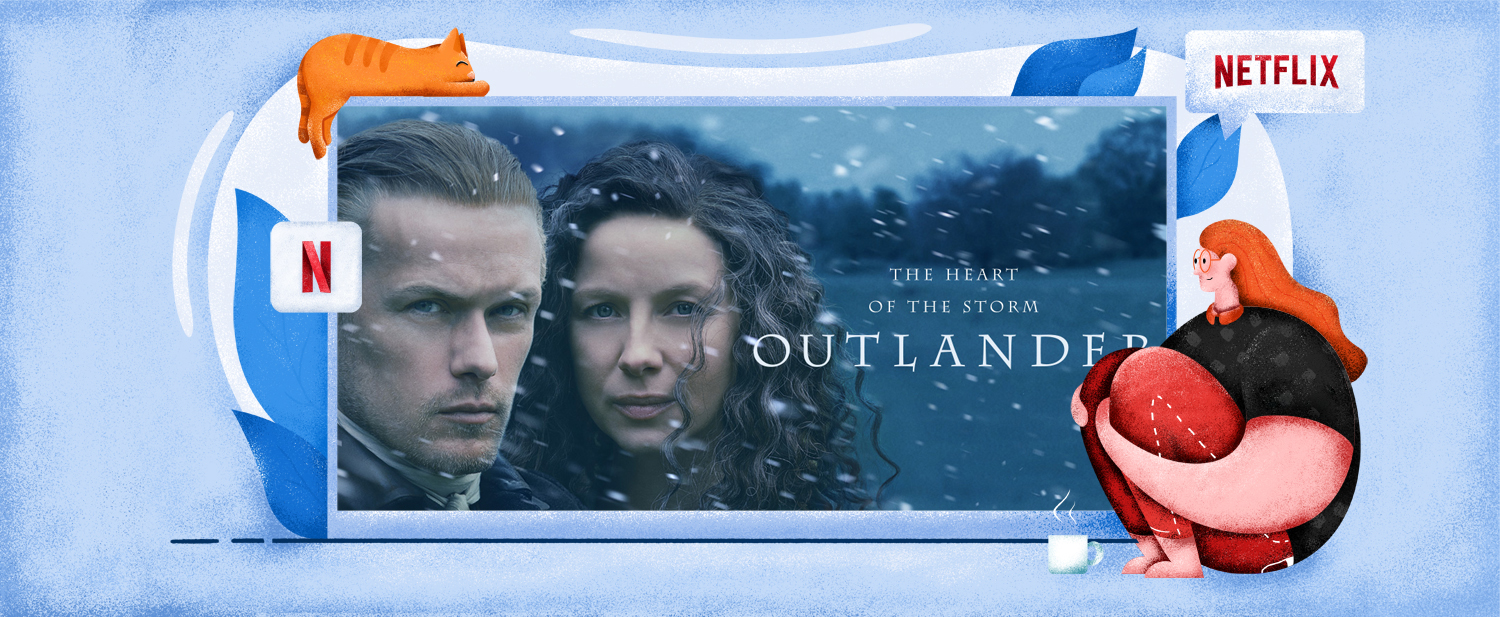 How to watch the Outlander season 6 on Netflix
Romance, a historical background, kilts, Scottish warriors, time travel, and more romance. Fans of the Outlander have been getting everything anyone could ever want from 5 seasons. And just when we thought we couldn't get our sexy time-traveling fix of the month anywhere, season 6 of Outlander finally dropped! And, rumor has it, it's just as good as ever!
We get it. You've just finished re-binging all of the previous Outlander seasons on Netflix, and you can't wait to jump back into the adventures of everyone's favorite time-traveling lovers only to find that the latest season of the show is nowhere to be found.
Now, we don't know about you, but we don't have the patience to wait for Netflix to get its streaming game back on track. We need season six of Outlander, and we need it now!
Lucky for you, we're just the people to fix your predicament and get you streaming the most intense season yet in no time!

ExpressVPN: Stream season 6 of Outlander on Netfix right now!
Where can you stream season 6 of Outlander?
If you ended up here, you probably already know that season 6 is nowhere to be found on Netflix. Jesus H. Roosevelt Christ, even season 5 is not on Netflix! So that's not news.
No, season 6 is actually streaming on the home platform of the series – Starz. The episodes are rolling out weekly, so you might as well jump on the sexiest hype wagon around if you are in the States, or in the UK.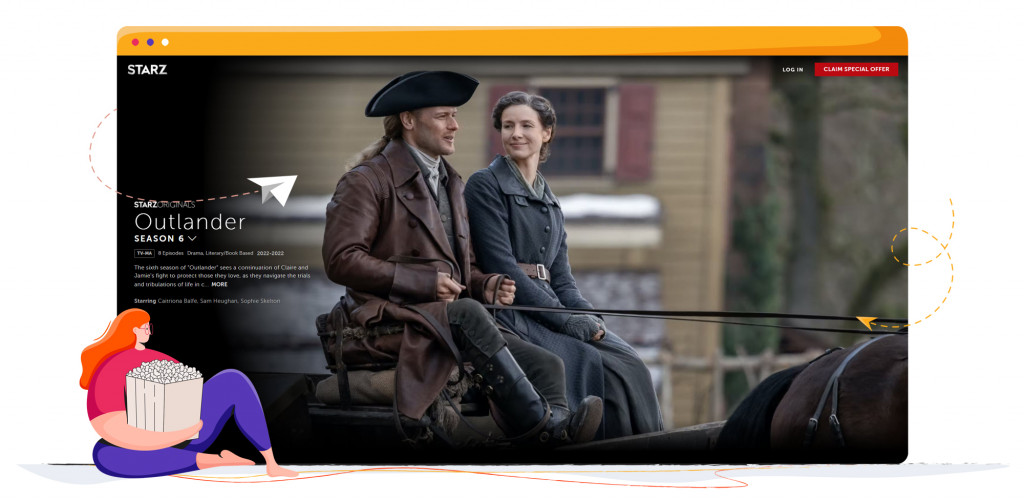 In Australia, you can catch the first few episodes of the series on Binge. And the best way to watch the latest season in Canada is iCiTouTV.
But we all know how you feel about Starz and all the other streaming platforms. It gets even worse, as some of them don't even have all the latest episodes! And by the time those roll around, the entire season will be spoiled by the Elon Musk-owned Twitter [this comment will not date this guide at all].
Luckily, you don't have to start hopping streaming platforms to get your Outlander fix just yet. Because we know how you can get the entire 6th season on regular old Netflix!
How is that possible?
Netflix is much like time travel. Bear with us here, we promise it's worth it.
While in your part of the world it might still be winding up for season 5, in other countries the fans of Outlander have already seen season 6 in its entirety. And other countries are getting the latest Outlander episodes on Netflix as soon as they appear on Starz.

What dark magic is this?
Want to know more about how Netflix works?
What countries are those? Well, season 6 of Outlander is currently streamable on Netflix in France, India, and South Korea, to name a few.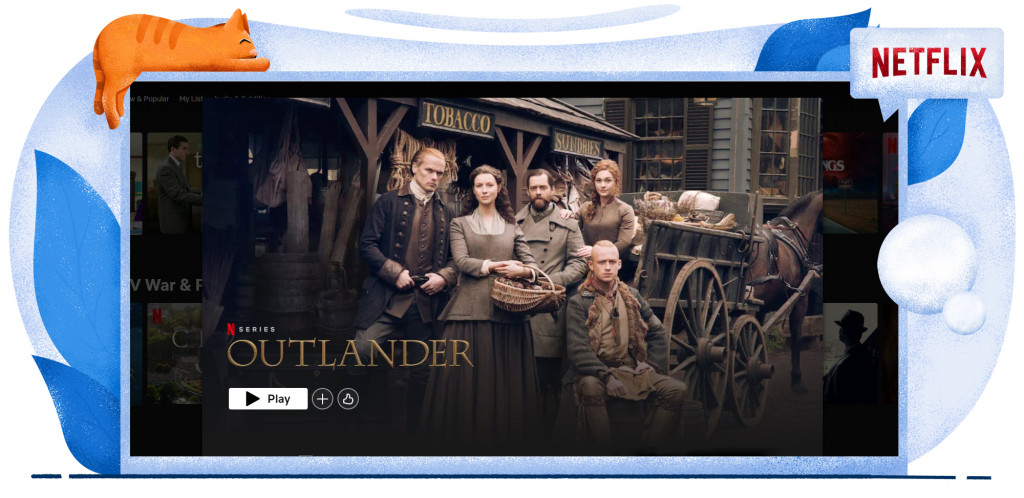 Exotic places, aren't they? But the real question is, how do you get their Netflix libraries…
So how do you get Outlander season 6 on Netflix?
As is the case with time travel, you need some pretty advanced tools to get you to the Netflix library you want to visit. But lucky for you, and unlike Claire's case, it's not genetic. All you need is the right VPN!

What is this now?
We'll tell you everything you need to know about VPNs!
VPNs can do a lot, including unblocking different Netflix libraries. But VPNs are not created equal, and neither are Netflix libraries.
While nearly every top VPN can crack American Netflix, very few can take you to faraway and exotic lands that are currently streaming Outlander. In fact, there's just one that can handle this job: And that's ExpressVPN!
And here's why ExpressVPN is the only VPN you should trust your precious Outlander streaming to:
It has the most diverse server network out of any VPN provider out there. And it definitely has India, South Korea, and France covered.
ExpressVPN is just as great at streaming unblocking and hoping Netflix libraries as it is as online security and privacy.
We've just tested it, and it definitely works with all of the libraries you can get Outlander Season 6 from.
We can get you an oh-so-sweet 49% discount, as well as 3 additional months free on your ExpressVPN subscription!
And who doesn't like a good deal?
Want more reasons to get ExpressVPN?
Check out our freshly updated ExpressVPN review!
Now that you're all set up with a new ExpressVPN subscription, here's how you get season 6 on Netflix:
Download ExpressVPN.
Connect to a server in one of the countries that has the latest season of the show.
Restart Netflix, and enjoy!
It's just that simple!
Sex, kilts, romance, and time travel… Season 6 is finally here!
Who says you have to wait for season 6 of Outlander or subscribe to streaming platforms you don't need? We certainly don't!
From the last episode of season five, you'll travel straight to the first episode of season 6 on Netflix with a click of a button. So there's no interruption of your beloved series.
Now sit back, relax, and get your napkins ready for some intense feels!