11 best streaming services for series
TV series have made an extraordinary come-back over the past few years. In the past, they were inferior to movies on all fronts, but now TV-series are at least just as popular. With this popularity came bigger budgets, better scripts, and A-list actors. Now, series are unprecedentedly big productions, with million-dollar budgets for each episode.
Other than channels like HBO and AMC, streaming services were quick to exploit this new hype. But there's a small drawback: because of legal issues, you can't enjoy the same offer on every streaming service anymore.
Not to worry! You might already know that with the help of a VPN the streaming world can be your oyster. But which platforms have the best selection of TV series? That's what we're here to answer!
Here are our 11 favorite services to scratch your TV-binging itch!

One VPN to unblock them all!
Netflix
Netflix is not unknown to many people. The company was quick to see the potential of streaming series online. By cleverly investing in original productions and procuring streaming licenses for the greatest series, Netflix obtained a giant audience.
But those very licenses do cause the different offer in each country. Because the company uses geo blocking, you can't log in in The Netherlands and watch many series that are available on the American Netflix. That is, of course, unless you're using a VPN.
With this you can really enjoy everything that Netflix has to offer. Netflix's offer is outstanding: many well-known series from big channels, original productions, comedy specials and peculiar original animation projects.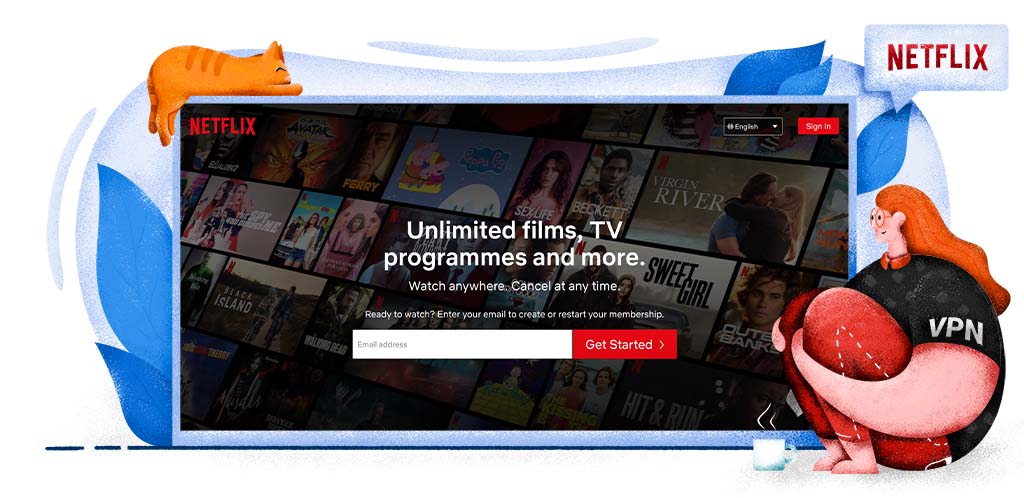 Recommended series: Stranger Things, Better Call Saul, Star Trek Discovery, Master of None, Orange is the New Black, Bojack Horseman, Daredevil, Jessica Jones, Narcos, Arrested Development, Dark, Glow, Ozark.

Netflix
Want to read more about Netflix's relationship with VPN?
Price:  
– €7.99 for the basic plan (VPN necessary for American content)
– €13.99 for UHD streaming (VPN necessary for American content)
Amazon Prime
Best streaming services for series? Amazon is one of the biggest rivals of Netflix, especially in the United States. By digging deep into his pockets, Amazon boss Jeff Bezos has acquired a number of exceptional licenses.
The switch of Top Gear's team from BBC to Amazon with the name The Grand Tour has caused great uproar. Amazon has also been working hard on a Lord of the Rings series, and has bought the rights to create a new season of the amazing sci-fi series The Expanse.
Already existing series on the platform aren't to be brushed off either. Amazon is pursuing influence in Europe, but for most people the offer is still limited. If you don't mind absent subtitles, you can revel in Amazon Prime's offer using a VPN.
They may not generate as much publicity as the series on Netflix, but their offer is almost on par with Netflix's. With all the series that are coming up, Amazon Prime will only become more and more interesting with time.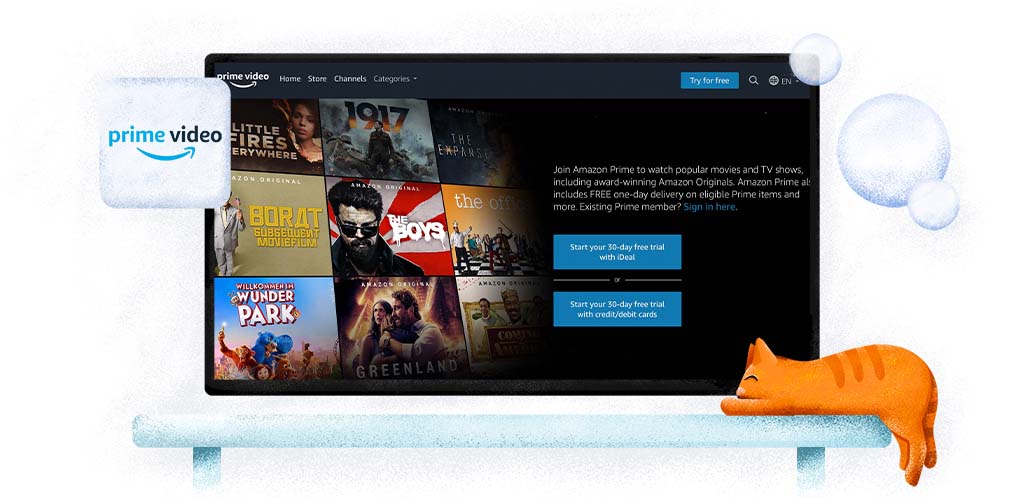 Recommended series: The Man in the High Castle, Bosch, The Tick, The Expanse, The Marvelous Ms. Maisel, Sneaky Pete, The Grand Tour, Tom Clancy's Jack Ryan, Hand of God, Jean-Claude van Johnson, Fleabag.

Amazon Prime Video
There is lots more to it than just series!
Price:  
– €5.99 per month (VPN necessary for American content)
Hulu
In Europe Hulu is still quite unknown. This is not very strange, since they are only active in the US and Japan. Their offer is excellent, because a few of the biggest producers in the industry manage the platform together. You do need a VPN and an American account to use the service in Europe.
Once you've taken all those steps, you can enjoy top-notch series such as Castle Rock (based on stories of Stephen King), The Handmaid's Tale, Future Man and many more.
A large number of legendary series such as Seinfeld, Buffy the Vampire Slayer and Community are available on Hulu, which makes their offer broader than other streaming services. Original Hulu productions, however, are scarce.

Recommended series: Parks & Rec, 30 Rock, Future Man, Castle Rock, 11-22-63, Runaways, The Handmaid's Tale, Seinfeld, Buffy the Vampire Slayer, Community, X-Files, Battlestar Galactica, Twin Peaks, Rick & Morty.

Hulu
Stream like a true American with this exclusive platform!
Price:  
– $7.99 per month (including ads, VPN necessary)
– $11.99 per month (ad-free, VPN necessary)
Starz
Starz is one of the bigger television networks in the United States with many original productions that are worth watching. In fact, many of the Starz series are licensed by Netflix and are being broadcasted in Europe as 'Netflix Originals'.
Horror series Ash vs. Evil Dead, pirate series Black Sails and gladiator epic Spartacus are but a few examples. All in all, Starz really hinges on their original productions, but every single one of them are worth watching.
Because the licenses in Europe are divided among mainly Netflix and Amazon, it might be beneficial to combine a Starz subscription with a VPN. This way you can watch their series, all in one place.
A subscription to Starz is relatively cheaper than one to other streaming services, because you're essentially subscribing to a TV channel. You can also combine a subscription to Amazon with a subscription to Starz and Showtime. This way you also have access to all of the services from Amazon.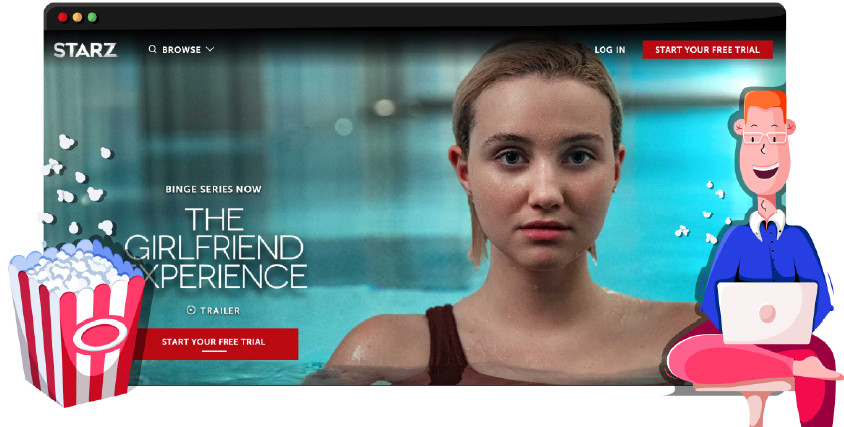 Recommended series: Outlander, American Gods, Black Sails, Ash vs. Evil Dead, Power, The Girlfriend Experience, Howard's End, The Missing, Spartacus, The Pillars of the Earth, Torchwood, Boss, Blunt Talk, Party Down.
Price:  
– $8.99 per month (VPN necessary)
HBO Go/Now
HBO is singlehandedly responsible for the very TV series renaissance that the industry is experiencing at this moment. Before HBO started focusing on longer storylines in series, practically no-one was doing this.
This focus on bigger stories instead of episodes with little interrelation led to insane series such as The Wire, Game of Thrones, The Sopranos and many more. The success of these series led to the current situation, in which "bad guy of the week" episodes are rare.
HBO's offer is, in short, excellent. They have the biggest series of the past few years in their portfolio. Luckily, most of HBO is also available in Europe. However, if you want to use HBO Now, you'll have to get a VPN first.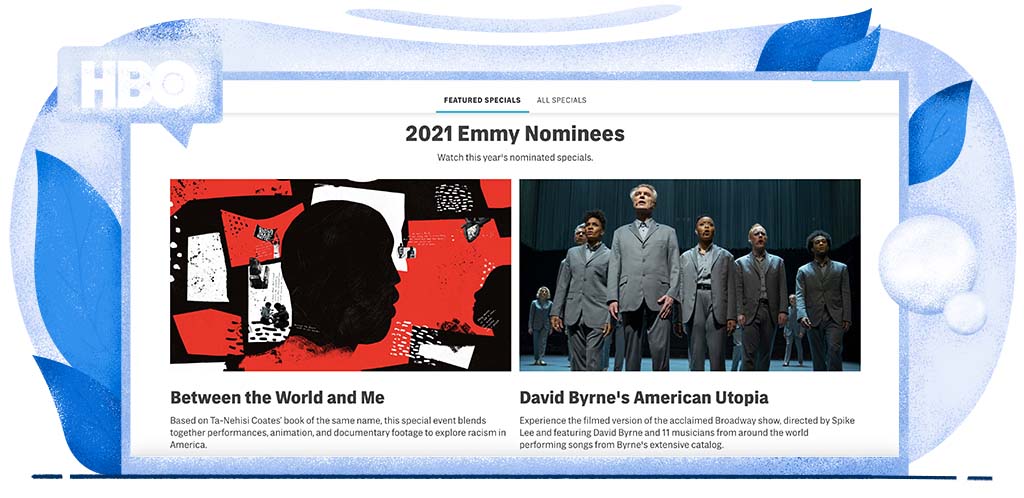 Recommended series: Game of Thrones, Westworld, The Wire, The Sopranos, Silicon Valley, Last Week Tonight with John Oliver, Deadwood, True Detective, Curb Your Enthusiasm, Boardwalk Empire, Six Feet Under.

HBO Max?
Another HBO streaming platform that packs a punch!
Price:  
–  €11.95 per month via Ziggo Movies & Series XL package
–  $15 per month via HBO in the US (VPN necessary)
Crackle
If you're looking for a decent series to watch, but you're on a budget, then Sony's streaming service, Crackle, might just scratch that itch. Crackle is free, but it is supported by ads.
The offer on the service can differ per month, but there is always something decent to watch. In any event the price won't be an obstacle. The only downside is that Crackle is solely active in the United States, so a VPN for Crackle is a must.
Those entry costs are nonetheless much lower than the average subscription to a streaming service. As far as original productions go, Crackle is a little bit behind on the competition, but the complete offer is still serviceable.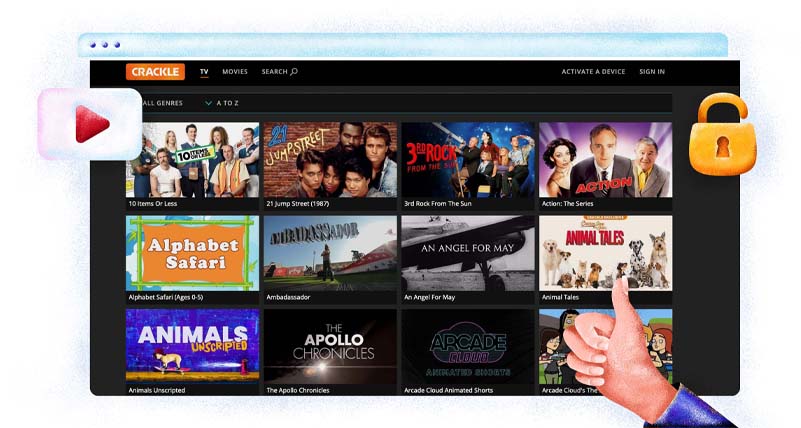 Recommended series: Chosen, Snatch, Comedians in Cars Getting Coffee, The Oath, Super Mansion, Startup, Snatch, Married with Children, Rake, Seinfeld, The Shield, Terminator: The Sarah Connor Chronicles.

Crackle
The platform you go to when you don't want to break the bank!
Price:  
– free with ads (VPN necessary)
BBC iPlayer
Not all great series are American. The Brits too have made quite a number of excellent series over the past couple of years.
The focus point of these series and the complete offer are different from what you see in the US on all fronts. And that's exactly what makes them especially worthwhile.
The BBC has produced some astounding nature series such as Planet Earth and Blue Planet, which are both available on their platform, BBC iPlayer. Not only that, you will also find marvellous comedies such as Miranda, the ever so popular Dr. Who and the high-profile series of Louis Theroux. BBC iPlayer also houses most popular British soaps, such as Eastenders.
Their scope may be a little smaller, but BBC iPlayer has more than enough interesting series for an evening of binge-watching. The best part is certainly the price. Because the BBC is a public service broadcaster, their service is free to use. They do use geoblocking though, so a VPN is a must.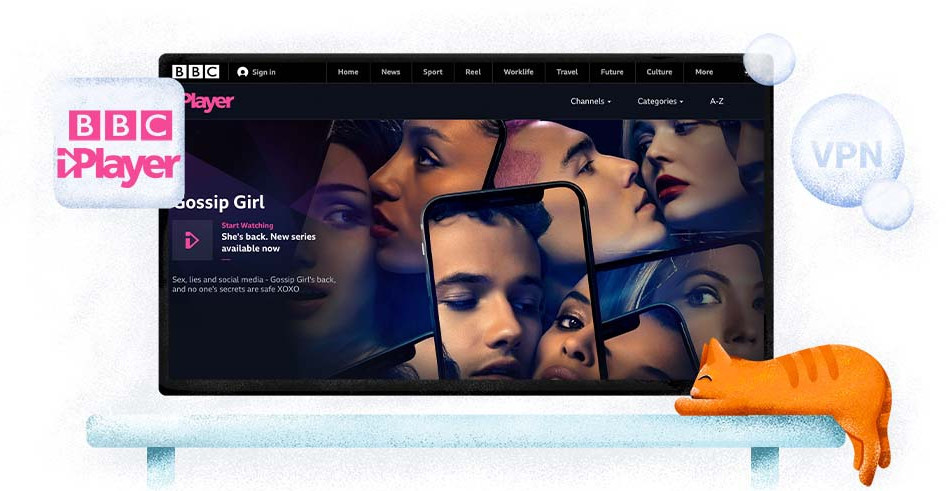 Recommended series: Dynasties, Blue Planet, Dr. Who, Louis Theroux's Altered States, Eastenders, Miranda, Strictly Come Dancing, QI, Clique, The Little Drummer Girl, The Night Manager, Fleabag.

BBC iPlayer
The perfect platform paired with your cup of tea!
Price:  
– free (VPN necessary)
Showtime Anytime
Showtime has quite a few excellent series in its portfolio as a premium cable subscription in the US. This is not unusual considering the fact that the company is property of the enormous CBS network.
You can watch some of the most high-profile series from the past few years with a subscription to Showtime, such as the legendary Twin Peaks, the amazing Billions, Master of Sex, Homeland, and The Affair.
Showtime has got something for everyone. You can buy a separate subscription to the service, or add a subscription to your Hulu or Amazon Prime account with a small discount. Sadly, the service is restricted to the United States, so a VPN for Showtime Anytime is necessary. But that does grant you an exceptionally wide catalog of series to binge.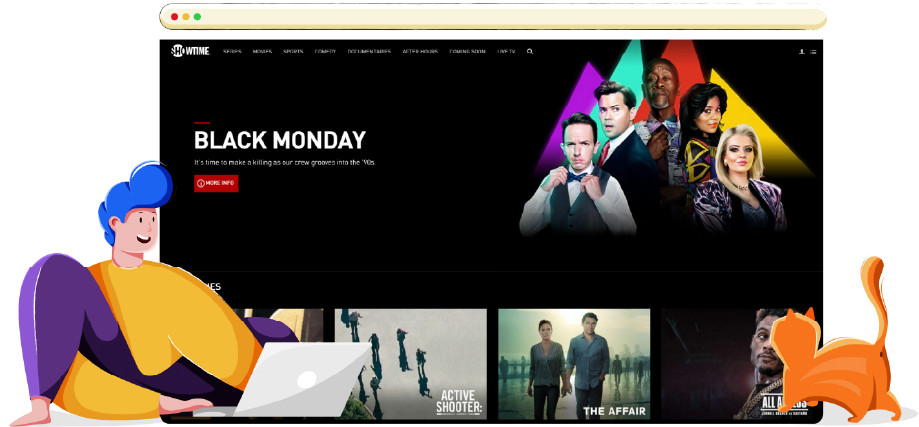 Recommended series: Masters of sex, Twin Peaks, Billions, The Affair, Episodes, Dexter, Nurse Jackie, Ray Donovan, Shameless, The Borgias, Weeds, Web Therapy, The Tudors, Californication, House of Lies.
Price:  
– $11 per month (VPN necessary)
– $9 per month via Amazon or Hulu (VPN necessary)
YouTube Premium
We know what you're thinking: YouTube? Yes, the YouTube masterminds have also realized that they can earn serious money from streaming TV series. And their first little steps into this industry have been surprisingly successful.
Cobra Kai, the revival of The Karate Kid, was extremely successful and singlehandedly enticed many people to subscribe to YouTube Premium.
Still, there is far more content available on the competitor streaming platforms. YouTube also has an undue focus on showing their own well-known faces, such as PewDiePie in their content. This doesn't always generate good television, but the real series seem to put things right again. It's definitely worthwhile to check it out.
A subscription to the streaming service is combined with the YouTube Premium subscription, which also gives you access to YouTube Music and other YouTube services.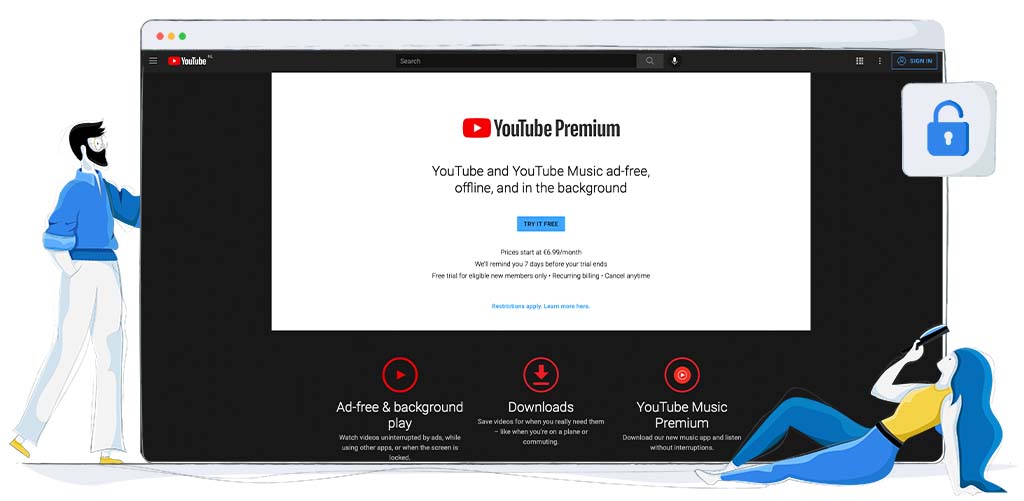 Recommended series: Cobra Kai, Impulse, Escape the Night, Mindfield, Rhett and Link's Buddy System, Foursome, Youth and Consequences, Step Up: High Water, Lifeline, Good Game, Fight of the Living Dead.
Price:  
– €11,99 per month (VPN necessary)
CBS All Access
Other than Showtime, CBS also has its own streaming service called CBS All Access. This platform has a greater focus on original productions, and we also find the quality to be a bit better.
CBS has been producing excellent series for years now, and owns a few special licenses. Legendary series such as Star Trek and Twin Peaks have gotten their sequels in the past few years. You can also find many classic series such as Cheers, Taxi or Family Ties. But there is still enough new content to be found as well.
There absolutely is some overlap between CBS and Showtime. You will also probably see some of the same series on your local streaming services, because of license resemblances.
Because CBS All Access is an American service, you will need a VPN to buy a subscription and watch the series. You can also add CBS All Access to your Amazon subscription.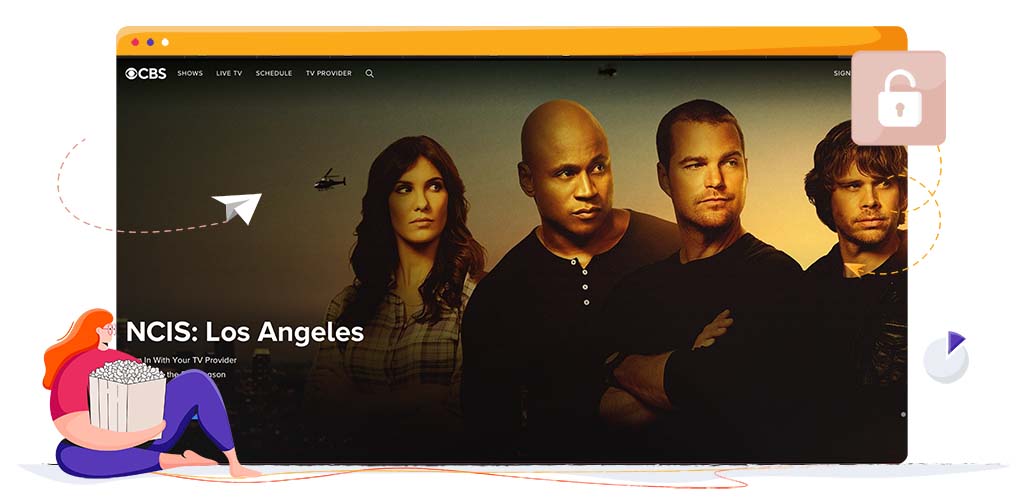 Recommended series: Star Trek Discovery, Twin Peaks, Madam Secretary, Medium, NCIS, Scorpion, The Amazing Race, 2 Broke Girls, The Good Fight, Cheers, Beverly Hills 90210, Frasier, Family Ties, JAG, Taxi.
Price:  
– $5,99 with ads (VPN necessary)
– $9,99 (VPN necessary)
Vudu
When it comes to series, Vudu is also somewhat of a strange addition. You can best compare the service to an old-fashioned video rental shop, where you rent movies or series for a limited amount of time.
There is something to be said for this business model though, because this way Vudu is able to add a lot of content that would otherwise be exclusively available on other platforms. On the other hand, you do have to pay per episode (or per season), which can sometimes be more expensive than a monthly subscription to the other services on this list.
From The Simpsons to Friends to House of Cards, you can find whatever you like under one "Vudu" roof. You do need a VPN to visit the website. If you try to stream it from Europe without a VPN, you will get a 403 forbidden error. So they didn't even make an effort to create a separate page to let the rest of the world know that there's a geo block on the website.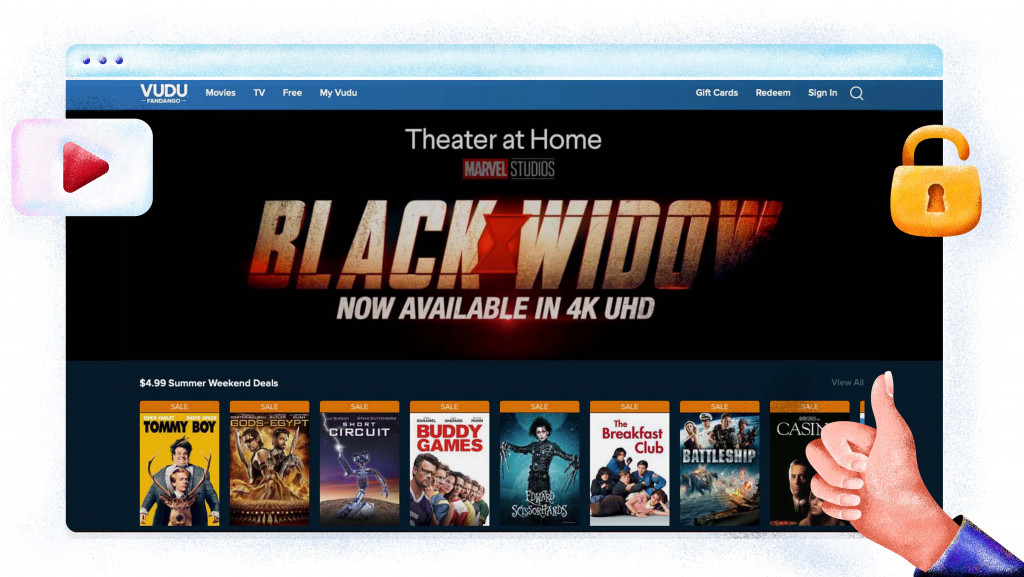 Recommended series: The Simpsons, Family Guy, Friends, Gossip Girl, Sons of Anarchy, It's Always Sunny in Philadelphia, ER, Empire, Outcast, 12 Monkeys, The Americans, 24, Shooter, The West Wing.
Price:  
– individually priced per movie for rent or sale (VPN necessary)
Conclusion: The best VPN for streaming services
There's an awful lot to choose from if you're looking for the best streaming services for series. Ever since Disney joined the gang of streaming services, the choice of which platform to use has only become more complicated.
At the same time, there is a lot of overlap between services, because licensing distribution in different regions. If you have a subscription to Showtime, getting Hulu is probably going to turn out useless.
A subscription to Netflix in Europe sometimes has a lot of overlap with series that are available on Amazon in America. So it does pay off to really look into the various offers, to make sure you're not squandering your money on shows you already have access to.
Of course, pairing your streaming service subscriptions with a VPN is always a good idea, giving you access to wider libraries, and some free platforms, like Crackle and Vudu.
So what are you waiting for? Grab a VPN subscription (check out our list of our favourites), some popcorn, and a warm blanket, and get ready for a binge-worthy night in!