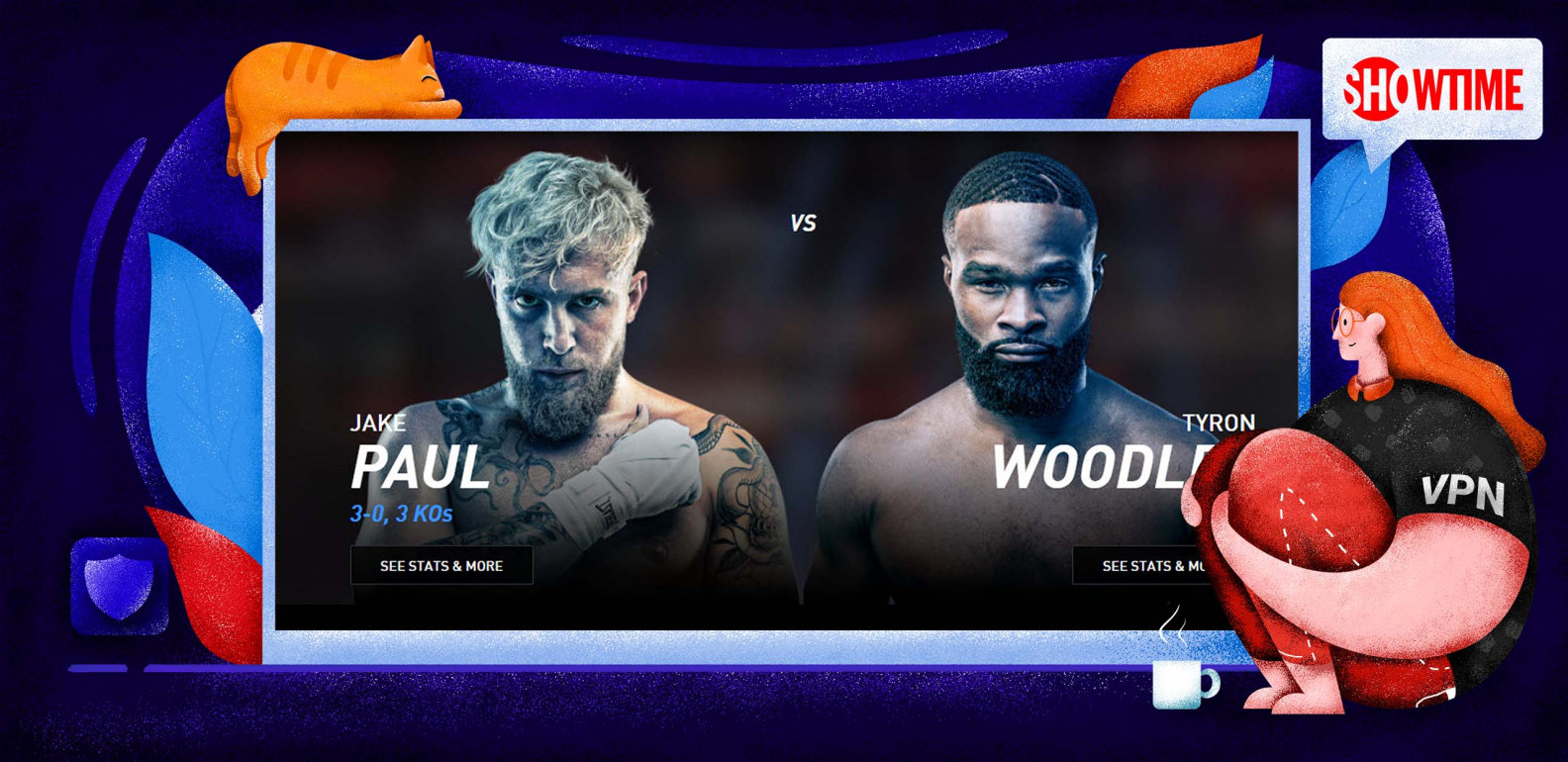 How To Stream Jake Paul Vs. Tyron Woodley from Anywhere!
If there is one thing to say about the Paul brothers: they're persistent. And they just can't/won't quit.
If you've been searching for something to fill the void ever since Mayweather pretended to fight Logan Paul for eight rounds, rejoice! For your wait is over!
YouTuber Jake Paul (yeah, YouTuber, not boxer! yet?) returns to take on his toughest challenge yet! After showing he might actually have what it takes and cutting through Deji, Jake has had a pretty successful boxing career. He took down AnEsonGib, Robinson, and Askren with a sense of ease.
So could it be that the more annoying of the Paul brothers would actually have legitimate boxing talent?
Well, don't go screaming at the screen while hugging your Jake Paul pillow just yet. This time the Problem Child might be facing his toughest challenge locking horns with former UFC champion Tyron Woodley.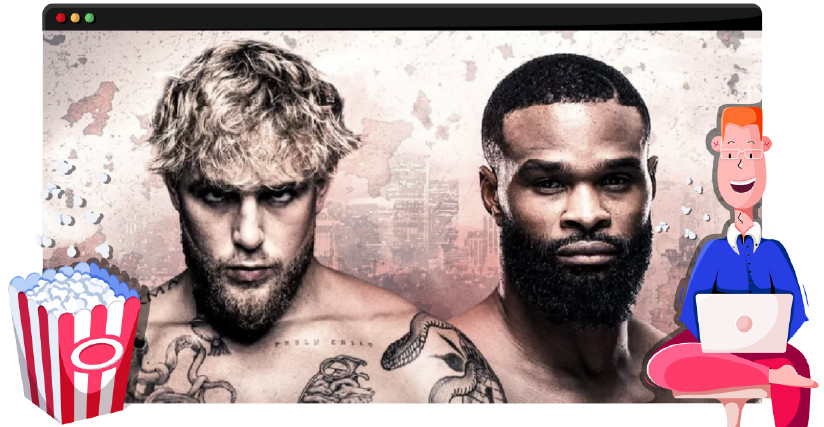 And, of course, the whole thing started with a bunch of drama, which involved heated arguments in the dressing room, shots fired, and grown men reliving the glory days of playground insults.
However, the hype is real. So mark your calendars as the bout is set for the 29th of August around 8:00 pm E.T, taking place at the Rocket Mortgage FieldHouse in Cleveland, Ohio.
So is this going to be the one that finally puts Jake in his place? Or will he prove the haters wrong yet again and continue the winning streak?
Regardless of which team you are in, you can't help but gasp at Jake Paul being punched in the face. Whether out of concern, or excitement. So, naturally, you want to know how to tune in.

And the easiest way to do it? With Surfshark in your corner!
Who will be broadcasting the fight?
YouTube popularity definitely spreads worldwide. So it's safe to assume that it's not just Americans who want to see Jake Paul get the bruisin' he's been cruisin' for.
However, these types of events can be pretty exclusive with just a handful of broadcasters actually having rights to the event. And this is definitely the case with the Paul vs Woodley fight (Jake has to pay for all of those boxing glamour shots somehow).
In the US, Showtime holds exclusive rights to broadcasting the event and this will definitely be the place all of the fans are going to flock to check out the event.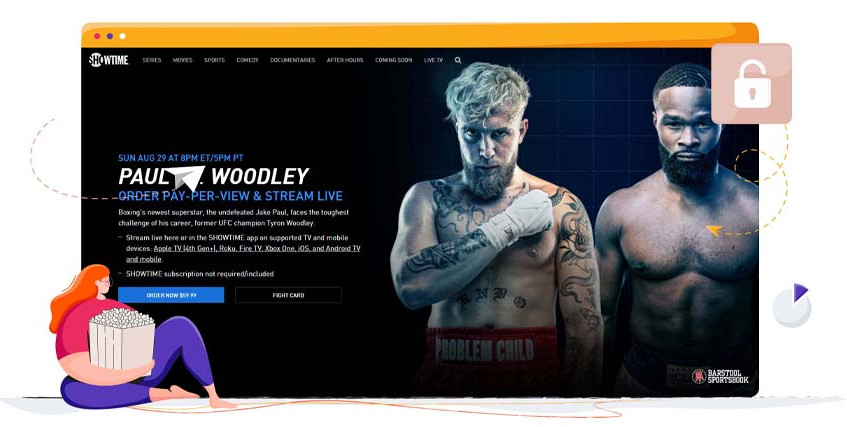 The British Jake Paulers will be able to stream the event on BT Sport Box Office.
And the fight will also be streamed on Australian Kayo Sport.
But that's about it. If you are in any of the other countries, too worried about Jake to fall asleep on the night of the fight, you just might be out of luck. Or are you?!
If you absolutely insist on watching Jake Paul get pummelled (or kick-starting your own YouTube career by reacting to the aforementioned pummelling) we just might have the perfect solution for you.
How can you watch the Jake Paul fight from anywhere?
You've read the name of the website, right?
A VPN is your best bet to watch the Jake Paul fight in its entirety wherever you are.
Since there are but a few broadcasters streaming this highly exclusive event, you are going to have to find a way to pass as a local. And the only way you can do that is by using a VPN.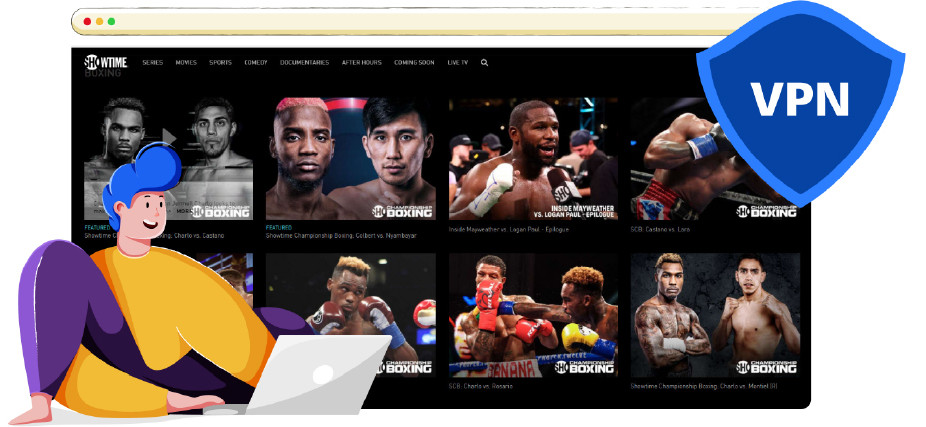 And since Showtime has the exclusive rights to broadcast the event, this is your best bet for accessing the stream. Plus, we know the perfect way you can get it to work.
So the first thing that you are going to need is a VPN that is capable of unblocking a streaming platform that is as unique as the fight it's streaming. And we've got just the thing: Surfshark!
First of all, Surfshark just might have been made for unblocking streaming platforms. And this is an unbeatable VPN for that exact reason!
With a huge selection of fast, stable, and reliable servers in the US, Surfshark will make sure that you don't miss a punch thrown by Woodley and taken by Jake (or the other way around, who knows).
Surfshark is an absolute maverick (oops, sorry, wrong Paul) when it comes to bypassing blocks, firewalls, and restrictions, and it will definitely work here.
We've been enjoying Showcase for over a month now using Surfshark, so we can't complain.
Surfshark

Your best friend for unblocking Showtime from anywhere!
Well, that's one part of the problem down. On to the next one.
And one more thing
Surfshark might be a great VPN, but with these kinds of events, it can only get you that far.
You will be able to slip all the blocks and restrictions imposed by Showtime, but you are still going to have to find a way to pay for the stream (wait, you didn't really think they are going to put it on YouTube?!).
But don't worry, we didn't string you along to stop the fight on a technical decision! We've got the perfect solution for this as well.
Simply go to US Unlocked and get yourself a fancy virtual bank card faster than you can say "The neighbors hate me". This little card work great with pretty much any streaming service, including Showtime.

Get your virtual American bank card today!
Now all that's left is top off the card with the insane price of $59.99 and order wings. Done!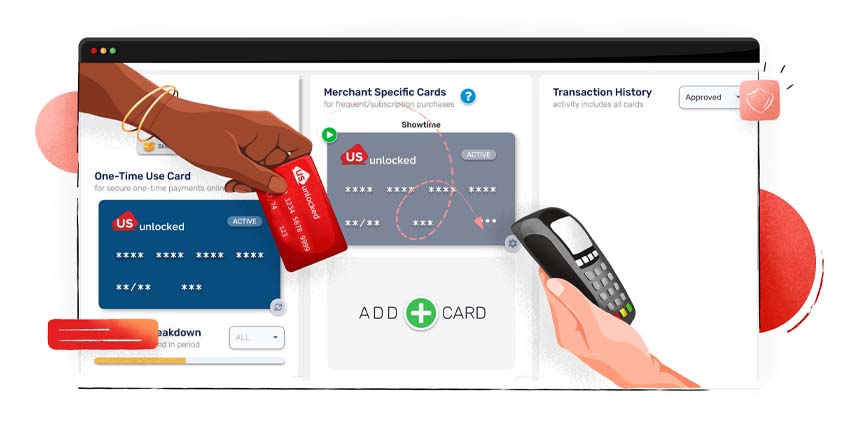 Is this it for Jake Paul?!
Love Jake Paul, or hate him, we can all agree that watching reaction videos is pretty boring. Unless you're the one doing the reactions.
So get yourself Surfshark, get yourself a US Unlocked virtual card, tune in, and cheer for Jake to either win or lose. Regardless of what you choose, we're definitely in your corner ?.