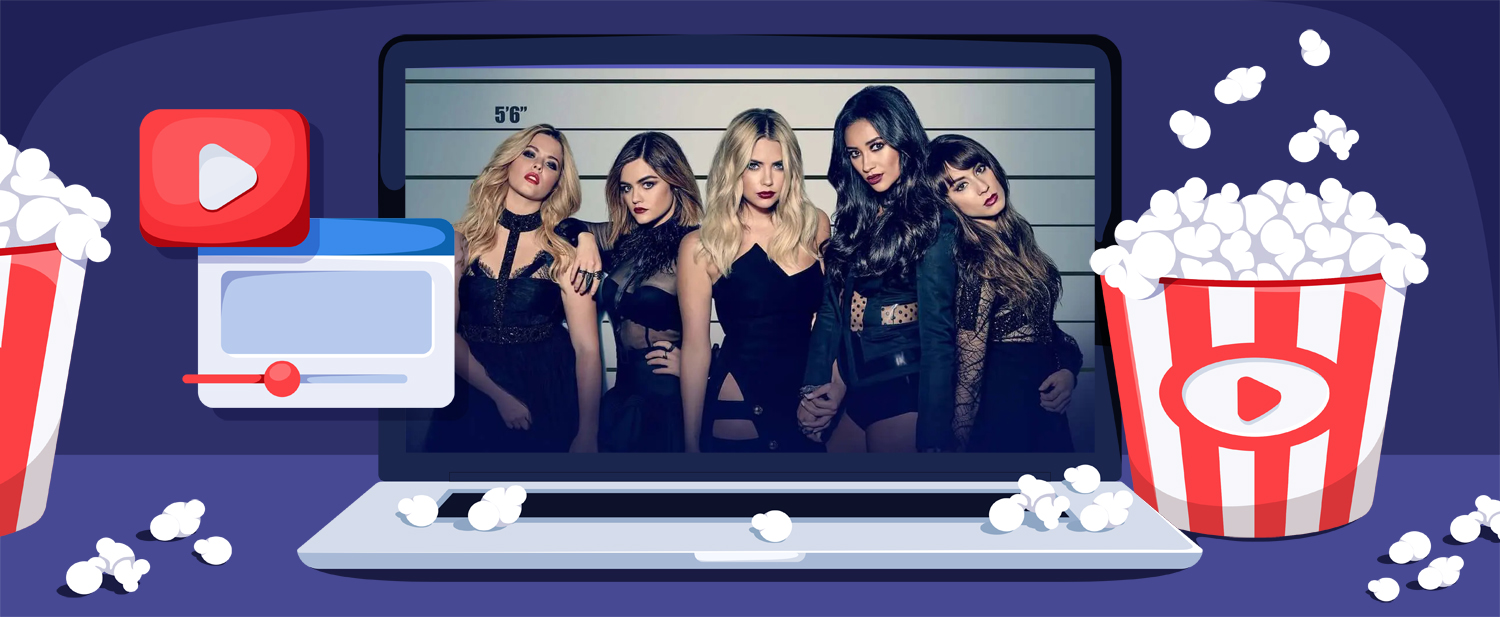 Two ways to stream Pretty Little Liars for free!
The series that's full of scandal, mystery, gossip, and backstabbing. Pretty Little Liars is truly one for the ages. So who wouldn't want to relive the emotional wild ride the series takes you on over, and over, and over again?
The first season of our beloved series aired over a decade ago in 2010. And to this day it still holds up as one of the most entertaining, crazy, and just straight-up fun series ever to grace the small screen. Memorable quotes, an intriguing plot, great characters, and an amazing cast starring Troian Bellisario, Ashley Benson, Lucy Hale, and Shay Mitchell as the four leads make this show one of the greats.
The first-ever trailer for season 1 still gives us chills all these years after! Don't believe us? Check it out:
Told ya!
And now that Pretty Little Liars: Original Sin is coming to HBO Max to carry the torch you can't help but stream the original in its entirety once again. Whether it's to get ready for the spin-off, compare the two, or simply relive the good old days when everything you wanted to watch wasn't split between seven billion streaming platforms, Pretty Little Liars is a must!
But this is where the troubles begin. Where do you stream the show? And how? And can't you just do it for free? This is exactly what we're here to help you with!

Stream Pretty Little Liars for free with ExpressVPN wherever you are!
Who is streaming Pretty Little Liars?
To start with, Pretty Little Liars: Original Sin is finally seeing its release on June 28th on HBO Max. And so far the trailer definitely does a good job of getting us both hyped and intrigued:
But we're not here to talk about the future. No, that conversation is yet to come. This time we're all about the tried and true original series.
And, as you may have guessed, HBO Max has become home to both the old and the new series. So if you are in the mood for all 7 seasons of the original-recipe Pretty Little Liars, this is the best place to be. However, it's not the only one.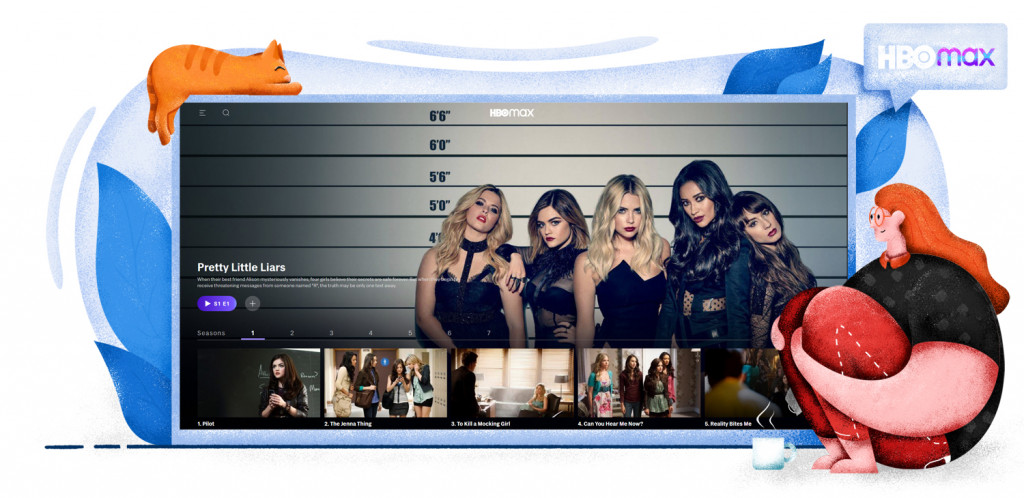 As awesome as the HBO Max may be, not everyone's a subscriber. And some countries don't even have HBO Max yet! So that's a bit of a problem, ain't it?

One of those?
Check out how you can stream HBO Max anywhere!
Well, what if we told you that there are more ways to skin a cat watch Pretty Little Liars? And you don't even have to take out any new expensive subscriptions? What if you could stream all of it for free?
Okay, what are you talking about?
Pretty Little Liars is an amazingly popular series the world over. Even after all this time fans still can't get enough. And who can blame them?!
But since far from every country can enjoy HBO Max there are bound to be other ways of streaming the show. Some of them familiar. And some of them even free!
All you need is a way to access them! And the only tool that lets you do that is a VPN!
But wait, would any old VPN do?! The opposite, actually! Streaming services are becoming increasingly difficult to crack, so just about any run-of-the-mill free VPN definitely won't cut it. There is, however, one VPN we can always rely on. And that's no other than ExpressVPN!
Why this VPN? Why not, say, PIA, or VyprVPN, or Atlas VPN? Well, there are lots of reasons for this, and frankly, we can't wait to share:
These days, when it comes to the pure quality of servers there is simply no beating ExpressVPN. And we take quality over quantity any day of the week!
ExpressVPN has servers in all the right places, so you know streaming anything from anywhere will never be an issue.
When it comes to unblocking streaming services no one does it quite like ExpressVPN. We're not sure what kind of dark magic this VPN pulls to make it happen but it just works!
Finally, ExpressVPN is very fast. The fastest one we've seen. So you can stream shows and movies from halfway across the globe without ever hitting a snag.
Want to know more?
Check out our full ExpressVPN review!
Now that you have the right tool, time to get to the actual streaming!
The two ways you can stream Pretty Little Liars
We have found not one, but two whole ways to stream Pretty Little Liars for free. So choose the one that best suits you and get a headstart on the spin-off!
Netflix
Right, so we're stretching the definition of "free" here, but c'mon, this is Netflix we're talking about! Who doesn't have Netflix?!
You may be wondering why Pretty Little Liars is not on Netflix, but this depends exclusively on where you are. There are places and countries where the show is perfectly streamable on regular ol' Netflix. Namely, Canada, the UK, and Italy!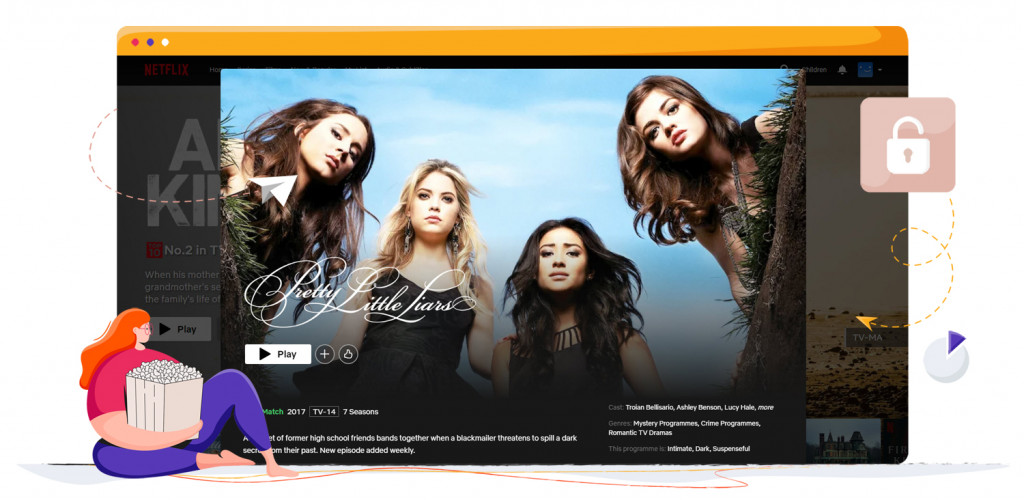 And lucky for you, you can stream all of it with the help of ExpressVPN! Here's all that you have to do:
First of all, get ExpressVPN!
Now, connect to one of the providers' stellar servers in Britain, Canada, or Italy.
Restart Netflix and try searching for the series.
"It's immortality, my darlings"
BBC iPlayer
OK, so maybe you don't have Netflix either. That's fine too because we have a solution that doesn't require any investments: the British streaming platform BBC iPlayer! And it's streaming all of the Pretty Little Liars seasons and then some!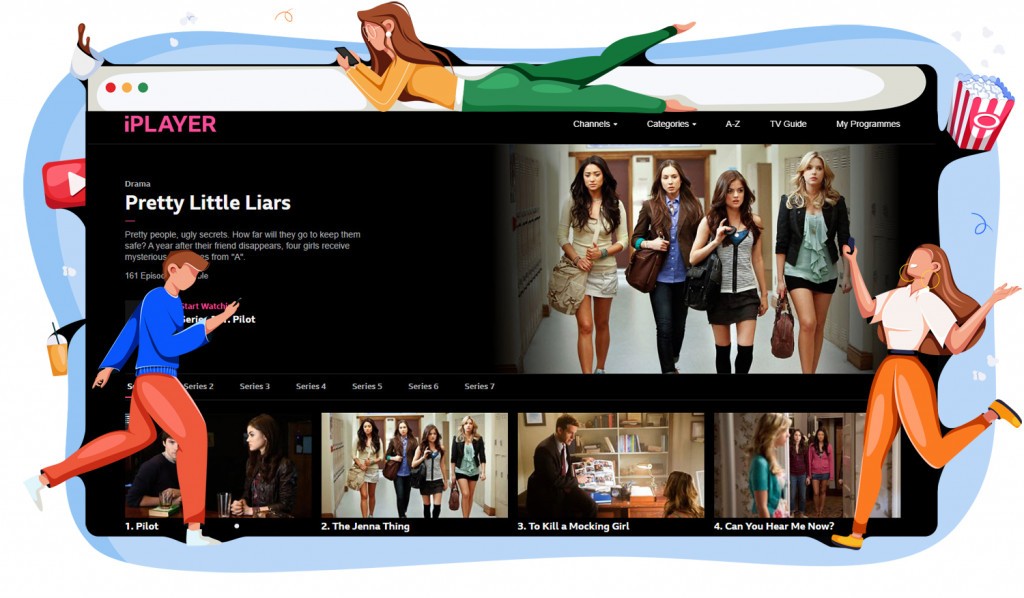 It doesn't take a Pretty-Little-Liars-level of mystery to figure out that BBC iPlayer is only watchable in the United Kingdom. But this is exactly what ExpressVPN is meant to help you with!
So here's what you do:
First and foremost, get ExpressVPN!
Connect to a server in the UK.
Head over to the BBC iPlayer platform and apply for a free account. You will be asked to provide a local postcode, but that's what the Random British Postcode Generator is made for!
If prompted about having a TV license say that you have one.
Elementary! (different work of fiction, but we're owning it!)
And what about Pretty Little Liars: The Perfectionists?
Pretty Little Liars: The Perfectionists was the first sequel to the original Pretty Little Liars series. And we hope that the new one from HBO Max will fair better because this one wasn't really able to recapture the magic of the original. So, to no one's surprise, the show only lasted one season and was immediately canceled.
These days The Perfectionists can be found on the very same HBO Max platform. And as fans of the show, we genuinely believe it is worth checking out.
Curious? Well, you're in luck, because you can catch the sequel on BBC iPlayer as well. And you already know how and what you need for that!
Pretty awesome, right? That's like an extra season to either tie you over before the new one or see what worked for either of the sequels and spin-offs!
"When you love someone, it's worth fighting for no matter what the odds"
"Don't apologize for who you are and what you want."
Sorry, the quotes are so awesome, we just couldn't choose which one to go for! But also it is and you shouldn't!
Why pay for something when you can watch it for free?! Especially when you can surf any Netflix library or get any content you want with a flick of a virtual switch?!
So grab yourself an ExpressVPN subscription, load up on popcorn, and enjoy 7 seasons of the original Pretty Little Liars series completely free before the spin-off is out!