Binge the full Twilight Saga wherever you are!
The Twilight Saga was first a series of four books created by Stephenie Meyer, that later spawned a highly successful movie franchise. The full Twilight Saga spanned 5 movies and made household names out of lead actors Robert Pattinson, Kristen Stewart, and Taylor Lautner. And even though the last movie in the phenomenally popular franchise was released over eight years ago, The Twilight Saga remains one of the most popular young-adult movie series to this day.
With streaming services constantly buying movie rights from one another, it's becoming increasingly hard to find a single platform, where you can watch the Twilight Saga in its entirety. Well, we're here to help with not just the "where?" but the "how?" as well!
What order does The Twilight Saga go in?
Before moving on to choosing the best streaming service to watch The Twilight Saga, we should refresh your memory on how many movies are there in total and what order do they go in.
There are five movies in the Twilight Saga and they don't use numbers in their names, so the order can get confusing. The order of the Twilight Saga movies is as follows:
Twilight (2008)
The Twilight Saga: New Moon (2009)
The Twilight Saga: Eclipse (2010)
The Twilight Saga: Breaking Dawn – Part 1 (2011)
The Twilight Saga: Breaking Dawn – Part 2 (2012)
Where can you watch The Twilight Saga?
The Twilight Saga is available to stream or download on numerous platforms. However, this availability is prone to change and greatly depends on what streaming platforms are available in your region.
Until recently The Twilight Saga was only available on Hulu as a digital rental or purchase, which is very unfortunate for those living outside of the US. However, some time ago the franchise found a new home on Amazon Prime. And in August is has also appeared on American Netflix. But with streaming platforms constantly changing their content, the true fans of the series should waste no time and get to watching!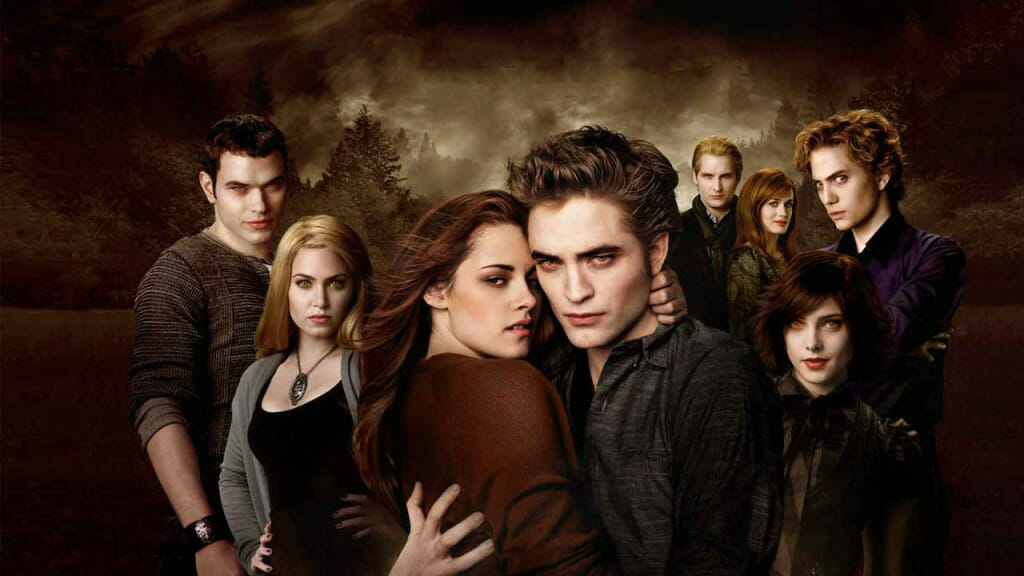 How can you watch the full Twilight Saga?
Sure, you can hunt down the full set of Twilight DVDs, but nothing beats the comfort of a cozy evening with a hot cup of cocoa with your favorite series ready to go. So what do you do if the streaming services that have their grasp on The Twilight Saga are not available in your country or region? Should you deny yourself almost ten hours of pleasure watching the turmoils of Bella's relationship with Edward and Jacob? To that, we say: No!
And the solution we offer is easy as pie – a reliable VPN.
To put it bluntly, a VPN allows you to virtually change your location to anywhere in the world and access any service that is currently streaming the vampire Saga. Even if you live outside the US or your country doesn't yet have a streaming service you so desperately need, a VPN can make all of those problems a thing of the past with just a few clicks.
Never get lose sight of your favorite film series ever again!
So what is the best VPN to stream the Twilight Saga?
There are a plethora of VPN providers out there and many different reasons to choose one over the other. The perfect VPN for you will always depend on your personal preferences and what you use it for. While some need a VPN that offers maximum privacy, others want something simple and easy to use or something cheap to use for a leisurely streaming binge.
For the specific task of streaming The Twilight Saga, we have chosen three of the best VPNs out there that combine the freedom of connecting to a server in any country so you'll never miss your favorite movies ever again, with great speeds and user-friendliness, so you don't have to be a tech whiz to figure it out.
NordVPN is one of the biggest and most popular VPN services in the world. With thousands upon thousands of servers all over the world, you are sure to find a place, that's currently streaming everyone's favorite vampire drama.
NordVPN
The Best VPN to stream The Twilight Saga
ExpressVPN is best known for speed and stellar performance. Even though it is a bit on the pricy side, with a VPN this good you will never have to worry about the video freezing at the most thrilling moments
ExpressVPN
The fastest VPN to watch Twilight
This awesome VPN combines an extremely easy-to-use and master interface with top-notch security – no one will even know you always cry when watching New Moon.
CyberGhost
The safest way to stream Twilight
Is there a way to watch the Twilight Saga for free?
There are alternative means of watching the Twilight Saga which are free, but they may not be legal in your region. It's possible to find Torrents containing the Twilight Saga movies, and you can find them available to stream for free on some streaming websites.
However, most modern ISPs can detect illegal activities on the Internet, and not only shut down your Internet connection altogether, but even fine you for the illegal use of copywritten materials. So even if you go this route to get your hands on some Edward action, you will still need a VPN to ensure access to Torrent and streaming sites, as well as your total anonymity so no one will ever know what you've been up to.
Conclusion
There is no shortage of ways to watch The Twilight Saga online. Whether you finally found a reason to get that streaming subscription you've always wanted, or you want to download all of the movies, so that they will never leave your side, the solution is always the same – a good, reliable, and effective VPN.
With a good VPN by your side no geo-restrictions, no lack of streaming services and no nosy Internet provider will ever get in between Bella and Edward (don't tell us you're team "Jacob"! Or do – in the comments).