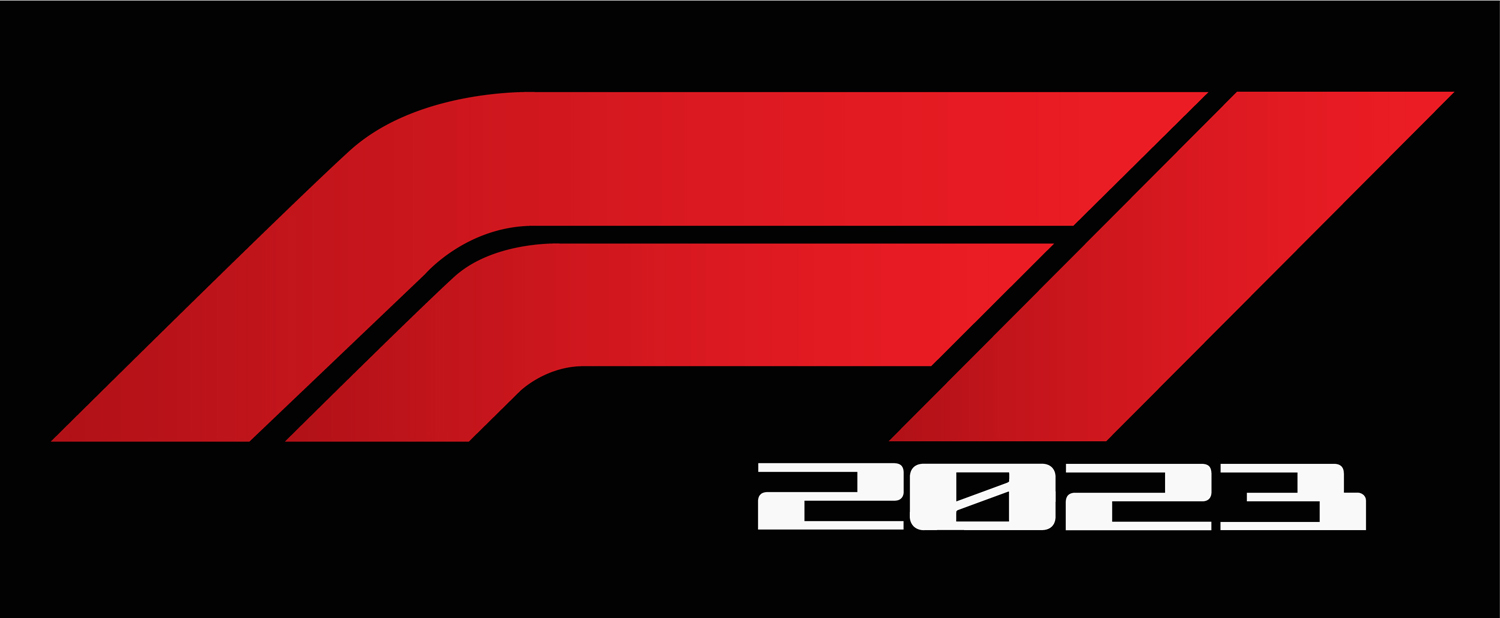 Formula One 2023 season: Watch it live, free, anywhere
Has winter depression been hitting you hard? Have you had just about enough with the short days and weather ripped straight out of a disaster movie? Has work… stayed work? Well, we're willing to bet that your days are about to brighten up. Why? Because the 2023 Formula 1 World Championship is about to start!!
It has only been a few months since the previous F1 season ended, but it truly felt like a small eternity. However, starting March 5th our weekends will once again be filled with the vroom-vroom noises of the most sophisticated and fastest cars around, and the best drivers competing for the title of World Champion across the most challenging circuits all over the world. And it couldn't have come a moment too soon!
So, naturally, now is the time to find everything to know about the upcoming Formula 1 season. But most importantly – how and where you can watch it. And that's what we're for!

Watch the entire 2023 Formula 1 season for free with ExpressVPN!
Formula 1 season 2023: Everything you need to know
Lots of fans have criticized the 2023 Formula 1 World Championship season for being too uneventful. Most of the races were Dutchman Max Verstappen breezing his way to the finish line until he was bestowed the title of champion in the middle of a random interview. But hey, at least it was unstoppable entertainment to see how many times Ferrari would screw over Leclerc.
But, in all seriousness, the 2022 season may have had its flaws and lack of true F1 excitement, but it did a perfect job of setting the stage for the 2023 season. So this could be the Formula 1 season for the ages. One that you definitely shouldn't miss!
The Drivers
Let's start with the obvious. Max Verstappen is the defending champion. And he is, of course, joined by his Red Bull partner in crime Sergio Pérez, who's had a few spectacular races the last couple of seasons, but we feel is yet to truly shine.
After a devastating 2022 season, Mercedes is coming back with the same dream team of former champion Lewis Hamilton and George Russell. And everyone is hoping that this will be a much-anticipated return to form.
Ferrari is also bringing back the Leclerc/Sainz team. Sadly, Ferrari is also bringing a lot of the other crew back too, the ones that many believe to be responsible for Leclerc's many misfortunes in the 2022 Formula 1 season.
But it's not all familiar faces and names. The 2023 Formula One has plenty of loss and new blood to deal with as well.
Sebastian Vettel – the legend of Formula 1 – retired last season and won't be appearing in this one. The current Championship will also not see the return of Daniel Ricciardo, Nicholas Latifi, and Mick Schumacher.
On the other hand, the season is getting plenty of new and exciting faces. First of all, there is another Dutchman joining the fight for the title – Nyck de Vries (2019 Formula 2 champion) will be riding with Yuki Tsunoda for Scuderia Alpha Tauri. Piastri is replacing Ricciardo at McLaren, and Logan Sargeant will replace Latifi at Williams, becoming the first Formula One driver since 2015.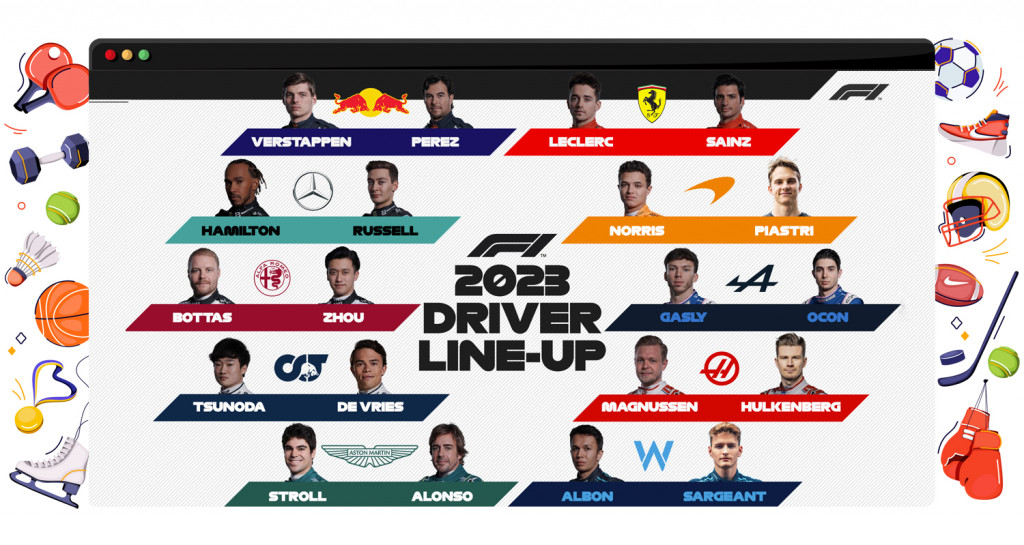 So, the season is shaping up to be the perfect balance of both old favorites and new talent. And this always makes for exciting races!
The tracks
Currently, there are 23 races announced for the duration of the season. And this time around it has some exciting additions.
These include the Qatar Grand Prix making its return after being featured for the first time in 2021. But, perhaps, the most exciting one is the Las Vegas Grand Prix which is going to take the drivers across the Las Vegas Strip.
The testing round of the season will take place on February 23-25. And the regular season will kick off on the 3-5 of March with the traditional Grand Prix in Bahrain.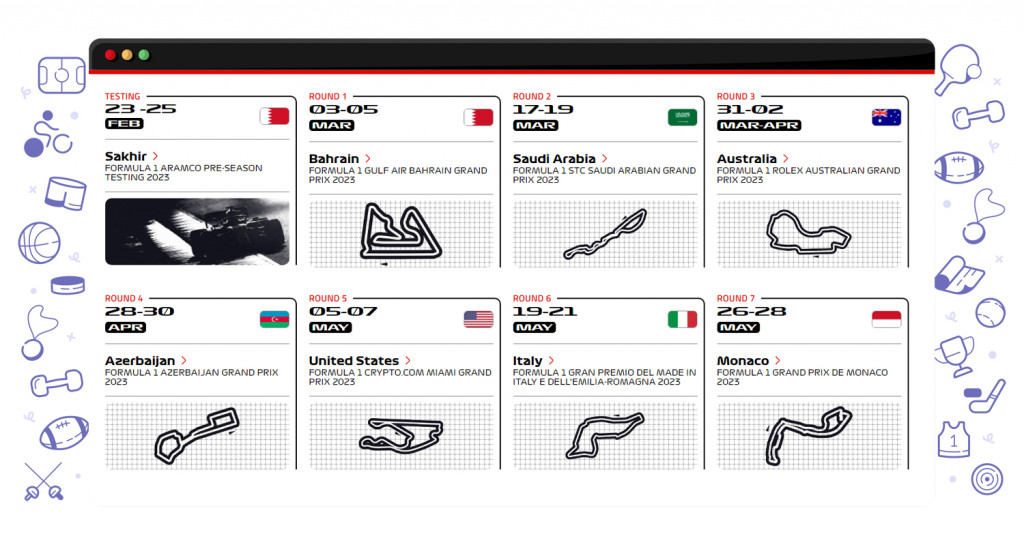 Where can you watch the Formula One 2023 season?
Now that you know what the new Formula 1 season is going to be all about, time to ask the question on everyone's mind: How can you watch the 2023 Formula 1 season in its entirety?
Well, as usual, this depends solely on where you live and what streaming options are available in your country.
First of all, if you're a true fan and have boundless pockets, there's F1 TV Access (which comes with live timing data and delayed race replays) and the newly launched F1 TV Pro (which comes with every F1 TV race live and on-demand).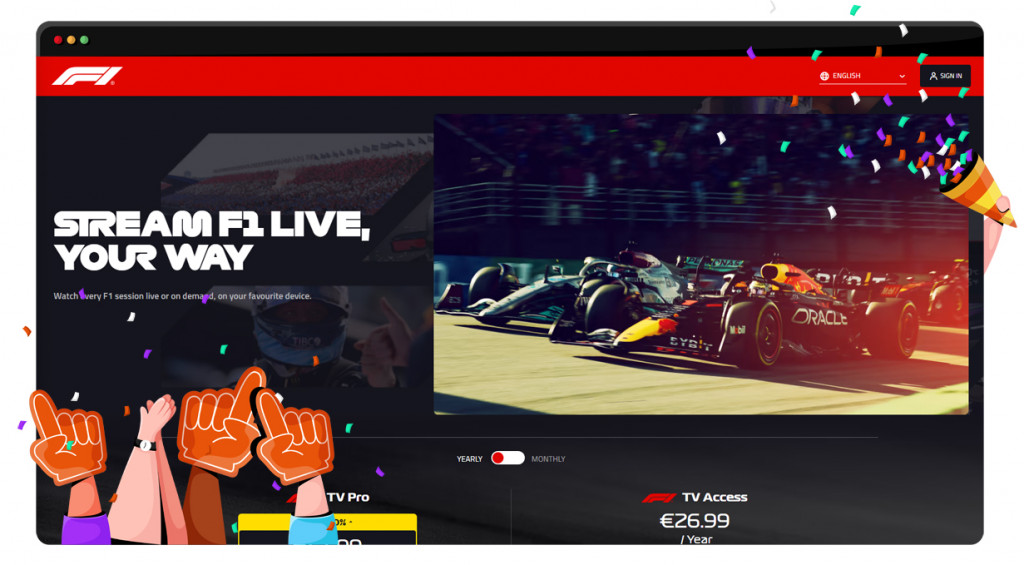 But if you're not into taking out extremely specific (and pricey) streaming subscriptions, you have your local options. And those vary per locale.
For example, in the US the only way to watch the 2023 Formula One season is ESPN. And this pretty much requires you to have either cable, or one of the many cord-cutting streaming services that carry ESPN (fuboTV, Sling TV, Hulu + Live TV, or YouTube TV).
Canada has its pick of RDS and TSN with both being paid streaming platforms.
Australians are going to have to subscribe to Fox Sports, or otherwise settle for only the Australian GP weekend made available free for everyone in the country to watch.
Finally, the UK can only watch the entire season on Sky Sports F1, with the British GP being the only weekend available free-to-air on Channel 4.
Obviously, many might find an issue with having to pay for yet another streaming subscription to watch the season. But if you play your cards right, you just might be able to watch it completely free!
How can you watch the 2023 Formula 1 season for free
While most have to pay for watching Formula One, others get to enjoy it for free!
You heard it right, folks. In some countries, fans get to watch the entire 2023 Formula 1 season free of charge. Would you like to be one of those lucky few? Well, you are going to have to deal with the dreaded geoblock. The free Formula 1 broadcasts are only available inside their countries, and as soon as the platforms see where your IP is coming from, they will immediately block you.
Fortunately, all you need to bypass the blocks and get your hands on all the F1 streaming action you want is ExpressVPN!
ExpressVPN is the ultimate tool when it comes to streaming Formula 1, and this is why:
It has the most diverse fleet of servers all over the world, and a sea of local IP addresses to boot. And this means you can get instant access to pretty much any platform in the world.
All of ExpressVPN's servers are optimized for streaming. With their help, you will be able to instantly access any Formula 1 stream you want.
You don't have to be a rocket scientist to use ExpressVPN either. All it takes is one click on any device, and you are there, enjoying the action.
It also comes with amazing support, that will hold your hand throughout any and all of your streaming endeavors.
Want to know more?
Check out our full ExpressVPN review!
Where can you watch Formula 1 live and for free
Now that you know the 'How', all that's left is finding out the 'Where'. And that's exactly what we're here for.
Much like last year, and the year before that, and the year before that, we have gone through the Internet with a fine-toothed comb to find every single way for you to watch the 2023 Formula 1 season live and completely free. The options aren't as plentiful or as easy to access as the years before, but we found them. So here goes:
ServusTV / ORF
For years Austria has been a shining beacon for any and all Formula One fans all over the world. And 2023 is no exception.
Much like last year, the rights to broadcasting Formula 1 are shared between two local channels: ServusTV and ORF. But if you haven't heard of them by now, you are Formula Oneing wrong.
The season will kick off on ServusTV (which is actually owned by Red Bull), and the races will go back and forth between the two.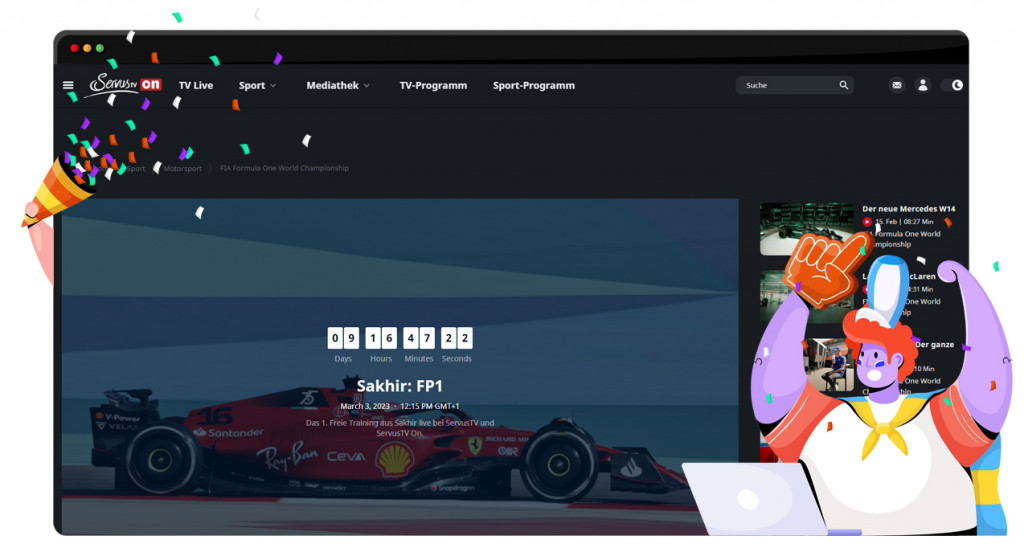 Now, how can you get your hands on all that F1 streaming goodness? Well, quite easily actually. All you have to do is:
First of all, get ExpressVPN and install the app on your device. Lucky for you, ExpressVPN supports up to 5 simultaneous connections and has apps for pretty much any device.
Next, launch the app and connect to one of the provider's server locations in Austria.
RTL Zwee
Last year every Formula 1 fan had to up their geography game and google where Luxemburg is. And this year the trend continues as this tiny European country is one of the few places that will still be broadcasting the entire 2023 Formula 1 season on its RTL Zwee channel, which is also accessible online through the RTL Play streaming platform.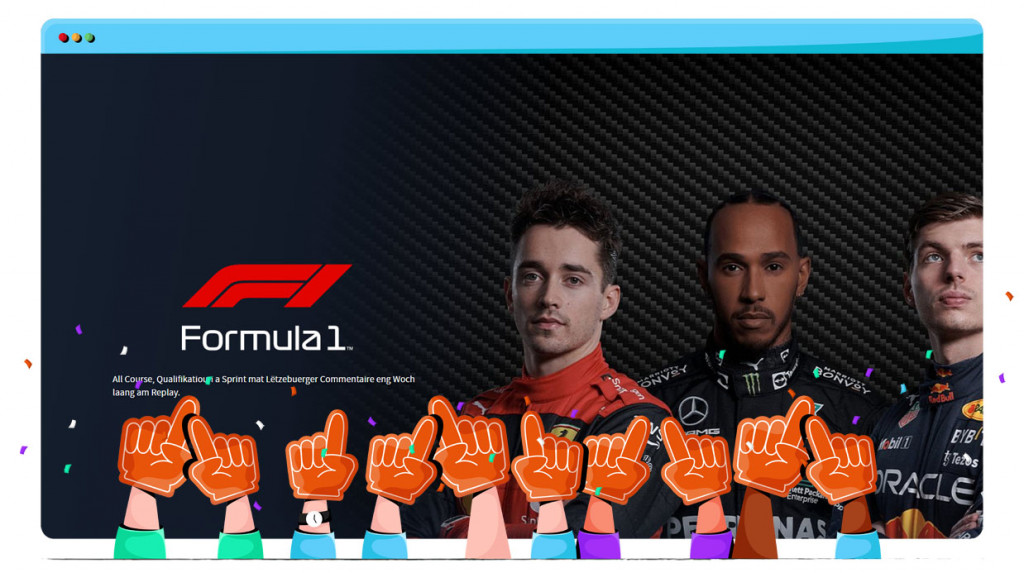 Unfortunately, the platform is only accessible in Luxemburg. But that is, of course, not a problem for ExpressVPN:
Grab ExpressVPN and install it on your device.
Next, launch the app and connect to the provider's server location in Luxemburg (and good luck finding any other VPN with servers in the country)
Head over to the RTL Play online streaming platform and navigate to the RTL Zwee stream. That's it!
SRF / RSI / RTS
This year, there is also Switzerland that's coming to the rescue of Formula 1 fans. And in three different languages no less!
Swiss TV broadcaster SRG SSR will be streaming the entire 2023 Formula One Championship on three different channels: SRF (in German), RSI (in Italian), and RTS (in French). And if that's not plenty of choices, we don't know what is!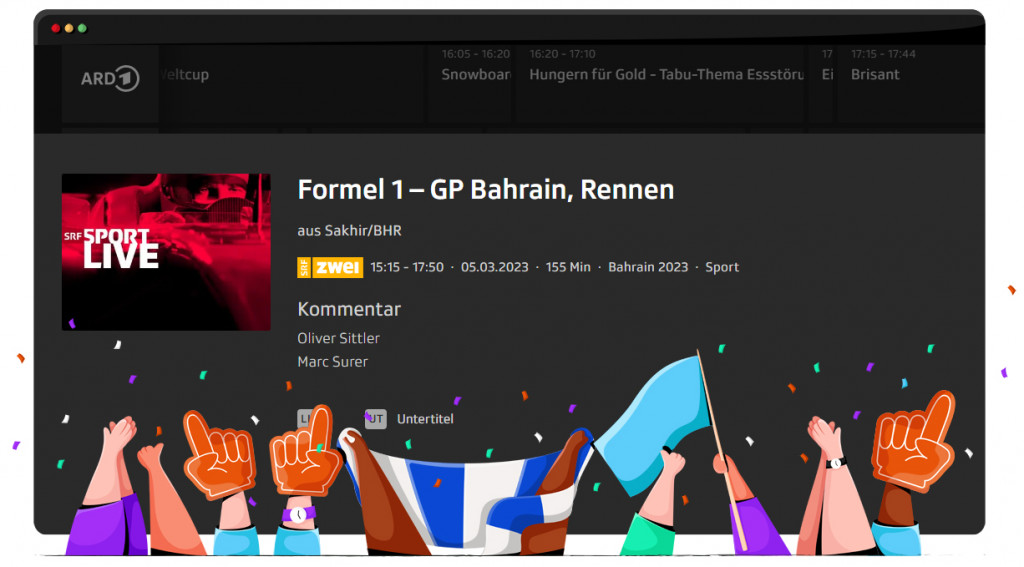 As you may have come to expect by now, the streams will only be available in Switzerland… unless you are using ExpressVPN. Because this is literally all you have to do to start streaming Formula 1 like a true Swiss:
Start by getting an ExpressVPN subscription if you haven't already. No other VPN will be able to crack Swiss streaming.
Install the app on your preferred device, launch it, and connect to one of the provider's strong servers in Switzerland.
RTBF
Coming in at last, but definitely not least place is the French broadcaster from Belgium – RTBF with its very own free online streaming platform RTBF Auvio.
Getting your hands on this free Formula 1 live stream isn't as easy as switching it on and tuning in, but it's definitely worth it if top-notch French commentary is your thing.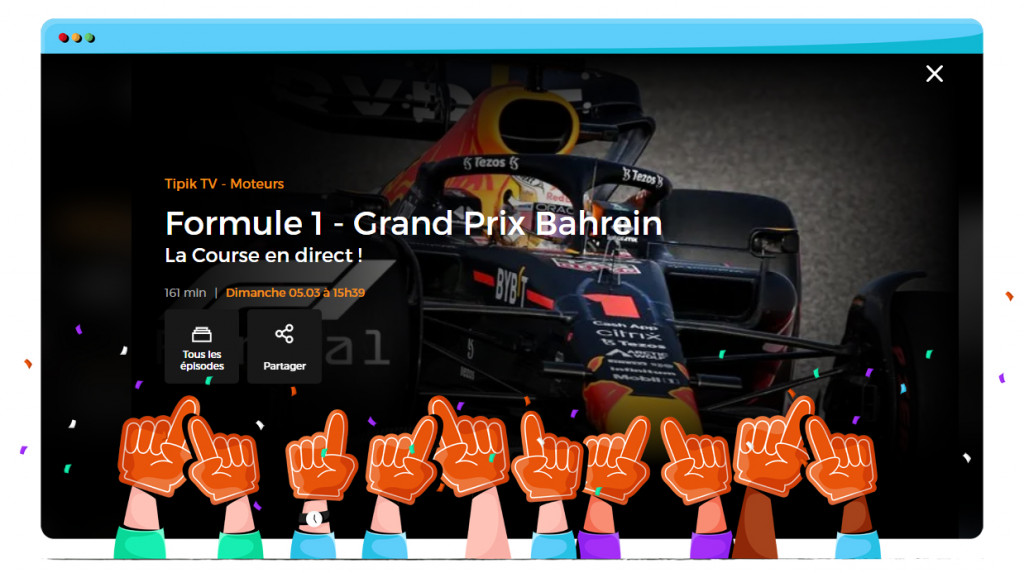 Want to get your hands on this waffle- and fries-infused Formula 1 live stream? Well, this is how you do it:
As usual, start by getting an ExpressVPN subscription. No other VPN in the world is optimized to access Belgian streaming services.
Launch the app and connect to one of the provider's servers in Belgium.
Head over to the RTBF Auvio online streaming platform and apply for a free account.
The one thing that you are going to need to make one is a local postcode. So here are some examples so you don't have to look one up yourself: 3770, 8750, 9630, 7370, 5555, 9980.
Create an account, navigate to the stream, and enjoy! 
Start your engines!
This is the moment we have all been waiting for. Formula One is back, baby, and now you don't even have to jump through hoops or pay out of your nose to watch it.
There are fewer options to watch the races live and for free. But there are some bulletproof and great ones to get you excited for the weekend for months to come. So grab yourself an ExpressVPN subscription, buckle in, and enjoy. Here's hoping it's going to be a wild ride! ?️?