The Signal messenger app, which built its reputation on security, privacy, and confidentiality (and a bit of Elon Musk endorsement) decided to show what kind of information Facebook collects about its users using Facebook's own weapons.
Instead of writing a mean tweet, Signal launched an entire ad campaign on… Instagram. The platform beloved by everyone who's looking to land a skincare partnership belongs to Facebook. It is also notorious for being the most invasive app on your phone.
The ads were specifically designed to show, what Facebook knows about you, the user.
And while we know, that Facebook knows you much better than you are willing to share, imagine seeing this in your feed:



Wait, are these kinds of ads possible?
The idea behind Signal's bold ad campaign was to demonstrate how grossly invasive Facebook can be.
They might say your data is safe and private. But in reality, all of your personal information, browsing patterns, interests, locations, and life events are carefully collected, analyzed, and sold to pretty much anyone who is willing to pay.
Facebook's advertising policy clearly states that the ads cannot imply personal attributes:
Ads must not contain content that asserts or implies personal attributes. This includes direct or indirect assertions or implications about a person's race, ethnic origin, religion, beliefs, age, sexual orientation or practices, gender identity, disability, medical condition (including physical or mental health), financial status, voting status, membership in a trade union, criminal record, or name.
However, Facebook clearly has no problem handing that information over to advertisers for them to target ads at you.
The catch is that the ads CAN'T SAY how they are targeting you. But as for invading privacy and using that information to show you designer socks… Well, you tell us after you get an unusually specific ad.
Instagram did not have it
Facebook, however, did not appreciate the creativity.
Before Signal had a chance to launch the ads, Facebook blocked them and disabled Signal's ad account.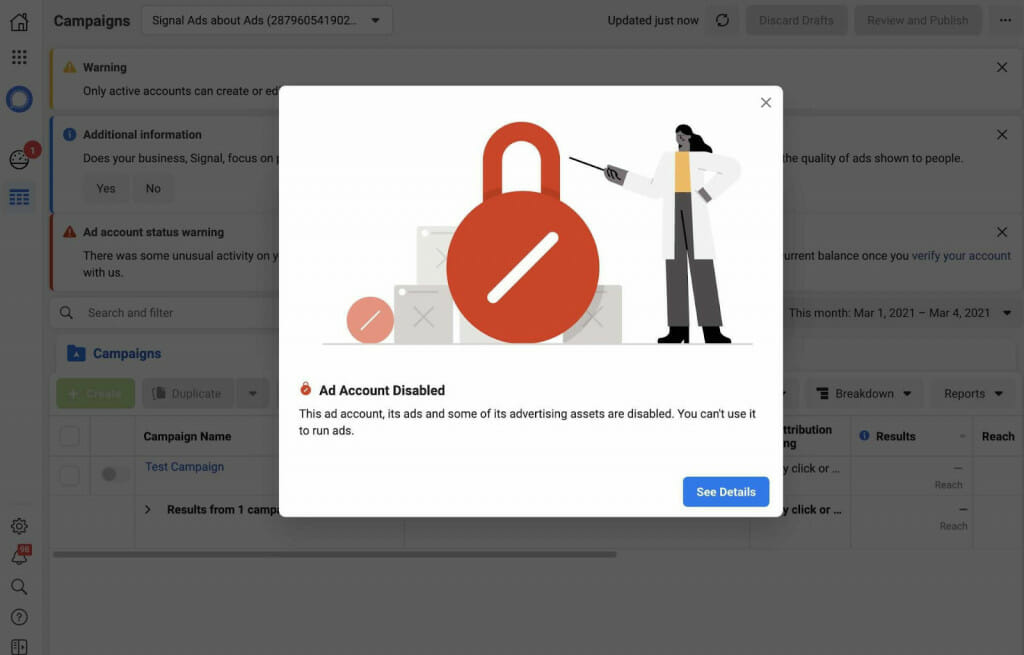 According to Signal, this shows how hypocritical Facebook is with its privacy policies:
Facebook is more than willing to sell visibility into people's lives, unless it's to tell people about how their data is being used. Being transparent about how ads use people's data is apparently enough to get banned
He said, she said
Soon after Signal published a blog article about this, Jo Osborne of Facebook released a statement that Signal never actually tried to run the ads and their account was not disabled.
In his words, this is nothing more than a publicity stunt by Signal.
Jo explained that even if these ads were run on the platform, they wouldn't get the account banned. A few of them would have been flagged for privacy policy violations, sure, but most of them would have been fine.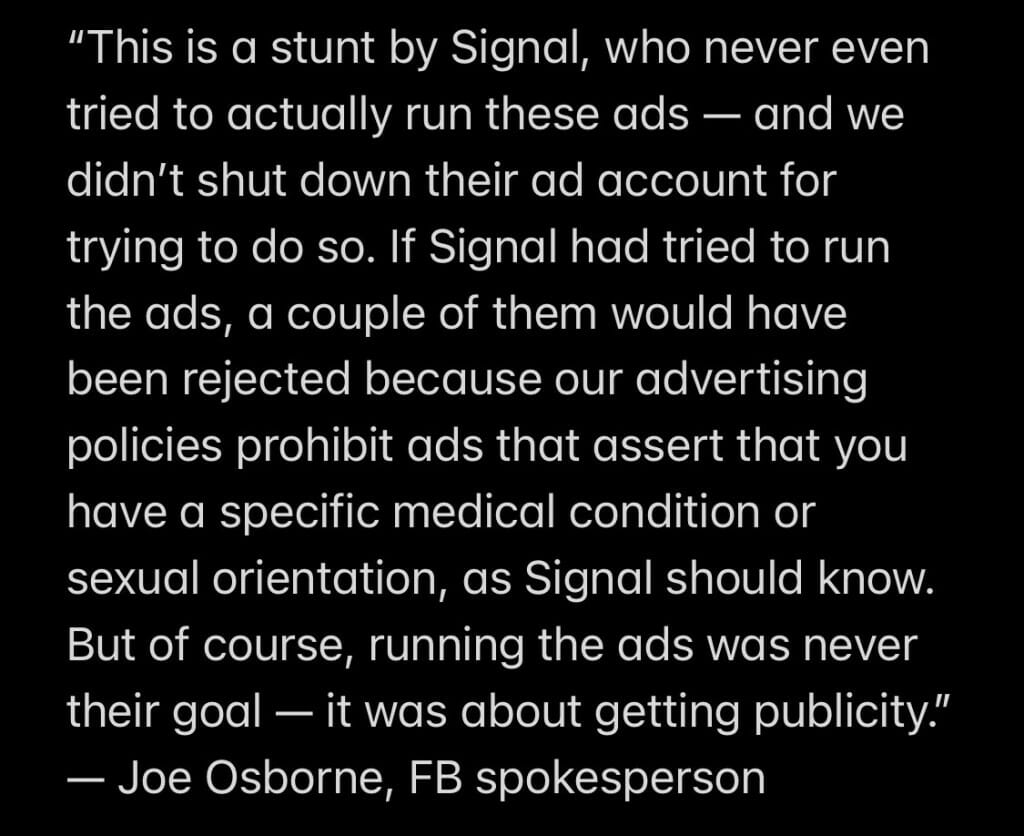 Signal, however, denies these claims.
They maintain that they did indeed try to run the ads, and did get their account banned for that very reason.
https://twitter.com/signalapp/status/1389767227570798595
The takeaway
While we watch the drama unfold, it is not exactly clear who is telling the truth at this time.
Nor should it matter.
The takeaway here shouldn't be whether Signal actually tried to launch a cool ad campaign. It should be a reminder that social media is a goldmine of private information. And as long as you are on there (and even if you deactivate your account) your online life will never be private.
So the actual question is: Are you OK with that?