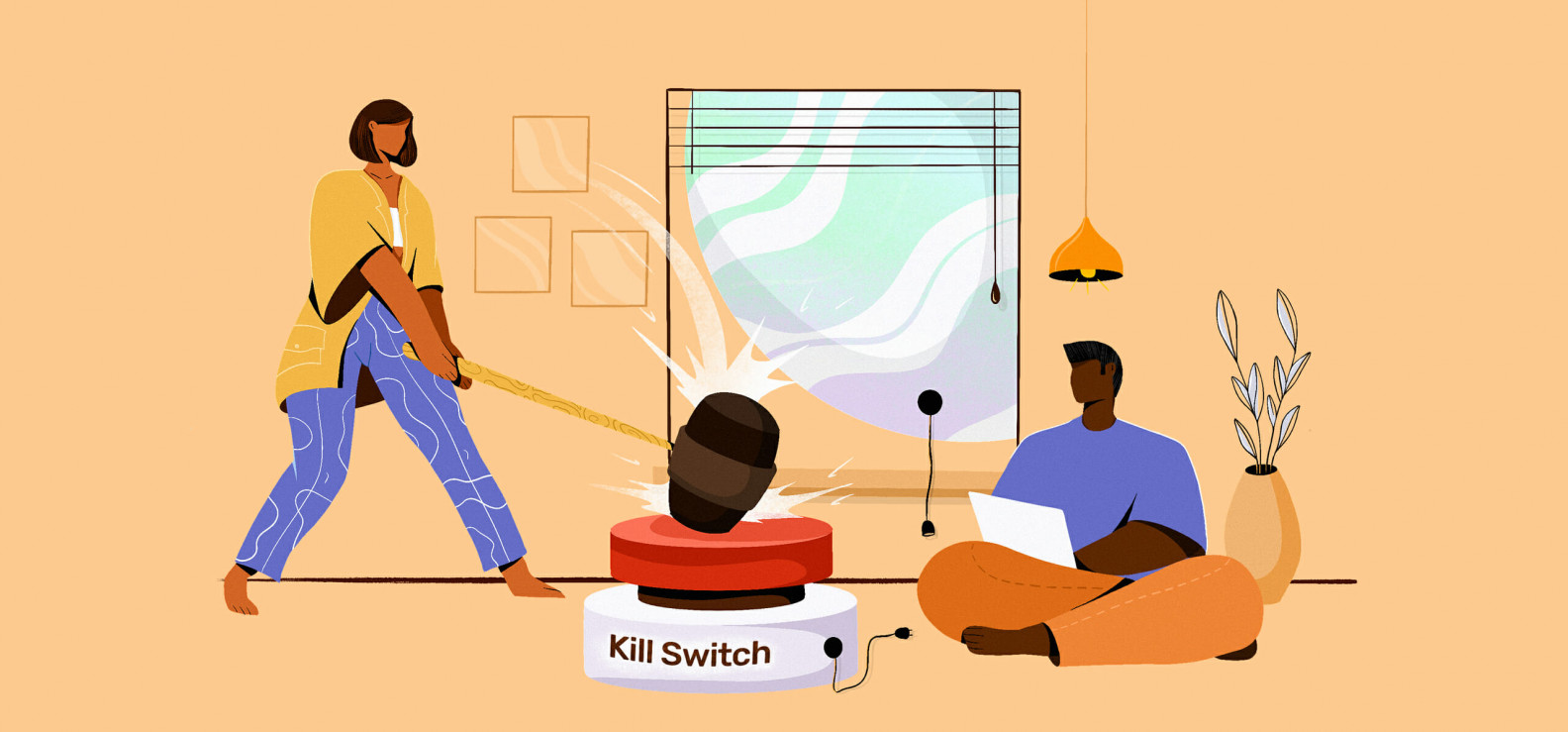 What is a kill switch, and why is it a must-have for any VPN?
There are many VPN services today, but one thing for sure, not all give you the same experience. Why? Well, all VPNs are built differently.
In concept VPN technology is easy – encrypt traffic, establish a secure connection, relay it through a remote server. But every VPN does that differently, which is why there are comparison websites such as ours.
After being around for quite some time, VPN providers started developing new features to further ensure your online privacy and anonymity. And one of those essential features is a Kill Switch.
These days a kill switch comes with pretty much every VPN (unless the provider doesn't care about you), but very few of them get it right.
But what's even more important (and tragic) very few users seem to understand the importance of a well-functioning kill switch. Even experienced users often see a kill switch as more of a nuisance, that cuts your Internet connection at unexpected times.
Well, we're about to change all of that.
What is a VPN kill switch?
A kill switch is a built-in security feature that cuts off your Internet when the connection to the VPN server drops.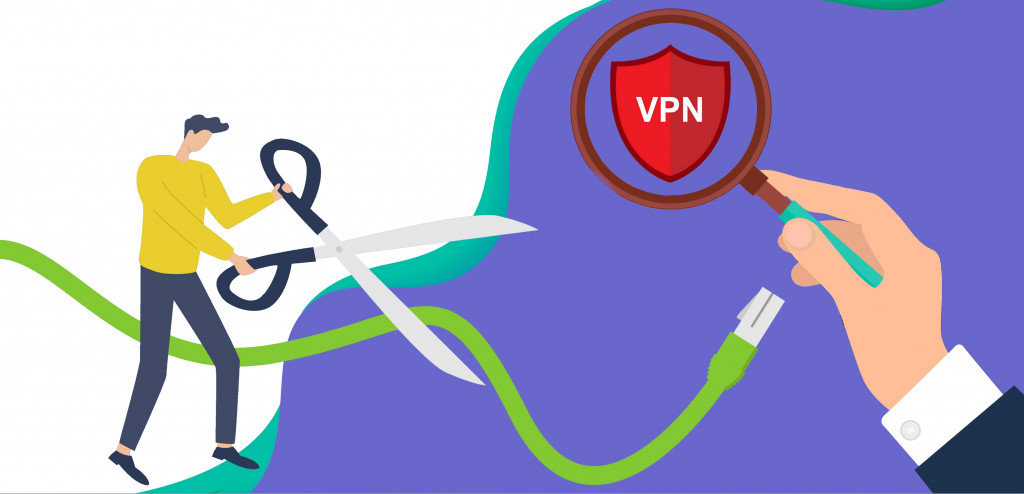 Since some VPN protocols can be unstable, the kill switch feature makes sure that even if the connection to the VPN server gets interrupted, none of your personal information will be leaked.
Think of it as a fail-safe security measure that ensures your IP address is not exposed in such an instance.
How does a kill switch work?
The VPN kill switch, sometimes referred to as the Internet kill switch, constantly keeps an eye on your connection to the VPN server and only comes into play when it detects a sudden drop.
It immediately stops any traffic to and from your device by automatically severing the connection.
By doing this, the kill switch makes sure none of your personal information is ever exposed. This includes your real IP address, your destinations on the Internet, the apps you are using, any kind of information you might be receiving or sending, and everything else Internet-wise.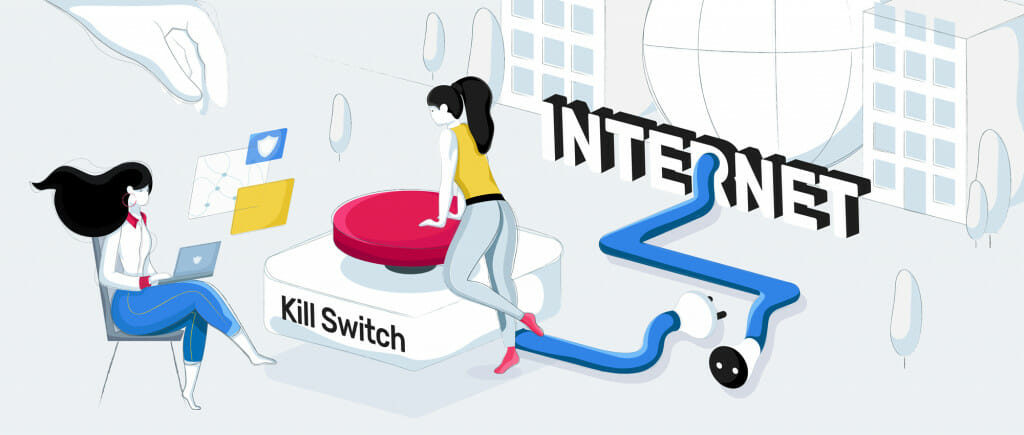 The connection will remain severed until the VPN connection is reestablished and becomes secure again (some VPNs do that automatically as soon as an outage is detected).
The feature is active by default in some VPNs, whereas in others, you may need to activate it from the VPN's settings.
Why would you want to use a Kill Switch?
Cutting your entire internet connection? That doesn't sound like anything fun.
So why would one even want to have this option enabled?
There are actually lots of occasions, where having a kill switch is absolutely mandatory if you care about your online security and privacy. Here are but a few examples of its uses:
When the VPN connection fails.
Not all VPN protocols are stable, so the VPN connection can fail. In some cases, the signal might be weak, or the server may malfunction, leaving you exposed.
Without a properly functioning kill switch, this could lead to all of your personal information being left out in the open.
If the app crashes suddenly.
It is a rare occurrence, but we've all had issues with apps, and VPN apps are no exception. In the event your VPN client crashes, you need to be assured your privacy won't be compromised. Unfortunately, not all providers account for that – looking at you, PIA.
If firewall or antivirus settings on your device disrupt or even choke your connection.
If you switch from one internet connection to another, say, from 5G to Wi-Fi.
This is common when using mobile devices, but with a kill switch, you've nothing to worry about when you make the switch. The VPN will stop all traffic from leaving your device, and as soon as you connect to a new network, it will immediately reestablish a secure connection.
You will barely notice it happening, but it will keep you secure at all times.
If your device goes to sleep or reboots, accidentally terminating the background processes, including the VPN.
After you boot your device back up, you might find yourself accidentally exposed. The feature will prevent that from ever happening.
When you are doing something online that you don't want your ISP to find out about.
Let's face it there are some things we just want to keep private like P2P file sharing and gambling. A kill switch ensures these remain so at all times.
If you are carrying out a sensitive activity like sending private information, or trading assets and tokens like crypto that require credentials.
With an enabled kill switch, you will be able to rest assured, all of your information will remain safe no matter what.
When you don't want your ISP or other third parties to find out you are using a VPN.
You might be able to trick services like streaming providers with a VPN, but if your connection momentarily drops you could be left exposed and locked out. This is often the case when you are using a mobile device that has GPS tracking.
A VPN will make sure you stay secure and hidden at all times.
We could keep going, but there is a much easier way to cover all the situations you need a VPN kill switch in.
Here's the general rule: If you feel you need to use a VPN, then you need a VPN with a kill switch.
What types of VPN kill switches are there?
There are two standard types of kill switches: a network-level kill switch and an app-level kill switch.
The network kill switch cuts all of your connections as well as the outgoing and incoming traffic.
The app kill switch only kills the traffic sent through applications. Most of the time it's customizable, and you can choose which apps get cut off from your internet connection while not losing the connection entirely. This is useful in cases like P2P file sharing.
The app kill switch is generally recommended to be used by experienced VPN users, who know exactly what kind of information is being sent by which application.
What are the best kill switches in the VPN world?
Though we have discussed the kill switch feature as either present or absent in a VPN, it is not exactly black and white.
Remember that thing about VPNs being built differently? VPN providers also offer different kill switch versions.
We won't drown you with a list of 547864184674 VPNs (even though we have probably tested all of them). Instead, we have selected the three best options.
ExpressVPN has one of the most flawless kill switches we have come across throughout our daily VPN testing.
The provider's Network Lock Kill Switch effectively stops all traffic from leaving or entering your device when activated.
It's not very customizable, but as a trade-off, it's very effective. It also reconnects you automatically, so all you have to do is wait.
The VPN additionally comes with a feature that lets you stay connected to devices on your local network. So even if you lose your internet connection, you can still use your device to print out some reports you were working on while you wait for the connection to return.
The network lock kill switch is available on the VPN apps for Linux, Mac, Windows, and routers.

ExpressVPN
Want to know what else ExpressVPN is capable of?
NordVPN is an ever-present name in the top VPNs and the list of best kill switches is not complete without it.
This VPN has a great automatic kill switch option that works both on a system level and on an app level. The feature is easy to use, flexible, and reliable.
Why didn't NordVPN get the usual 1st place? First of all, because we are honest and thorough. The drawback of this provider's kill switch is that it's neither available on all devices nor protocols.
The system-level kill switch option is present on macOS (IKEv protocol), iOS, and Linux apps.
The app-level is available on the apps for macOS (OpenVPN protocol) and Windows.

NordVPN
Find out everything there is to know about the world's leading VPN!
Admittedly, the third spot should have gone to Surfshark. However, during testing, the kill switch kept cutting our Internet connection entirely without restoring it. And the Internet connection would only pick up after we restarted our devices.
While Surfshark works on fixes, we are going to have to give third place to CyberGhost.
The VPN has had a troubling past, but its kill switch is straightforward and works as expected.
It is available on the apps for macOS, Android (the only Android support on our list), iOS, and Windows.
We especially like that it excellently pairs with the VPN's content unblocking and DNS leak prevention features.

CyberGhost
Check out what else CyberGhost has to offer!
Safety at all costs
While it is hard to hack a VPN server, there are other ways snooping eyes can reach you. They may try different malware or even wait for your VPN connection to fail, ready to strike.
To guarantee your privacy, use a VPN with a kill switch that actually works as the best way to protect your online privacy today.