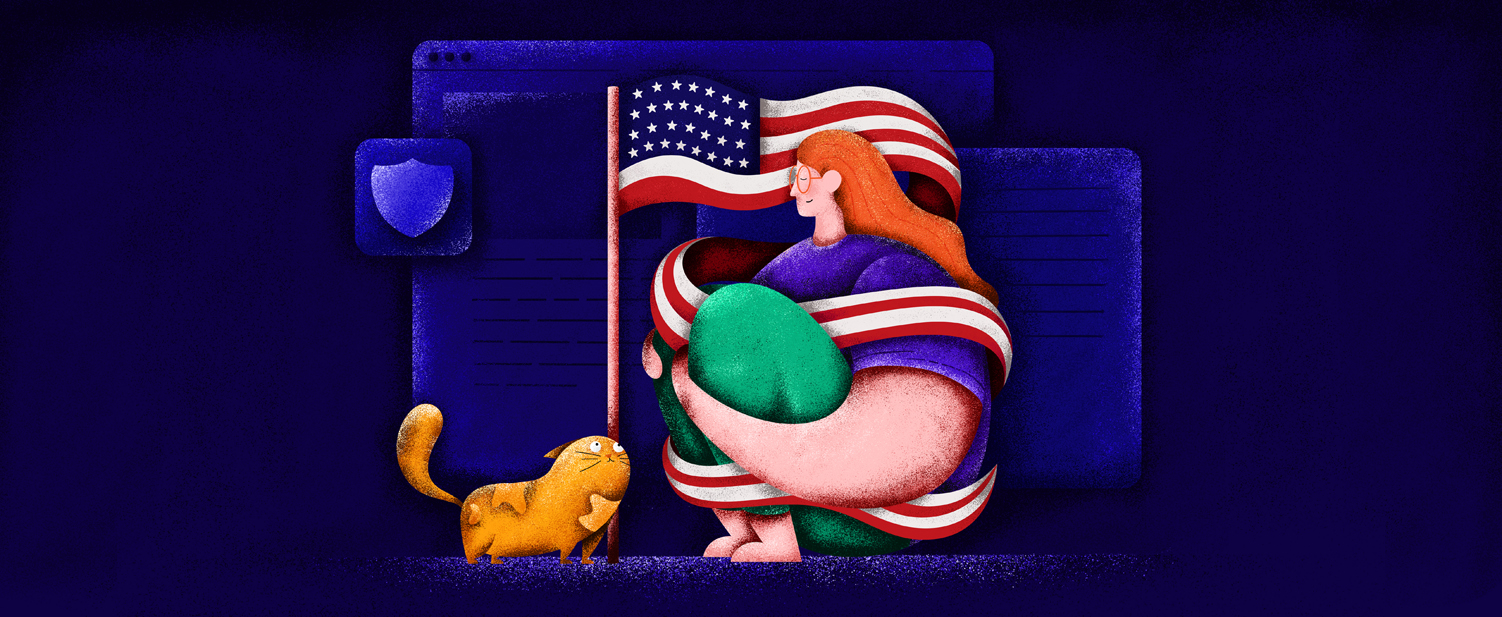 The Best VPNs for the USA
It's a cliche at this point, but the internet is truly the greatest invention of the last few decades. And sure, some may call it 'a necessary evil', but it's hard to imagine our lives without it. Information, entertainment, most of our daily tasks, our entire jobs – it's all about the Internet. In fact, it has become so rooted in today's society that it's difficult to imagine living without it.
But, as you probably know, the internet isn't without a dark side. The internet itself, some of the services it hosts, the danger presented by other users, as well as the sheer amount of information it knows and stores about us – all of this is something you, yes you, struggle with on a daily basis. You might know it, but as soon as you log on, you become a pawn in the ongoing war for online privacy and security.
It is, however, nothing new. The USA part of the internet has been a particular subject of many debates. It is home to the five biggest tech companies – Google, Amazon, Facebook, Apple, and Microsoft, after all.
The fact that these tech giants are all at the center of several investigations regarding their practices perfectly describes the internet space in the US. Far from the public perception, it is not as 'free and open' as most people allude to or think, not to mention the danger presented by ever-lurking cyber threats like hackers and malware.
This country-wide discussion has been going on for years. And it begs the question: Shouldn't you take your online privacy and security into your own hands? Well, should you?

ExpressVPN: A VPN that just works!
What dangers do you face online as a US user?
The internet is dark and full of terrors.
You might live in the land of the free, but here are just some of the privacy and security issues you struggle with every time you go online!
Cybercrime
Today, the basic netizen is as vulnerable on the internet as in the real world – probably even more because it ultimately takes no effort to lose everything you have. From all of your savings to your entire identity.
There are all types of malicious actors waiting to pounce on uninformed internet users. Some target their victim's systems, while others use their victim's hardware or software to do harm, from internet fraud to crypto-jacking – you name it.
End-users have also been the access point for many cyberattacks that crippled massive US-based businesses, including JBS, Colonial Pipeline, and even McDonald's.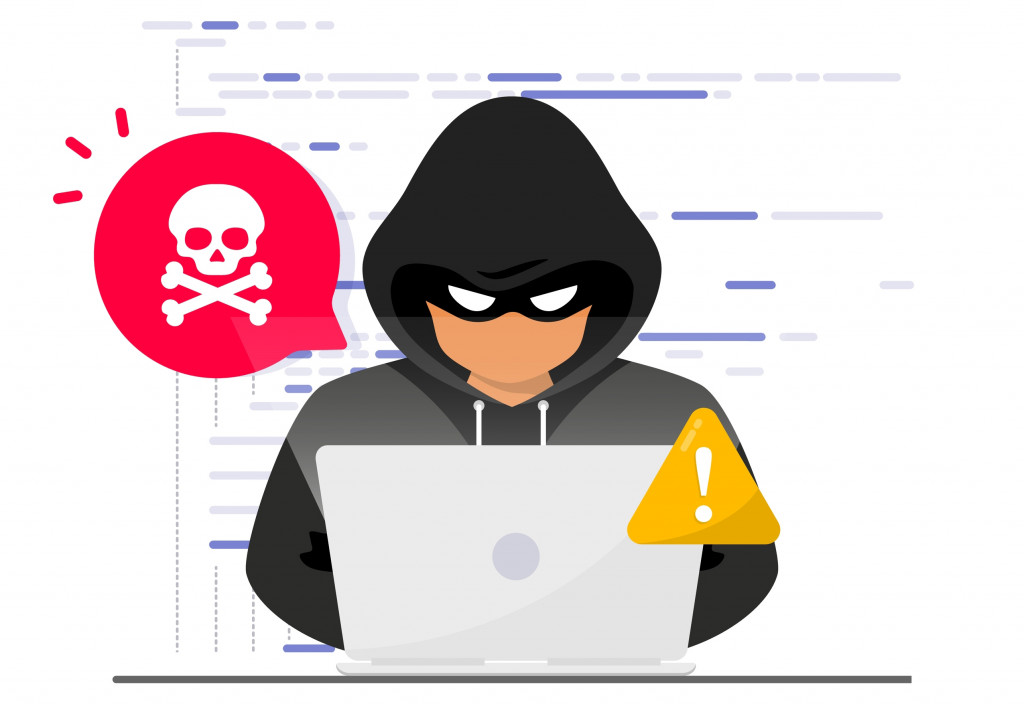 So personal online hygiene, security, and protection are no longer just about protecting yourself. It's slowly, but surely, turning into a social obligation.
Surveillance
You wouldn't believe it, but there are several parties, some you may not even be aware of, that have an interest in the online activity of the average internet user in the US.
Uncle Sam, the Big Five in Tech, each and every single one of your local Internet Service Providers (ISPs), Telcos…the list goes on. Ust think about it: Someone is currently monitoring your online activity and every move you make online!
Doesn't that just make you feel all nice and private?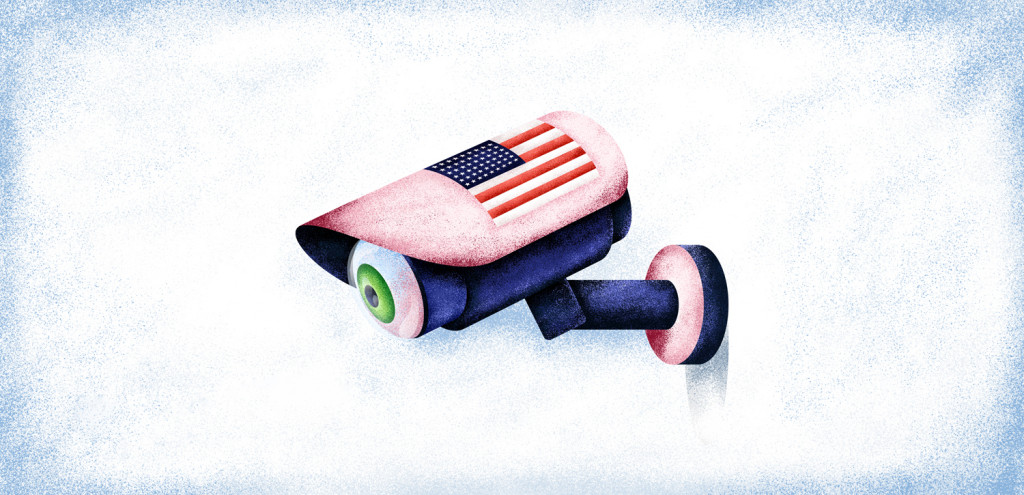 Restrictions
Land of the free or not, a lot of the internet is blocked and restricted, and that's on country-level. It goes far beyond this.
The restrictions become even more prevalent when you move to smaller spaces like workstations and schools. And while that does make sense to a point, at a certain point justified restrictions turn into full-fledged censorship.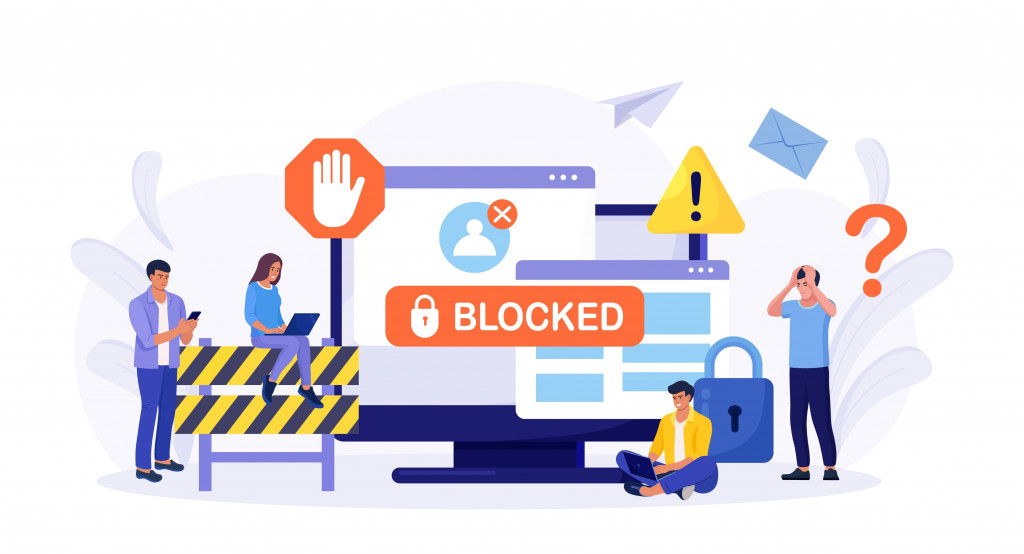 Geo-blocks
There is no debate that the US is the world's leading source of entertainment, from the sports industry to music to Hollywood. But as soon as you leave it, so does the entertainment. Even the best-ever Netflix library locks you out.

Don't think geoblocking can get bad?
Check out how it's affecting you every day!
It is a similar and frustrating experience when you discover interesting content outside the US but can't explore it. And when you thought that is all, sometimes you also have to pay for something others get for free, which just sucks.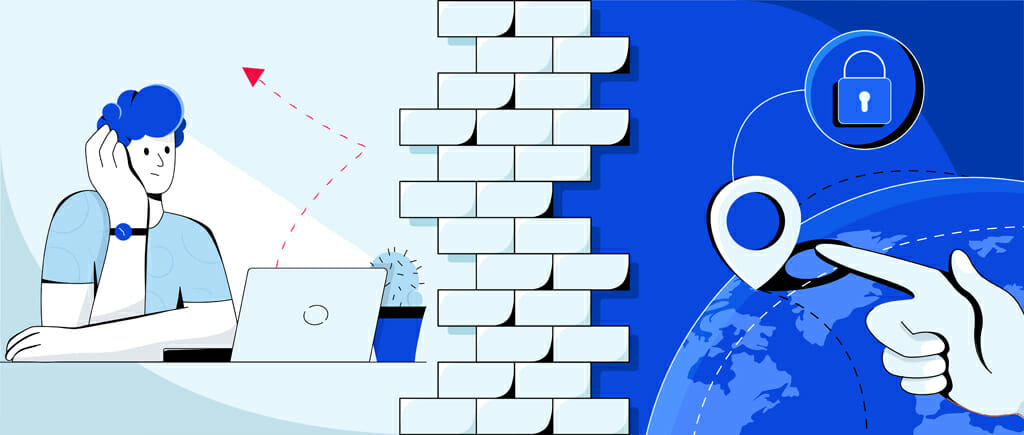 So how can you fight against this?
What you are missing and need in your arsenal is a Virtual Private Network (VPN).
Stateside (and even globally), this cyber tool has proved to be handy for netizens looking to browse with peace of mind. A VPN solves your problems by encrypting your internet traffic and routing it through a server maintained by the provider. This way it appears that your internet connection is coming from a different IP address in a different location.
The encryption and rerouting process is important as it secures your device's traffic by making it indecipherable to prying eyes. When intercepted by cybercriminals like hackers, the traffic appears as an incoherent and jumbled transmission. Which is, by the way, exactly how the military does it! So why wouldn't you?

Want to know more about VPNs?
Check out how they work, what they do, and why you need one!
Masking your IP address and replacing it with a new one also comes with a few perks. And those included:
Protection against cyberattacks that are carried out by exploiting your IP address.
When connected to a VPN, the actual IP address is 'masked' and the hacker can only interact with the IP associated with the server establishing the connection.
Bypassing internet restrictions.
Your online search results as well as your access to certain websites are filtered based on your location. You can spoof your location by connecting to a VPN and view webpages/sites otherwise obscured.
Not only that, but a VPN basically acts as your ISP. And whereas your Internet service provider might be blocking access to certain websites (such as putlockers or torrent websites), a VPN will let you use them with no issues whatsoever!
Unlimited access to geo-blocked information and services when you travel outside the country.
A VPN is your best friend if you need to take advantage of your subscriptions even when you are abroad. You can also explore content from other regional libraries beyond the US on streaming services like Netflix and HBO Max.
The US may have a lot to offer in terms of streaming and entertainment, but it also tends to block everything it can behind a massive paywall.
With a VPN you can fight local price discrimination, get games and goods at more than half the price, and even stream movies, sports, and all kinds of other events for free! And free is as good as stuff gets!
Need more?
Check out all the reasons you should be using VPN!
Though there is still much more you can accomplish with a VPN for the USA, it is important to note that VPNs have different capabilities. Their performance varies depending on the technology leveraged and more often than not, this comes down to the VPN provider. So, the next logical question is…
What should one look for in a VPN for the USA?
There are hundreds of VPN providers in the market and this in itself presents a challenge in finding the right one. But while they may look similar, no two VPNs are created equal, and depending on what you want from them they might need to have very different features.
Choosing the right VPN for your needs can be tough. And the last thing you want is to be stuck with a 5-year subscription that just won't work for you. So, to make it just a bit easier here's a list of the key features that an ideal VPN for the USA has to have:
A diverse network with lots and lots of US servers.
There are a lot of people in the US as well as those looking to get a local IP from outside the country. So the last thing you want is to end up on an overcrowded server somewhere.
The servers should also be optimized for various applications, including P2p file transfer.
There are lots of VPNs with hundreds of US servers. But most of them are just that – a place to connect to. You might want your VPN to be able to do everything VPNs do. 
Fast speeds and stable connectivity to prevent your personal information from leaking and contributing to a decent online experience.
Watertight privacy and robust security features like AES-256 encryption, DNS/IPv6/WebRTC leak protection, and a network kill switch.
Streaming unblocking capabilities so you can enjoy safe access to uncensored or blocked content in and out of the US.
Extra features like double encryption, support for multiple simultaneous connections, and malware protection can also help you determine the ultimate winner. Seriously, there are plenty of options, so why compromise?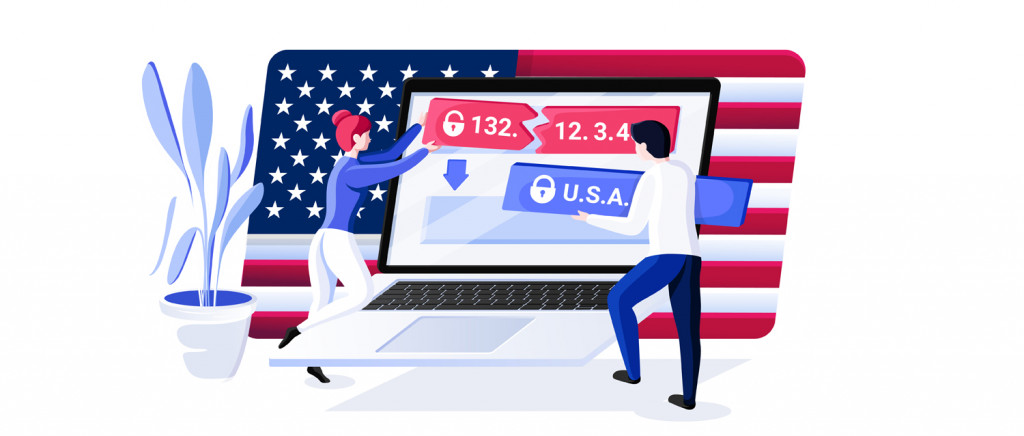 The best VPNs for the USA
Finding the right VPN can be a tedious process of trial and error. And no one has that kind of time or funds on their hands, right?
Fortunately, that's exactly what we do. So to save you trouble, we have rounded up the best VPNs for USA users. Here goes:
ExpressVPN
ExpressVPN is one of the world's leading premium VPN providers recently purchased by Kape Technologies. Though questions have been raised about the company, there is no doubt about the performance of the VPN in question.
It is the best in the market and here's why it has a place on our list:
The VPN has an extensive network comprising 23 server locations in the US (160 server locations in total).
Its high-speed servers are powered by TrustedServer technology that ensures they remain secure and have zero inconsistencies.
ExpressVPN also has the best privacy and security features that no other VPN has adopted. For one, it has developed its very own connection protocol Lightway to bring you the best performance any VPN ever had with zero vulnerabilities.
Thanks to its quick connectivity, unblocking capabilities, and fast speeds, ExpressVPN does not disappoint when it comes to unlocking streaming services. And after the Netflix ban, this is the VPN that can still unblock most of the catalogs.
Want to know more?
Check out our brand new ExpressVPN review!
ExpressVPN is not a flashy provider. It doesn't need to wow you with smoke and mirrors. It set out to do one thing: To be the best VPN money can buy. And it's definitely succeeding.
NordVPN
NordVPN is another great option and the ideal one if you're looking for a VPN that comes close to ExpressVPN but doesn't cost as much.
You have probably heard of this provider by now. After all, it is the biggest VPN in the world. But as a refresher course, here are just some of the things that it brings the American user:
For starters, it has one of the biggest server networks, including 15 server locations in the US with literally hundreds of servers.
All of NordVPN's US-based servers feature all of the provider's most important features, such as obfuscation and P2P support.

NordVPN is also a VPN packed with exclusive features that no other VPN provider has, such as Double VPN, Split tunneling, Onion over VPN, Darkweb Monitor, and much more.
It is an ever-stellar VPN, that will never let you done, giving you pretty much anything a VPN can do.
Interested in NordVPN?
Check out our full NordVPN review!
NordVPN is always a solid choice if you are looking for a VPN to use in the USA. This Panama-based provider will always have your back whatever you need him for!
Surfshark
Surfshark is the pocket-knife equivalent of a premium VPN, and we mean that in the best way possible.
It is lightweight, simple yet functional, and a great value-for-money, just like a penknife. Here's what qualifies Surfshark as a good VPN for any USA internet user:
It certainly doesn't have as many servers worldwide as the other providers we recommend, but it has invested in the US, boasting 25 stateside server locations.
Surfshark has also been expanding in recent years. So you're not just getting a VPN, but also a virus scanner, ad blocker, breach alert, and anonymous search among the many other features it keeps rolling out nearly every month.
The VPN goes above and beyond when it comes to privacy. The company recently launched a brand new service called Incogni that lets users request data removal data from brokers.
Finally, it has the biggest bang for the buck of all options we have listed. Surfshark has unbeatable value when subscription cost is weighed against what it delivers.
Want to know more about Surfshark
Check out our massive review!
Surfshark might be one of the younger VPN providers, and it will seemingly be always known as such. But the quality of service and the area of feature it brings to the table are unmatched. And this is more than enough to make this little provider one of the best VPN options for the USA.
The land of the truly free!
There is no better time to equip yourself with a VPN as the internet advances and concerns remain over the average users' privacy and security. But, frankly, any time is a good time to take your online security and privacy back into your own hands.
ExpressVPN and NordVPN offer the best VPN options in the USA. They both check all the right boxes, but the former is relatively pricier. You can still guarantee your online freedom even on a budget – Surfshark is an equally good premium VPN on a budget.
So take your pick, and stay safe!