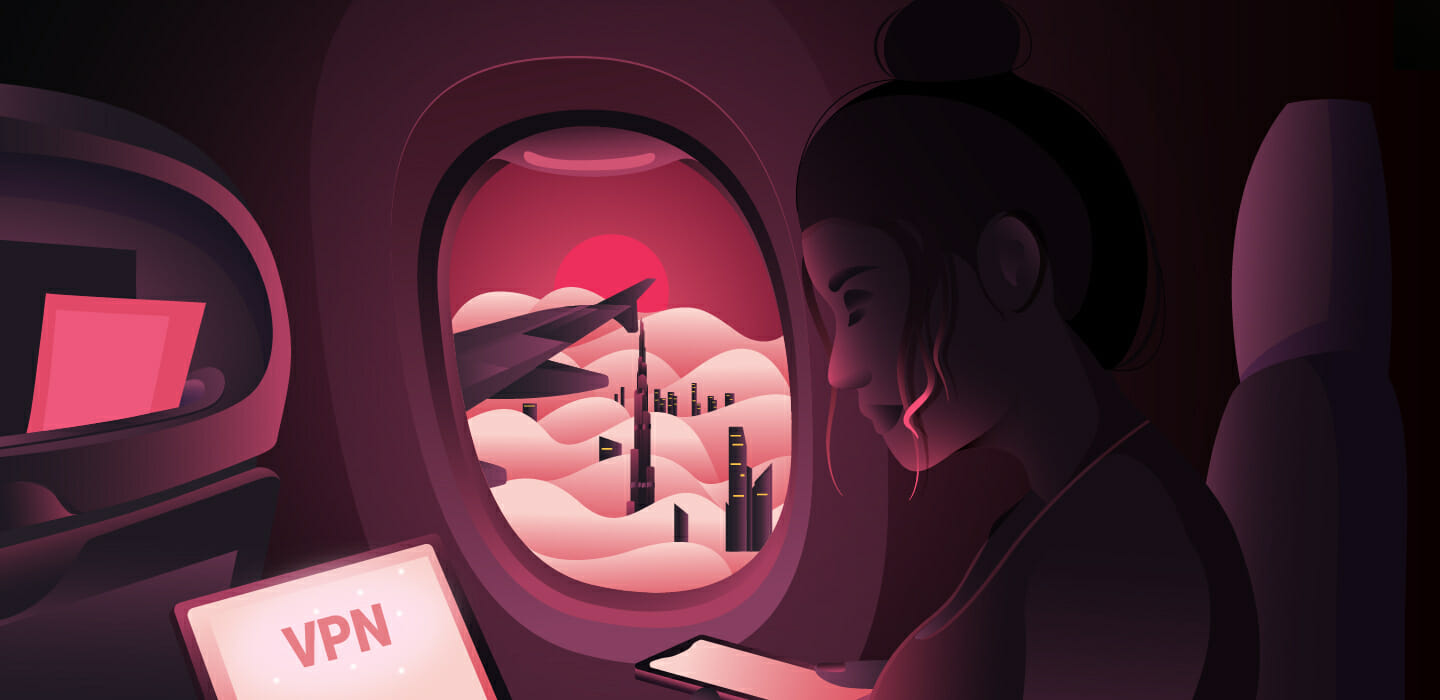 Best VPNs for the Middle East
Even in the progressive world, journalists, bloggers, and ordinary citizens can be persecuted and even imprisoned for wanting to know public information known to the whole world, or for sharing their thoughts online. The authorities of many countries seek to limit the impact on the inhabitants of their area and therefore block access to the network and censor content according to certain criteria.
China is at the top of the list of such regions, followed by the countries of the Middle East. Not only information related to politics is sorted, but also topics related to religion. Social networks and instant messengers are often under restrictions. Fortunately, it is possible to bypass such kind of blockage with a VPN.
It should be noted that the Internet is available in all Arab countries, even in Somalia, where, according to the International Telecommunication Union, only 2% of the population uses it. However, its development is uneven, which in principle can be explained by the heterogeneous economic situation in the region. If in Qatar, the largest exporter of natural gas, almost every citizen uses the web, in Egypt the number of users reaches only 40% of the country's population.
Best VPN for UAE and Dubai
Even though VPNs and proxy servers are often used for completely legal purposes, in the United Arab Emirates, the line between "legal" and "illegal" is very thin and vague. The fact is that the seemingly absolutely harmless use of this technology to make a personal call via Skype or WhatsApp to relatives or friends is completely illegal from the point of view of UAE legislation. The law applies not only to citizens and residents of the UAE but also to tourists.
You can read more about how VPN works in the article What Is a VPN?
The thing is that the United Arab Emirates banned such popular VoIP services as Skype, WhatsApp, Viber, Facebook Messenger, and others. And it is illegal to use any technology, including VPN, to bypass this ban! You can use a virtual private network in the UAE only to protect corporate data and correspondence. So it doesn't matter if you are there for tourism or work purposes, the main thing when choosing a provider is stealth. Since this is a popular tourist destination, we have made the biggest selection for this area:
PureVPN is one of the best options when you need to unblock websites that are restricted in the UAE. Apps like WhatsApp or Skype are also available with PureVPN.
CyberGhost would be the best VPN for Dubai because it has 24 servers there, which means you can access Dubai TV, Sports, and News outside the country.
IPVanish is perfect to make your online life in the UAE private. It's good not only for safe browsing and using prohibited apps but also for watching HD videos from different streaming services. It also works well with Skype and other VoIP apps, has a killswitch and DNS leak protection.
Why do you need a VPN for Saudi Arabia?
Saudi Arabia is one of the leading religious censorship countries of the Internet. Authorities have blocked nearly 1.5 million websites that violate Islamic beliefs, including political, social, and religious. Several laws prohibit actions that could lead to the division of the country and the reconstruction of the state.
All traffic goes through the control center and is controlled by the Ministry of the Interior. In this case, we can recommend:
Nord VPN is especially recommended for those who need increased security and anonymity on the network. It provides not only high speeds and open sites, but it's also a reliable IP changer.
Only the most reliable providers, like Express VPN, have essential features like killswitch (Network Lock) and dedicated servers. Due to the legal status of content unblocking, these features are extremely important.
How to use VPN in Iran?
Iran is another top censor for religious and political reasons. Internet access is available throughout the country, but bloggers, site owners, and webmasters must be registered. Millions of sites are blocked and arrests are widespread. There is a rumor that the government creates fake provocative webpages to identify and arrest suspected dissidents. Family members of bloggers and journalists are also subject to harassment, the threat of job loss, retirement, and even the possibility of imprisonment. So you really need a tool to change the location and bring some safety in online life:
With PIA VPN, users in Iran can access the open Internet. This is one of the best services for someone who stands up for privacy and civil liberties. PIA offers state-of-the-art multi-layered security with enhanced privacy protection through encrypted tunneling.
Which VPN is the best for Syria?
Syria has a strong control of the Internet. Specialized cafes must register users, their identity, and the time they were online and then pass the information to government officials. Anyone suspected of "endangering national security" is arrested and put on trial. From time to time, access is blocked completely, as it happened in 2011, and almost a dozen times in 2013 and 2014. In addition to all of this, Islamic extremist in Syria behead journalists whose content contradicts their beliefs.
Nord VPN is completely focused on your safety online. When it comes to security in Syria, its double 2048-bit encryption ensures your web activities are truly private. Along with these, there are options such as DNS leak protection, two safety switches, and Onion over VPN, which combined, create a strong and reliable security solution.
Censorship rate
Still, there is heterogeneity in control in the Middle East. The same pornography is banned only in some countries – Bahrain, Qatar, Kuwait, Oman, Saudi Arabia, UAE, Yemen, Syria, Jordan, Morocco, Tunisia, and Sudan. Social media is blocked in almost all countries of the Gulf region (excluding Kuwait), Yemen, Sudan, Morocco, and Tunisia. Lebanon, Egypt, and Iraq have the most lenient legislation, where only torrents are subject to restrictions.
The Internet has become not just a reflection of reality, but the whole universe. And censorship is a product of real-world systems created for profit or power. Hopefully, it will disappear once a society changes itself.