How to watch Australian Open 2023 live and for free?
Didn't the US Open just end? We are certainly still walking off the nerve-wracking excitement of wondering whether Djokovic will be allowed to compete until the very last second. And who could ever forget the final match between Alcaraz and Ruud? Or that brutal competition between Świątek and Jabeur?! But that's the beauty of the Grand Slam tournaments – you don't have to wait long for the next one. And it's about time for the 2023 Australian Open!
The 2023 Australian Open tournament will be held from January 16 until January 29 and will be traditionally held in Melbourne. The Qualifying matches will start on the 9th of January.

Watch the Australian Open live and free anywhere with ExpressVPN!
What to expect at the 2023 Australian Open tournament
We'll save you the trouble of looking it up. Novak Djokovic was allowed to compete after being deported last year and missing the 2022 US Open as well. So the controversial 21-time Grand Slam champion is back in action, and this always makes for an exciting tournament.
Obviously, Djokovic is the clear favorite for the men's singles segment. He is followed by the 2022 US Open winner Carlos Alcaraz Garfia and Daniil Medvedev, who was also allowed to compete despite Russian athletes being banned from nearly every sports event since the country's invasion of Ukraine. So we could very well see the return of the epic battle between Medvedev and Djokovic. Nadal, the defending AO Champion, is, sadly, only 4th in the overall rankings.
How about the women's singles? Iga Świątek is obviously leading the rankings, followed by Caroline Garcia and Ons Jabeur. No one else, however, comes close to her, so it should be exciting to see Iga tear through the competition.
---
As exciting as the rankings might be, the AO tournament itself has plenty of news to share.
For one, the prize money hits an all-time high with more than $100 million on offer throughout the Australian Summer of Tennis. So the athletes have more than enough reasons to compete for the titles. Step aside, honor and glory.
The 2023 AO will also see a lot of returning faces. Most notably Dominic Thiem – 2020's US Open Champion – who had to miss the last Australian Open due to injury.
Other lucky wild card awardees include fan favorites such as Alexei Popyrin, Jason Kubler, Rinky Hijikata, Storm Hunter, Talia Gibson, and Olivia Gadecki.
All of this should make for one exciting Australian Open tournament. And we can't wait to watch it! But how?
Where can you watch the 2023 Australian Open tournament?
As with any major sporting event, watching and streaming it depends exclusively on where you are. And it's always a pain.
For example, in the US, the AO broadcasting rights, as well as nearly any other tennis tournament, are with ESPN. This means that the entire Australian Open Grand Slam tournament can be seen on cable, or via the ESPN+ online streaming platform.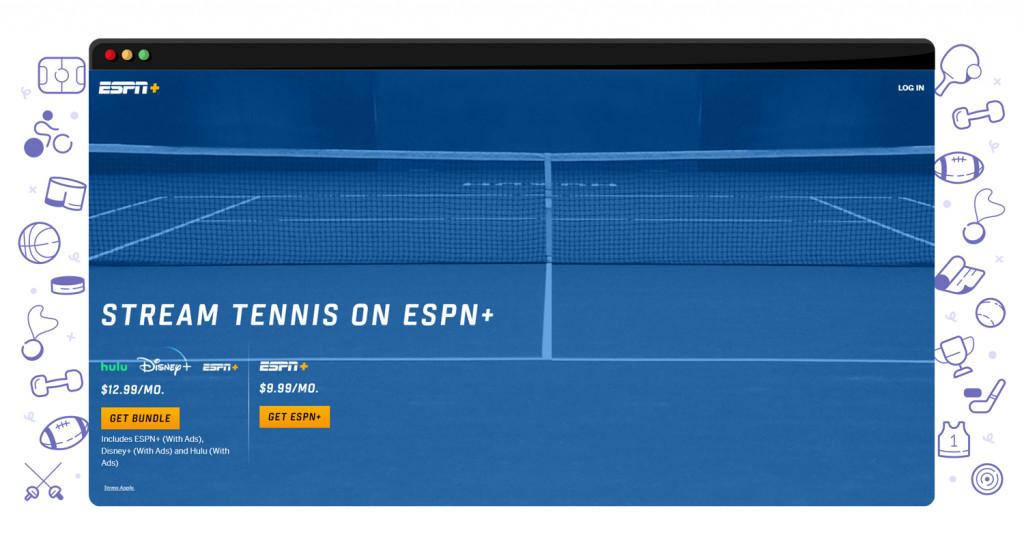 In Canada, on the other hand, the Australian Open can be seen on RDS and TSN.
In Europe, the situation around the AO broadcast is similar but different. The rights to streaming the event are almost exclusively with Eurosport, and it's not letting go.
In Middle Eastern countries, much like any other sporting event ever in existence, the tournament can be seen on BeIN.
What we're trying to say is that it's definitely not ideal. Who'd want to take out a streaming service subscription you've never thought about getting just to watch a single event?! Fortunately, with the right tools, you might not even have to.
How to watch the 2023 Australian Open live and for free from anywhere?
Most countries might have to pay for the privilege of watching the Australian Open, however, a chosen few believe in making the event available to anyone who wants to watch it.
That's right! A handful of countries are broadcasting and streaming the 2023 Australian Open tournament completely free. However, all of those streams are geoblocked. And this means you can't access them from outside of the countries where they are available. That is, unless you have the right tools, of course.
The tools in question? A VPN! – The only service that lets you alter your virtual location in a single click and access streams and broadcasts that would otherwise be unavailable.
Although, when it comes to watching sports and accessing streaming platforms the blocks get quite vicious. So what you need is a real pro of a VPN that can unblock any sports stream wherever it might be. And there's only one that can – ExpressVPN!
Why ExpressVPN? Because:
It has the strongest and most diverse server network out of any VPN provider, giving you instant access to nearly any location in the world.
ExpressVPN is the only VPN that is optimized for streaming from any location in the world. Wherever the stream might be – ExpressVPN can access it!
It is also the fastest VPN around. And you might not think that speed matters that much. But trust us – there's nothing more annoying than a freezing match.
Finally, it comes with a 30-day trial period, which means you can always get your money back.
Want to know more about ExpressVPN?
Check out our full ExpressVPN review!
Where can you watch the 2023 Australian Open tournament live and for free?
There might not be a lot of options that let you watch the Grand Slam tournament live and for free, but we're not about to leave you without options.
So, here goes:
9Now
What do you do when you are trying to access and watch something? You go to the source! And in the case of the AO tournament, the source is Australia, which will be broadcasting the Championship on the 9Now and Stan Sport streaming platforms. And guess what? 9Now is free!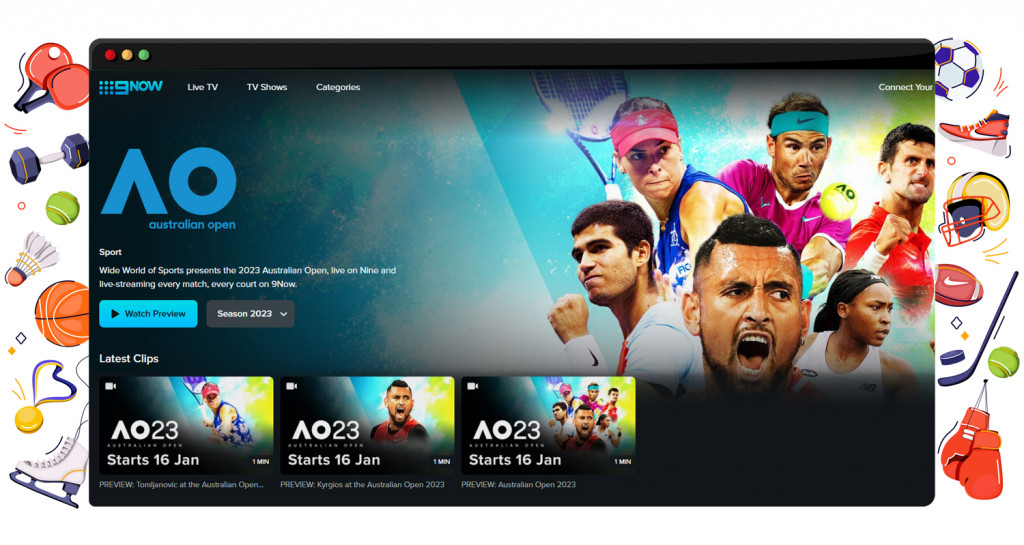 This is the perfect place to watch the tournament. What's not to love about it? It's live, it's free, it's coming directly from the home of the event, and it's in a universal language! Want it? Here's how you do it:
Start by subscribing to ExpressVPN, downloading and installing the app on your device. Only ExpressVPN is fast and strong enough to let you stream all the way from Australia and not turn it into a buffering nightmare.
Next, launch the app and connect to one of the provider's many server locations in Australia.
Head over to the 9Now online streaming platform and apply for a free account.
To make one, you are going to have to provide the platform with a local postcode, so here are a few that will work: 5371, 2626, 4503, 4816, 2898, 5725.
That it!
ServusTV
If this isn't your first time around the free sports streaming block, you definitely know the Austrian streaming platform ServusTV. After all, this little service has been a friend to MotoGP, Formula 1, Rally, football, and pretty much every other kind of sports fan. And it will be streaming the Australian Open Grand Slam tournament just as live and free as anything else!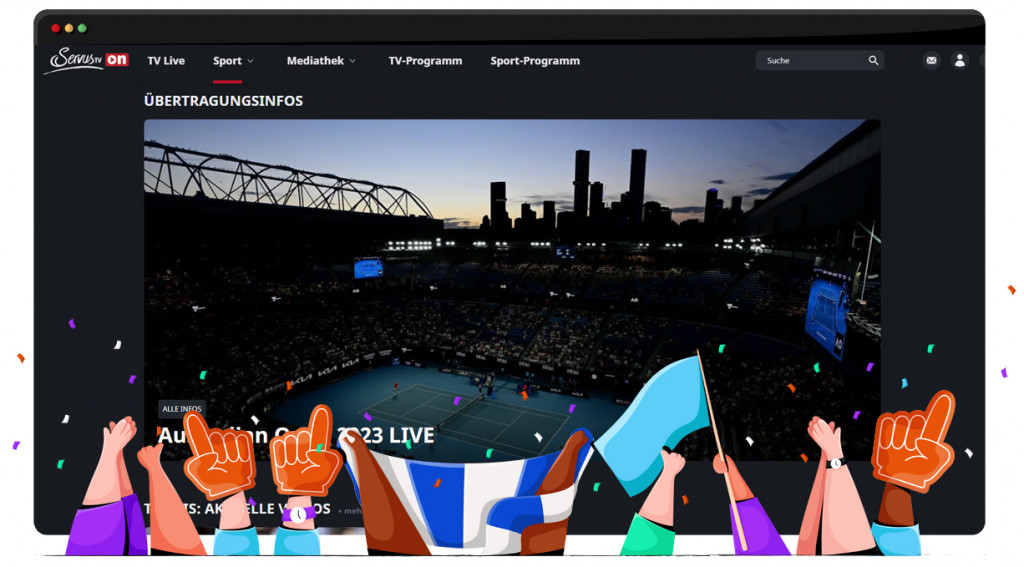 Want to check out the Austrian stream? ExpressVPN is definitely the way to go. So:
First of all, take out an ExpressVPN subscription and install the app on your preferred device.
Launch the app and connect to one of the provider's servers in Austria.
Head over to the ServusTV online streaming website, launch the live stream and enjoy. No registration or anything of the sort is required.
SRG SSR
Last, but definitely not least, there's the Swiss national broadcaster SRG SSR, which will be broadcasting the entire Australian Open tournament live and free for all of Switzerland to enjoy. And not just that, the live stream will also be available in 4 different languages, so you have no shortage of options to choose from!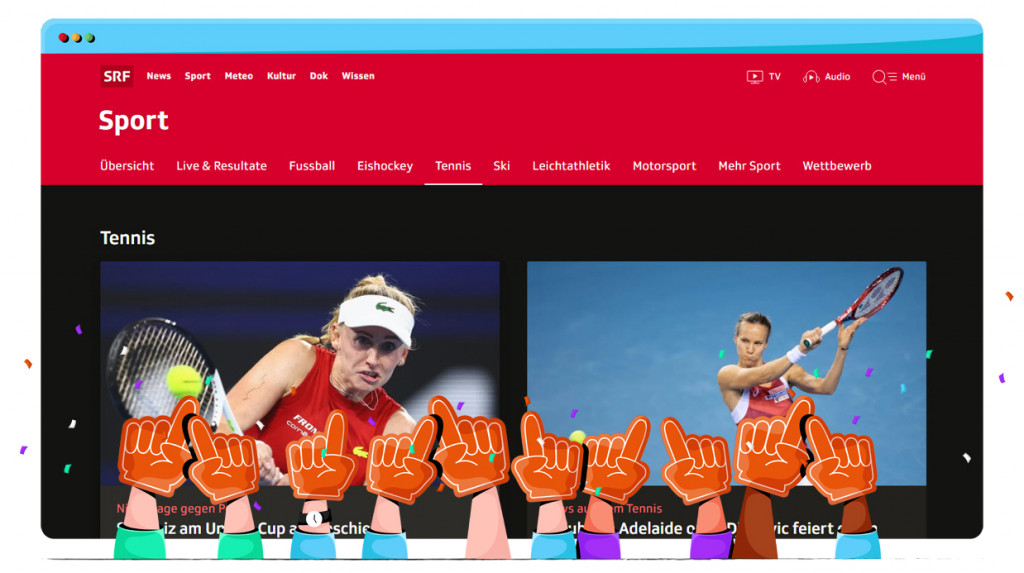 Want in? Easy! All you have to do is:
First of all, take out an ExpressVPN subscription. No other VPN will be able to unblock Swiss streaming.
Next, launch the application on your preferred device and connect to one of the provider's strong servers in Switzerland.
Finally, head over to one of the SRG SSR online streaming websites, navigate to the stream you prefer, and enjoy!
Is Djokovic back?
We might have our own problems with Novak and his anti-vax crusade, but we would be remiss if we wouldn't agree that something was missing from the Grand Slam tournaments when he wasn't around.
Fortunately, the restrictions are lifted, no important player is missing the tournament, and after years of controversy and taking what we can get, the Australian Open is finally back in all of its ball-spiking glory. And you don't even have to pay to tune in! Now isn't that the absolute best?!