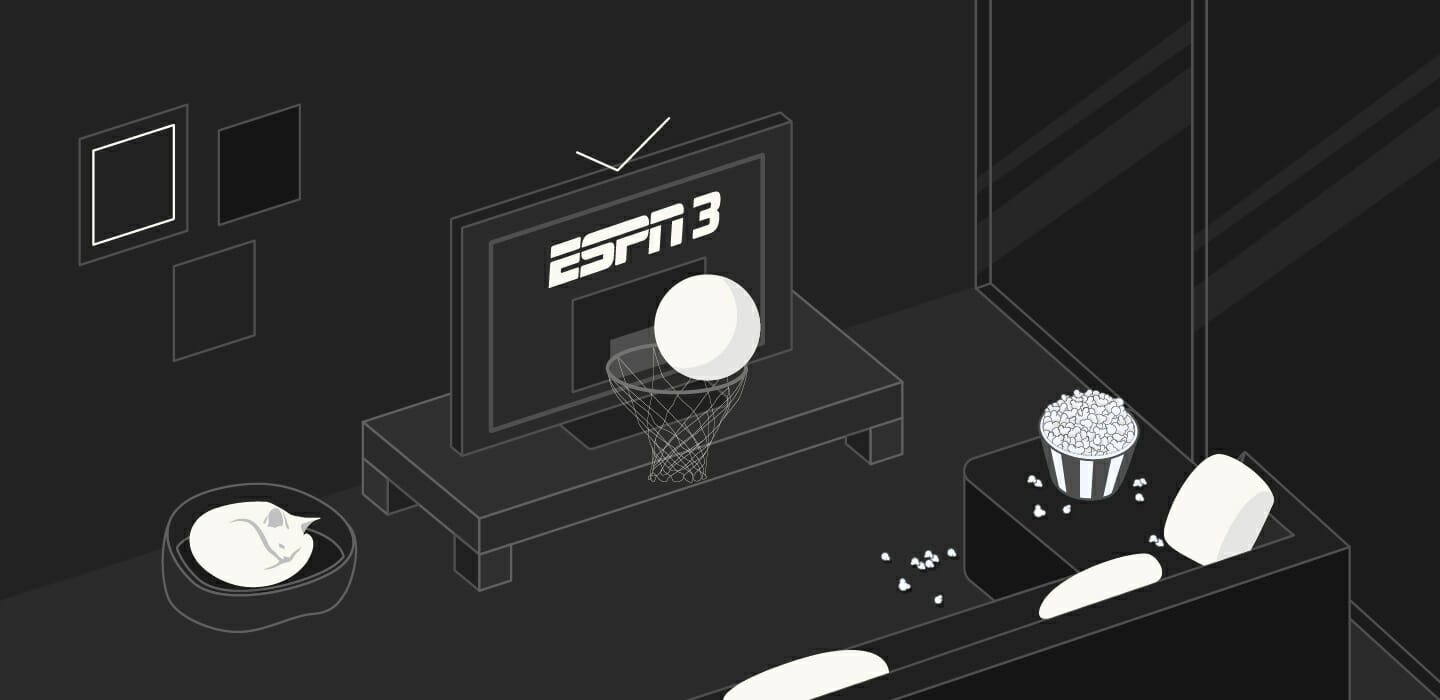 Best VPNs to Watch ESPN Plus & ESPN3 Outside the U.S.
If you are a sports fan, you definitely know about ESPN+, the sports channel that is one of the most viewed in America. Is ESPN Plus available internationally? Unfortunately, it's only available to the U.S. viewers. But it has worldwide fame and subscribers. How is it possible? Well, the thing is that there are some VPN services optimized for ESPN and ESPN3.
ExpressVPN:
The absolute best VPN for streaming sports!
What to choose: ESPN Plus or ESPN3?
The main difference is that ESPN+ can be canceled whenever you want, and ESPN3 is included in most major cable or TV broadcast packages.
ESPN3, an online streaming service owned by ESPN Inc., is dedicated to live and broadcast global sports events. The ESPN + Streaming Subscription Service actually complements the existing ESPN library but is not a complete standalone platform. The difference is that live games and exclusive videos are added to the standard ESPN app.
What events you can watch on ESPN Plus and ESPN3
What content does ESPN offer? Actually, there are a lot of exclusive events, from live games and shows to stories. Especially, viewers have access to such live games:
MLB
NHL
MLS
PGA golf
UFC
American football
Soccer championships
Wimbledon's tennis.
In addition, ESPN+ offers various original shows, detailed reviews, and analyzes of matches, games, and competitions. Documentary programs and full replays of historical NFL games are also open to subscribers.
ESPN3 has exclusive rights to broadcast such sports as:
soccer
tennis
basketball
NCAA championships
golf
cricket, etc.
Almost all of ESPN, ESPN2, ESPNU, and ESPNews replays are also available on ESPN3.
Alternative ways to subscribe to the ESPN:
Sling TV (Sling Orange)

YouTube TV

Hulu + Live TV

AT&T TV Now / DirecTV Now
These services will help you subscribe to ESPN without cable TV. Some of them offer free trial periods, so you can watch ESPN for free for a couple of weeks.
Best VPNs for streaming ESPN Plus and ESPN3
After you get your ESPN account and subscription, you can watch ESPN in Europe, Asia, Australia, or any other region – all you need is fast and reliable VPN. Any below will fit your requirements. 
IPVanish – streaming speed and quality are key when you are watching matches. In any sport, even a second can play a decisive role. IPVanish guarantees unlimited bandwidth and fast speeds – just what the real fans need. To watch ESPN in Europe or any other area, service provides more than 40,000 IPs and 1,500 servers, and you can change them countless times. And of course, this service works well on Windows, Mac, Android, iOS, routers, Chromebooks, and Windows smartphones. Even if you decide that the provider is not suitable for you, you can always use a 30-day money-back guarantee. 
CyberGhost VPN opens ESPN live stream without any problem. It also offers high speed and reliable connection. It has apps for all main operating systems, gadgets, game consoles, routers, and browsers. CyberGhost VPN gives an absolute guarantee of efficiency. Services like ESPN do everything to block the IP addresses of VPN servers and completely control access to streaming. In this confrontation, VPN clients, especially free ones, often lose access to content. However, CyberGhost VPN consistently proves its functionality and receives many positive reviews.
NordVPN is one of the best ways to stream ESPN. Using NordVPN is a reliable way to change your country and IP address – just choose one of the 5100+ servers. You shouldn't be afraid of buffering or slowing down the stream – more servers means less workload and more speed. Even if your internet provider's speed is slow, NordVPN can fix it. Also, the connection becomes more stable and reliable. If you cannot reach your personal network before the start of the match, NordVPN will protect your public Wi-Fi connection. 
ExpressVPN easily bypasses any geographic restrictions and provide ESPN streaming from almost any country of the world. To gain access to the most complete content, select the US server. In case if you watch sports from home, ExpressVPN will anonymize your web activity, so your ISP can't tell that you're streaming and won't slow down your speed. When you travel, ExpressVPN directs your online actions through a private encrypted tunnel, allowing you to watch live broadcasts at high speeds.
Watch your favorite sports online
Sports without limits, all over the world – just use VPN for streaming national leagues, various matches, competitions, challenges, and fights. If you're a sports fan, ESPN really worth it. This is not only about games, but also about strong spirit, partnership, and a huge amount of work. Millions of fans around the world not only wholeheartedly support their favorite teams, but are also inspired by them, feel joy and sadness after victories and defeats. This brings together entire cities, countries, and continents. VPN services are erasing geographic restrictions between this large family.