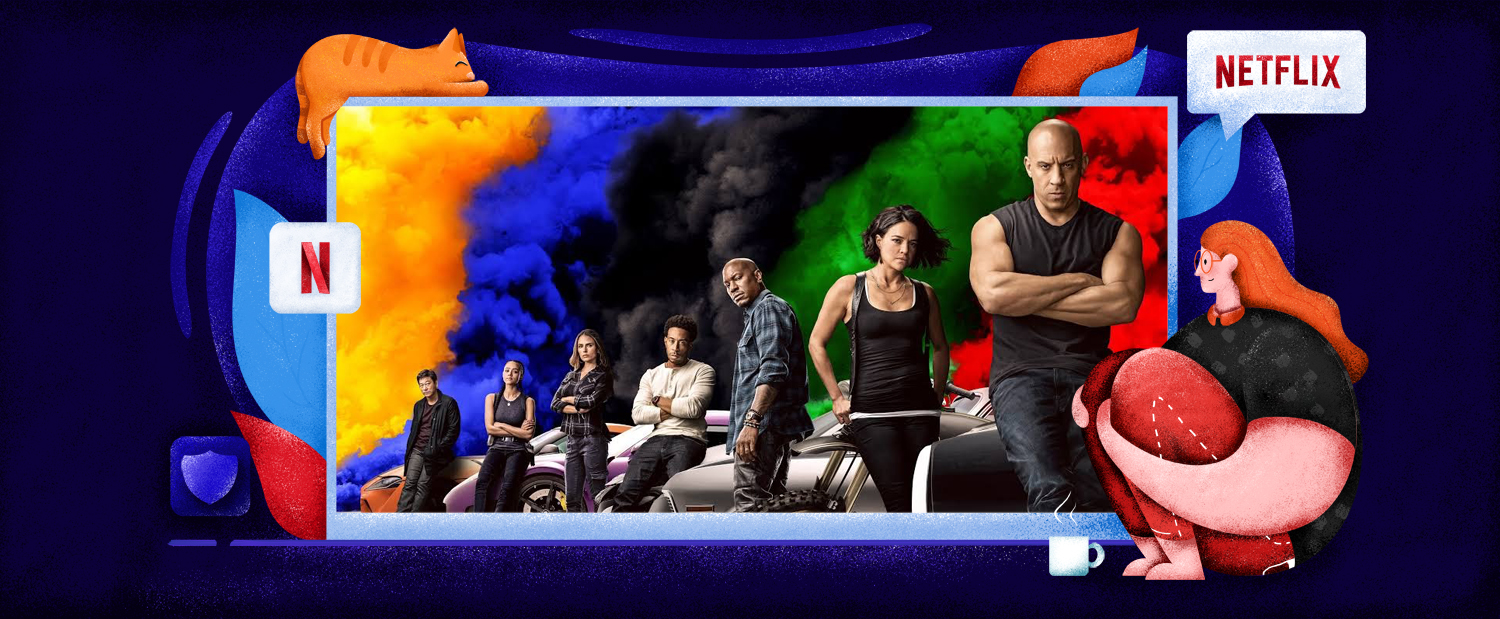 How to stream Fast & Furious 9 on Netflix?
If there are any things that are certain in the universe, those are that the sun rises in the East, taxes and that they will never stop making the Fast & Furious movies! And, honestly, this makes taxes a little bit more tolerable! The most recent entry in the ever-expanding series was F9: The Fast Saga, and, as you'd expect, it was crazier, more over the top, and more insane than any of the previous installments. And we wouldn't have it any other way!
The Fast & Furious 9 came out in May 2021 and, of course, had to up the ante when compared to all of the previous movies in the F&F universe. Dominic's brother, played by none other than Peacemaker himself John Cena, joins the picture to take Dom down. The amazing Charlize Theron reprises her role as Cipher after the Fate of the Furious. And, of course, the whole Fast crew is back in action. Bigger, louder, better than ever before, and with enough twists to keep the fans of the show entertained!
Look, we can be talking up this testosterone bath all day, but the trailer says it all:
Was that not dope?! Rumour has it, a single time of watching this movie substitutes for a full week of going to the gym. And, honestly, we'd be doing that without this stellar endorsement.
But this is where our problems start. You've been working all day and all you want is to head back home, turn off your scary thinking box, boot up Netflix and watch some Fast and Furious 9. But, alas, the movie is nowhere to be found on everyone's favorite streaming platform. Or is it?

Stream Fast & Furious 9 on Netflix with ExpressVPN!
Where can you stream Fast & Furious 9?
The Fast & Furious franchise is some of the biggest franchises in the entire modern film industry. How else do you think it managed to last for 9 movies with the 10th slated to come out in 2023?! So, as you would expect, everyone wants a piece of the Fast & Furious pie.
If you set out to stream all of the Fast & Furious movies, well, first of all, good luck surviving this NOS transfusion, and second, you will probably have a hard time finding the platform with all the movies. And depending on where you are in the world, this can range from mildly annoying to absolutely infuriating.
In the US, you can stream The Fast Saga on HBO Max. This is also your best bet to catch most of the series' movies, but not all of them.

Canada, on the other hand, is streaming F9 on Crave. But pretty much every other installment of the series can be found on other platforms.
The United Kingdom, on the other hand, has lots of F9 streaming options, including Now Cinema, Sky, and Virgin TV Go. Finally, in Australia you can take your pick between Amazon Prime, Foxtel Now, and BiNGE as your F9: The Fast Saga streaming options.
As you can see, it's about as all over the place as it can get (and we're not talking about the movies! Ha!). Things get even more insane if you venture outside of English-speaking countries where a lot of local streaming options get thrown into the mix.
When did all of this get so complicated? You just want to stream some Fast & Furious for Dom's sake! Can't you just do it on Netflix? Well, as a matter of fact, you just might!
Wait, there's a way to stream Fast & Furious 9 on Netflix?
That is exactly what we're saying! But if this is your first time surfing Netflix libraries it can get a little jarring, we get it!

Want to know more about Netflix libraries?
Check out our extensive guide!
See, every country's Netflix library is different. And if yours is a Fast & Furious wasteland, others may be able to enjoy every single movie in one long marathon.
But we're not just saying this to make you envious. You might very well be able to join a foreign Netflix library yourself and follow Dom and crew as they take on the next big bad with cars and guns. And as any good Fast & Furious plan, this one comes in parts.
Let's start with the Where. Currently, the only place to stream F9: The Fast Saga is South Korea.

Now, onto the hard part of the plan. The one that will make it all come together. The How.
But how can you access the South Korean Netflix library?
OK, so the place where the movie is available is clear. Now what? How does this information even help you?
Well, there is one tool that lets you access foreign streaming libraries. And that's a VPN. But not just any VPN! When the stakes are this high, Netflix is this strict, and the library you need is this unique, there is only one VPN that can pull this heist off – ExpressVPN!
But why this VPN. Why Express? Well:
We have tested a lot of providers for this mission. And ExpressVPN is the ONLY one that worked!
As though that isn't enough, it's also super fast (and furious ?) which means you can stream the movie wherever you are, however far away you may be without a hitch.
Finally, much like Dom's family, it's got your back every step of the way and it will not let you down.
Plus the logo kind of reminds us of a racecar's paint job. Cool!
Need more? We've got more!
Check out our brand new ExpressVPN review!
Now that you know the right tools and the right information, all you have to do is:
Connect to a server in South Korea.
Restart Netflix.
And voila, Fast & Furious 9 is right there for the taking!
Not all you have to do is pop that Corona and not think for 2 hours and 23 minutes!
It's all about family!
You never know what the Fast & Furious team will get up to in the next movie. But you can pink slip your whole car that it's going to be about family.
Every coming Fast and Furious movie has to go bigger, louder, and crazier than any of the previous ones. And F9 was certainly one of the wins for the crew!
So while we wait for the new movie in the series to come out, you can now relive the madness that is F9: The Fast Saga on Netflix!