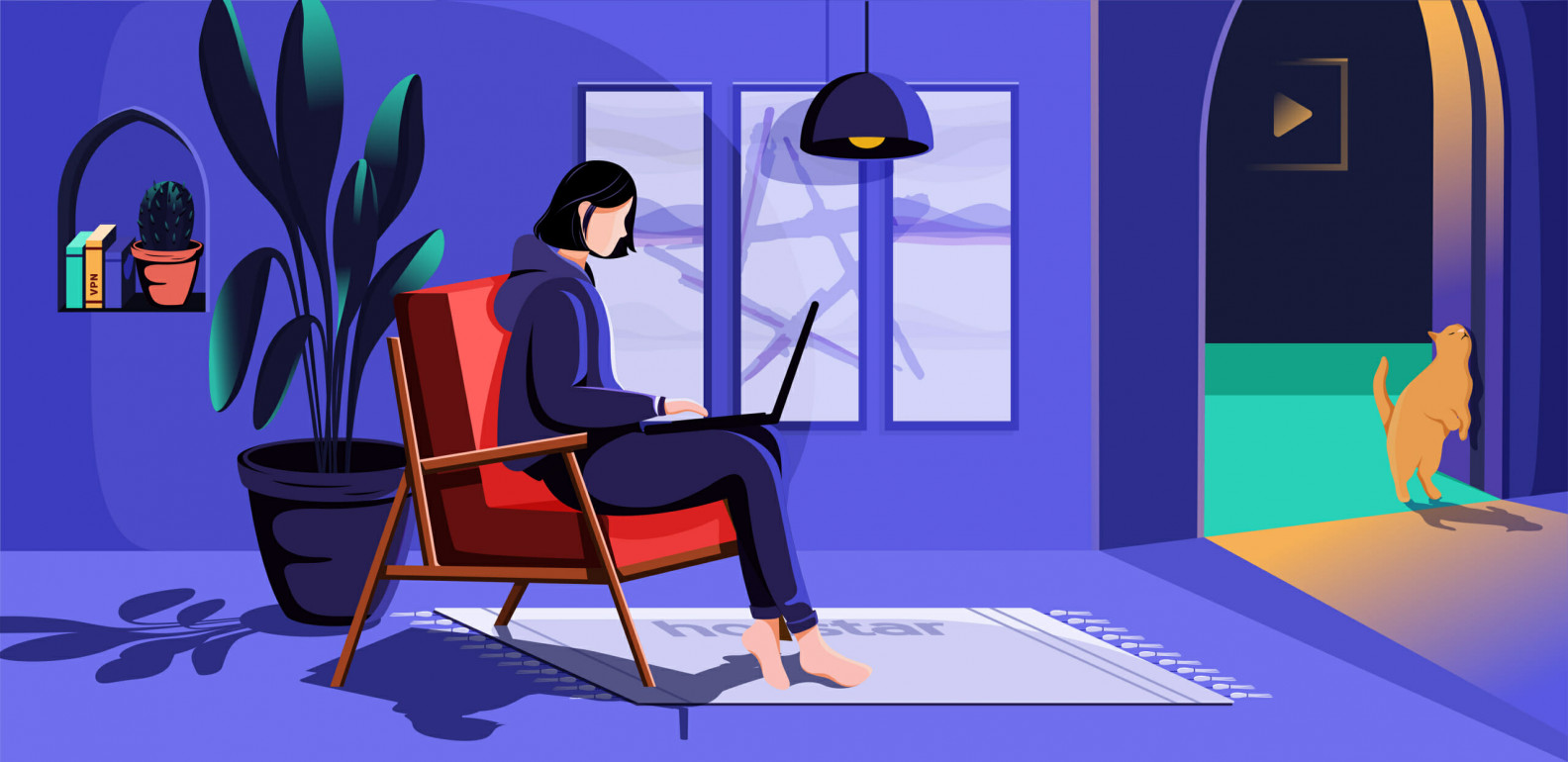 Hotstar's Bollywood Dream from Anywhere
Bollywood is made out of cupid dust, musical rainbows, and mustache-twirling villains. It certainly didn't crawl into the international arena by being boring, so of course, it's winning international awards for its glittery madness.
Bollywood crossover, Slumdog Millionaire, won the Oscar for Best Picture Oscar. Lagaan was nominated in 2001. Bride and Prejudice is its latest global success story. It hasn't won anything (yet), but it's collected over a million international viewers.
Bollywood is where actors have Wham!-style hairdos, and actresses — enough blush to put a Cupie doll to shame. It's where arranged marriages die and true love always prevails. In between, everybody dances a lot because if there's one word that describes Bollywood, it's 'wild'.
And one (or, rather, two, but we'll get to that) streaming platform is bringing all that sequined beauty to western viewers: Hotstar.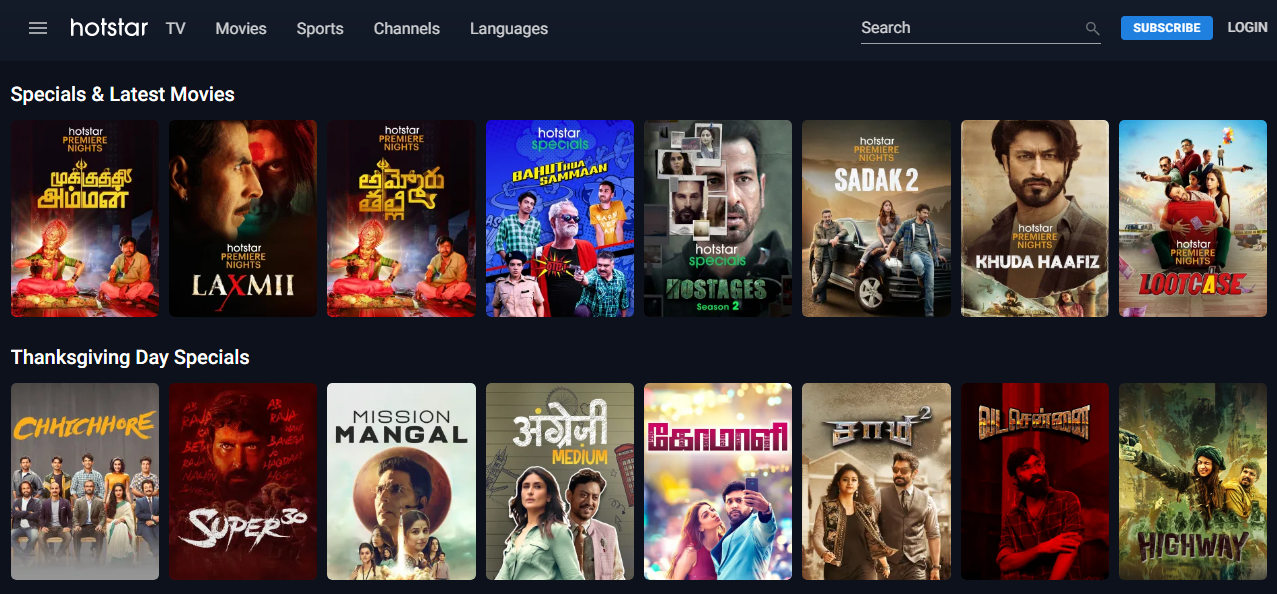 What's hot with Hotstar's Streaming Platforms (yes, plural)
If you haven't caught the Bollywood bug yet, you're late to the party. [waggles finger]
Don't worry, though. Hotstar has all the programming you need to catch up. The streaming platform has every B-romance you can manage, but it has plenty of A-grade Bollywood fun, too.
There's Anupamaa, a feminist series about a woman who steps out of the Bollywood romance mold (#irony). There's India's comedy of errors, Housefull, and the fantastic, djinn-beset mystery, Yehh Jadu Hai Jinn Ka. (If you can say it five times fast, we'll buy the M&Ms.)
The US version of Hotstar has seven programming categories, six Star channels, and 11 sports channels, with programming in Hindi, English, Bengali, and five other Indian languages. The platform has enough sporting and news to burst its sparkly seams.
But the American streaming platform isn't the only Hotstar around. There's also the original recipe Hotstar from India.
The original version of the platform has a respectable Hollywood film collection dating all the way back to the Edward Scissorhands era on top of its massive collection of Bollywood goodness. It broadcasts a small list of HBO, ABC, and Showtime series. Oh, and did we forget to mention that it also has the entire Disney+ library?
It has no qualms about going back to the days when people gathered around their TV sets at 20:00 to see one meager episode of Band of Brothers or The Wire. Its only concern is bringing its viewers the greatest viewing material of all time. With showrunners like Chernobyl, His Dark Materials, True Detective, and The Mandalorian, you have to wonder why Hotstar's reputation isn't as bold as its Bollywood charm.
We'll get to that, but first, we'll have to untangle the knot of confusion around its geoblocking.

Geoblocking is Complicated
So, as we've established, Hotstar has two separate platforms for western and Indian viewers. It also has a messy history of Disney takeovers and Star streaming rights updates, but who has time for those when there are 35 000 (!) hours of content to get through?
With HBO, ABC, Showtime and all of the Disney+ originals behind its shiny belt, the Indian streaming platform often packs more punch than its western counterpart.
Hotstar Canada and USA are both aimed at bringing western audiences Indian shows and movies, so no Premium treatment. And you also won't be able to take the platform with you anywhere, since it's very much restricted to just those countries. [clears throat] Unless you have a VPN.
The British version of Hotstar was just as limited, with no Disney to be found. But rumor has it that that UK access has been stemmed.
If you live in India, access will cost you a meager $19 a year. A year, Carl!
All of Bollywood, HBO, ABC, Showtime, Disney Plus and an insane collection of sports, ranging from the Indian Premier League, to the ever-classy cricket, to kabbadi. Don't let it break your coffee budget is all we're saying.
If you live in the USA, you'll pay $99.99 a year for a nerfed streaming platform.
Oh, hell, no.
How to Keep Your Coffee Budget Intact
Hotstar is notorious for its awful buffering and mobile-worthy image quality. The platform thinks HD stands for "hot dahl." Even its 1080p setting is chock-full of interlacing.
Its video bitrate isn't going to win any prizes either, and to make things even worse, its in-app player is far from seamless. Hotstar is built for mobile viewing, and it shows.
Streaming a lower resolution might improve your image somewhat, but it won't deliver much more than 720p. Therein lies the reason behind its brand obscurity. Its image quality just can't live up to its price…
… unless you're accessing Indian rates. An Indian server will reduce your buffering and price simultaneously.  And that's super-easy with a VPN, but the question of service providers is a little more complicated than mere location spoofing. Not all VPNs have Indian servers, and not all are undetectable.
A few VPNs have Hotstar-friendly IP addresses: ExpressVPN, NordVPN, and Surfshark. And luckily all three offer:
Anonymous DNS servers to route traffic through the right ISP.
A no-log policy.
A wide selection of strong encryption protocols for improved security.
Excellent speeds so that you don't have to wait for the latest episode of the Sacred Games to buffer.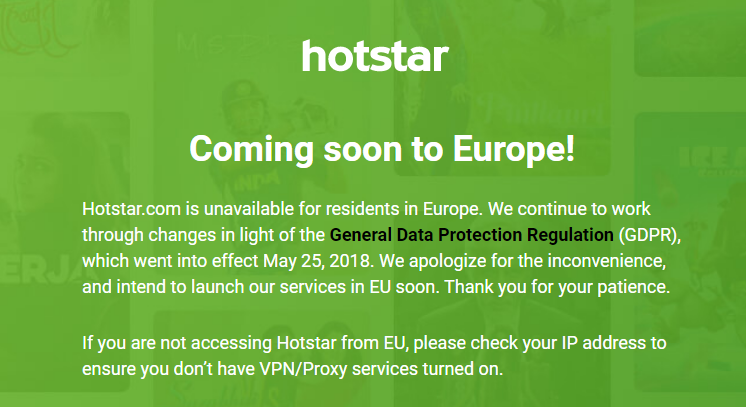 Cracking Hotstar with VPNs
Hotstar is fairly talented at detecting VPNs, so you might need a few tricks to get around its blocks.
If you're struggling to access Hotstar through the Google Play Store, using a VPN is straightforward:
1. Connect your VPN to an Indian server.
2. Click the three bars at the top of your screen.
3. Tap "account".
4. Switch location.
5. Play Store will now let you switch your location to India
Extra Credit:
6. Put a pipe in your mouth and say, "Elementary, dear Watson."
7. Enjoy hours of viewing pleasure.
If Hotstar is picking up your VPN via your browser, it might help to minimize the site after it's loaded its content. Then open up your VPN, click "connect" and switch to your app. That three-step order should grant you entry. If your VPN has a no-logs policy, you shouldn't have any trouble connecting, but if you're stuck with a lesser product, you'll need to clear your cookies and captchas before you stream. You probably shouldn't try viewing Hotstar's pixelated offerings on your big screen television, but if you must, you'll have to connect your laptop to your set.
Synchronized dance number time!
At a blisteringly hot price of $19 a year, it's easy to forgive Hotstar for its dodgy visuals. You'll get it for its ABC, HBO and Disney content, but you'll probably stay for its Bollywood shows.
Everyone catches the bug eventually, so put on a bindi and some dancing shoes. It's time to add some shimmering romance to your viewing life.