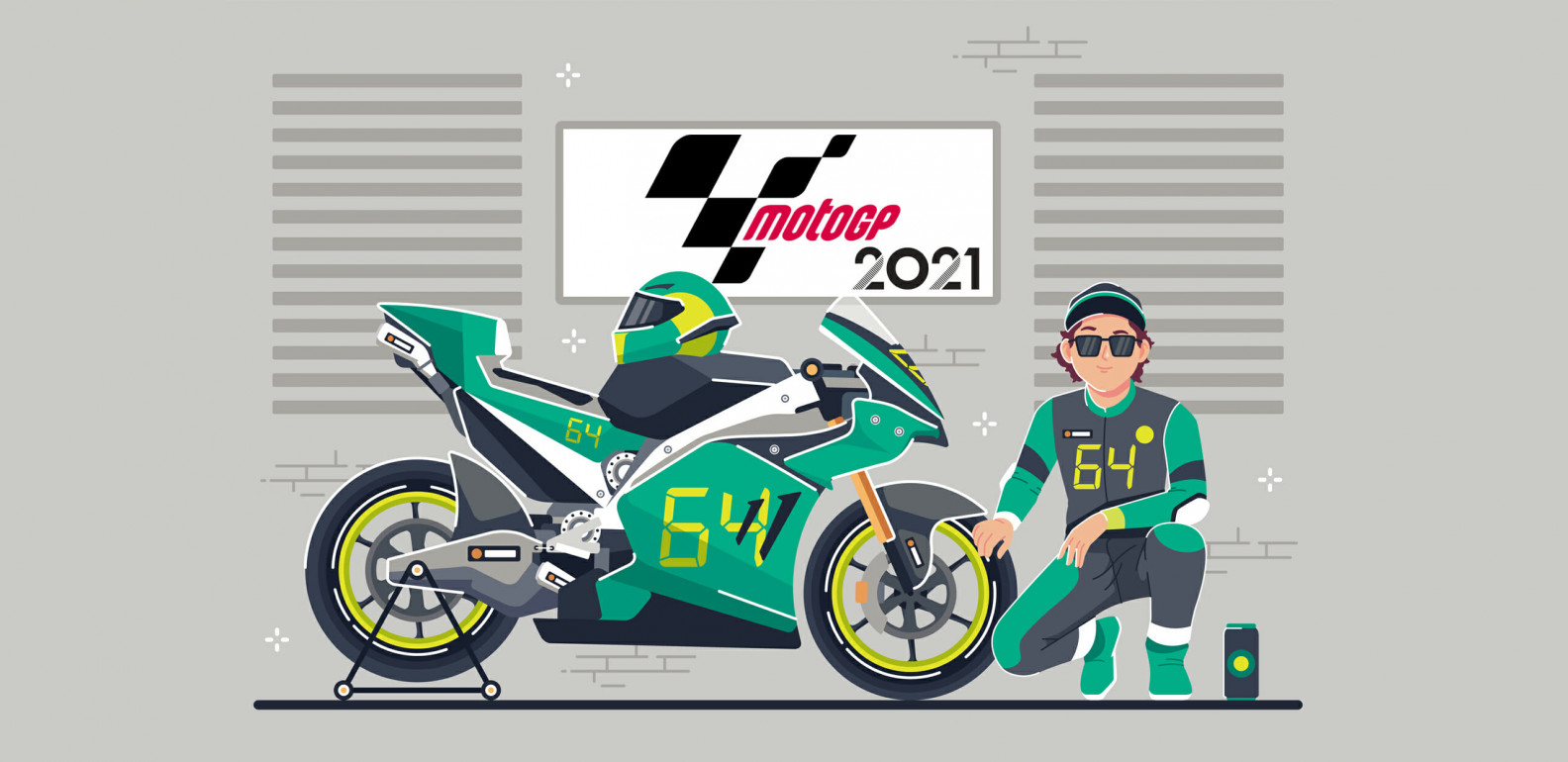 How to stream MotoGP 2021 for free
The 2021 MotoGP season is underway and gearing for the third event, the Grande Prémio 888 de Portugal, at the Algarve International Circuit.
The first two races in Qatar have been electrifying and dramatic. If they're anything to go by, we are in for another thrilling and unpredictable season of the premier motorcycle road racing sport.

Highlights… So far
Marc Marquez's long-awaited return into action after suffering a 2020 season-ending injury didn't pan out as projected, and he's since been replaced by Stefan Bradl.
Yamaha's Maverick Vinales took the lead in the season opener in Qatar, with Johann Zarco finishing second.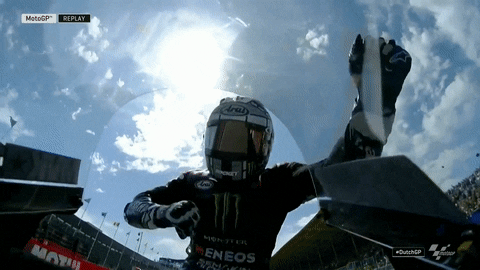 Quartararo claimed victory in the second race and is currently tied with Vinales at 36 points in the overall standings – four behind Zarco, who is leading the way.
2021 MotoGP Schedule
With the Gran Premio de la República Argentina and the GP of The Americas still postponed, here's how the remaining season look likes for now:
| | | |
| --- | --- | --- |
| Race Date  | Grand Prix Race | Circuit  |
| 18 Apr | Portugal GP | Algarve International Circuit |
| 2 May | Spanish GP | Circuito de Jerez-Ángel Nieto |
| 16 May | GP of France | Circuit Bugatti  |
| 30 May | Italian GP | Mugello Circuit |
| 6 Jun | Catalunya GP | Circuit de Barcelona |
| 20 Jun | German GP | Sachsenring |
| 27 Jun | Dutch GP  | TT Circuit Assen |
| 11 Jul | GP of Finland  | Kymi Ring |
| 15 Aug | GP of Austria | Red Bull Ring |
| 29 Aug | British GP  | Silverstone Circuit |
| 12 Sept | Aragón GP | Motorland Aragón |
| 19 Sept | Misano GP | Misano World Circuit Marco Simoncelli |
| 3 Oct | Motul GP of Japan  | Twin Ring Motegi  |
| 10 Oct | Thailand GP | Buriram International Circuit |
| 24 Oct | Red Bull Australian Motorcycle GP  | Phillip Island Grand Prix Circuit |
| 31 Oct | Malaysia Motorcycle GP | Sepang International Circuit |
| 14 Nov | Valencia GP | Circuit Ricardo Tormo |
How can you stream MotoGP in 2021?
A couple of sports platforms are showing this year's MotoGP races.
In the US, MotoGP enthusiasts can follow the action on NBC Sports, which has the broadcasting rights this season. However, only five of the GP races will be live, with the others being available on tape delay.
Fans in the UK can watch all the races live on the TV sports channel BT Sports, specifically BT Sports 2. The races will also be available on the BT Sports app for users streaming on laptops and mobile devices.
Sky Italia will provide coverage of this season's MotoGP races in Italy.
Fox Sports is where all the MotoGP action will be for Aussie fans.
Rev TV confirmed it would be showing some of the races in Canada. There is also the option of MotoGP's streaming service, which will cover the races right from practice rounds to highlights.
Most, if not all, of these options, are paid platforms, so if you want to stream the races live and free, you'll need to look elsewhere.
I'm kidding; just find it below.
How can you stream MotoGP one live and free in 2021?
Streaming rights to sports events are all over the place this year. The sports industry has realized how much money it has been losing to illegal streams and cracked down on that.
Watching sports events, including MotoGP, is getting harder but, it isn't impossible.
Some countries have channels that are streaming the MotoGP races completely free for all of the locals.
All you have to do is know who they are and try to pass as a local.
Don't worry about how you'll do this; we have the solution.
Who is broadcasting MotoGP free, and which races?
Several broadcasters will be covering the MotoGP race at no charges. Here's a rundown of these broadcasters and the races they are going to host on their platforms:
Austria and Germany
All races (and the respective qualifying rounds) of the 2021 MotoGP season will be available on Servus TV for the locals. However, they will be broadcasted in German.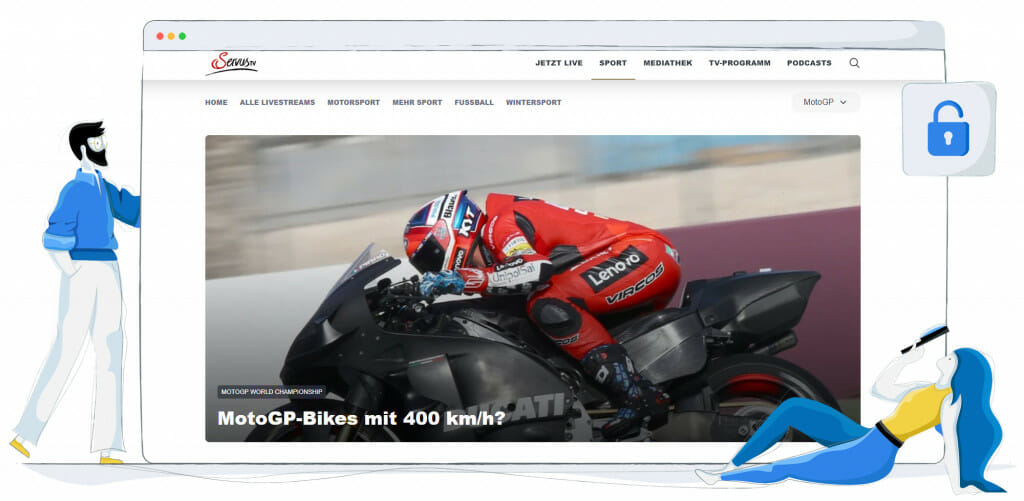 Switzerland
The Swiss Broadcasting Corporation (SRG SSR) is definitely one of our favorite picks for MotoGP 2021 broadcasts.
The broadcasts will be available on a number of local channels (RSI, RTR, RTS, and SRF), and all of them are streaming online. You always get your selection of channels in languages you are less uncomfortable with: French, Italian, or German.
Hey, road rash speaks a universal language.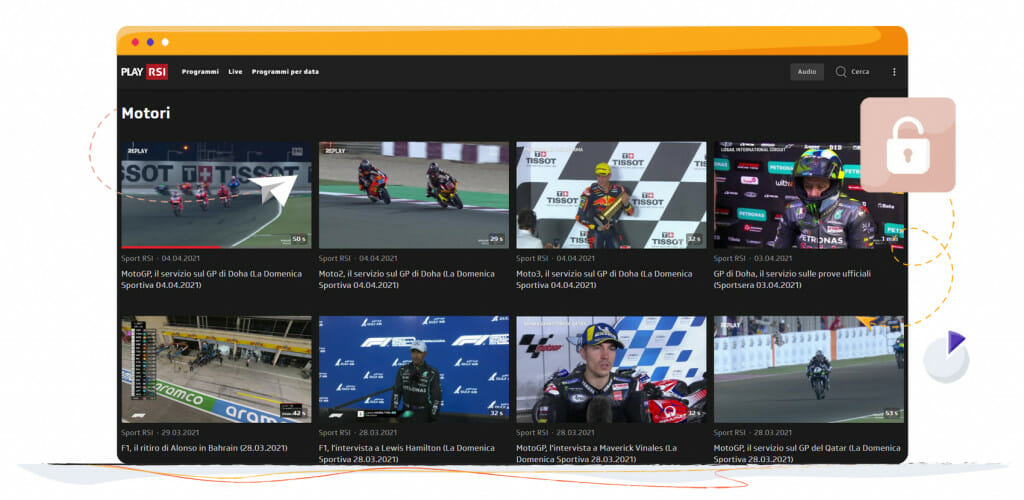 Australia
10Play will broadcast the qualifying rounds, and MotoGP races live and free in English.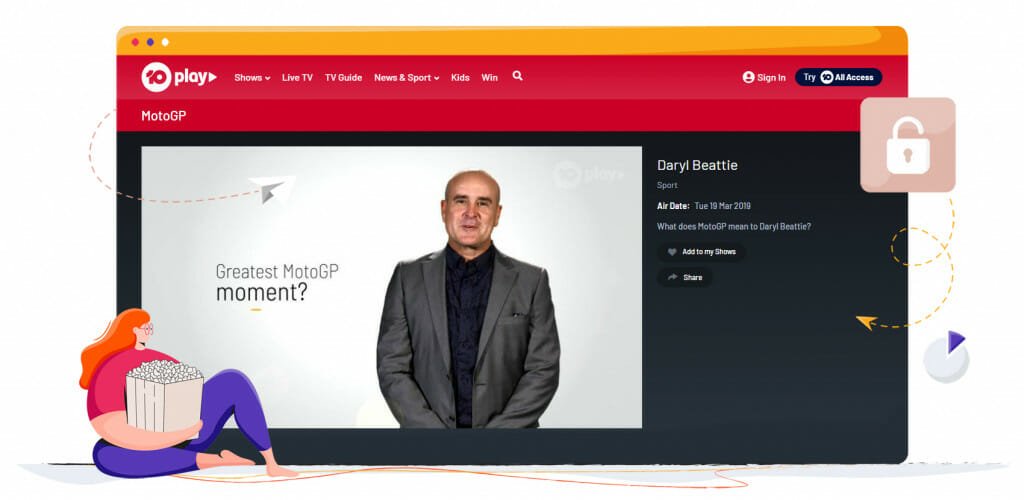 Italy
The free-to-air TV8 channel will broadcast eight of the MotoGP races live, but others will be delayed. As you would expect, the broadcast will be in the Italian language. Ciao!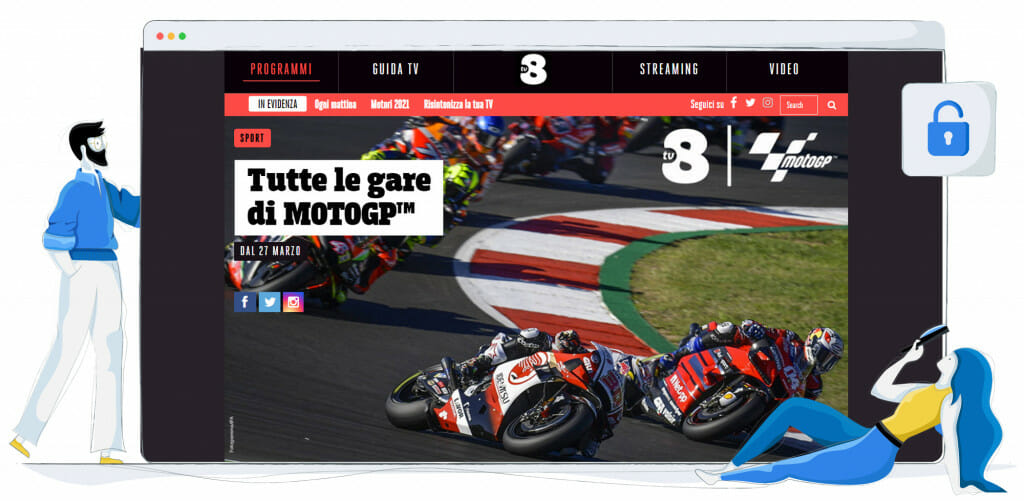 But how can you watch the races free?
We'll level with you.
Sure, you can find some shady poor quality streams on the internet, or torrent the races after the fact. But trust on this, they are not worth the risk.
More often than not, these streams get interrupted and taken down, not to mention, they might be malicious. Imagine the stream crashing as Miguel Oliveira prepares to bend his way past Turn 13 of the Portimao circuit.
Surely, if you are a true MotoGP fan, you want to experience all of the heart-pounding races live, along with millions of fans all over the world.
The most convenient way to keep up with the 2021 MotoGP season is tuning in on the actual platforms that stream the races. This way, you can enjoy all the races hassle-free in HD.
Only one hurdle, though, since these platforms are geo-restricted, you'll need a reliable VPN to work your way in as a local.

Still don't know what a VPN is?
With a VPN, you can hide your actual IP, and change your location to the region where the races are being broadcasted live.
Simple, effective, and just awesome!
What is the best VPN to stream MotoGP for free?
There's no doubt that NordVPN is the way to go, and there are plenty of reasons that put it at the top.
Geo-blocks set by sports streaming platforms are getting tougher to skirt by the day. Some VPNs can no longer keep up with these blocks.
However, NordVPN is one of the few that have remained abreast and still guarantees you access through even the toughest blocks and restrictions.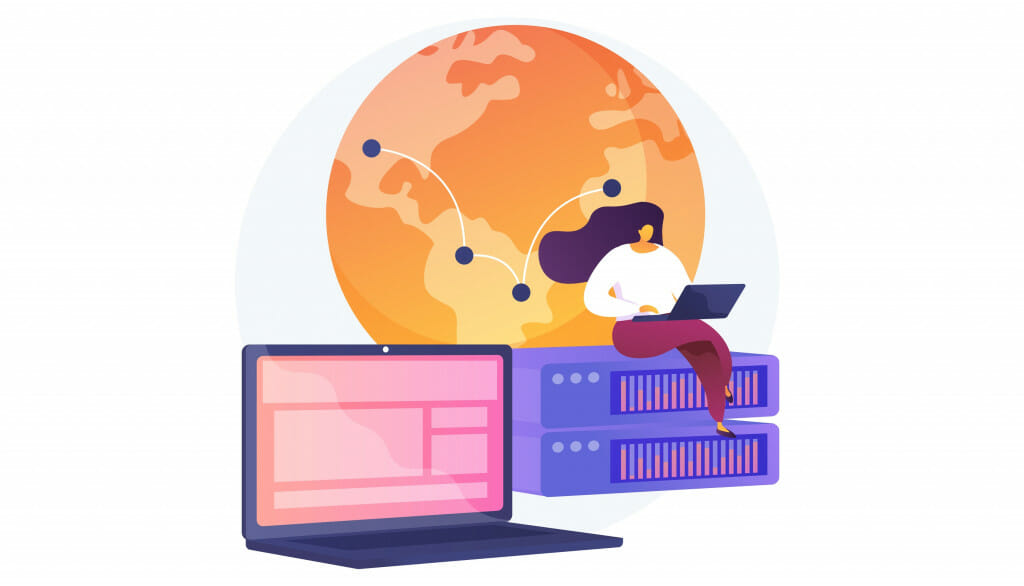 Trust us, we're not just saying that. Here are just a few reasons why we pick NordVPN for this motor mission:
First, it has servers in all of the major locations you need – be it Australia, Italy, Austria, or Switzerland.
It also features a combination of Smart DNS and VPN technology (with a catchy name SmartPlay) that makes it a breeze to bypass local restrictions and unblock virtually any streaming service.
In addition, NordVPN comes with obfuscation that makes it invisible to VPN blocks and firewalls. It doesn't leave any VPN footprints, so you can be sure your stream won't get interrupted halfway.
The recent upgrade to its servers has massively improved the VPN, and you can expect fast speeds and HD quality when streaming.
Do you want to know more about NordVPN?
A smooth race never made a skillful racer
The 2021 MotoGP season already kicked off, and you know what that means, there's a Grand Prix at every turn of the month. You simply can't afford to miss out on any thrilling action.
Get a VPN and tune in to see the riders battling it out lap after lap.