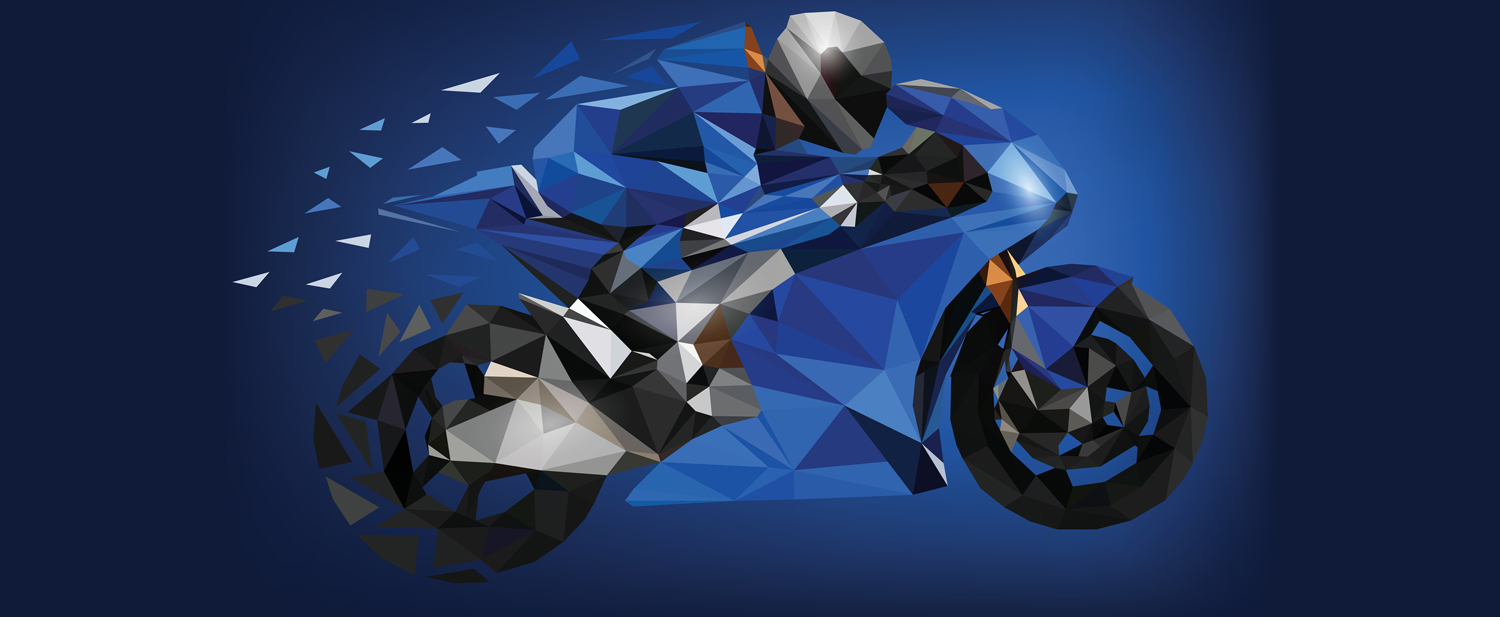 Every Race of the 2022 MotoGP World Championship Live and Free
The opening round of 2022's MotoGP World Championship at the Losail International Circuit was a dramatic yet emotional affair.
A late charge from KTM's Brad Binder saw the South African racer close the gap between him and Enea Bastianini to a six-tenths of a second ahead of the last corner. La Bestia, however, held onto the lead in what was an excellent season opener.
The young Italian racer got the much-needed victory for the Gresini squad that lost its owner last February. Honda's Pol Espargaró grabbed the final spot on the podium ahead of his brother Aleix on the Aprilia team.
Boy wonder Marc Márquez and defending champion Fabio Quartararo endured tough starts. The former finished fifth while Quartararo on his Yamaha MotoGP YZR-M1 came in ninth, 0.007 seconds behind Pramac's Johann Zarco.
Exciting start, to say the least! Really makes you hyped for the rest of the season. And luckily, we know all about it.

Can't miss a race?
Grab ExpressVPN and enjoy every race for free!
Here's what to expect for the rest of the 2022 MotoGP season
Two new circuits feature in MotoGP's 2022 season calendar as part of the major changes.
The first is Indonesia's Mandalika International Street Circuit, where Round 2 will take place over the weekend. What's also worth noting, this is going to be the country's first MotoGP Grand Prix since 1998.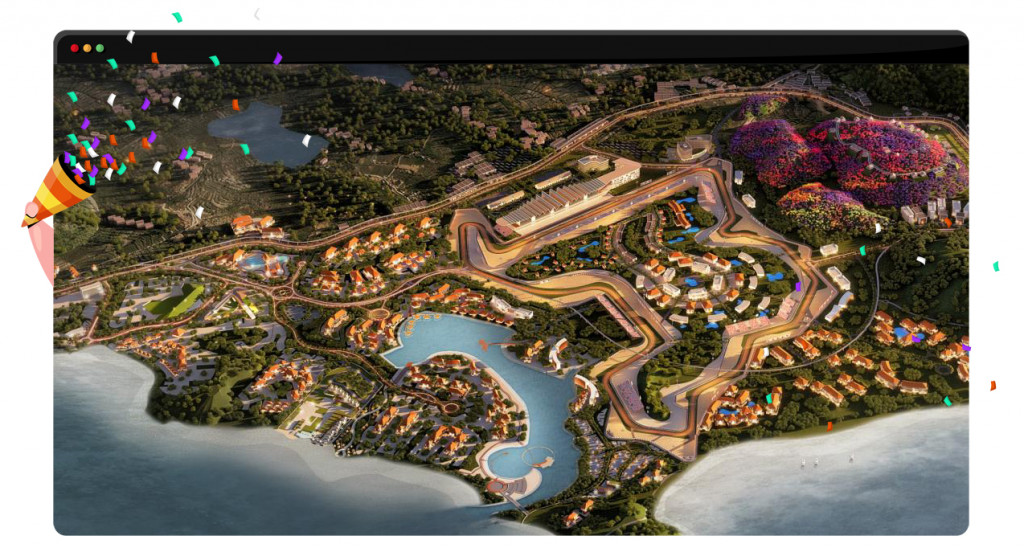 The other is the KymiRing Circuit, which was actually expected to feature in the previous two MotoGP seasons. It will host the Finnish GP that's returning after an absence of nearly four decades.
The Brazilian Grand Prix, whose return to the calendar was anticipated this season, didn't make the list.
Nonetheless, the new season has already shown – in the Middle East – signs of being a closely battled one. Despite the loss of veteran racer Valentino Rossi who retired last November, names like Fabio Quartararo, Francesco Bagnaia, and the-now-fit-again Marc Marquez are expected to put on a show.
So this might very well be the most exciting MotoGP season yet!
Who knows, maybe The Doctor can even pull a Tom Brady and return to the tracks. Till then, though, all eyes remain focused on the ongoing season, starting with the next race in the 'strange, characterful' Mandalika circuit.
The most important races of the 2022 MotoGP World Championship
Just to make sure that you don't miss the excitement that the 2022 MotoGP season is expected to bring, we've put together a list of the most important races this season.
So if you can't make the entire season, be sure to not miss out on these races this season:
| | | |
| --- | --- | --- |
| 20 March – Indonesia                   | Pertamina Mandalika Circuit                       | The first new circuit in the season. It's always exciting to see what a new track brings to the tournament. |
| 1 May – Spain | Circuito de Jerez | The first of at least four races in Spain, but this is the one fans look forward to every year. |
| 26 June – The Netherlands     | TT Circuit Assen | The Assen Circuit has always been a highlight in the MotoGP Championships. So why wouldn't it be one this year? |
| 12 July – Finland | KymiRing Circuit | Another new track in the season. And you can never miss a new circuit! |
| 21 August – Austria | Red Bull Ring – Spielberg    | A short circuit with huge height differences is always a spectacle. And with the changes to the track this year, it's sure to be even more exciting! |
| 25 September – Japan | Twin Ring Motegi | The homecoming race for many bike manufacturers, so you can be sure to expect fierce competition! |
| 23 October – Malasia | Sepang International Circuit | Traditionally the favorite race among true MotoGP fans. So if you consider yourself to be one, you can't miss out on this one! |
| 06 November – Spain | Circuit Ricardo Tormo | It remains to be seen whether the 2022 MotoGP Championship will last until this race, but with the competition being so fierce this year that is to be expected. What can we say – it's the finale! |
How can you stream MotoGP in 2022?
MotoGP fans in the US can catch all races of the season live on CNBC or NBC Sports via the website or app.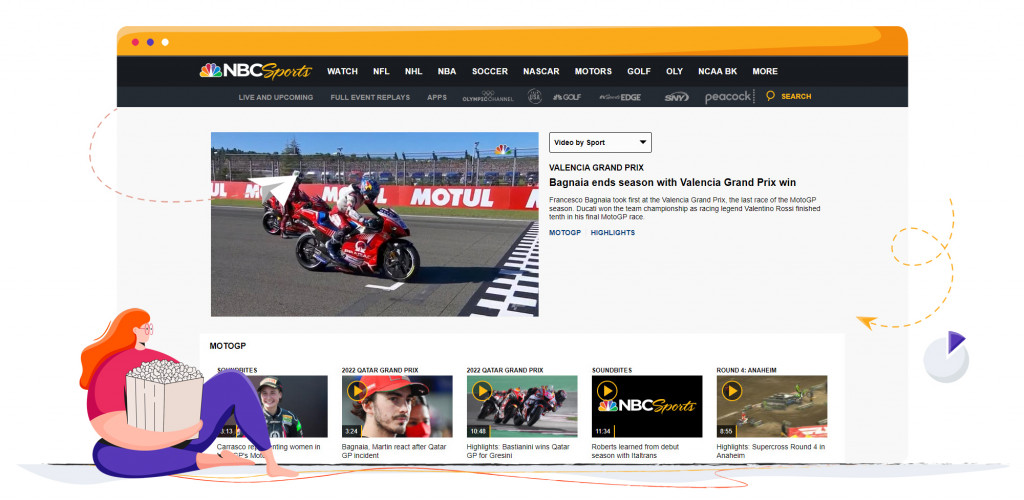 Canadian fans can watch all the races on REV TV, which holds exclusive rights to the MotoGP season in the country.
The latter lacks the website option but has ensured its channel is available to more than 30 different cable TV providers through which you can watch the races.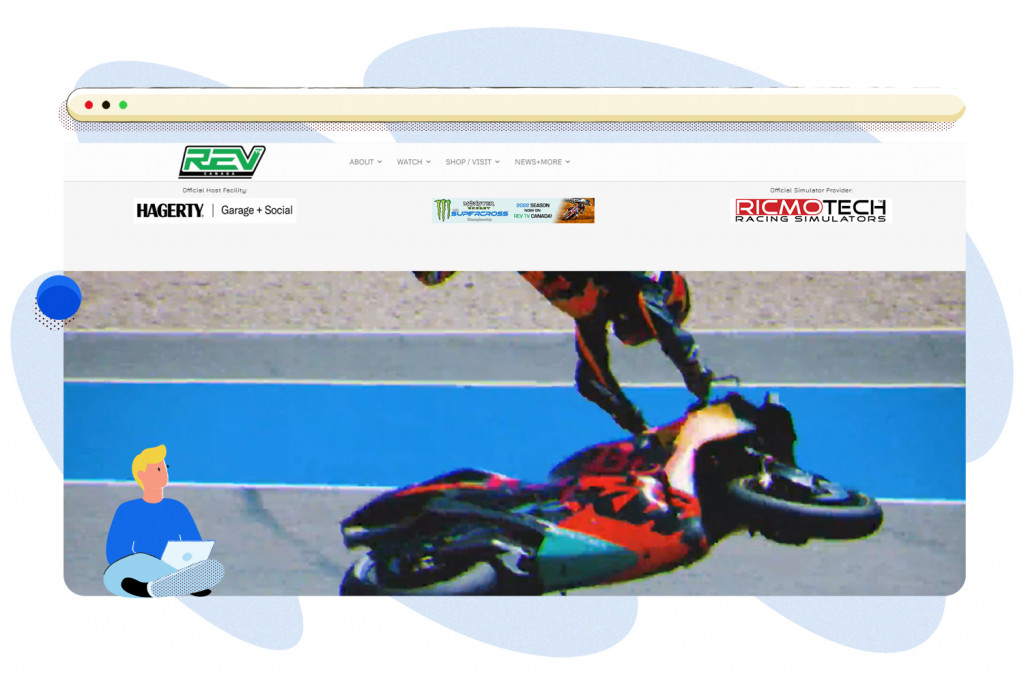 BT Sport, which holds exclusive broadcasting rights in the UK, will do it for fans in the region.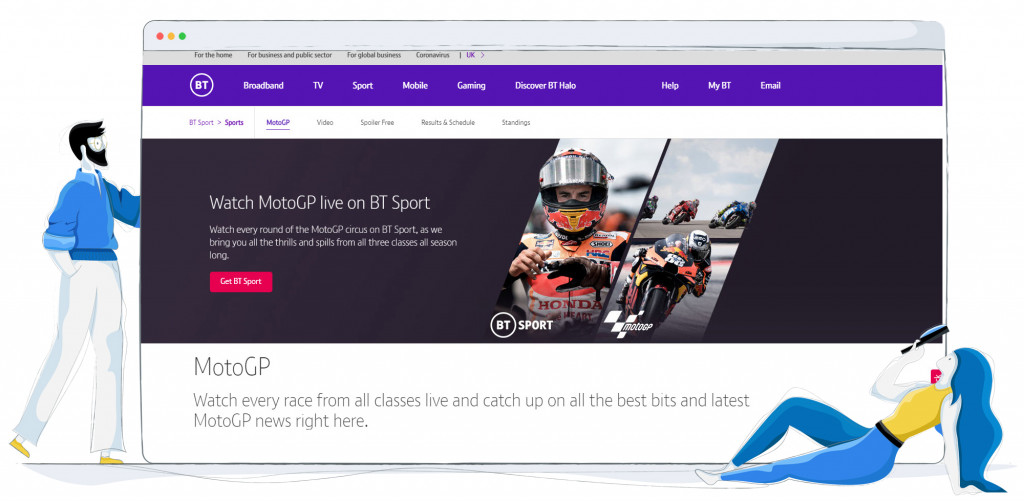 Though there are more online broadcasts of the MotoGP races, most – including those above – are only available on paid streaming services or cable channels. This means they are not just expensive, they are also geo-restricted.

Don't know what geoblocks are?
You may very well be dealing with them every day!
This time though, you don't have to worry about that as we have prepared everything for you, including a list of reliable options that will allow you to watch the races live for free.
How can you stream MotoGP live and free in 2022?
Most countries typically broadcast the MotoGP races on one or two available paid platforms – in some cases, as many as four.
Now, not many people know it, but in some countries, some of these broadcasters stream the races for absolutely free. But of course, it's not as simple as googling the solution and joyfully heading over to some Austrian stream to enjoy all of the races and understand none of the language.
All, of them, are geo-blocked, so you can't watch them from locations outside where they operate.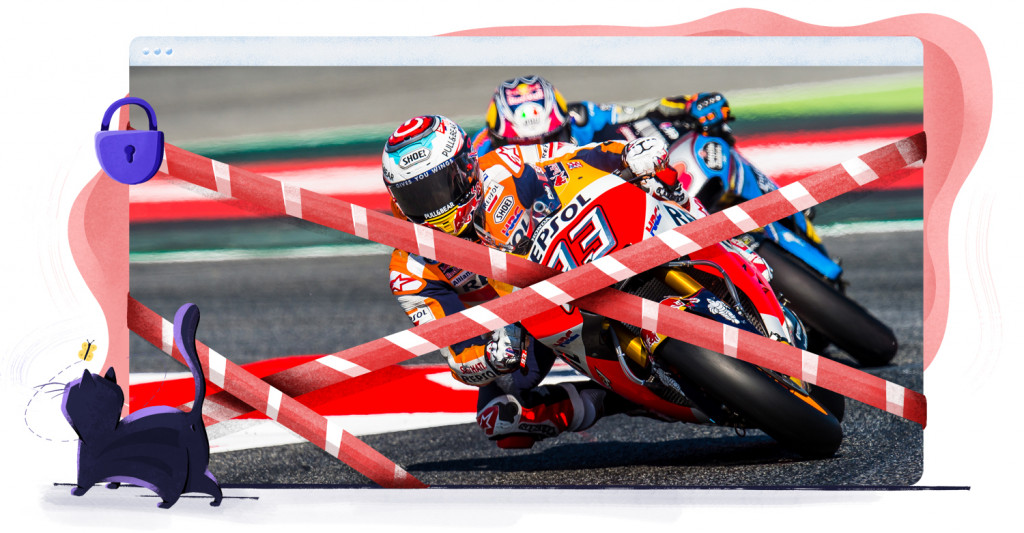 That said, there is a way to watch anything and everything you want on the web so long as you have the right resources – in this case, a VPN.

Check out everything you need to know about VPNs
What they are, how they work, what they can do
The only VPN that can clutch win the streaming game
Let's make one thing clear: Illegal sports streams are a thing of the past.
These days, sports streams are so expensive and so well protected, there's just no getting around the restriction. And, frankly, who even needs weird Reddit streams in 144p that get taken down every other second when there's a perfectly legal and magnificently HD alternative?!
You can tune in and watch any and all of the 2022 MotoGP Championship races as long as you have the right VPN, and know where to look. And we've got both for you!
At present, the only VPN that has a proven track record of unblocking streams of any sport out there is ExpressVPN.
Why ExpressVPN? Well, its awesomeness speaks for itself:
The VPN took it upon itself to provide access to pretty much any sports stream in the world.
There is just no beating ExpressVPN when it comes to accessing sports streams!
By dint of ExpressVPN's Lightway protocol, you can watch anything from anywhere with absolute freedom and assured privacy.
Even if you put aside how awesome it is to have your very own protocol, Lightway gives you as much speed as you need to stream anything from anywhere!
In addition to unmatched speed, the VPN is also available for every platform, including smart TV systems.
So with ExpressVPN, you wouldn't be able to miss a MotoGP race if you tried!
This is simply the VPN that will let you watch all of the 2022 MotoGP season whichever way you prefer.
All this goodness comes at a modest subscription cost considering it is the best out there and you know it.
Not enough reasons to get ExpressVPN?
We've got more of them in our full review!
Who is broadcasting MotoGP free in 2022?
Once you have a VPN, all that's left is finding the channels where you can watch the races. Lucky for you, we have done all of this work for you!
Here's a roundup of the broadcasting parties this year and races they will show on their platforms:
Austria or Germany
Salzburg-based Servus TV, whose MotoGP's broadcasting rights, unfortunately, expire in 2023, will show all races (and the qualifying events) live for fans in Germany and Austria.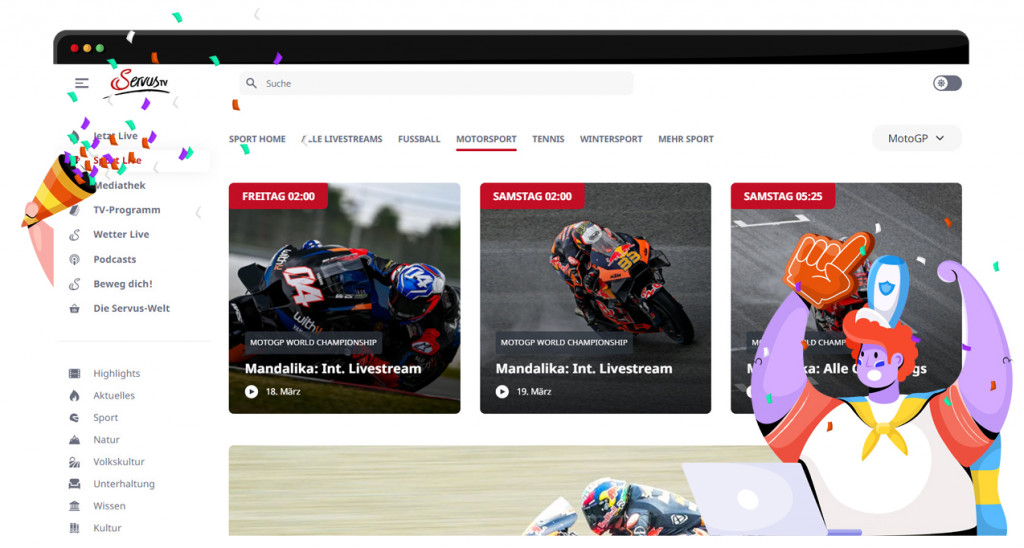 The TV station is the only one that offers the stream for free in the region, with fellow right holders DAZN charging for the same.
All you have to do to enjoy the races on Servus TV is:
Get ExpressVPN.
Connect to their Austrian server.
Head on over to Servus TV and find the live stream.
Enjoy the races!.
Belgium
All of the qualifiers and all of the races of the current MotoGP season will be shown live on RTBF – a channel exclusively available in Belgium that seems to be going for all of the racing sports this year. And it's free!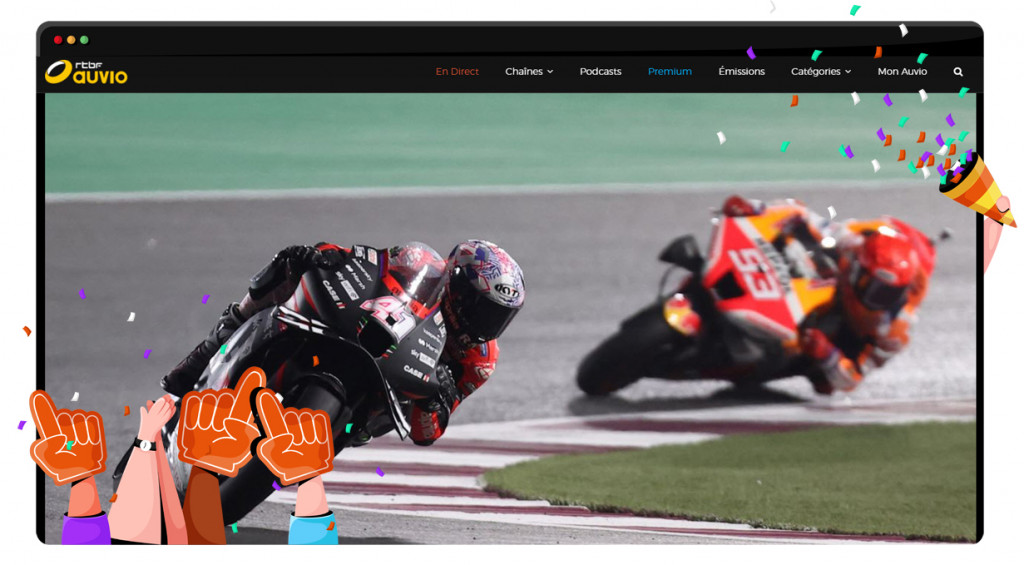 If you're looking for a free option and don't mind a French commentary, this is your best bet. All you have to do to enjoy the races is:
Get ExpressVPN, of course!
Connect to a Belgian server.
Head on over to RTBF website.
Navigate through a rather convoluted interface to find the live stream.
Start your engines!
Italy
Sky Italia's digital-terrestrial free-to-air channel TV8 will show six of the races. These are those in Argentina, Catalonia, Valencia, Italy, San Marino, and the Netherlands. The rest, whose broadcasting rights are held by Sky Sports, will be available on TV8, albeit delayed.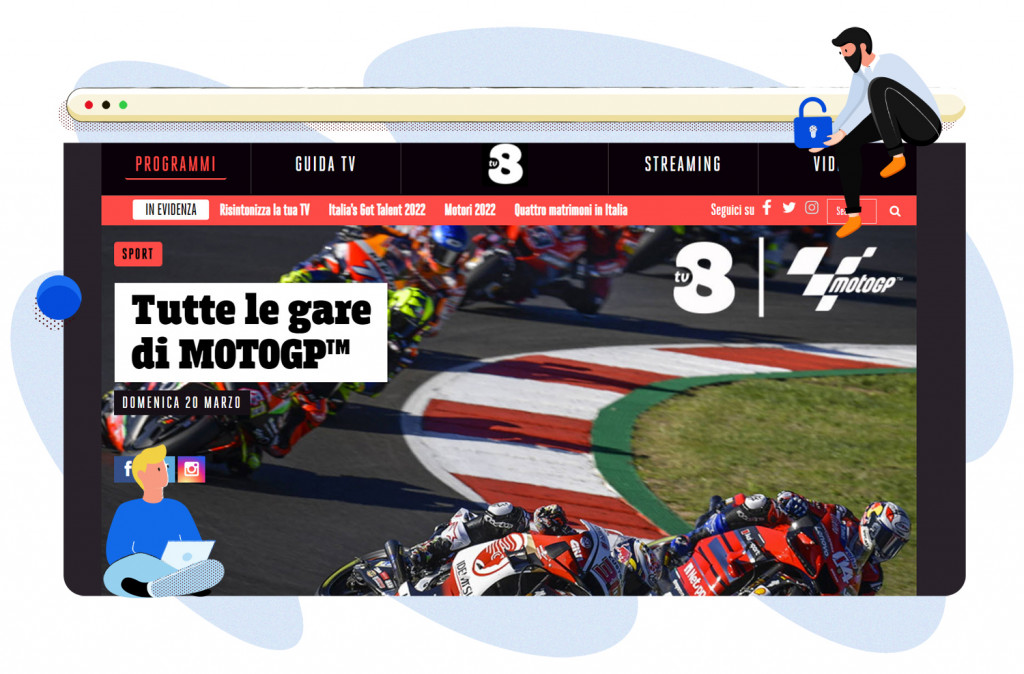 And here's how you'd go about this:
Get ExpressVPN!
Connect to one of the VPN's Italian servers.
Head on over to TV8 and enjoy!
Switzerland
The Swiss Broadcasting Corporation (SRG SSR), through four of its channels (one for each of the official languages in the country), will also broadcast all races live and free.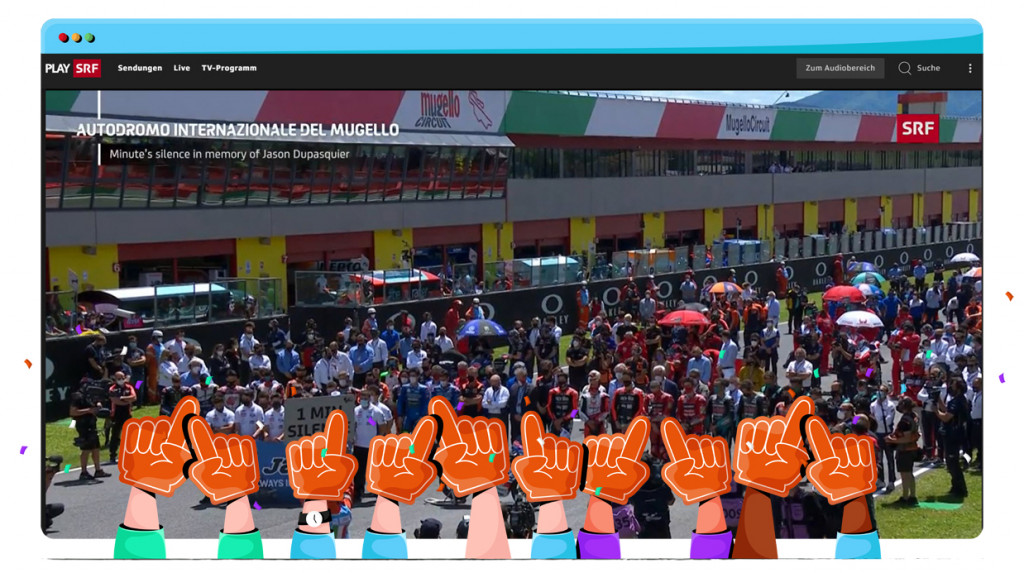 You have options between RSI (Italian), RTR (Romansh), RTS (French), and SRF (German). All you have to do is:
Get ExpressVPN.
Pick one of its Swiss servers and connect to it.
Head on over to the SRG SSR channels.
Choose the language you prefer and enjoy the live stream!
ITV 4
Missed all of it? You can watch the highlights of the MotoGP races on ITV HUB for absolutely free.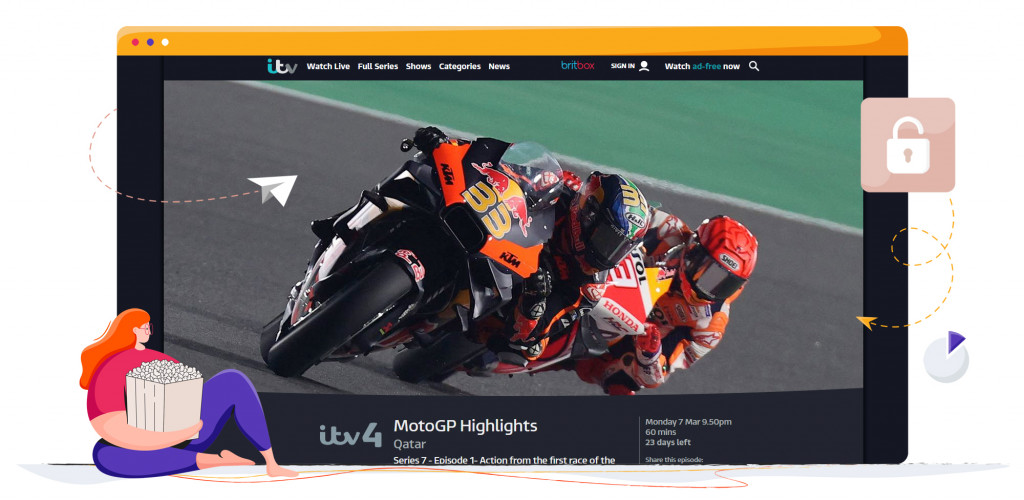 Here's what you can do to tune in:
Get ExpressVPN!
Head on over to Britain's ITV HUB website


Check out our complete guide to ITV HUB!

Register with the service and check out all of the highlights!
This is your chance to get ready for the next race
Revv up your engines because the new season of the premier class of motorcycle racing is here.
Choose from any of the options we have listed above and enjoy the next round of the 2022 MotoGP World Championship. If you missed the previous race(s), you can get yourself up to speed here or on the  MotoGP YouTube channel.