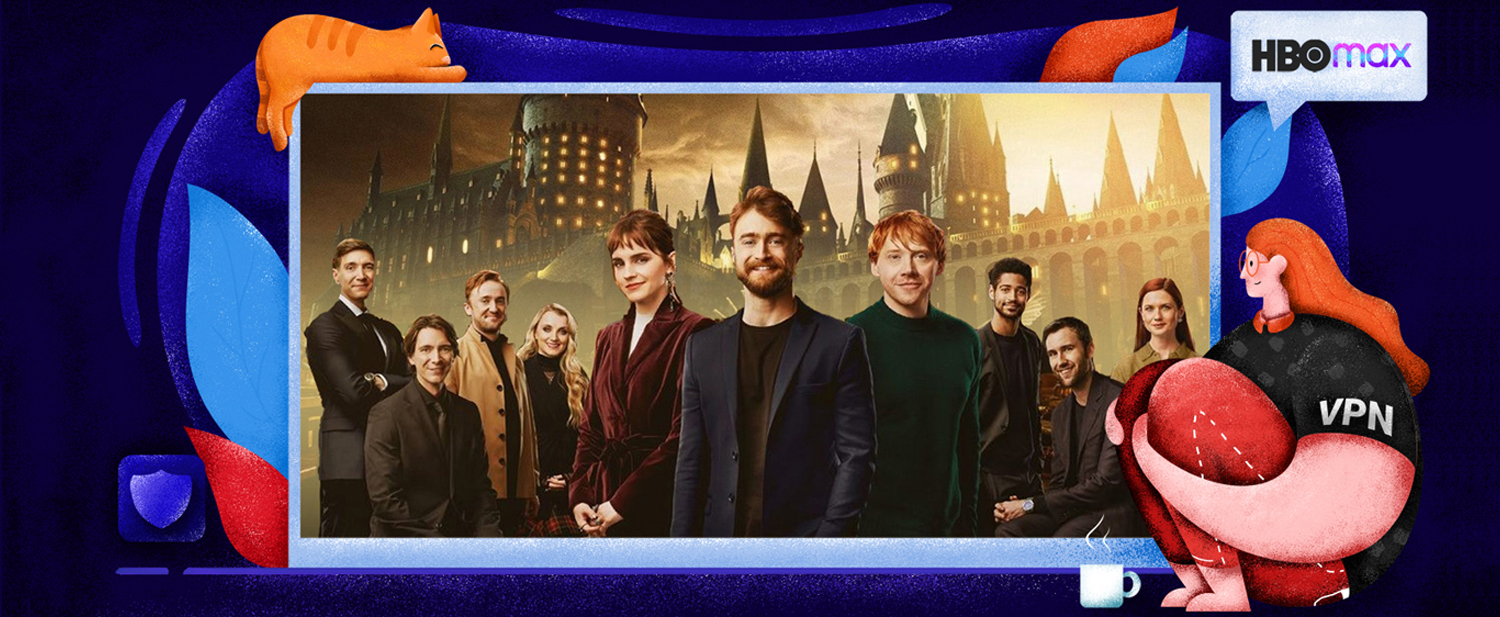 How to stream Return to Hogwarts from anywhere
Harry Potter and the Philosopher's (Sorcerer's) Stone, the first installment of a dozen films about the school of young wizards, landed with massive success. The movie attained great critical and commercial success with Chris Columbus at the helms and a jovial cast of Daniel Radcliffe, Rupert Grint, and Emma Watson. And that was 20 years ago…
The iconic film franchise went on to become a household name and a regular in the lists of favorite fantasy films. It practically raised an entire generation.
Seriously, what was your childhood like if you didn't watch at least one of the films?
And now… Well, now we just might get to revisit the magic of Hogwarts along with the cast we grew up alongside (both physically, and emotionally).

Are you ready to Return to Hogwarts? ExpressVPN will take you there!
Return to Hogwarts with HBO Max
Fast forwards two decades later, and after several migrations between different streaming platforms, the Harry Potter Saga finally has a home.
The film series, an adaptation of the book series from British author J.K. Rowling, has found its own and special place to live on HBO Max.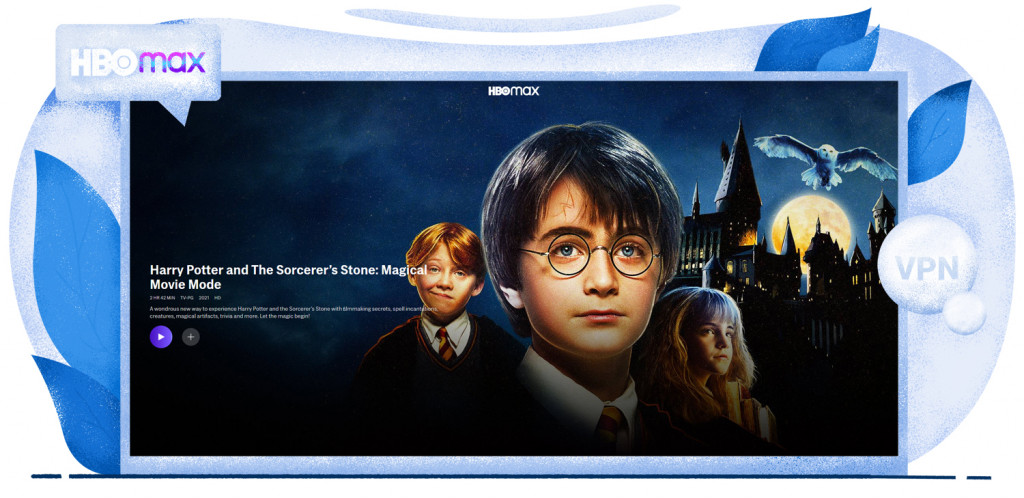 It does make sense, at least to us movie buffs, that the movie found its place on HBO. The movies were, at the time, distributed by Warner Media (Warner Bros production house) which has a special relationship with HBO Max. So there we go.
The good news, HBO Max is not letting go of the series anytime soon. So if you've been looking for the most magical saga ever, you finally have the place to watch all of it in one place.

Want to tune in to HBO Max wherever you are?
Get the most exclusive streaming platform anywhere!
And that's not even the best part!
If you haven't heard, a new Harry Potter event is happening on New Year's Day!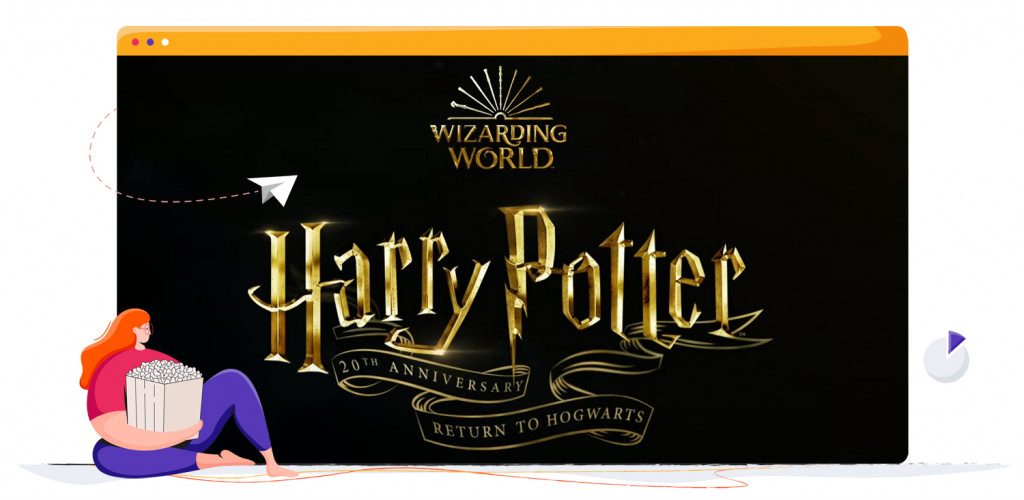 Twenty years later, the amazing cast we all watched grow up on the big screen is meeting again. It's called 'Return to Hogwarts', and if that doesn't make you feel like getting into your Gryffindor pajamas, we don't know what will.
The actors are, however, not here to reprise their roles.
We feel you. We, too, would give our right arms to see young Emma Watson bring Hermione Jean Granger to life. 
But what kind of Potterhead would you be, if you allowed yourself to miss out on what might be the last Harry Potter event?! Have we mentioned it's been 20 years? We're starved for this!
The gang is back to take us down memory lane on a nostalgic journey. You probably can't wait to know what it will be about, when it will start, and most importantly – how you can watch it.
Well, we have got it all here, and we mean all of it.
What is the Harry Potter 20th Anniversary going to be about?
It is an HBO Special, much like other reunions (Friends and The Fresh Prince of Bel-Air) that we have seen from HBO.
In addition to the golden trio, this exclusive will also feature other familiar faces, including Tom Felton, Helena Bonham Carter, and Gary Oldman. While J.K. Rowling won't be part of the reunion, Ralph Fiennes will be in attendance. We bet you many won't recall him by his looks.
The event won't be a revisit to the magic world of Hogwarts much as we would like it to be, but it promises some exclusive, never-before-seen footage. And that's all we need right there.
It will be a retrospective show featuring interviews and discussions with the cast. True Potterheads will also get to enjoy remarks from the creative minds behind the magic.
The trailer is already out, and if you haven't caught it yet, you can get a peep here. We dare you not to get dewy-eyed.
So how can you stream the Return to Hogwarts wherever you are?
The special will run exclusively on 1st January 2022 on HBO Max for US residents. If you don't have an account yet, all you have to do is pony up the price for the highest-tier HBO Max subscription ($14.99) and enjoy the show when it airs.
So, if you're in the US, and you have an internet connection, you're pretty much all set. Come New Year's morning, you make yourself a nice hot cup of hot choco to nurse the hangover, put on the sorting hat, and let the nostalgia waft over you for a couple of hours.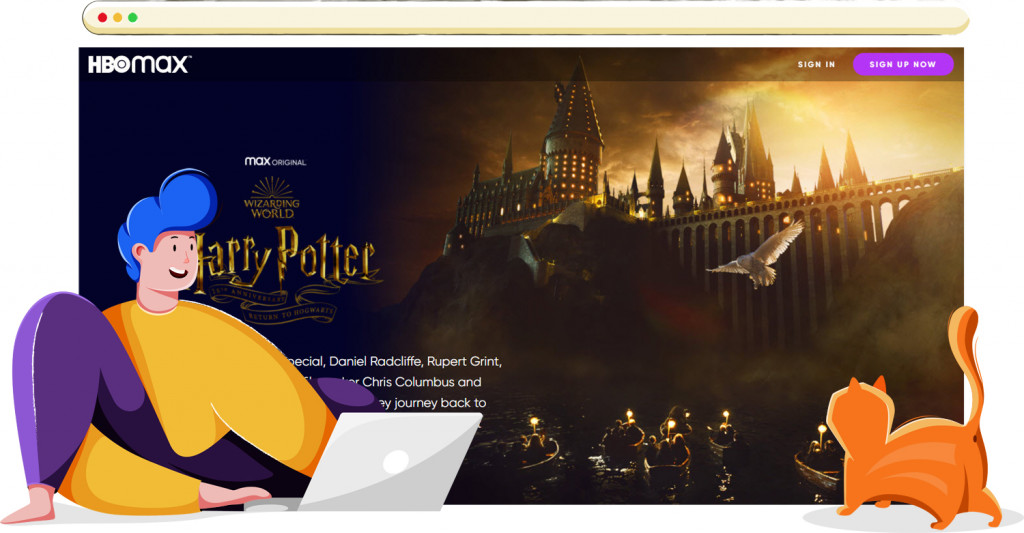 But it's not all Quidditch and Pygmy Puffs.
If the release of the newest chapter of the saga catches you outside of the US while traveling or living [yes, despite popular belief, there is life outside of the US, and that life loves Harry Potter too!], you are going to have to sort out two issues:
First, you'll need to access the streaming platform, which has some of the toughest blocks in the entire industry.
Then, you are going to have to find a way to subscribe to it. The catch is, it only accepts US-issued payment methods.
But don't worry. We've conjured up the perfect two-step spell just for that!
Returning to Hogwarts from outside of the US
For you to log in or sign up to an HBO Max account while still outside the US, you'll need a VPN.

What's a VPN?
It's the ultimate trick for all your streaming needs!
When it comes to streaming, unblocking websites, and getting access to places you're not completely supposed to get access to, a VPN is basically your magic wand, a cloak of invisibility, and the Room of Requirement in one, small, eloquent app.
Just like magic wands, there are lots of VPNs out there. But we understand that you can't just go for any old VPN. You need the best one.
And after we've done the testing for you, our pick landed on ExpressVPN.
After a bit of a trip to security land, ExpressVPN is back on its feet and is simply the best, fastest, and most reliable VPN provider to manage the mischief of unblocking HBO Max wherever you may be.

Want to know what makes ExpressVPN great?
Check out our in-depth review!
I solemnly swear that I am up to unblocking HBO Max
A great VPN, such as ExpressVPN is a crucial step to getting your HBO Max subscription. One you can't do without [unless casting Cruciatus to unblock a streaming service as sophisticated as HBO Max is your kind of kink. Hey, we don't judge].
But that's not the only step you are going to have to make in order to join millions of fans that faithful winter morning.
No worries, friend! We have created our very own Marauder's guide to help you on your Return to Hogwarts:
#1. First of all, get ExpressVPN.
This is your sign of the chosen one, and there's no Returning to Hogwarts without it!
#2. Now that you know where the secret tunnel is, you still need the magic words to unblock the doors of HBO Max streaming.
That's wizard-talk to being able to pay for your HBO Max subscription. And it only takes US-issued payment methods. Dirty Muggles!
But we know just the spell!
Head on over to our friends at US Unlocked and apply for your very own virtual American prepaid bank card, that works just as well as a real one, and doesn't have to be replaced every few years!
Get your very own virtual American bank card today!
#3. Now all that's left is to take your newfound power to HBO Max.
Connect to a US server with ExpressVPN, head on over to HBO Max, and subscribe to the platform's highest-tier subscription package with your fancy US Unlocked card.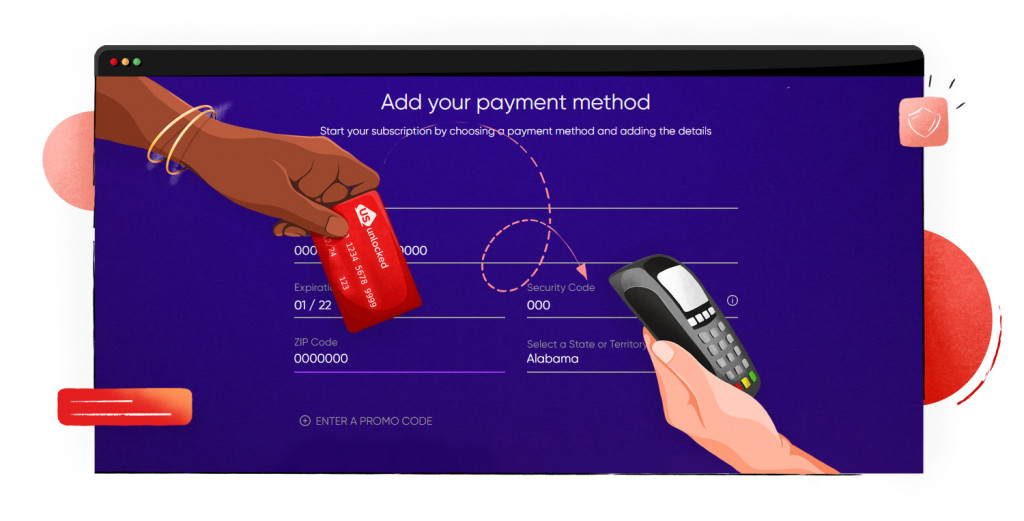 #4. Alohomora!
You are a wizard [insert name].
Accio Harry Potter Reunion Special!
It might seem expensive, but you can't really put a price tag on a once-in-a-lifetime opportunity to be a child again?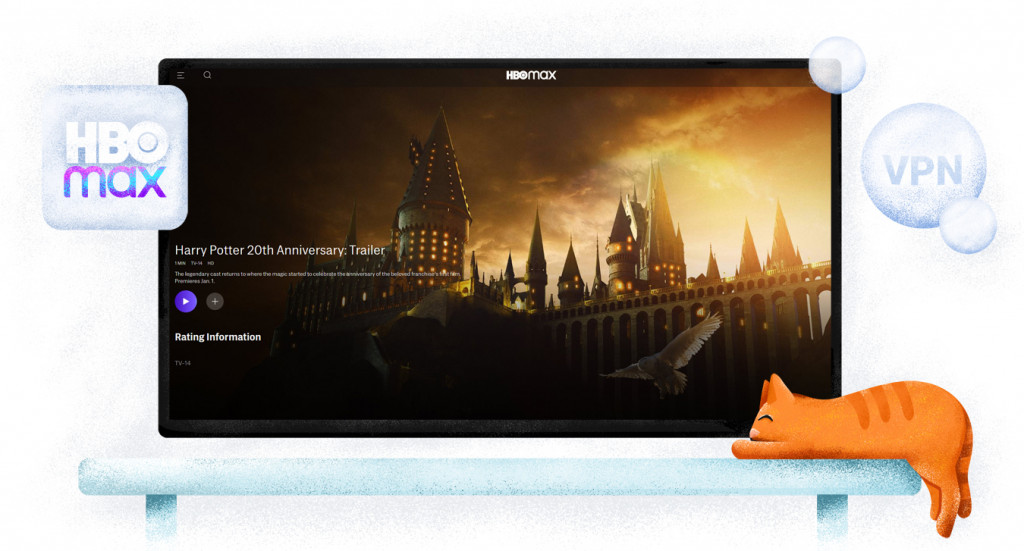 Besides, the $14.99 ad-free will give you an exclusive chance to watch other awesome titles like The Matrix Resurrections. Ooh, and if you're out to continue exploring the Harry Potter universe, you can join us in the wait for Fantastic Beasts: The Secrets of Dumbledore that will come out in April next year.
All of this is and will be available on HBO Max.
But most importantly, you get to Return to Hogwarts for what very well may be the very last time!
Ready?