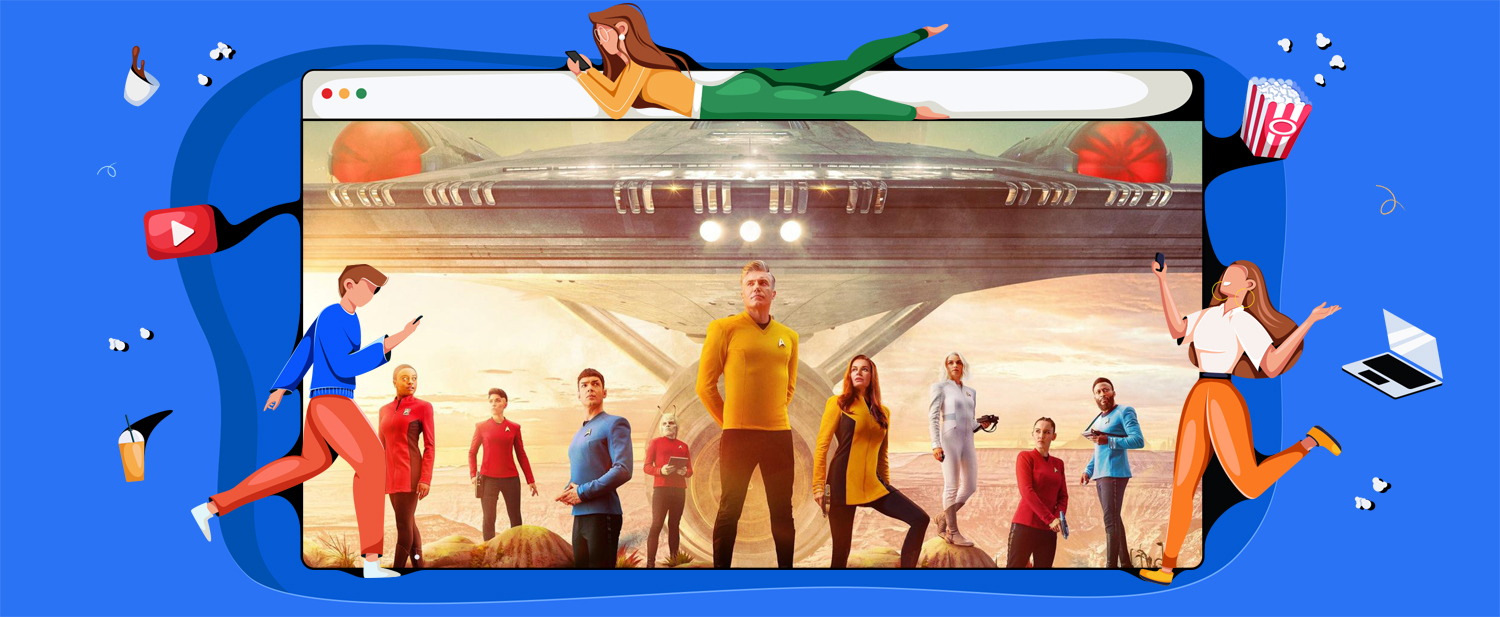 How to watch Star Trek: Strange New Worlds wherever you are?
Live long and prosper. You heard it right! There's a new Star Trek series coming out, and it's already making waves. It's Star Trek: Strange New Worlds, and, so far, it's everything we ever hoped for!
This time around the crew of the legendary Enterprise is tasked with rescuing one of their officers who has gone missing while embarking on a secret mission for Starfleet. This brings Captain Pike (played by fan-favorite and infinitely charismatic Anson Mount) out of his self-imposed exile to try and save one of his own, while also trying to find a way to navigate the vision of the future he's been given. The latest installment in the ever-expanding Star Trek universe sees the return of some of our absolute favorites from Star Trek: Discovery, including Rebecca Romijn as Number One, and Ethan Peck as Spock.
So far the series has been getting nothing but praise from both the critics and fans alike. And we can't wait to see what happens next!
Star Trek: Strange New Worlds seems to have what it takes to join the ranks of our absolute favorite Star Trek shows. However, not all fans in the world get the joy of experiencing this new entry upon release… And that's not right!

Can't bear to miss the new Star Trek series?
Get ExpresssVPN and start streaming today!
Who is streaming Star Trek: Strange New Worlds?
Ever since Paramount got its own streaming platform, creatively called Paramount+ it has become the one-stop-shop for everything Star Trek. And, of course, Star Trek: Strange New Worlds is no exception.
At least until all of the 10 episodes of the first season air to completion, Paramount+ will be the only place you can stream the new series as it comes out.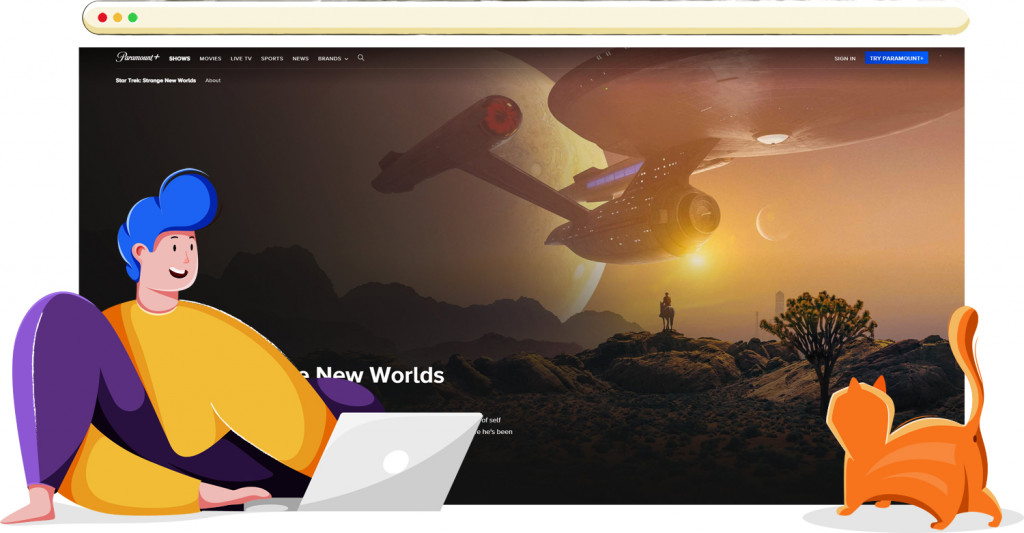 The problem? Well, Paramount+ is far from being a global streaming platform. And while it's been expanding like crazy ever since its launch, there are still lots of places where fans simply have no way of streaming its content.
Yeah, it's not like there are Star Trek fans in the UK, right?
KHAAAAAAAAAANNN!
But we're not the kind of people that will be sitting around, waiting for the show to be spoiled for us on Twitter, and we don't think you are too. So let's embark on a journey of streaming Star Trek: Strange New Worlds wherever you are!

Don't have Paramount+ in your country?
We have a very easy fix for that!
How can you stream Star Trek: Strange New Worlds wherever you are?
Streaming the new Star Trek series in places where there is no Paramount+ isn't difficult. And you definitely don't have to resort to illegal means. All you need are the right tools!
See, to get access to Paramount+, which is only available in certain countries, you need to convince the streaming platform that you are in those countries. And the only piece of technology that can do that is a VPN.
Truly sci-fi, isn't it? Feel like this technology is stolen from the world of Star Trek itself!
Want to know more?
Check out everything VPNs are, what they are not, and what they can do!
The only question is: Which VPN should you trust to make this happen? There are a lot of them out there in the final frontier of the Internet, but not all of them are streaming-friendly.
Well, this one's actually easy. When it comes to streaming things that are not available to you, there's no VPN that works better than ExpressVPN!
But don't take our word for it! Here're all the reasons why ExpressVPN is the perfect choice for this mission:
ExpressVPN is the best provider for both online security, and streaming. There is no other one that will let you have both with such ease.
Paramount Plus is no match for ExpressVPN's streaming unblocking capabilities!
It's light speed fast, which means you will be streaming all of Star Trek in perfect definition wherever you are!
We tested it for you, and it worked perfectly!
Wabt to know more?
Check out our new ExpressVPN review!
Beam me up, Scotty: A Step-by-Step to unblocking Paramount+
Now that you are equipped with the right cutting-edge technology, all that's left is unblocking the Paramount+ streaming platform.
We wouldn't want to leave you wandering the universe alone, so here's a nifty little guide that has everything you need to know:
1. By now, the first step is obvious: Get ExpressVPN!
With this VPN by your side, Paramount+ won't stand in the way between you and your need for Star Trek.
2. Connect to a US server and head on over to the Paramount+ streaming platform.
Now that the platform thinks that you are in the US with your American IP, you will have no problem accessing it.
3. Oh-oh, you need to subscribe to the platform, but it only accepts American payment options. Darn! Well, as a great man once said, things are only impossible until they are not.
Head on over to US Unlocked, and apply for your very own virtual American bank card. It works just as well as a real one and will let you get Paramount+ in all of its streaming glory like a real American.
Get your very own American bank card today!
4. Subscribe to Paramount+ using your new future Virtual Private Network and Virtual bank card, and start catching up on the show!
Congratulations! You might not have been able to summon the future and make Paramount Plus come to your country faster, but you have altered the present. And now you can rub it in all of your friends' faces!
To boldly go where no man has gone before
"There is a way out of every box, a solution to every puzzle; it's just a matter of finding it"
If we go by what the show has been so far, Star Trek: Strange New Worlds just might be the Star Trek series we've been waiting for! Full of everything we love about this universe, and still doing enough new and unique things to set itself apart from everything we've seen so far (in the right way).
So grab yourself ExpressVPN, and enjoy the series! And if it's somehow not up your alley, Paramount+ has enough Star Trek content to keep you entertained for months. So you know it's worth it!