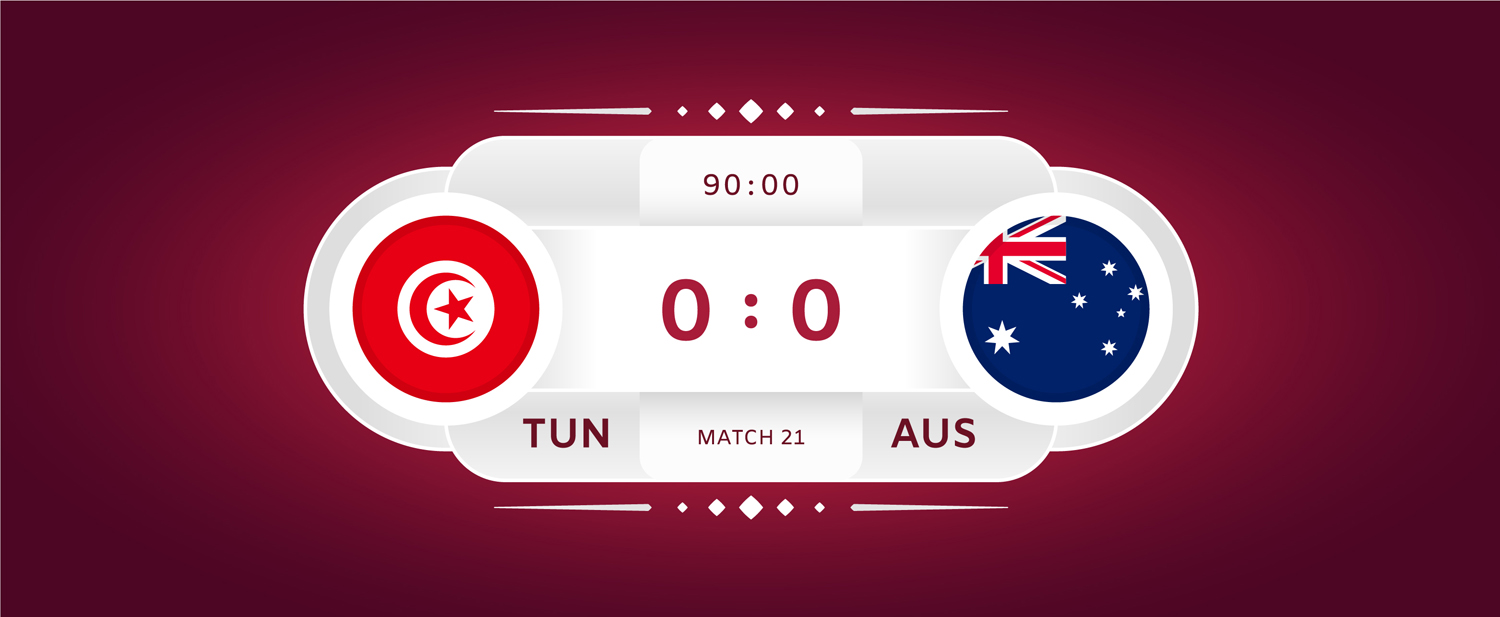 How to watch Tunisia vs. Australia live, free, and from anywhere
The 2022 World Cup is on, and, so far, it has delivered on every account. But the World Cup bringing the world to a halt should come as no surprise, it is the most important and anticipated sports event of the year after all. And that's before you add all of the social and political drama to the mix! But we're not here to talk about that, we're here to talk about Tunisia taking on Australia.
So far, both teams have had a tough run at the championship. Australia was destroyed 4:1 by the reigning champions. Although, scoring against France is no easy feat, so, at the very least, Australia has something to show for the effort.
On the other hand, Tunisia played 0:0 against Denmark. So the upcoming match-up between the two teams is bound to be crucial for their advance in the 2022 football World Cup. And not just for having a shot at the cup, but for morale and the fans as well. Both will bring their all to the field, which always makes for an exciting match.
With a setup like this, everyone who's a fan of the sport is going to be glued to the screen come Saturday. The question is: Where do you find the right stream?

Watch the World Cup live and free wherever you are with ExpressVPN!
How to watch Tunisia – Australia live and free?
The football World Cup is massive. We're surprised there are still stores open and the entire world isn't just watching football all day long.
However, some might have a tougher time streaming Australia vs. Tunisia than others. Case-in-point: Tunisia itself, where the rights to the entire World Cup belong to beIN. However, the same can be said about the US, New Zealand, Mexico, etc.
And it's not just that. Football isn't just about watching it. It's about watching along with the rest of the fans and cheering for your home team. And those of us traveling are instantly cut off from local streams due to streaming rights. And watching your team compete in a pub where everyone else is cheering for the other side is just not fun (plus, it's very awkward).
Fortunately, all of this is fixable. All you need are the right tools to access virtually any stream in the world.
The tool in question? – A VPN. Or, more precisely, ExpressVPN – the only VPN you should trust with football streams!
Why? Here's why:
It has an insanely diverse server network, so wherever the soccer stream you are looking for might be – it's got you covered.
This is THE provider you go to if sports streaming is what you're after. No matter where the stream might be, if there's one provider that can help, it's ExpressVPN!
ExpressVPN is fast enough to stream anything from anywhere. It's also easy to use even if you have never used a VPN before.
It has a 30-day money-back guarantee, so if your team is out, you are always welcome to a righteous reimbursement.
Want to know more about ExpressVPN?
Simply read our brand new review!
How to watch the Tunisia – Australia match live and free anywhere?
There are plenty of options to stream the Australia vs. Tunisia match. So let's get to it!
Australia vs. Tunisia on SBS from abroad
Let's get the obvious out of the way first. If you're cheering for the Australian soccer team, you probably want to watch the local Australian World Cup broadcast, right?
If you're in Australia, you are in luck, because the Australia – Tunisia match will be shown live and free on the local SBS-on-Demand streaming platform.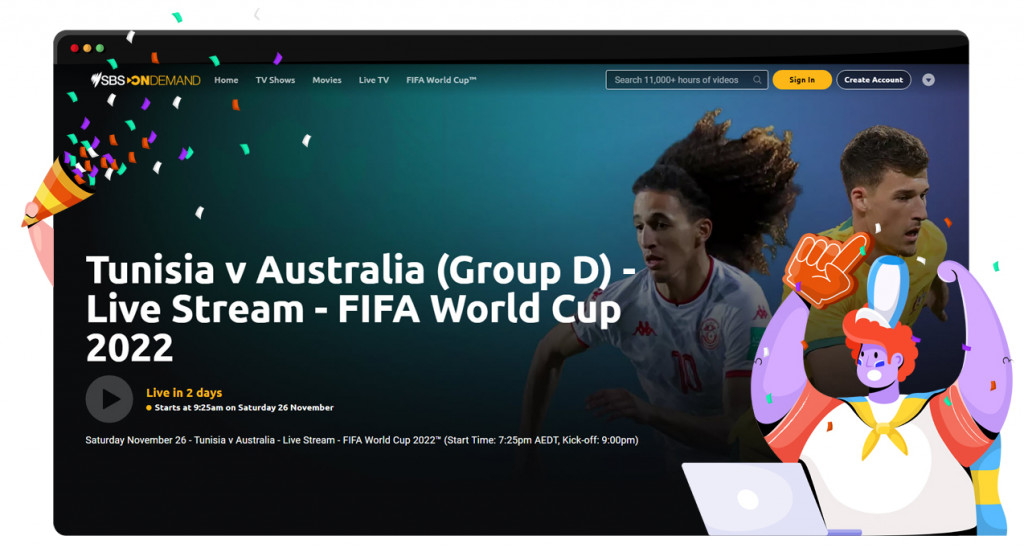 However, as soon as you leave the country so do your free soccer streaming privileges. And there you are, stuck watching the match in a language you don't understand.
Whether that is exactly the case, or you just enjoy the Australian commentary, you can still get your hands on the free SBS-on-Demand football stream wherever you may be. All it takes is:
Get ExpressVPN, download, and install the app on your preferred device.
Connect to one of ExpressVPN's servers in Australia.
Head over to the SBS-on-Demand streaming platform and either log into your existing account or make a new one.
Enjoy the match!
BBC iPlayer
Is Australia too far away? Not what you are looking for? Don't want to risk missing a goal due to being on the other side of the world and the stream being slow?
Then there is no going wrong with the British World Cup stream on BBC iPlayer, which is as free and live as it is awesome!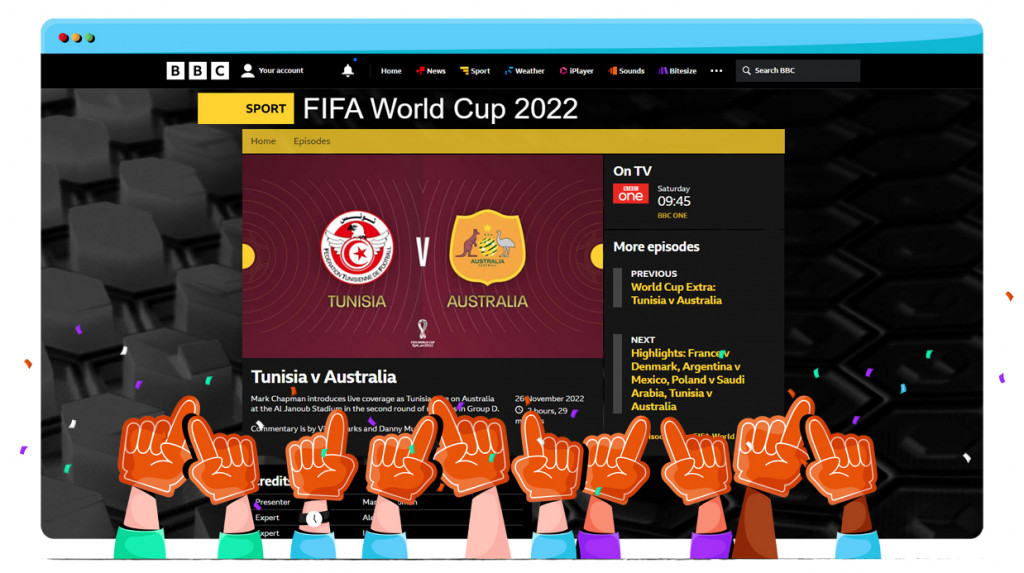 Getting your hands on the British broadcast of the match is about as easy as the Australian one. And with ExpressVPN guiding your way, you can get it in seconds. Here's how:
Get ExpressVPN and install the app on your device.
Launch ExpressVPN and connect the VPN to its UK servers.
Head over to BBC iPlayer and apply for a free account if you don't already have one. This step requires you to provide a local postcode, so here are a few so you don't waste your time googling: G71 7AG, DN35 0RH, OX11 7XJ, PA10 2EE, CF11 6SS, RH13 6LZ, WR13 5BZ.
Launch the stream and enjoy!
RTÉ Player
Not doing it for you? How about an Irish broadcast?
That's right! Ireland will be streaming all of the 2022 World Cup both live and free on its RTÉ Player streaming platform.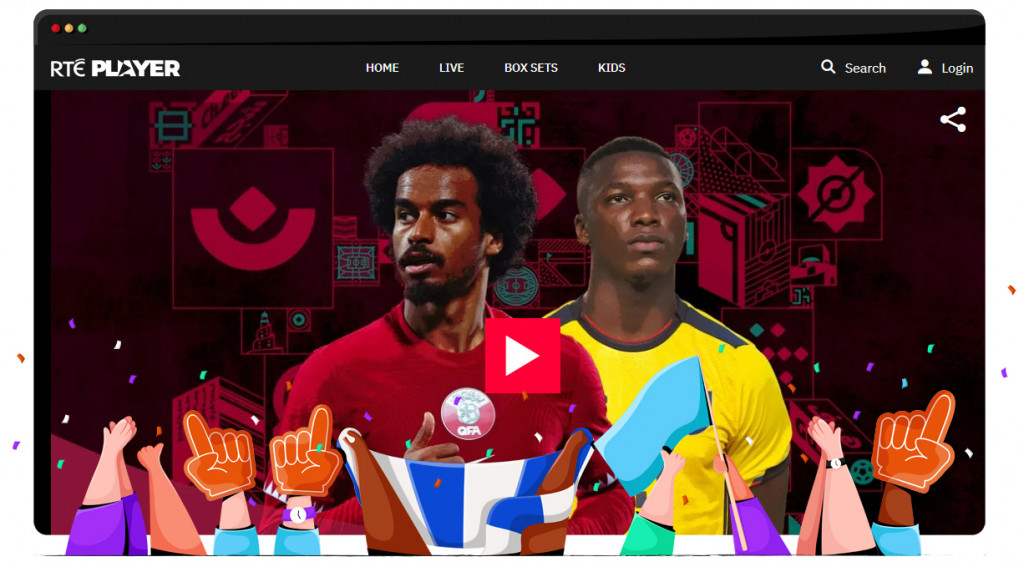 All you have to do to tune in is:
Get ExpressVPN and set it up on your preferred device.
Connect the VPN to one of the provider's extremely strong Irish servers.
Head over to RTÉ Player and enjoy the live stream!
TF1 / TFX
What about a French stream? Well, you are in luck as there are several options – each better than the last.
First of all, you bet you can watch the entire World Cup in France both live and for free, France is the defending champion after all. The broadcasts are handled by TF1 and you can watch the game on either TF1 or TFX. Both of the platforms are available for streaming online, so you don't need to hijack a French satellite or something.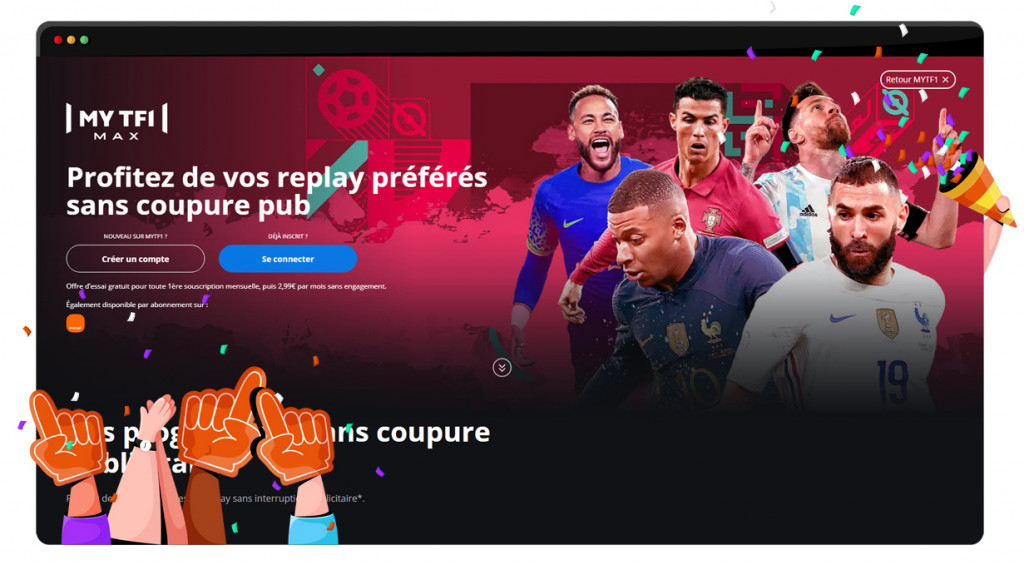 How do you get to enjoy the stream? Why, by having ExpressVPN, of course! All you have to do is:
Get ExpressVPN and install the app on your device.
Launch the VPN and connect to a server in France.
Head over to the TF1 streaming platform and apply for a free account in order to be able to access the stream.
Tune in and enjoy!
RTBF
Have a grudge against France ever since the last FIFA World Cup but still want to watch the game in French? Not to worry! There's always Belgium!
The little country has a big heart for football, which is why it will be streaming the entire 2022 World Cup live and free on its RTBF streaming platform.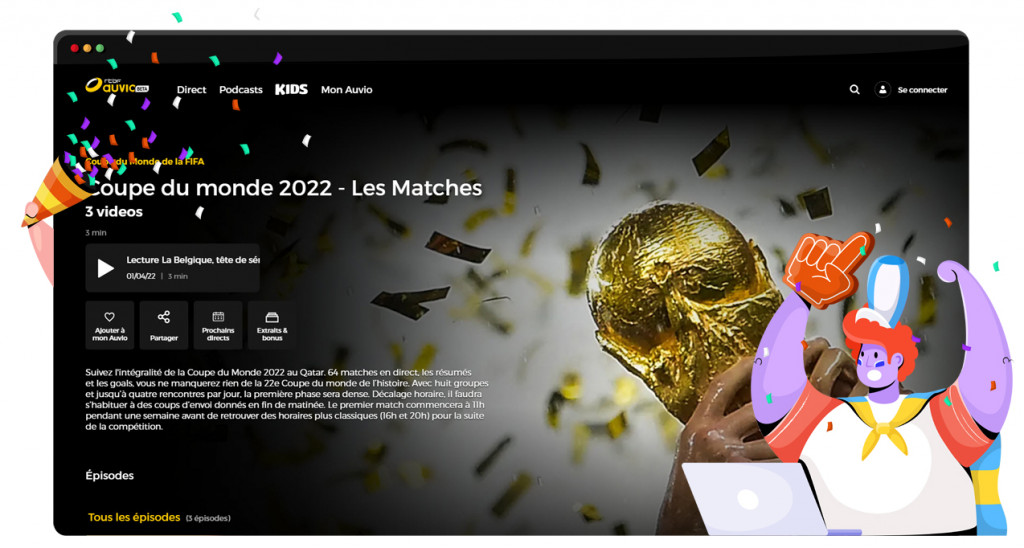 You probably know how to access this stream by now, but here's a guide just in case:
First up, get ExpressVPN, download, and install the app on your device.
Next, launch the app and connect to a server in Belgium.
Head over to the RTBF streaming platform and make a free account. Much like BBC iPlayer, you are going to have to provide the platform with a local postcode (a Belgian one, obviously). Not to worry, we've got you: 6743, 9630, 3700, 8670, 1460, 7780.
That's it! Enjoy the stream in glorious French!
Australia vs Tunisia: Watch it your way!
Obviously, these are not all of the World Cup streaming options. But if we were to list them all, we would never finish. And we have a lot of guides to write this World Cup!
The point is, you don't have to settle for watching whatever broadcasting options are available to you. There is always a better way. So whatever broadcast you might want to watch, whatever commentator you can't get enough of, and whatever streams speak to you – with ExpressVPN you can access any of them!
So watch Australia take on Tunisia your way. And may the best team win! ⚽