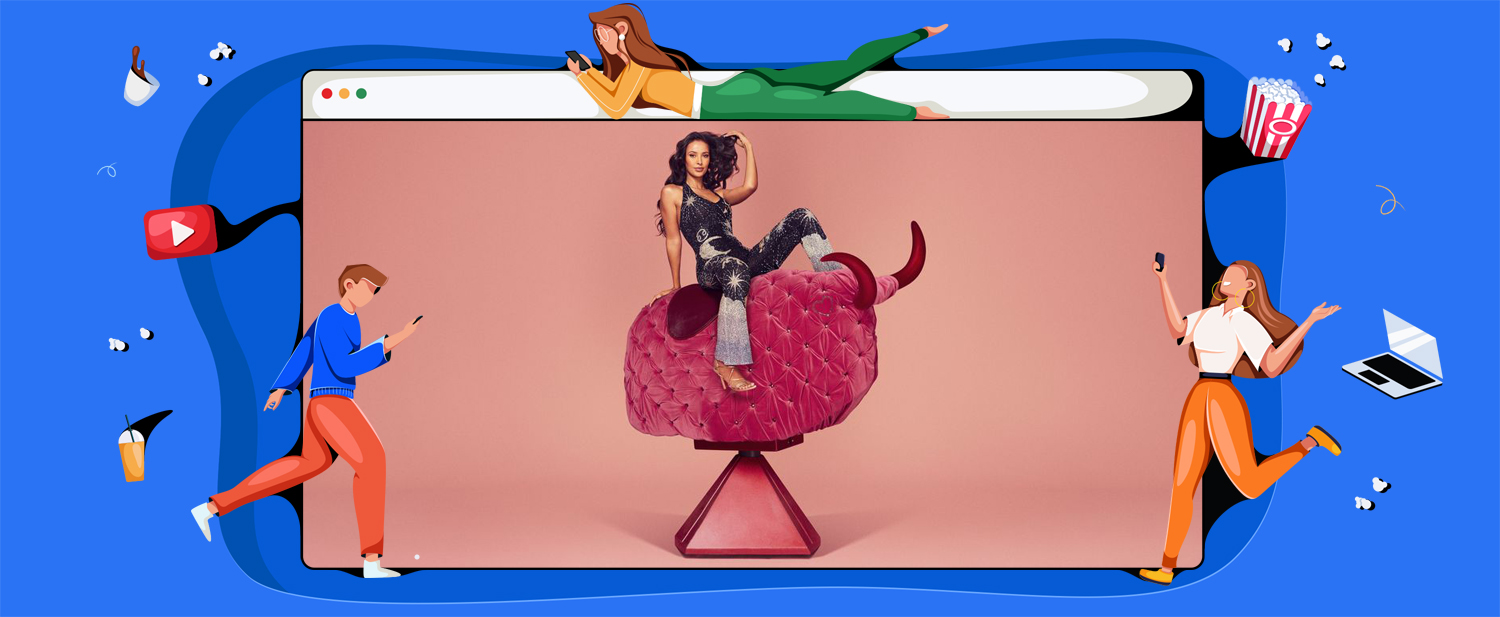 How to watch Love Island UK season 9 for free anywhere?
It's back, it's actually back! After 3 years of longing during cold, pandemic-ravaged, and utterly unsexy winter nights, the Winter Edition of the hit reality TV show Love Island UK will grace our gloomy evenings once more. So get ready for ripped triceps, skimpy bathing suits, hot young bodies, sexual tensions you can cut with a knife, and posh accents saying nonsense things we have been missing ever since the 2022 summer edition ended. The new season (season 9) will start airing on the 16th of January, just when we need the sun and aggressively sexy bodies the most. And we're all suntan-lotioned up and ready to go!

Watch Winter Love Island anywhere free with ExpressVPN!
Before you watch: Everything you need to know about the Love Island UK season 9
What's better than Love Island? Two Love Islands!
The creators of the bombshell (in more ways than one) reality TV show figured one fix of tanned drama in a paradise location just wasn't enough. So they made the genius decision to have another one during the gloomiest time of the year. Bloody brilliant! The Winter Edition of Love Island UK only aired one time in 2020, before being put on pause by the COVID-19 pandemic. But now it's finally back. And it has a lot of hype to live up to.
Where will it take place and who will be hosting?
This time everything is brand new. The islanders we'll be heading to a brand new location in South Africa, where the weather will make sure we get our bathing suit fix in the middle of winter. They also get a brand-new villa. And even the host is brand new! This time, Maya Jama will be making her debut as the iconic Love Island hostess. The trailer just landed, check it out:
https://twitter.com/i/status/1609519833829511175
Ah, it's like seeing an old, perfectly shaped, tip-top physical condition, probably cosmetically enhanced familiar face.
Where can you watch it?
As per tradition, the show will be aired on ITV2 exclusively in the UK. It will also be streamable on the newly launched ITVX streaming platform (formerly ITV HUB). Also exclusively in the UK.
Sadly, despite the show having a massive fanbase worldwide, the new season won't be available anywhere else making the UK the only place where you can watch the show as it airs.

Want to know what else is available on ITVX?
Check out our complete guide!
So how can you watch Love Island season 9 outside of the UK?
Love Island UK probably has more fans around the world than the population of the United Kingdom. So when the news hit we're going to get two Love Islands in 2023, you could hear a collective 'Yay' circle the world three times.
However, things might not be equally fabulous for everyone. The show will be aired exclusively on ITV2 and ITVX, which means lots of fans won't be able to experience the season as it airs. And by the time the show reaches other countries, the winners will have already spent all of their money and gotten themselves into a career-crippling scandal. Waiting is not an option.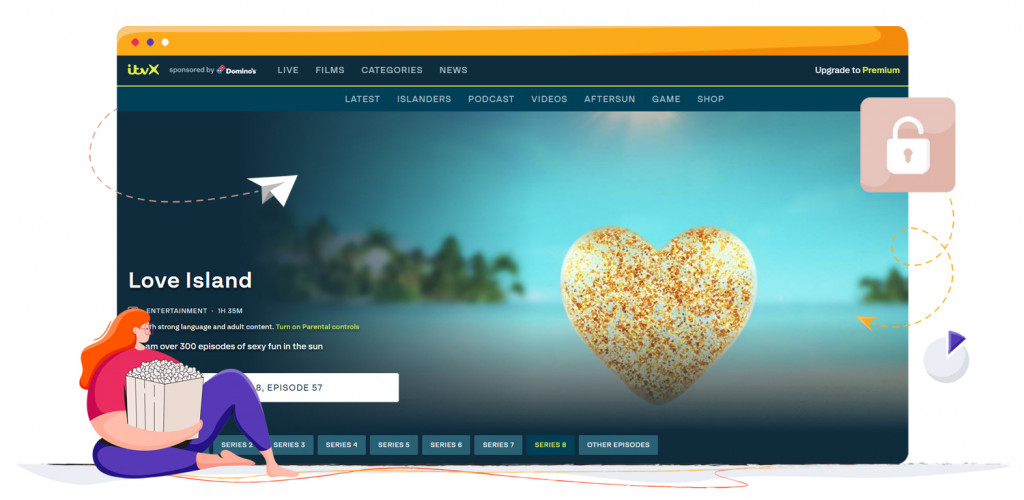 But why wait if you can follow all of the sexy-sexy action as it airs along with all of the fans in the UK on ITVX?
But how?! Didn't ITVX ramp up its geoblocking since its rebrand? That might be the case, however, all you need to break through ITVX's regional restrictions is ExpressVPN. With it, you can virtually change your location and get your hands on as much Love Island as you want.
But why ExpressVPN? Doesn't every VPN do the exact same thing? Well:
ExpressVPN is the only VPN provider that is as devoted to streaming as it is to your security and privacy, bringing easy access to anything you want to watch.
When it comes to unblocking British streaming services, no one does it better than ExpressVPN! You'll be watching ITVX in no time!
It's also fast. So no matter where you are, you won't miss a beat of your Love Island obsession.
Finally, it comes with a 30-day money-back guarantee. So you can even get all of your money back after the show is over!
Want to know more about ExpressVPN?
Check out our full ExpressVPN review!
Getting ITVX outside of the UK
Once you are equipped with the right tools, getting your hands on ITVX, Winter Love Island, and everything else the service has to offer is a walk through a beautiful park on a tropical island.
And here's how you do it:
1. Start by getting an ExpressVPN subscription. No other VPN will allow you to unlock ITVX as seamlessly.
2. Next, download and install the app on your preferred device. Lucky for you, ExpressVPN has dedicated apps for pretty much every device, so you can choose whatever you like.
3. Now, launch the app and connect to one of the provider's many server locations in the United Kingdom.
4. Head over to the ITVX online streaming platform and apply for a free account, if you don't already have one.
5. In order to complete your registration, you are going to need to provide the platform with a local postcode. This is just a formality, so we have done the research for you: DT10 1GA, PA34 4XS, S17 3EZ, PA71 6HU, LE17 4JY, EH10 5LB, LL21 9LD, HR5 3QZ, WS15 2SS, SA34 0DR.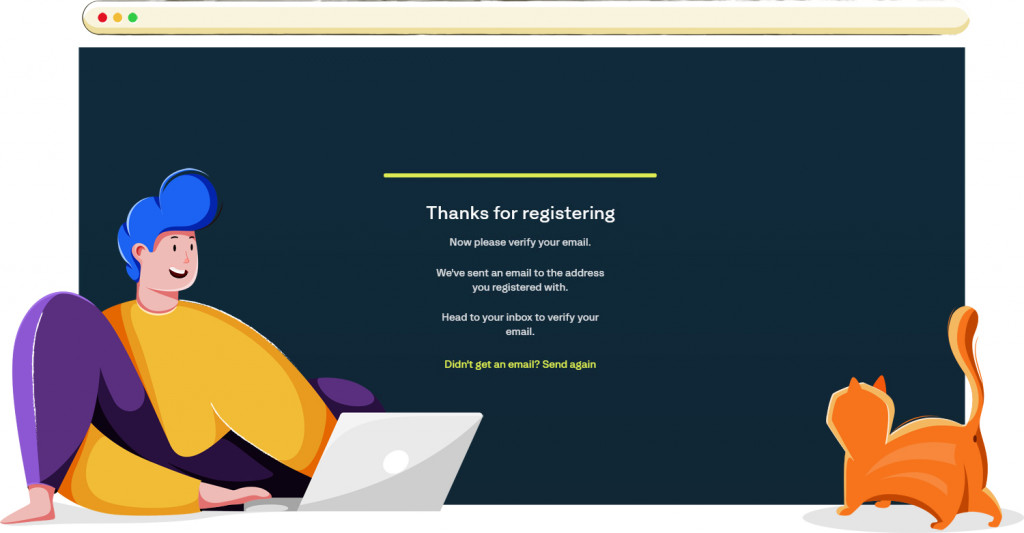 That's it! You are done and can now watch the winter edition of Love Island in all of its glory as soon as the new episodes air. All of this – completely free!
Tropical villa, bathing suits, drama…
And this is literally it! No complicated setups, no illegal downloads, but most importantly – no waiting to watch the latest installment of the world's biggest reality TV show six months after it ended.
Winter Love Island is coming at you full speed, and you know you can't miss a thing! And thanks to the virtual power that is ExpressVPN, you won't have to. So get it now, and just remember it's cold outside, so probably don't wear a swimsuit to work!