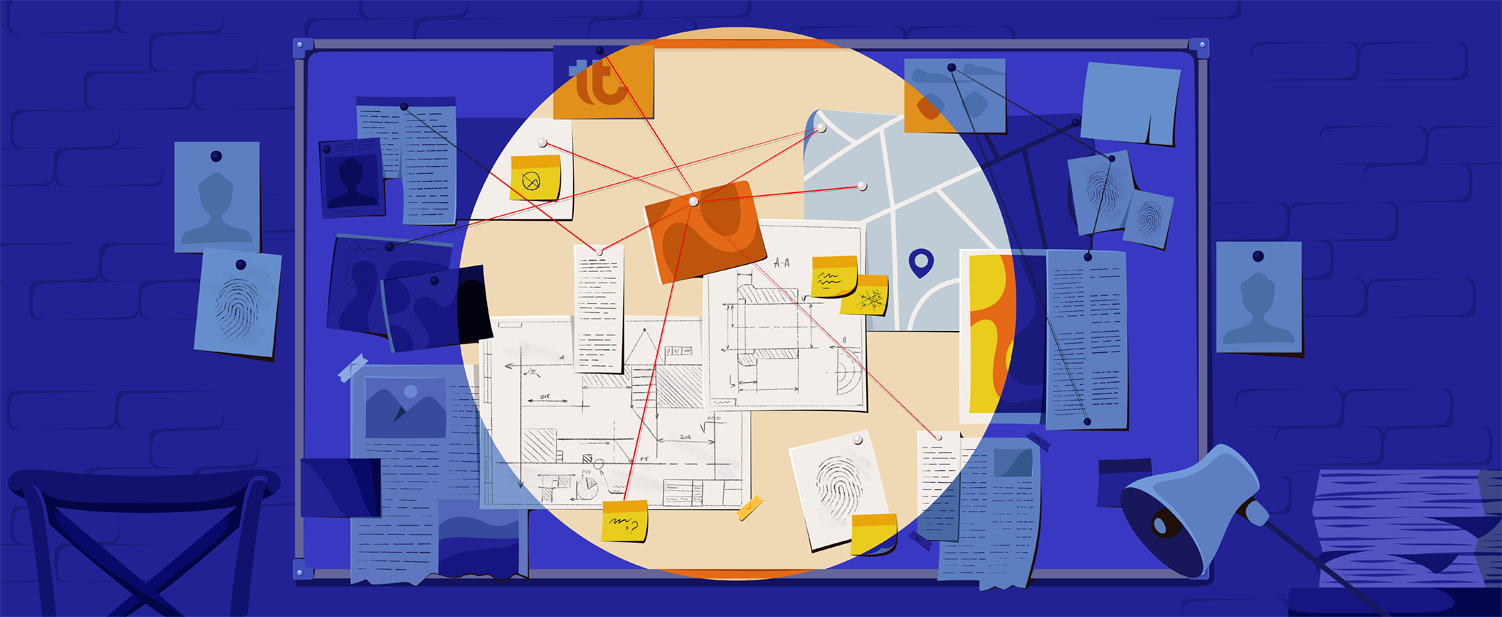 Companies that run the VPN world
2021 through 2022 were truly the years of massive change for the VPN industry. For months, the cybersecurity world was bombarded by news of VPN controversy, mergers, deals, billion-dollar buyouts, and scandals. But all of this might not have been a mere coincidence. It might be a sign of an absolutely new status quo throughout the entire VPN world.
It's not easy to piece together how multiple small changes, mergers, and acquisitions affect the industry as a whole. Heck, when carpet-bombed by this news it's hard to simply keep track of everything that's going on. But now that the dust has somewhat settled, the VPN industry might not be as proud, independent, and liberal as it once was. In fact, what was once a massive free-for-all with a huge number of players all gunning for a piece of the VPN pie may have condensed into an industry much smaller, much more controlled, and much more corporate.
We at TechTypical are passionate about the individual's online rights, security, and privacy. And so we have dug deep into the messy, convoluted world of the modern VPN market in an attempt to unravel this Gordian knot and try and find out whether there are any truly independent VPN providers still left. Or does every VPN brand belong to a handful of huge companies that actually run the industry?
SPOILER ALERT: It's mostly the latter.
It's a small insecure world
We have been following everything that's been going on with commercial VPNs for years. And we always knew this was a messy and extremely secretive industry. We mean, it has to be, right?
However, when the many news of mergers and acquisitions broke in the last couple of years, we realized that the industry has changed forever. Or, maybe, it was always like this and it has simply stepped out of the shadows a bit. Regardless, this changed things. And the VPN market would never be the same again.
If we had to sum up this change, we'd say that the VPN world has gotten smaller, much smaller. What was once a thriving market with dozens of unique and distinct brands has now condensed into a few companies that compete with each other and basically run the entire industry.
So, we have set out to discover and share as much as we can about them. And while we have regretted this decision at least a couple of times due to how depressing and convoluted things got, we can't wait to share our findings with you.
So… here goes.
Kape Technologies
If you've been following VPN news even ever so slightly, you've probably heard about this one. And how could you not have? Kape has been buying up VPNs like they're hotcakes for years, and there's enough controversy surrounding the brand to make tinfoil hats a Fortune 500 industry.
So let's get the obvious out of the way first.
Kape Technologies is an Israeli-based behemoth of a company listed on the London Stock Exchange. Formerly known as Crossrider, this company initially made a name for itself by creating web solutions and also distributing spyware and adware through them. Not the best of portfolios as well as a stain that would still spread (justified or not) to each of its VPN brands.
Kape has been consuming VPNs for years. Its first acquisition was CyberGhost in 2017, followed by ZenMate in 2018, and Private Internet Access (PIA) in 2019. But if you heard anything about the company, it's probably because of its massive acquisition of ExpressVPN – the second-largest VPN provider – for 936 million dollars.

Want to know more about ExpressVPN?
Check out our brand new review!
In a matter of just a few years, Kape Technologies has become one of the most massive VPN conglomerates in the world, if not THE most massive. And the forces it set into motion have reshaped the entire industry.
VPN review sites
Kape didn't stop at buying VPNs though. Brands were this first step in becoming the world's VPN leader, but then came marketing.
In 2021 Kape Technologies also acquired Webselence – a company behind a bunch of VPN-review websites, which are now, you guessed it, almost exclusively promoting Kape brands.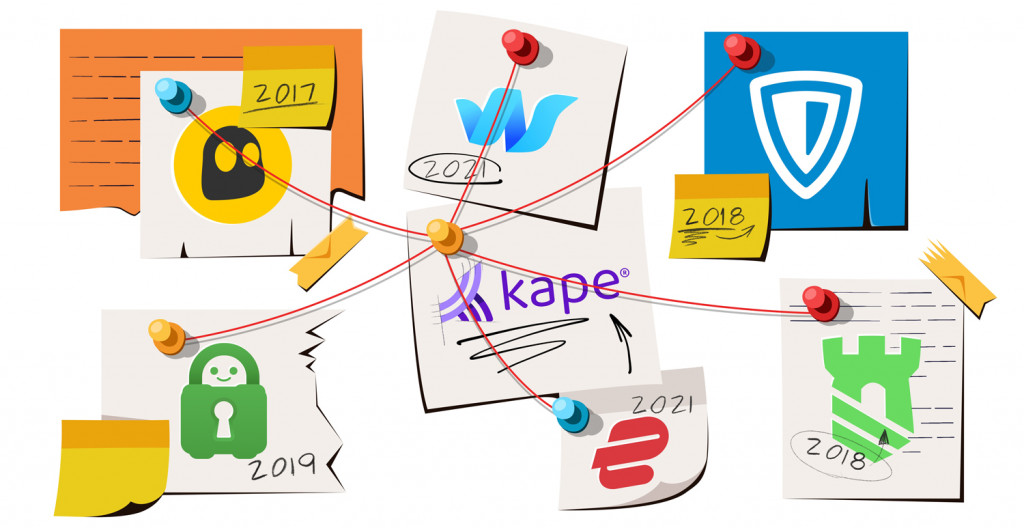 ---
Kape Technologies might not be the devil cybersecurity experts tend to paint it as, but as a conglomerate, it is running its VPN brands as a business. It's extremely aggressive with its marketing tactics which aim to corner the market and ensure a fruitful future in years to come.
On the other hand, what VPN brands that join this conglomerate are looking for is capital. With a massive company such as Kape taking care of marketing and funds, the VPNs can focus on further development instead of fighting for survival in an increasingly competitive market.
What will come of it? This we are yet to see.
Nord Security
We create the things we hate. And, surprisingly, this applies to the expansion of Kape Technologies and its ever-growing hunger for VPN products.
Initially, lots of VPN brands decided to merge with Kape to have a fighting chance against the biggest VPN provider in the world – NordVPN. But as Kape grew into a VPN powerhouse to be reckoned with, so did the unrest among other VPN companies and NordVPN itself. And with this Nord Security was born.

Check out our NordVPN review!
Find out everything there is to know about the biggest VPN brand!
Well, actually, Nord Security was born much earlier than that. The company was initially meant to become a hub for NordVPN's many additional products (NordLayer, NordPass, NordLocker, NordWL – a service that lets companies build their own VPN tools) and give it a much more international presence. But when Kape Technologies started snatching up VPNs left and right, NordVPN and some of the other, smaller brands decided to merge in rebuttal to ensure their own survival.


First of all, Nord Security is NordVPN and NordLayer – a VPN version for businesses (formerly Nord Teams). But that's just the tip of the iceberg.
Surfshark merger
In early 2022 Nord Security was joined by Surfshark – one of the youngest VPN providers, which quickly grew to be the third-biggest commercial VPN.

Want to know more about the merger?
Check out all the details you need to know!
The two brands were close enough from the get-go: both companies are based in Lithuania and came from the same Tesonet incubator. So it wasn't the case of one company buying the other (as it is with Kape), but rather two companies agreeing to merge to ensure their mutual growth.

Interested in Surfshark?
Be sure to read our monster of a review!
Atlas VPN merger
Little do most know, Surfshark was not the only one of Nord Security mergers.
In October 2021, Nord Security also merged with Atlas VPN – a freemium VPN provider that was struggling to both produce a competitive VPN service and keep afloat in an increasingly ruthless business.

Never heard of Atlas VPN?
We have already reviewed it too! Check it out.
Since all three came out of the same Tesonet incubator some, including us, speculated that the three were the same long before the actual merger. While that wasn't entirely true, now the merger is official so there's nothing to hide.
Cornering the market in its own way
But why merge? NordVPN didn't need the help. Surfshark was strong enough. Atlas VPN was quite eager to tackle the industry with its own business model. 
Well, what this merger did for the smaller brands is ensure their survival under the guidance of an experienced VPN. Now they too have the capital to compete in their own way and secure their own niche. This also ensured their independence, as Nord Security didn't buy the brands out, but merged into one super-entity, keeping them somewhat independent (at least on paper).
What this did for Nord Security is cover the entire VPN market with products of different price ranges. NordVPN is the premium VPN in the roster, Surfshark is now the all-around favorite cheapest premium provider, and Atlas VPN is a freemium VPN.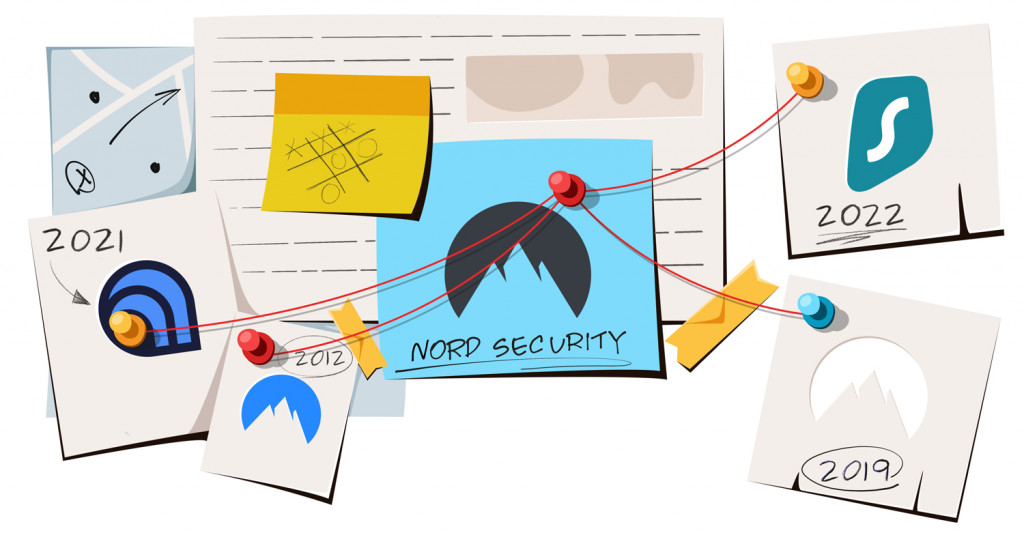 ---
Unlike Kape, Nord Security isn't as aggressively looking to corner the entire VPN market and wrestle every user into one of its brands. Nord Security seems to be banking on expanding into other, new online security services.
For years, Nord has been launching new products, that range from password managers, to antiviruses. And now, with the addition of Surfshark, best known for its slew of exclusive features, the VPNs themselves just might become secondary in Nord Security's umbrella of products in the coming years.
At least, that's how it looks on paper. For all we know, NordVPN might own every website that lists it as #1. They just might be better at hiding it.
Ziff Davis (formerly J2 Global)
IPVanish is no stranger to being bought and handed over to a new owner. After being launched in 2012, the company and everything it has to offer was bought at least twice. In 2017 IPVanish's parent company Highwind Network Group (allegedly the owner of Eweka Usenet) was bought by a CDN company StackPath. And in 2019, IPVanish was acquired by Ziff Davis, a massive conglomerate formerly known as J2 Global.

Interested in the history of IPVanish?
We go in-depth in our complete review!
And the rest of NetProtect brands
IPVanish may have been the acquisition that made the biggest splash, but it definitely wasn't the only one.
Under the NetProtect business, Ziff Davis also acquired StrongVPN, Encrypt.me (which is merging with StrongVPN at the time of writing), and WLVPN (literally, White Label VPN which is no longer listed as one of Ziff Davis's assets), as well as Sugar Sync – an encrypted cloud storage service, that used to be one of IPVanish's rather unique add-ons.
One would think that Ziff Davis would run the VPNs under its belt like Kape does. Being the owner of massive tech review outlets such as PC Mag and ExtremeTech, it could force it to the top spots of its recommended providers. But it didn't. At least, not yet.

---
The constant change in management, development and marketing approaches did not reflect well on IPVanish though. While we don't know what's going on with the service it seems that it has been struggling to put out new features and keep up with the industry. There have also been numerous user complaints about the quality and consistency of IPVanish's current service. At the same time, some of NetProtect's other projects seem to be merging, pouring users into the bigger and more successful brands.
Marketing has also gone through a number of jarring changes. Ranging from extremely aggressive, to extremely passive and very corporate, these ZD VPN providers can't seem to find their footing.
We're not sure where IPVanish is heading, but it would be uncharacteristic of the conglomerate that is Ziff Davis to keep a failing project on board. Things are either not as bad as we think they are, or there are changes to come.
Gaditek
In our PureVPN review, we have gone down a massive rabbit hole trying to find out who's really behind the provider. This investigation took us on a trip across shell companies in the British Virgin Islands, Singapore, Hong Kong, Ireland, Dubai… But it eventually ended up in Karachi, Pakistan with a local tech solution development company called Gaditek.

Want to know how we arrived there?
Check out this investigation in our PureVPN review!
When the shell game is this strong, it becomes difficult (and irrelevant) to say which company is the actual big boss, but Gaditek seems to be where the magic happens. Or, at the very least, they are the massive Pakistani-based hub that employs all of the people working on its many different projects.


PureVPN + Ivacy VPN
The projects under Gaditek's (and Disrupt's – another massive company owned by the same people) collective belt aren't exclusive to cybersecurity solutions. They are actually just about everything AND the kitchen sink. However, there are definitely some familiar names on the roster.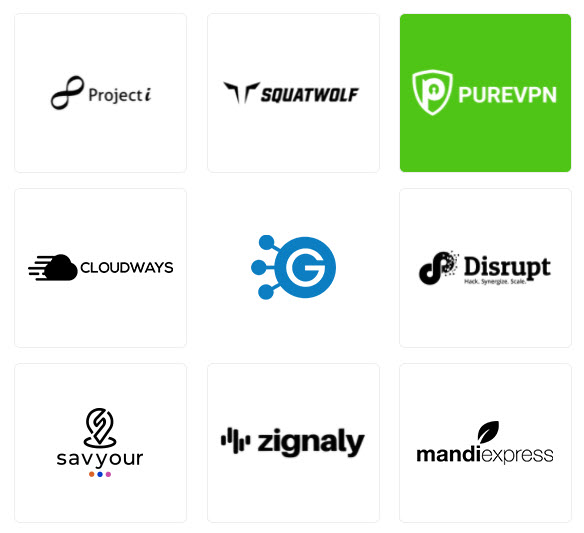 First and foremost, PureVPN. Then, there's Ivacy VPN, which was hidden as a Gaditek brand pretty well, but you can still track it down.

Speaking of which...
We have a review for Ivacy VPN too!
Secure + Atom
The more interesting company under Gaditek is Secure.com, which, in its own turn, owns Atom – a company that provides VPN integration as a service. Basically, the company builds VPNs for hire and provides its own VPN technology and servers to host a network for third parties.
So, technically, Secure, or Atom, or Disrupt can have dozens of VPNs that they manage, we just haven't found them yet.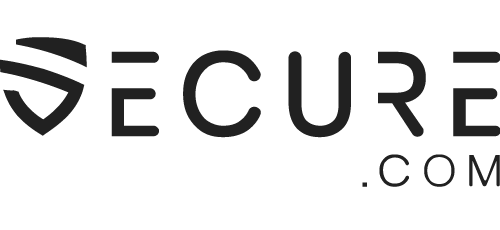 Atom currently has two testimonials on its page – PureVPN, and Kill Ping, a service that uses a server network to reduce gaming ping. It's listed as being based in Hong Kong, but the only employee working in the company also works for Gaditek. Kill Ping's website also says its owner is GZ Systems Ltd., a company with strong ties to PureVPN which even lists it as the owner of the software in the app description.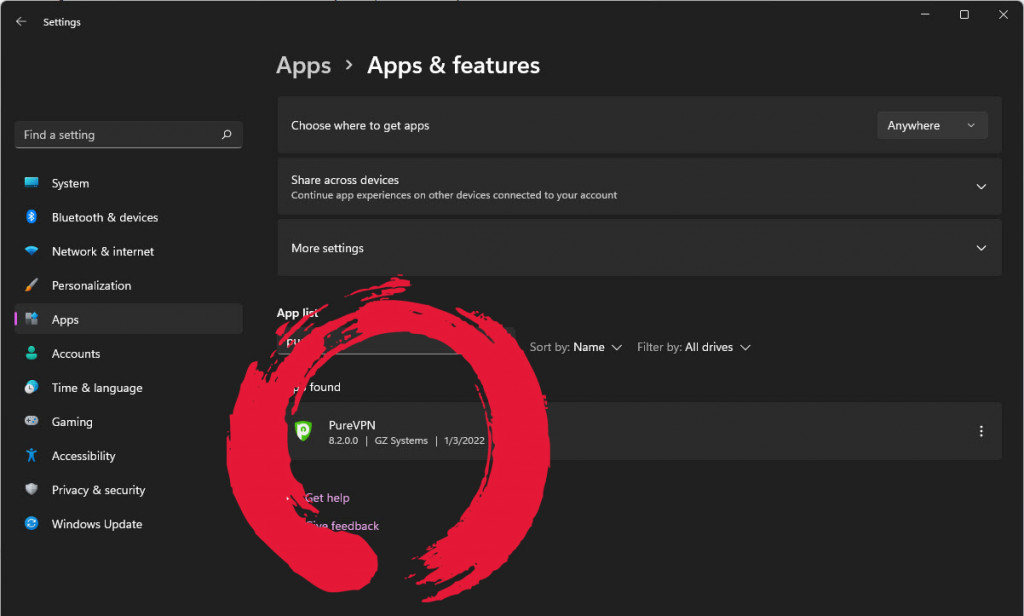 Review websites
It looks like Gaditek took a page out of Kape's book and launched a bunch of its own VPN review websites. These are often nearly identical clones of better-known and just better review websites and they include:
vpnranks.com
bestvpnservice.com
bestvpn.co
All of them have this "you've seen one, you've seen 'em all" aesthetic. But they are not as pushy when it comes to their own products. No, they actually list ExpressVPN at the top of their rankings but also pull a bunch of tricks to get the user to the PureVPN site. A pretty common occurrence when it comes to VPN review websites owned by VPN providers.
---
Gaditek, or whichever company is the actual owner of PureVPN doesn't impress us as the worst offender of one company running a bunch of VPNs (no, the worst is yet to come), but it's definitely shady.
We might simply not know how many brands they actually have under their belt. Yet.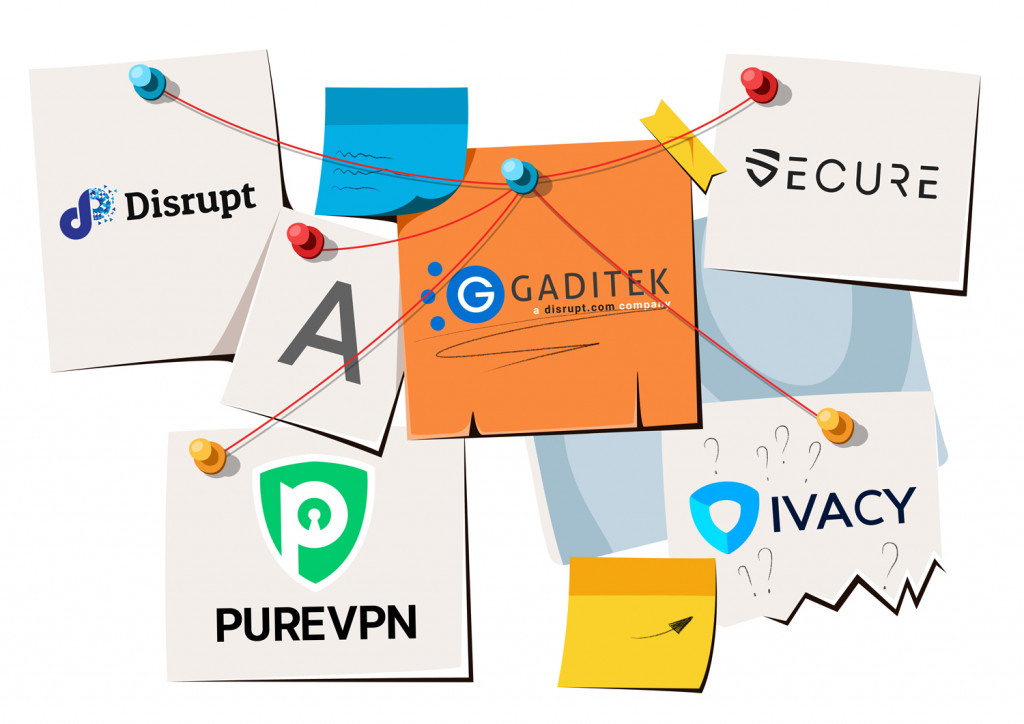 Aura (aka Pango Group, formerly AnchorFree)
This one should come with its own history book. Trying to untangle this web of shell companies and identity changes nearly brought us to tears on multiple occasions. But here goes.
*Dramatic inhale*
AnchorFree is the company behind one of the best-known freemium VPN providers Hotspot Shield, which has been around since 2008. Being one of the first freemium VPN providers it has managed to amass over 650 million downloads in app stores, get millions of dollars in funding, and be featured as one of the leading VPN brands in the mid-10s on multiple trustworthy sources. (It has also found its way on several 'Worst free VPNs' lists.) While registered in the US, most of AnchorFree's staff seemed to be Ukrainian-based.
In 2015 AnchorFree acquired TouchVPN (one of the most popular VPN browser extensions, which is also listed as the brand behind VeePee VPN) and JustVPN.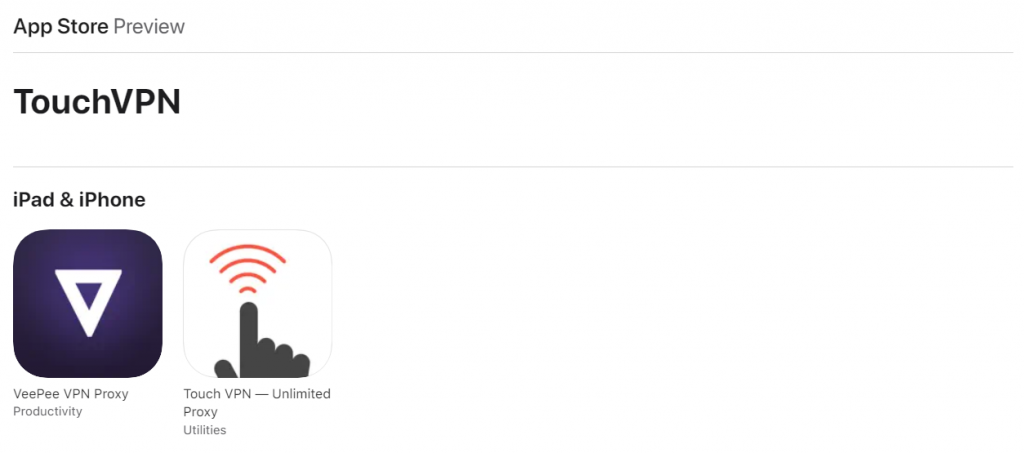 AnchorFree turns into Pango Group
Somewhere along the line, AnchorFree turned into Pango Group.
The Internet is hazy on how, why, or even when this happened, and there seem to be no documents on any loud merger or acquisition. So it seems that Pango is just AnchorFree with a different swap of paint created to house some of the company's other brands.
Pango Group acquires HexaTech
In 2016 Pango Group acquired HexaTech – a company that was primarily developing free VPN solutions under the brand of Betternet.
Betternet VPNs were constantly listed as some of the most malware-ridden in the entire industry. Pango never really hid the fact that it now owns these products, but it never made a big deal out of it either, probably to avoid bad press.
So, at the height of its power, Pango Group accounts for owning VPNs, such as Hotspot Shield, Betternet, VPN 360, Ultra VPN, TouchVPN, and JustVPN.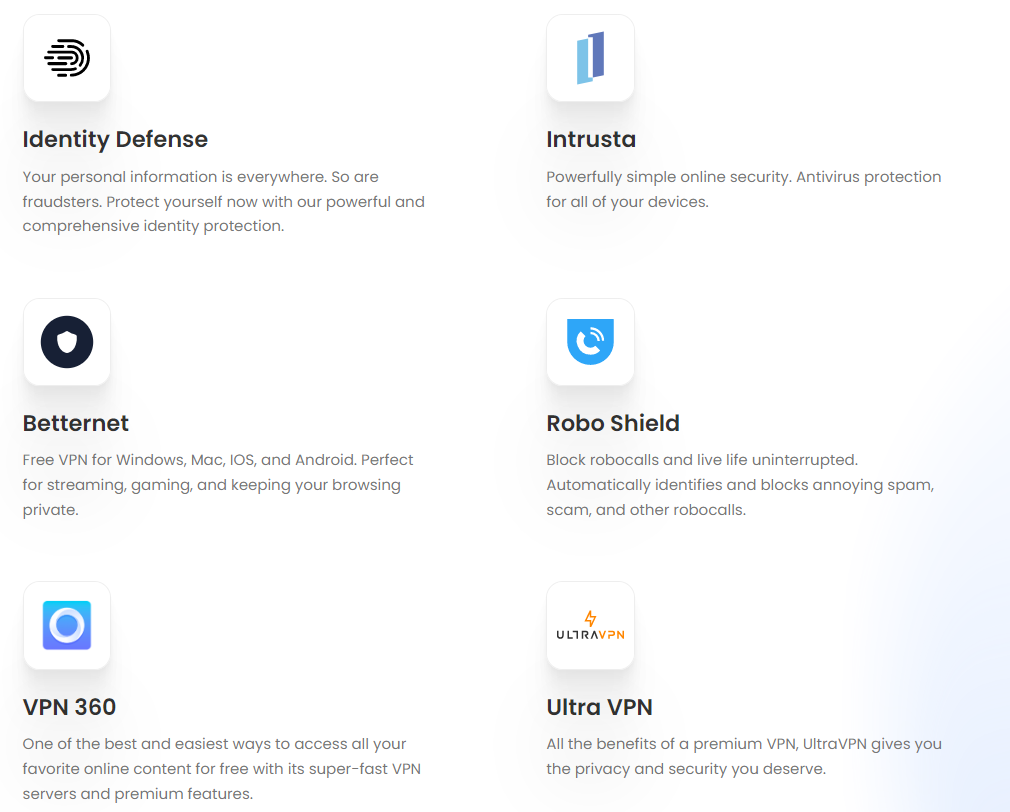 All of these brands have either been in development by what was formerly AnchorFree or were at some point acquired by the company.
Aura acquisition
And finally, in 2020, Pango was acquired by Aura.


This is yet another cybersecurity company with a mysterious past, which has some of its own cybersecurity and VPN solutions.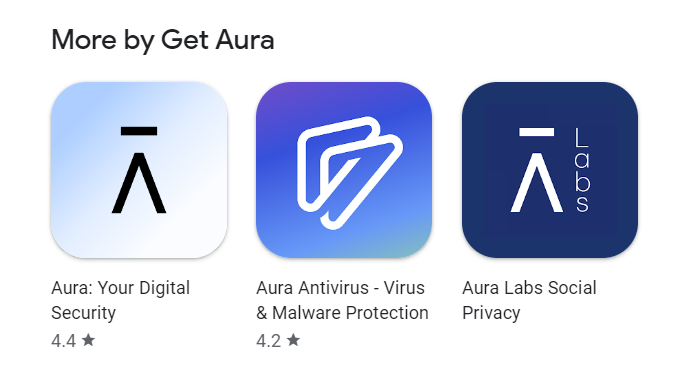 That is not all, though.
In 2021 sneaky-sneaky Aura has also acquired Comparitech – a massive tech review and comparison website. And more recently Aura seems to have acquired ProPrivacy – another big website that specializes in tech comparisons.
If compared to Kape Technologies, Aura seems to have gone for quality instead of quantity, buying up trustworthy, reliable tech news outlets. However, it's not exactly aggressively pushing for its own brands and mostly the other big players, so we're not exactly sure what's the endgame there.
The recap
Phew.
To recap, Aura, which is now the owner of Pango Group, is the company behind the following VPNs:
Aura VPN
Hotspot Shield
Hotspot Shield Basic
Betternet
TouchVPN
VeePee VPN
JustVPN
VPN in Touch
Ultra VPN
VPN 360
Wi-Fi Security for Business
VPN Free – Betternet Hotspot VPN  & Private Browser
Best VPN Proxy Betternet
Wi-Fi Shield
All of the former HexaTech products are currently being funneled into some of the existing brands. But the list of Aura/Pango/AnchorFree-associated apps is generally subject to a lot of confusion and constant change so it's difficult to keep track of how many apps they own up to this week.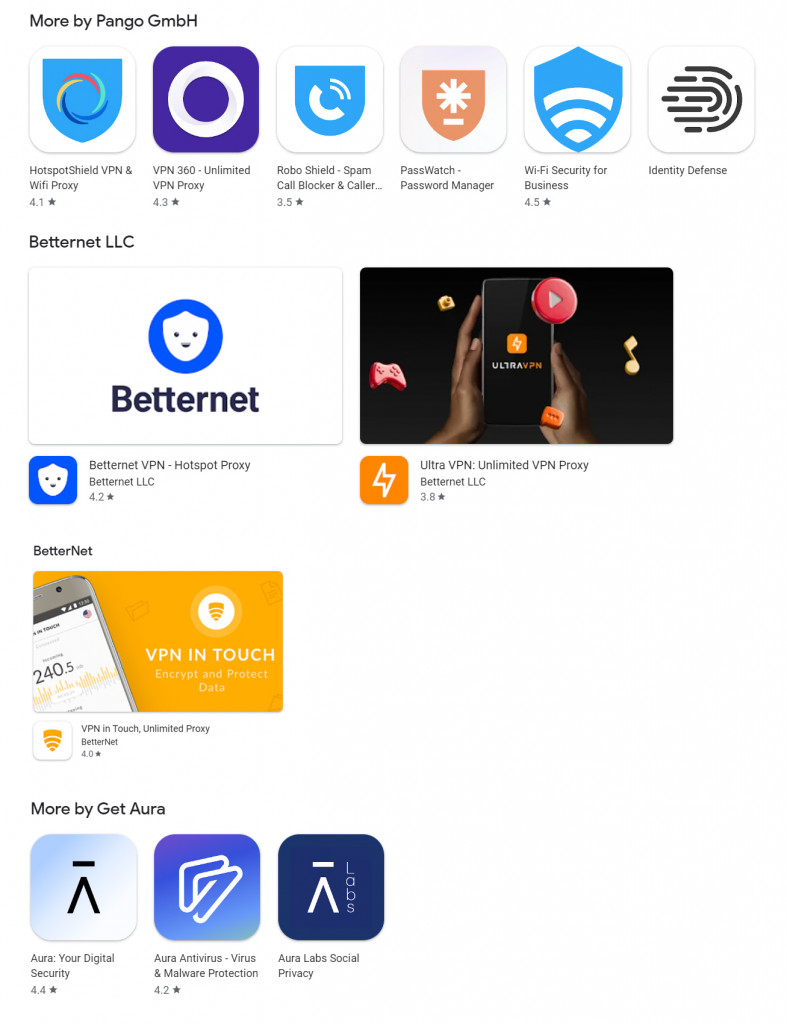 On top of that, Aura allegedly owns Comparitech and ProPrivacy.
---
These are just some of the names we found, and just some of the companies associated with this particular conglomerate.
One thing that can be said about VPN-owners, is that they are good at hiding. Or, at the very least, confusing the ever-living daylights out of anyone who goes looking. So this kind of information is difficult to come by and tough to verify. For all we know, there may very well be a lot more free and premium VPNs with a certain… Aura ?.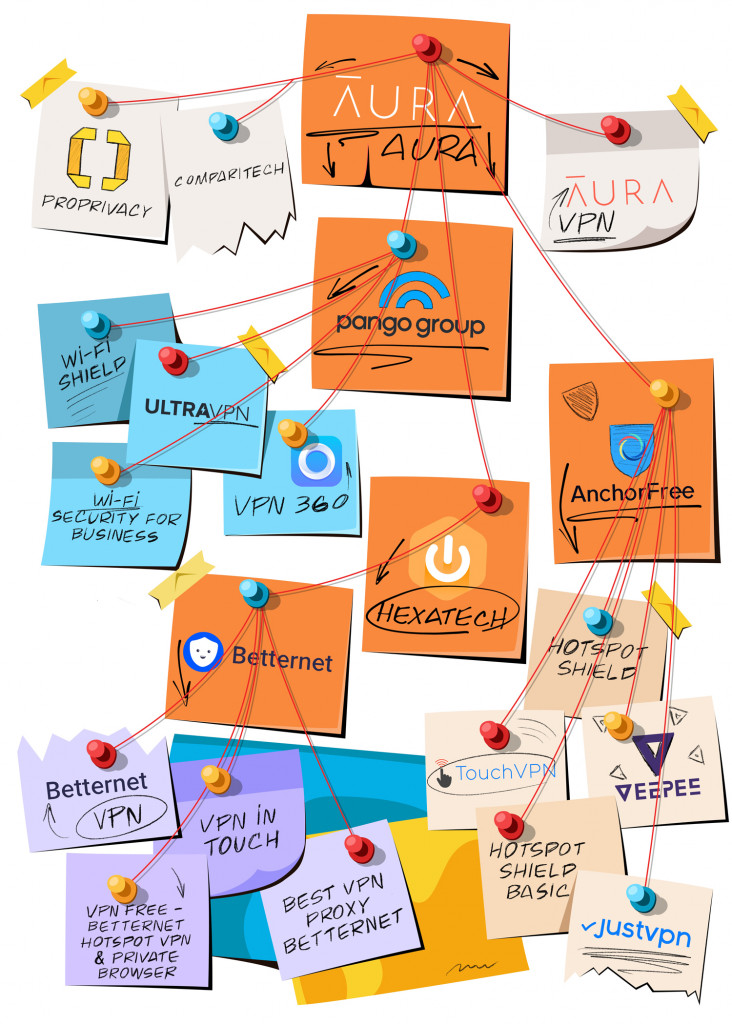 Innovative Connecting
The next stop in our madness-inducing deep dive into the small world of VPNs is Innovative Connecting.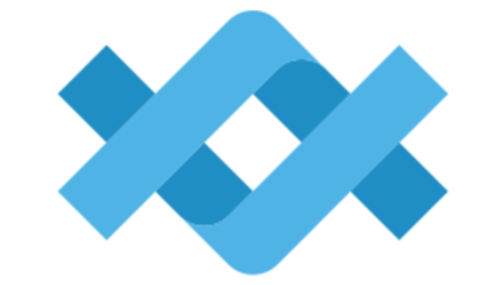 If you've been around the VPN block, you've probably come across this company through TurboVPN (and Turbo VPN Lite). But that's just the tip of the massive iceberg that is yet another VPN conveyor belt.
As you have probably come to expect by this point, Innovative Connecting is but one in a long line of companies, that are essentially the same thing under different names.
The base company is officially registered in Singapore, but it was, and still has strong ties to China, with its base of operations and development said to actually be Guangzhou.
This original recipe company is behind brands such as:
TurboVPN
TurboVPN Lite
Signal Secure VPN-Solo VPN for iOS (which is an amazing name if you ask us)
In the Google Play Store, this developer is also listed as the company behind VPN Monster.

Autumn Breeze
This is where things get interesting. See, someone somewhere didn't get the memo because officially VPN Monster was listed as an Autumn Breeze product. And that's a company officially behind the following brands:
Snap VPN
VPN Robot
SuperNet VPN
Hot VPN
Signal Secure VPN (essentially Robot VPN with a different name)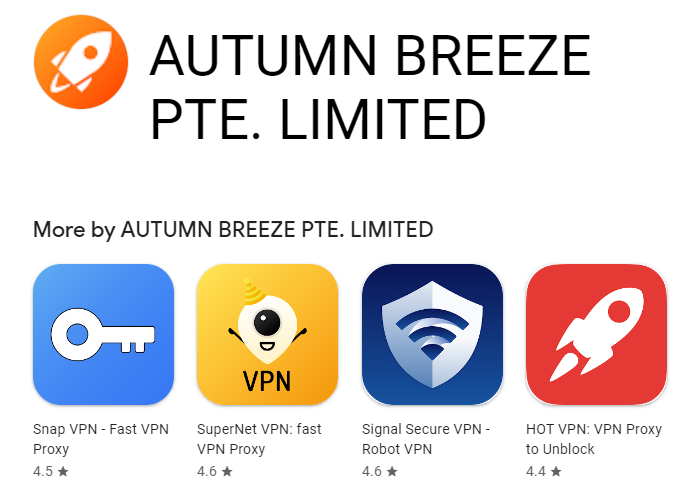 Lemon Clove
That's still not all, though, as Innovative Connecting has known ties with the company by the name of Lemon Clove PTE. LTD. And this one is currently featured as the developer of VPN Proxy Master and VPN Proxy Master Lite.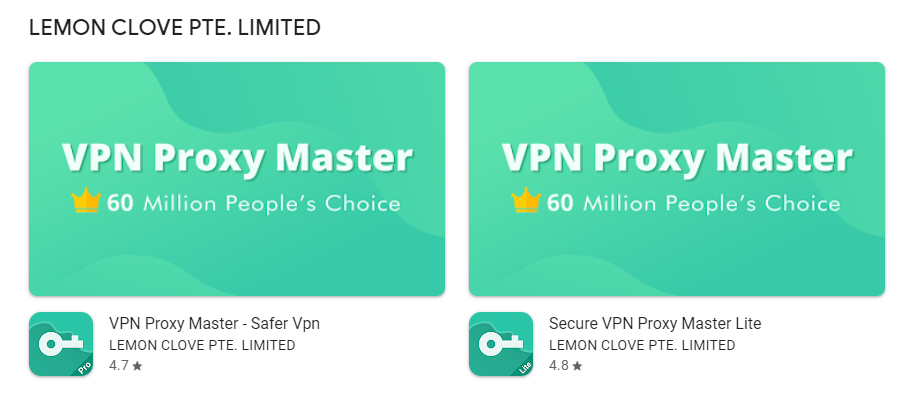 But the same company used to be listed as the owner of at least two more: Snap VPN and Robot VPN.
ALL Connected
But even this is not it. And it seems that even the company got lost with its shell game.
Innovative Connecting seems to be closely 'connected' (HA!) to yet another brand by the name of ALL Connected Co.Ltd. The company has the exact same website as Autumn Breeze as well as the logo of Innovative Connecting but features different, often non-VPN related products on its singular page.
However, the company is listed as the owner of a singular VPN product for iOS by the name of VPN Proxy Master – Super VPN, which has the exact same design, functionality, and even logo as VPN Proxy Master for Android.


Free Secure Connected Software Co. Ltd.
One last thing.
Snap VPN is listed as an Autumn Breeze company in the Google Play Store. However, it's listed as a Free Secure Connected Software Co. Ltd. in Apple's App Store.



The App Store also lists this company as the owner of Thunder VPN. Yet another in a long line of free VPNs.


However, the Play Store lists Thunder VPN (a nearly identical app with minor cosmetic differences) as a company that belongs to Signal Lab – a company registered in Palo Alto and credited as an owner of Secure VPN and Green Signal VPN – an inactive VPN service that used to target the Saudi Arabian region exclusively.


And as much as we would love to see where this rabbit hole leads, this quickly becomes an exercise in tedium which amounts to more of the same. So much so, that even the developer either got lost in its own shell companies or doesn't even care about keeping its story straight.
Plus, we're pretty sure that if we keep digging, we will discover a worldwide conspiracy or an ancient god or something.
The recap
Following the messy trail of Innovative Connecting's many shell companies and fake entities wasn't difficult. But it was tiring and confusing.
What we mean by that is that the trail of breadcrumbs left by the company is pretty easy to follow if you want to go down that road. So if the point was to hide this information, well, they didn't do a very good job. However, there are so many entities, apps, and products associated with this company, it is easy to get overwhelmed.
So, simply to give you a clear oversight, Innovative Connecting/Autumn Breeze/Lemon Clove/Free Secure Connected Software run the following VPN brands:
TurboVPN
TurboVPN Lite
Signal Secure VPN-Solo VPN
VPN Monster
Snap VPN
VPN Robot
SuperNet VPN
Hot VPN
Signal Secure VPN
VPN Proxy Master
VPN Proxy Master Lite
Thunder VPN
VPN Master
VPN Proxy Master – Super VPN
Secure VPN
One last point we'd like to mention here is that the first three companies – Innovative Connecting, Autumn Breeze, and Lemon Clove – are all registered in Singapore within very close proximity to one another. They often employ the same people, their websites are nearly identical, and all of their products have the very same 'broken English' privacy policies.
However, we were not able to find any public records of Free Secure Connected Software Co. Ltd., and, as mentioned, Signal Lab is listed as a Palo Alto company.
But the takeaway here should be that no matter how deep the rabbit hole goes, it still leads back to China.
And we're completely sure that this is not it. IC companies will still keep popping up. And we will keep a close eye on them.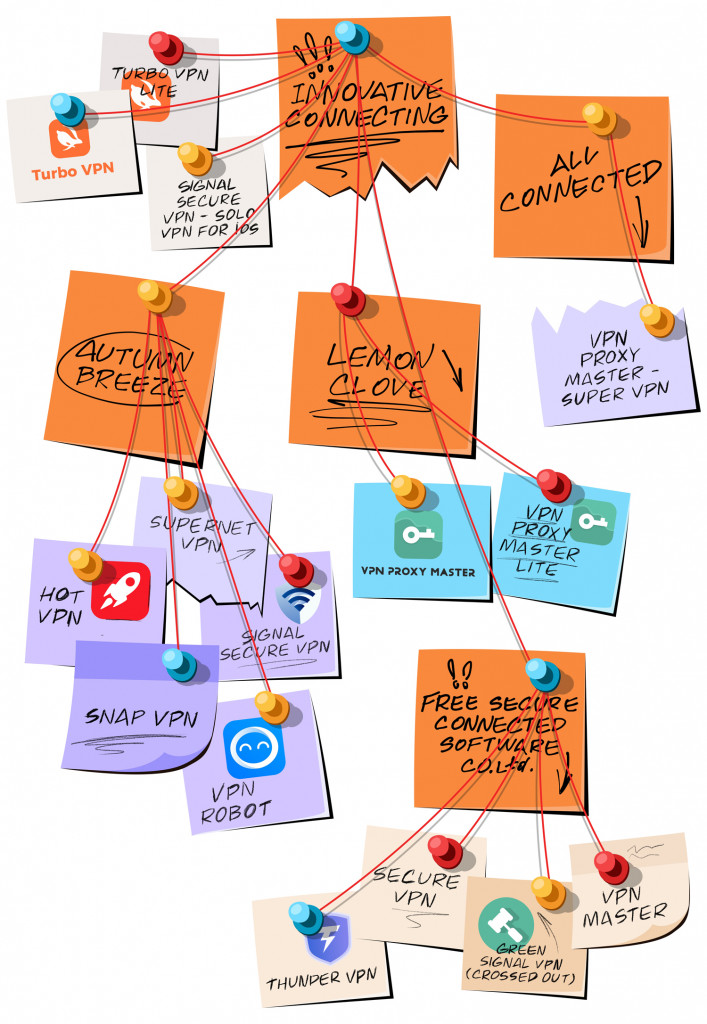 SuperSoftTech
We had our doubts about including SuperSoftTech in our investigation. It seemed that everyone knew the stories and we had nothing to contribute to the discussion.
But, first of all, this list just wouldn't be complete without one of the most popular free VPNs with over 100 million downloads in the Play Store alone. Second, the more we dug in an attempt to find something that others have not, the more we realized, that things might not be as simple with this provider.
So, let's get the obvious out of the way first.
SuperSoftTech is a 'kind of' company behind SuperVPN and SuperVPN Pro, which are among the most popular VPNs for Android on the planet.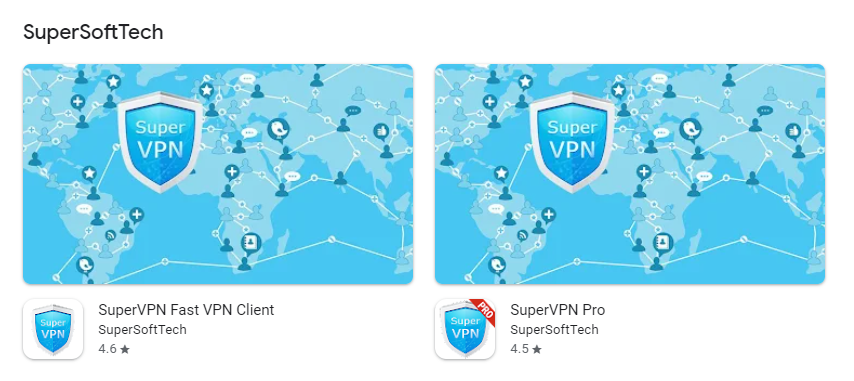 If you did any research on these, you also probably know that there is no other record or online presence of the company, except for it being registered in Singapore (even though we were unable to find any public records of the company), that single support email [email protected], and, if you really went deep, you also may have heard the name Jinrong Zheng – the alleged app developer and owner that ties this company to China. If you know this, you already feel like a detective. And yet, this still manages to tell you nothing.
The developer is a busy guy, who's listed as the owner of lots of other random online apps, such as the background YouTube player by the name of SuperTube (coincidence? We think not!).
But we're not here to talk about other apps with eerily similar names. We're here to talk VPNs. So let the madness begin.
FuryWeb Tech
You all know how we feel about SuperVPN. It's ranked among the worst free VPNs ever (us included), it's malware-ridden, it keeps logs, it sells your information to third parties, it once leaked the information of over 20 million users, and it has direct ties to China.
As if that wasn't enough, SuperVPN might not be the only VPN service under this developer.
Our SuperVPN investigation led us to LinkVPN (aka LinkVPN Unlimited VPN Proxy) – another free Android proxy app. The app's developer is listed as FuryWeb Tech, which is based in Hong Kong.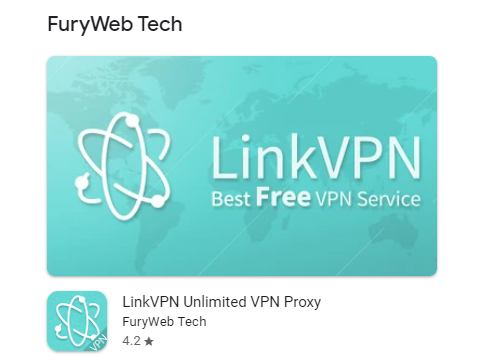 There's no information about this company itself, but it does have a website. It's nothing to look at, it's basically a link to the app and a Privacy Policy. But this is exactly where things get a tiny bit interesting. It's the exact same, verbatim privacy policy as that of SuperVPN, but the software it mistakingly refers to is RocketVPN instead of LinkVPN. And the RocketVPN we've tracked the original privacy policy down to is nothing but an empty website.
It is tempting to make an argument that one shady VPN service just took the privacy policy of another shady VPN service, which VPNs are known to do. However, their language is so distinct, broken, and lazy, that it's highly unlikely this is a coincidence.
Free Safety Connected Software Co., Ltd.
Not convincing enough? It gets better.
While SuperVPN is mostly popular with Android users, it does have an iOS version. But the app owner there is Free Safety Connected Software Co., Ltd. And in the App Store, the company is also listed as the owner of Luna VPN (listed in the Google Play store as a LunaTech product) – yet another free VPN. This is basically a color-swapped version of LinkVPN. The app details say it's registered in Hong Kong, and, of course, it has the exact same, poorly-phrased Privacy Policy as all of the above.


Weirdly enough, you can also find the app as part of a London-registered company Lunaspeed Ltd, whose owner is credited as our old friend Jinrong Zheng and listed as a Chinese national.
We've even pulled some records to prove it:

The company is currently dormant, but it's still very clearly part of a larger SuperSoftTech picture.
The recap
To summarize, we can confidently say that SuperSoftTech owns the following VPN services:
SuperVPN
SuperVPN Pro
Link VPN
LunaVPN
We know, right? That's it?!
While this isn't as much as we had hoped to get our grubby little hands on, there are so many nearly identical VPNs orbiting SuperVPN, that it's hard to say which is which and who owns what.
One thing we can say is that Mr. Jinrong Zheng (if that's your real name) is better at hiding his VPN tracks than most. Or, an equally viable option is that he just doesn't care about giving his companies a credible online presence. So we're sure there are more of these SuperVPN knock-offs running about.
Truly, the greatest takeaway here should be that SuperVPN is somehow one of the most popular VPNs on mobile. This is definitely a stain on the online privacy and security community ?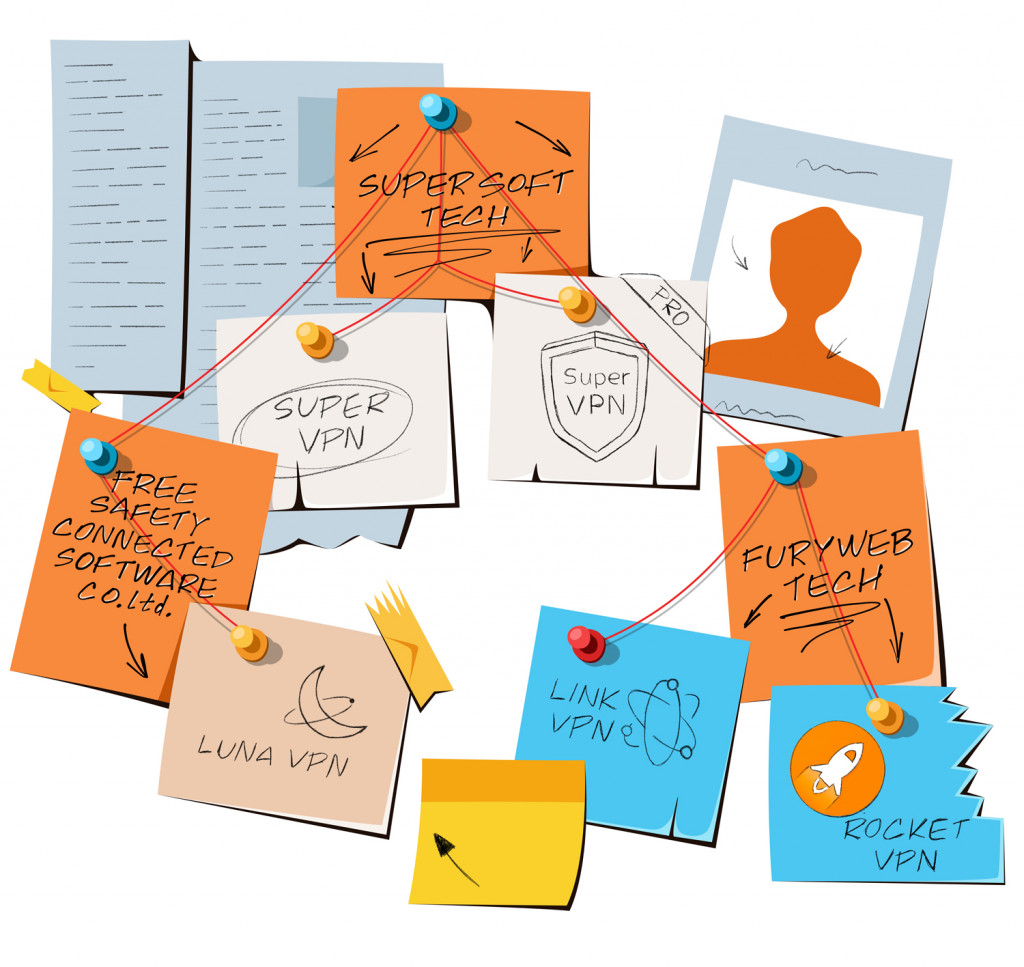 Mobile Jump
Mobile Jump is the next stop on our list. The company might seem innocent enough on the surface but, as usual, things aren't really that simple.
Currently, the company lists its base of operations as Singapore. But just a little while ago it had a completely different home address and privacy policy that unabashedly pointed in the direction of mainland China. Cool.
Sidenote. Interestingly enough, the current address of the company in Singapore (30 Cecil Street) is in close vicinity to all of the Innovative Connecting and its shell company addresses. Now, we're not implying that this necessarily means something, but there does seem to be a trend.
On the surface, products owned by Mobile Jump seem obvious. Those are:
VPN – Super Unlimited Proxy
VPN – Unlimited Best VPN Proxy for iOS
and VPN for iPhone – Unlimited VPN

All of these are pretty much the very same VPN with a somewhat different logo and color swap.
Something interesting happened while we were editing this mastodon of an investigation. For whatever reason, Mobile Jump switched its developer name to VPN Super Inc. in the Google Play store. And this doesn't really make any kind of conspiracy sense since Mobile Jump has a website that links to its oh-so-hidden Android apps.
But hey, this gives us more digging to do so who are we to complain?!
VPN Super Inc.
OK, so Mobile Jump decided to showcase pretty much the very same products as VPN Super Inc. in the Google Play Store. We're right there with you!
The company is featured as the owner of:
VPN – Super Unlimited Proxy (the same product as in the iOS app store)
VPN Secure – Fast Hotspot VPN (nearly identical to the previous one)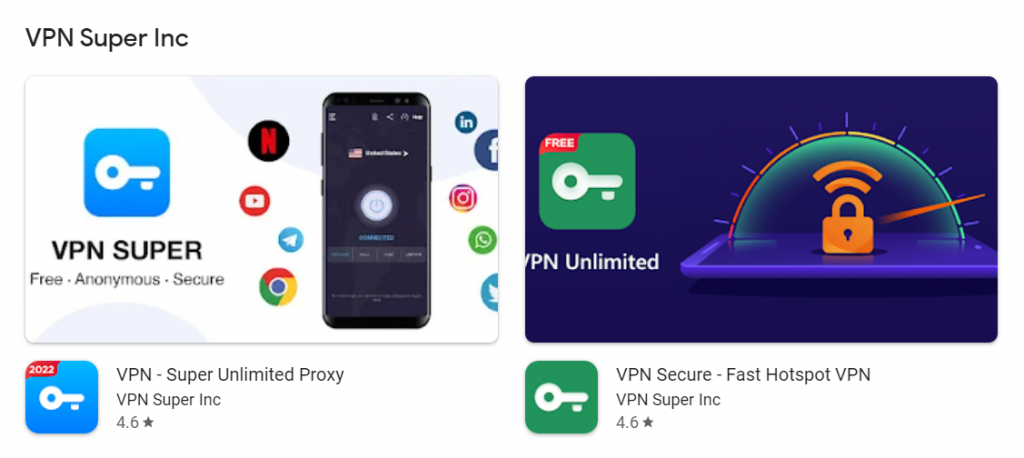 So nothing too bad, it seems. But we still went looking.
Super Unlimited Inc.
VPN Super Inc. is registered in Redwood City CA and actually has public records which, of course, we had to pull and study with a microscope.
The records list the official website of the company as Super Unlimited Inc. And we'd love to say that this company is behind seven more VPNs, but it's none of that. The official website does list VPN Super Unlimited Proxy as its flagship product, but nothing else. The app store's apps of the company, are actually just a couple of games. So this is kind of disappointing.

You do get a more interesting picture if you follow the people profile of the company instead.
Super Unlimited has a pretty public profile, which does lead to some interesting observations. For example, the staff of the company is spread between Ukraine, the US, and India. But which VPN's isn't, right? You should check out ExpressVPN's staff.
The more interesting thing is a lot of the higher-ups of the company seem to have worked for Pango Group and/or Aura, which you might remember from a few paragraphs above. While we couldn't link the two companies together, this doesn't seem like a mere coincidence. Are the two still linked? Or did some of the staff see an opportunity and take it? If it's the latter, building VPNs isn't the only lesson they learned from Aura, because these are not the only two companies we found.
Free VPN PTE. LTD.
The last piece of the puzzle is pretty easy to find. Especially if you make a living reading privacy policies (which we do, yay!).
While perusing VPN Super's privacy policy we've noticed that it simultaneously applies to three companies: Mobile Jump Pte. Ltd., VPN Super Inc., and Free VPN Pte. Ltd. We've covered VPN Super and Mobile Jump, but it's Free VPN PTE. LTD. that caught our eye.


The company is, of course, registered in Singapore at the very same address as Mobile Jump. A quick search reveals that this company is credited as the developer of products such as Free VPN Proxy, Easy VPN, and Hotspot VPN for Android, as well as VPN – Master Proxy for iPhone and VPN – Proxy Master Unlimited for iOS.



In the Google Play Store, though, the company behind these and other VPN products is listed as Secure VPN Proxy Master. However, it has Mobile Jump's email as its support address, and lists the following VPN products as its own: Secure VPN Proxy – Fast VPN and VPN Proxy – Secure VPN.

However, the company keeps changing its product names every other week, so it's very hard to keep track of everything they own. They very well may have changed the names of their Android apps three times before this investigation comes out.
The recap
Following the trace of Mobile Jump VPNs isn't hard, but it is tedious. One of the most symptomatic qualities of these companies, apart from the massive collection of identical apps and a trace of shell companies with convoluted names, is that they keep renaming their apps, which makes it very hard to track and follow.
Regardless, we have managed to identify the following poorly named products as Mobile Jump VPN applications:
VPN – Super Unlimited Proxy
VPN – Unlimited Best VPN Proxy for iOS
Secure VPN Proxy – Fast VPN
VPN Secure – Fast Hotspot VPN
VPN for iPhone – Unlimited VPN
Hotspot VPN
VPN – Super Unlimited Proxy
Easy VPN
VPN – Master Proxy for iPhone
Free VPN Proxy
VPN – Proxy Master Unlimited
VPN Proxy – Secure VPN
Obviously, a lot of these are rebrands and copies of one another. Others might no longer exist or are simply inaccessible based on the Google Play Store locale. We're also sure that this is not it. Sadly, you can't determine a VPN's ownership by an overly complicated name that has every keyword in it.
---
This is far from being it. If you take a little stroll through the App Store or Google Play you'll find hundreds of other VPNs with all kinds of flashy names that belong to all kinds of companies. VPM Master, Wildfire Inc. (aka PandaVPN), GoSpeed Software (very likely one of SuperSoftTech aliases), Free Connected Limited, Satan Magic, Vast Security Innovation Lab, Dingtone Communications Ltd., WCOMES TECHNOLOGIES Ltd. We could keep going for days.
For all we know, all of these might end up being just a couple of companies. But currently, there is not enough data to support our crazy claims. But we will keep digging.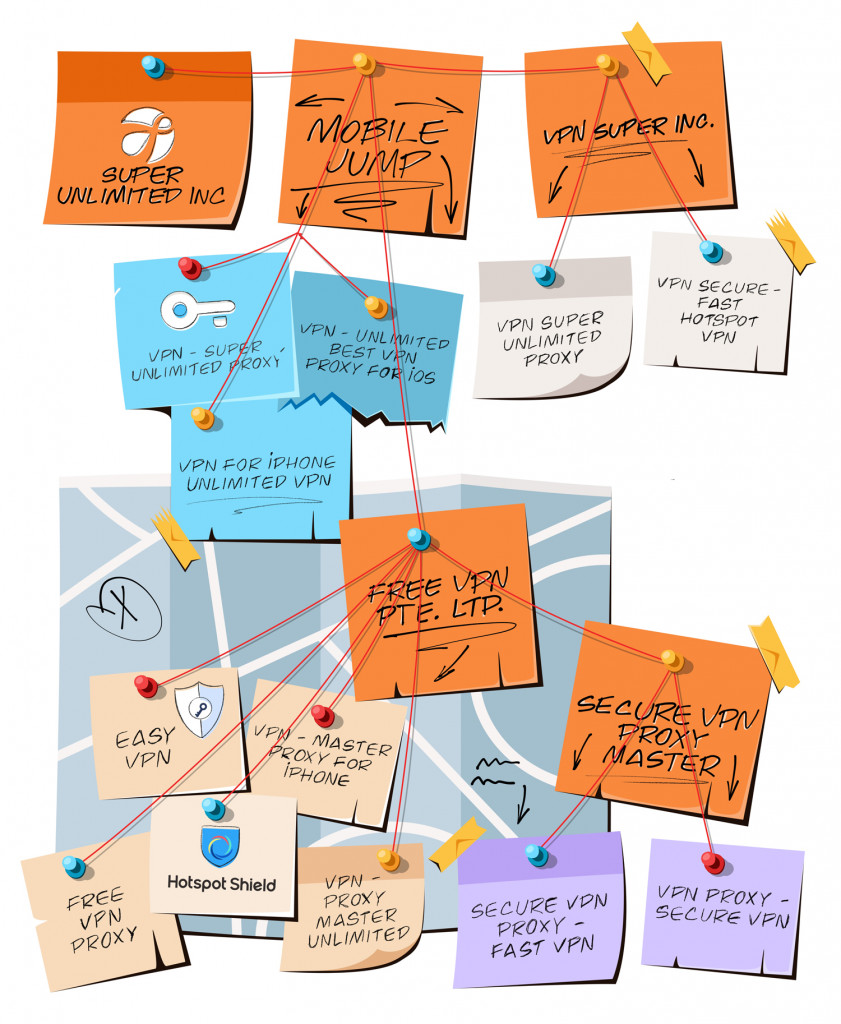 The end of independent VPNs as we know them?
You either die a hero, or you live long enough to become a corporate entity.
It's a bit of a different VPN world today, isn't it? Lots of VPNs started off as small, passionate companies looking to disrupt the status quo and stick it to big tech companies and 24/7 surveillance. And it seems that most of those companies have either been acquired or have become corporations and conglomerates themselves. However, when the VPN industry is valued at 25.65 billion (!!!) there's no place for the little guy anymore.
So it seems that your only option might be either gambling with shady companies that are most likely farming your personal information worse than Facebook, or going for one of the truly massive providers. No truly independent VPNs left.
But is that true?
Well, for the most part, sadly, yes. Conglomerates snatch up anything mildly successful, and shady data farmers launch a VPN every hour.
And yet, there might be a handful of passionate providers still keeping the dream of a truly safe, truly good, truly independent VPN alive.
Usenet to the rescue
Usenet isn't as nearly as popular as it once was. But that doesn't mean it's gone. Far from it.
At the same time, one of the key components of any good VPN is a vast server network, and Usenet is all about servers just sitting there, hosting data. So the obvious step for any Usenet provider was to adapt their existing server network to become a VPN server network. This is exactly what some of the bigger Newsgroups did.

Want to know what the best Usenet providers are?
Check out our complete guide to Usenet!
The biggest thing going for Usenet-owned VPNs is that they are fully supported by their Newsgroup counterpart. So they don't really need to sell out for capital that will keep them in the game. And thanks to this, we got quite a few different, fully independent VPNs.
Giganews gave us VyprVPN, a Virtual Private Network that seems to have been around since the dawn of time or at the very least since 2009.

Want to get a closer look at VyprVPN?
We covered everything you need in our review.
One of Europe's favorite Usenet providers – 5 Euro Usenet – gave us an equally awkwardly named 5 Euro VPN – a great VPN service that is not 5 euros.

Never heard of them?
We will catch you up on everything you need to know!
And Eweka – arguably the biggest Usenet provider – has recently brought us the likes of PrivadoVPN (allegedly). And you can currently find it as a package deal with nearly every other Usenet provider.

Want to know more about PrivadoVPN?
We have reviewed them as well!
They might not be the best VPNs. But they are definitely not conglomerates. And, chances are, they never will be.
Local VPNs on the rise
Going after the whole world is much harder than going after a single country. Sure, that means way fewer customers, but this also means not going to war with the titans. And for some, that is enough.
In recent years, we have seen an uptick in local, highly specific, and highly targeted VPN providers. They are smaller, and their service is much more limited than the Nord Security's and Kape Technology's of the world. But they are also not here to take over the planet and provide a service that exclusively targets one country (but is not necessarily based in it).
This might seem counterintuitive but in the current state of the VPN industry, this is a great way to get a piece of the pie. On the one hand, you pose no threat to the bigger brands, so they are not actively taking you down. On the other, your marketing runs itself. And it seems to work. After all, lots of users enjoy being heard by their own, local customer support, and not someone in the British Virgin Islands but actually in Pakistan.
If you want a truly independent provider, you might want to check out the locals first. Just remember to read the reviews.
Security nuts
However tempting a multi-million dollar buyout may be, there are still VPN providers that stay true to their cause. And sticking it to corporations is part of the game.
You might not see them, but they haven't gone anywhere. There are still VPNs that are there to be just that – great, reliable, independent providers.
They do tend to be a bit too geeky, but that is understandable. After all, they don't have a whole team of cutthroat marketing experts and overpaid designers that spend six months designing the perfect button. They also tend to be a bit pricier than even some of the premium providers, because they don't have the luxury of running 17 VPNs, distributing funds, and getting backing from six Palo Alto investors.
One of our all-time favorite independent VPNs is Hide.me. Packed to the brim with features we have never seen anywhere else, it definitely stays true to its roots.

Wondering what those features may be?
Check out our full Hide.me review!
And one of everyone's favorite independent VPNs is Windscribe which is hard not to admire.
---
So if you truly are looking for a real independent VPN provider there's definitely plenty to choose from if you know where to look.
Conclusion (or lack thereof)
We've spent literal months carrying out this investigation and tying ends together. We will probably spend months, maybe even years adding our new findings to this list. But we have never thought of how to conclude this exhausting journey.
It would be nice to end on something concrete. Recommend a list of VPN independent providers. Or rule out those that you definitely shouldn't trust. But the industry is much more dynamic and complicated than this. It's constantly changing and leaves nothing objective.
In the end, what you choose is entirely up to you!
Far from all VPNs that currently belong to conglomerates are bad. You do not start a company that is passionate about online security to then be steamrolled by corporations. Lots of them are still there to – first and foremost – do right by their customers. But the industry is relentless, so the providers have to form unions to have a shot at survival and development.
Then again, a VPN being independent doesn't automatically mean it's good. You might be tempted to go for a new brand with a weird name you dug up in the Play Store, but as we've seen, they might cause you even more of a headache.
In the end, all you can do is do your research, read the reviews, and follow your gut. And we're here to support you.