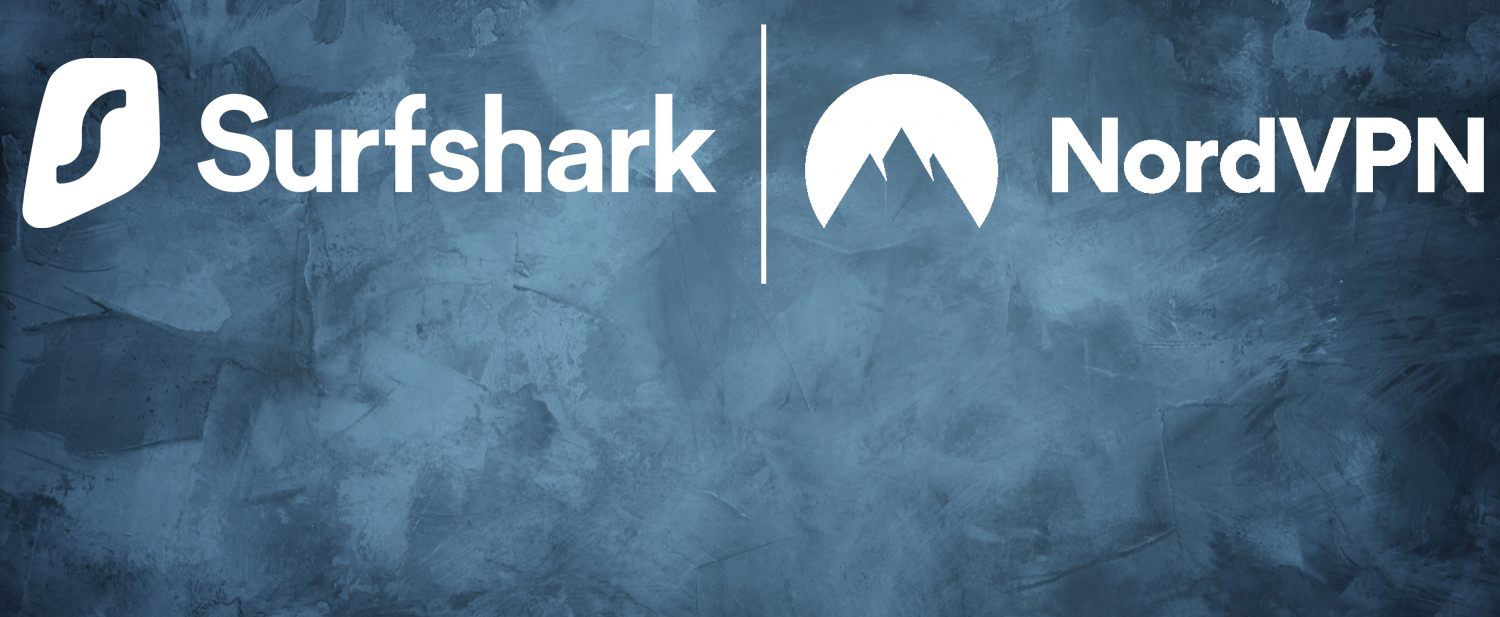 Surfshark merges with Nord Security: What does this mean for the industry?
Surfshark's merger with NordVPN is official but hardly news by now – unless user privacy is not your thing, in which case, we have so many questions.
It is okay if you were not in the know or just don't know what to think about it. We took our sweet time to reflect on the matter, and what this, as well as all of the other major changes with other providers, mean for the VPN industry as a whole. So we thought we'd share our expert opinion on what's going on with the VPN world with you, and what those changes could mean for the user.
Ready for the rant? Because there is a lot of rant to fo around.
A purely strategic partnership
So what happened with NordVPN and Surfshark?
NordVPN revealed via a blog post at the start of the month that its development company Nord Security had finalized a merger with Surfshark. Neither side, however, shared the specifics of this expected-unexpected merger, proving, that Nord is still great at keeping secrets.
So… we're not exactly sure how to tell you this, but we kind of knew that NordVPN and Surfshark were closer than they let on (and not just because their logo fonts are similar). This might not be our best investigation work, but we wouldn't be so good at what we do if we couldn't tell, right?
For starters, both have their roots in Lithuania. Not just that, but during their nascent days, the two VPNs shared a Lithuanian next-generation IT incubator/accelerator, Tesonet which used to be, and is still believed to be the company behind NordVPN.  The firm's links to NordVPN were widely known, but not a lot had previously been revealed about its relationship with Surfshark (don't be alarmed, that's Lithuanian).

Want to know more about NordVPN?
Check out our complete NordVPN review!
The similarities don't stop in the early days, though.
Today, both companies continue to primarily operate in Lithuania but are slowly expanding their base of operations. For one, both companies now have offices in the Netherlands. Nord Security recently based one of their main offices in the country and is actively recruiting employees. And Surfshark went so far as to abandon its primary base of operations (the British Virgin Islands) entirely and choose the Netherlands as the company's headquarters.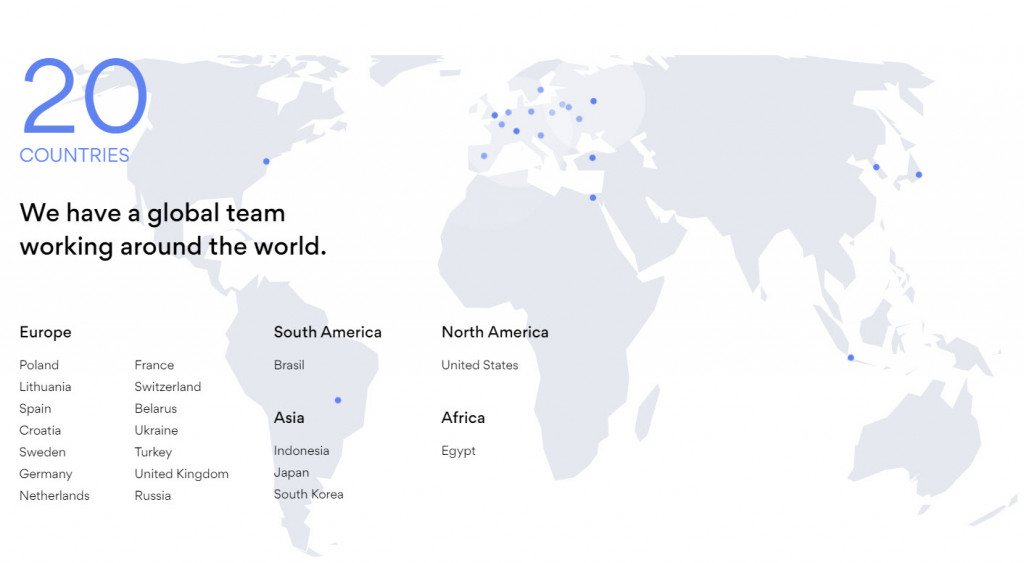 The product lineup seems to be pretty similar, with Surfshark at times looking like the testing grounds for NordVPN's newest products. Down to the 360 Security Suite that NordVPN launched but didn't keep, following in the footsteps of Surfshark One.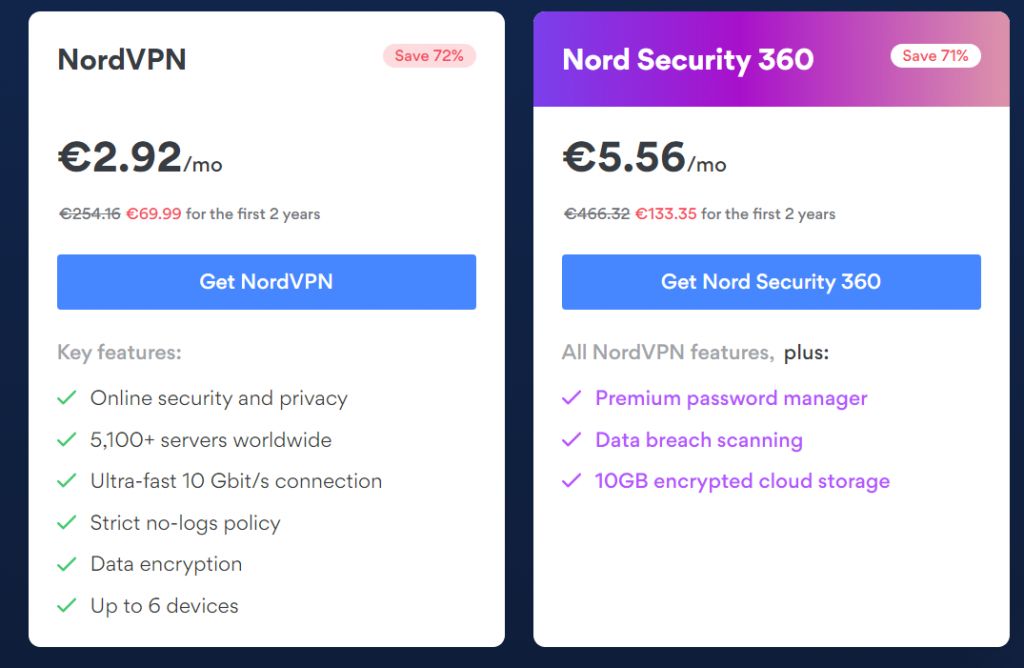 Oh, and have we mentioned the font stuff?
Of course, like most things in the ever-elusive VPN world, most of these things are speculations. At the end of the day, it's just two companies based in the same country that needed to counter the going ons in the industry.
However, all of this hardly matters now. Both companies decided to join forces and merge into one entity to
"… become stronger in facing growing cybersecurity challenges and better deliver to our customers."
But why would two of the most successful VPNs decide to announce their merger now? And most importantly, what does this mean for the user?
The impact of the NordVPN/Surfshark merger
The Surfshark-Nord Security deal did not result in one giant corporation being born out of the individual companies as is in standard mergers. And it doesn't seem to mean that the two companies, once deeply concerned about the user's privacy, are now becoming one of those many soulless corporations. At least for now.
Officially, the two entities agreed to retain their independence and operate as autonomous VPN and online security service providers.

Surfshark is expanding its online services!
Check out everything this VPN has to offer!
But it can't be that a change of this magnitude has no repercussions, can there?
The majority of the aspects remain unchanged
Well, according to Surfshark and Nord Security, it can.
The move primarily affects the executive and development teams involved in working on the services of the two companies. The users will hardly feel the impact.
It also doesn't affect either side's privacy policies or terms of service. And that's pretty crucial when it comes to VPN providers. Though the parties will have the provision to share their resources and infrastructure to better their products, NordVPN and Surfshark will each stick to their roadmaps.
That said, the merger might have a potential effect on the subscription costs of the respective services.
Surfshark has established itself as a budget-friendly option that checks all the right boxes. Even with the release of all the new projects, and with the recent announcement of exciting new features, such as Surfshark Incogni, Nexus, and Surfshark Smartnet, the provider has always managed to be one of the cheaper premium VPNs in the world. NordVPN, on the other hand, has mainly relied on reliability and top-notch performance as its main selling points.
Being under the same umbrella could force the two sides to reconsider their pricing models as they review their finances and balance their books.
---
That said if our hunch was correct, and Surfshark and NordVPN were indeed closer than most thought, that might mean good news for pricing as well.
It seems, that while NordVPN was busy becoming the biggest VPN service in the world, Surfshark was there to pick off anyone who got spooked by Nord's prices. If that was indeed the case, there are no reasons the two providers would change their model. If it ain't broke, don't fix it.
Two heads are better than one
Nord Security co-founder Tom Okman, in a statement featured in Surfshark's release, explained that the move puts the two in a better position to deal with the challenges presented by the 'complexity of cybersecurity and digital privacy.'
"We believe that this industry requires radical simplification and ease of access, both for consumers and businesses. Together, Nord Security and Surfshark create the largest internet security powerhouse in the market, ready to bring advanced solutions for customers," Okman noted.
On his end, Surfshark founder and chief executive Vytautas Kaziukonis said such collaborations reflect the industry's maturity. He also highlighted the benefits of the merger, stating that:
"They [consolidations] also bring new competitive challenges. Nord Security and Surfshark joining forces will set the ground to scale in different digital security dimensions."
The statements are expectedly vague. But the real reason behind the merger announcement is simple. The move was made to keep them competitive against giant entities like Kape Technologies and Ziff Davis.
VPN consolidation is now a trend
It all ends in one of two ways: either someone gets eaten, or something blows up.
Last year was the year of cybersecurity and VPN companies sealing partnerships and being acquired by major businesses. And the biggest news that hit the VPN world in 2021 was Kape Technologies acquiring ExpressVPN for $936 million, effectively adding one of the three largest VPN providers to its roster of VPN services the Israeli company acquired over the years including CyberGhost, ZenMate, and Private Internet Access as well as multiple other cybersecurity products and review websites. According to some of our contacts, ExpressVPN agreed to the move since it needed the development capital to stand up to the likes of NordVPN.

Want to know more about the merger
Check out our previous VPN investigation!
Clearly, this massive change in the industry couldn't have gone unnoticed by NordVPN, Surfshark, and other independent VPN providers.
The blog post shared by Nord Security indicated that NordVPN and Surfshark had been in contact to 'align on a strategic level' since mid-last year'. The two companies likely knew about Kape's plans to acquire ExpressVPN and probably perceived that as a major threat. But like the question of life on undiscovered solar systems – this will probably never be confirmed.
We might be in the dark about some of the specifics, but there is one thing we know about. There are now three major players that dominate the VPN market.
The major players of the VPN business
Where there was a wild west, now, it seems, there are a few major players with their agendas.
We might not be 100% clear on what those agendas are. But we're at least getting better at understanding who those players are, how they operate, and what this could mean for the user.
Here goes.
Kape Technologies
This LSE-listed cybersec company headquartered in the UK deals with the development and distribution of products and services in the online security niche.
In 2017 the company acquired CyberGhost VPN, followed by ZenMate in 2018, Private Internet Access in 2019, and ExpressVPN in 2021. Kape is also the owner of the Webselence project that owns several tech and VPN review websites.
Ever since this has become public knowledge, NordVPN, as well as all of the other Nord Security products, as well as companies that are either owned or align themselves with Nord, have left all of the Kape-owned review platforms.
Nord Security
From now on, NordVPN and Surfshark will run as 'child' companies under Nord Security following the consolidation.
Nord Security also has the freemium provider Atlas VPN (whose CEO is also interestingly Lithuanian, according to the company's LinkedIn profile) under its umbrella after its acquisition last October.

Never heard of Atlas VPN before?
We have already tested it and made an awesome review!
Its list now features a premium, an affordable, and a free VPN.
But NordVPN likes to keep things under wraps, and it's actually good at it. So there might very well be many more VPNs under Nord Security's belt, as well as other online products and projects.
NetProtect, which is under Ziff Davis (formerly J2 Global)
While everyone was focused on everything that was going on with Kape Technologies and Nord Security, there is another major player on the VPN market that everyone seemingly forgot about.
NetProtect is a California-based tech company specializing in internet protection. It has IPVanish, StrongVPN, WLVPN (White Label VPN), Encrypt.me, and Safer VPN under its list of services.

Want to know more?
Check out everything we know in our IPVanish review!
NetProtect operates as part of J2Global, which announced in October through its now-defunct site that it was rebranding to Ziff Davis. And Ziff Davis is a major player online, with a massive roster of products, projects, and solutions under its belt, including PCMag, ExtremeTech among many others.
Disrupt/Gaditek
The smallest and weirdest of all the big players in the VPN world is the Pakistani IT company by the name of Gaditek. In its own turn, Gaditek owns another IT company by the name of Disrupt, which was co-founded and is behind the same people that own PureVPN, Atom, Secure.com, and presumably Ivacy VPN amongst many other projects.
This is the one that managed to stay under the radar the most, probably because its appetite is not. This is also why this one was the most difficult to research.

Want to know how we got there?
Check our investigative skills in our PureVPN review!
Still though. With at least 3 million users under PureVPN alone and a seemingly infinite range of random products behind the trail of many companies, this is a force to be reckoned with. Or, at the very least, they are doing well enough to not have to sell to a massive company.
The implication of VPN consolidations
ExpressVPN had previously stated that they've decided to join Kape's family of VPN services in order to acquire the capital needed to stay competitive against Nord Security. This, in turn, seemingly made Nord Security and its child companies nervous about losing their positions in the industry.
This indicates how rapidly the VPN landscape is evolving. It seems that right now VPN providers either catch up, get bought out, or risk being eliminated.
Today, VPN providers are looking for funding or any safe umbrella to be under that will make the business a bit more tolerable. Better funding means not thinking about what will happen next and focusing on developing better services.
Ideally, this could mean an overall win for the users. Fueled by competition, the providers should focus on creating better services.
On the other hand, buying up review outlets, and providers that were thought to be independent tend to manipulate the user's perception of the products he is looking to buy. And this could be a major problem.
Which areas are the major VPN players targeting?
Nord Security seems to be moving away from just VPNs to security suites and generally more products. Diversification has proved to be a rewarding business move in the past. And that's something that the company seems to be doubling down on.
Kape Technologies is, on the other hand, doubling down on VPNs. The company has shown range in different providers it has brought under its portfolio. For example, whereas ExpressVPN is all about security, CyberGhost is known as a VPN best suited for streaming.
However, these guys are also doing 'less unethical' things. Like trying to tip the competition in their favor by buying a lot of reviews & comparison websites. The firm acquired Tel Aviv-based Webselenese (which manages a lot of VPN review websites) last March for $149.1 million. While Kape has the money to do so, this could mean that users are going to start buying its products not because they are good, but because enough websites tell them to.
Though NetProtect has a number of VPN solutions, it didn't seem they were going to join the all-out war of the VPN providers. They were mostly focused on launching white label VPNs (sometimes literally) with the hopes of catching the bigger fish. But now that the company has been acquired by Ziff Davis, which owns a number of massive review- and online shopping websites, that may very well change.
Still, these amalgamations can be seen as strategies to help become more of a force, have more capital, and advance the technology. At least, we hope so.
Does this spell the end of the free VPN market as we know it?
When we're talking about the big boys, it's easy to think that they are all there is. So, it seems that there is nothing but NordVPN's and ExpressVPN of the world.
While the consolidation of VPN brands signifies a massive shift in the industry, it doesn't mean the end of free VPN services. On the contrary, it leaves us speculating on the future of VPNs and their fast-evolving underlying tech.
First of all, it is interesting to see where a lot more capital will take the technology. On its own, Surfshark was able to develop a massive slew of online security tools, that no other provider had. They also were the only ones that managed to take VPN technology beyond that of just VPNs.  This begs the question, what can they do after pooling resources with NordVPN?
ExpressVPN similarly made a completely new protocol before being absorbed by Kape. And that one pretty much revolutionized the industry. So it is curious to see what they can accomplish with support from Kape?
But despite the market seemingly being cornered, the big boys are not the only VPNs around.
There are also the likes of 5 Euro VPN, Hide. me, PrivadoVPN, VyprVPN, and so many others in the world. Some of them are backed by previous successful projects, so they have the capital they need to compete.
Another interesting thing is local VPNs are on the rise. Not looking to dominate the global market, they focus on the local ones.
So if you're thinking that that small piece of cool technology you got years ago is now becoming yet another soulless corporation, rejoice! There is literally a VPN service for everyone!
---
So what was the point of this rant?
Well, we're just keeping an eye out on the provider, and know what's going on. But, honestly, we just really want to see what happens next.