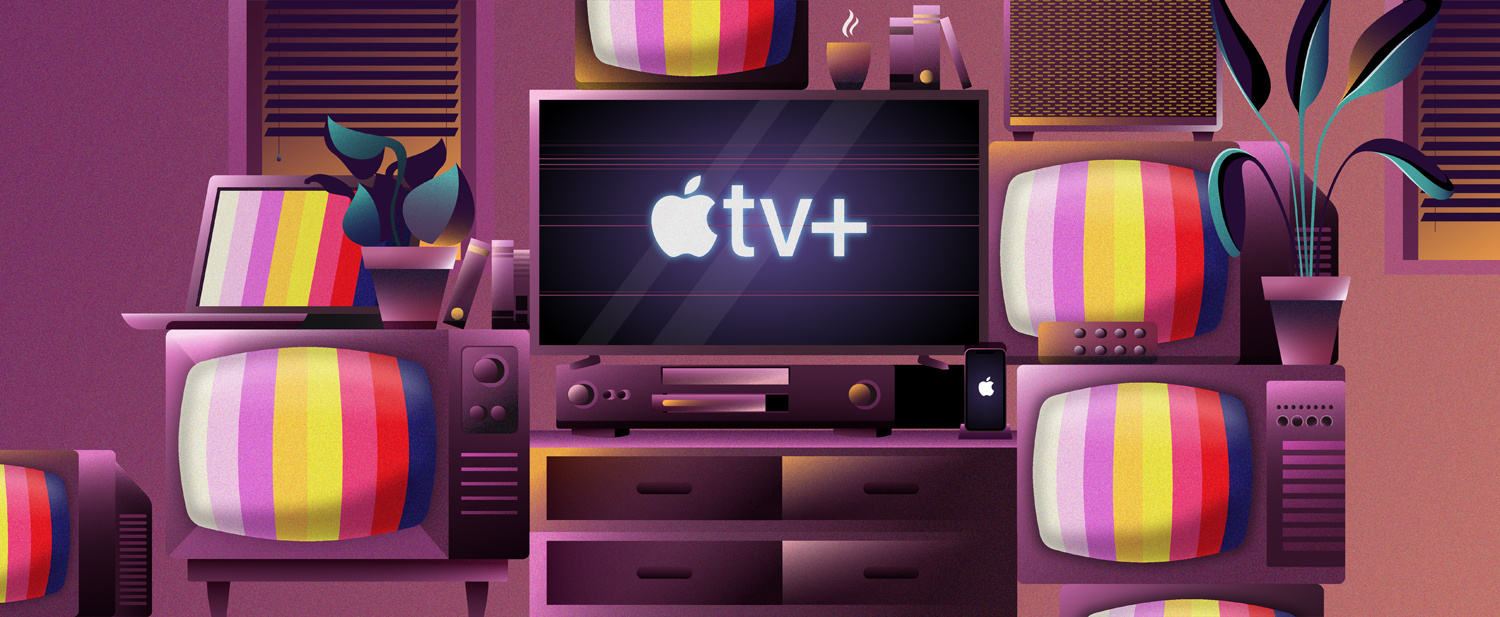 The 5 Best VPNs for Apple TV Plus
Aren't you subscribed to Apple TV Plus yet? You'd better hurry up!
Apple TV Plus is a streaming service with unique content: top-notch series, intriguing dramatic stories, engrossing documentaries, comedies, and entertainment shows for kids. Apple Originals launches new shows every month. It has more than 33.6 million subscribers only in the USA and is getting more and more popular all over the world. But Apple TV Plus has one minor flaw – it's only available in 100 countries (and the availability of certain content may vary from country to country).
What series to watch on Apple TV Plus
The first question is: what would you be able to watch on Apple TV Plus? Let's find it out!
The Apple TV Plus series are completely diverse and designed for various audiences.
The Morning Show is an urgent drama about a popular TV presenter. We can see the backstage of the world of TV, intrigue, and total cynicism.
For All Mankind is a story about an alternative reality, where the astronauts of the USSR landed on the moon and the space race continued.
See is an amazing post-apocalyptic story about blind mankind starring Jason Momoa.
Here you can also find the much-anticipated TV show about immigrant life (Little America), thriller series (Servant), and live-action preschool shows (Helpsters, Ghostwriter, and Snoopy in Space) and they are not going to stop there.
How to watch not only movies specific to your location on Apple TV Plus
Now imagine that you have found something perfect for yourself and this content is blocked in your country. Access to TV shows, movies, and other content may vary by region.
For example, 'Servant' and 'Defending Jacob' may not be available to users in India or Slovakia. To see if you need to connect to American or Canadian servers. Honestly, most of the content is designed for an American audience, so the best way to access your favorite shows is to connect the USA servers – it has 100% of content.
Geo restriction bypass is not a problem already – just choose VPN and use it to connect the server for Apple TV Plus. This is not only convenient but also safe for your data and privacy.
Here are the 5 most popular VPN services to watch Apple TV Plus from your country:
ExpressVPN
ExpresssVPN
Our top-rated VPN service!
Here are some of the main reasons we think ExpressVPN is the best solution for Apple TV+:
One of the most high-speed connections.
You can choose any of 160 locations of VPN servers in 94 countries around the world, and switch among them as you want.
Unlimited bandwidth for Apple TV+ streaming.
24/7 live chat support.
NordVPN
NordVPN
Perfect for Apple TV+
Here's what makes NordVPN work for Apple TV Plus:
You can connect to over 5,300 servers in 59 countries to have secure access to any content, wherever you are.
Keeps access to your favorite content, and has unlimited bandwidth.
NordVPN works great on all types of devices, whether it's a desktop computer, laptop, smartphone, or tablet. Just install the application on any of your devices and connect up to six of them at a time.
Stable and high-speed internet connection.
5 Euro VPN
5 Euro VPN
Perfect for Apple TV+
5 Euro VPN might seem small, but it works just as well as the biggest VPN providers. Here's what it's got going for it:
One of the cheapest services in EU.
5 Euro VPN uses smart DNS to smoothly sail past geoblocking.
Has a three-day trial period.
Available on all devices: PC, laptop, tablet, or mobile phone.
CyberGhost
CyberGhost
Perfect for Apple TV+
We might have questions about CyberGhost's security, but one thing we can't take away from this provider is its capacity for streaming. Here's what CyberGhost does for Apple TV Plus:
Easy registration and use, intuitive interface.
Has a daily trial period.
Quick connection, more than 6400 servers in 90+ countries.
Friendly tech support 24/7.
PureVPN
PureVPN
Perfect for Apple TV+
Finally, PureVPN should work just as well as any other provider, as well as save you a few bucks in the process:
Provides quick connections and simple applications for multiple platforms.
A network of 2000+ strategically located servers helps you bypass the restrictions of your country so you can fully enjoy streaming video.
Relatively low plans.
Must-have VPN features to access Apple TV Plus
You choose the best Virtual Private Network in your life ever! First of all, we recommend reading all the essential information about What Is a VPN?
So how to get Apple TV Plus?
To get access to the service, you must have an Apple ID account, which includes all contact and billing information.
Then get the Apple TV application to proceed with the subscription.
If you have just an Android or Windows device, you can go to tv.apple.com to sign up for the Apple TV+ service and watch the content using a web browser.
One of the most important features is valid payment information. You can use Apple Pay, PayPal, Apple Cash, or your credit card. But be careful – depending on the region, there may be different payment methods.
Then everything is easy: select the Apple TV Plus channels you want to subscribe to in the application or start a free trial. At the end of the trial period, your subscription price will be charged to your Apple ID.
Through Apple ID, information about your views is synchronized on all devices. Therefore, you can start viewing on your smartphone, then continue from the same place on the laptop, and end on the Apple TV media player.
We don't recommend using a free VPN with your Apple TV Plus: none of the free VPN services is optimal for Apple Plus streaming.
Also, do not forget that most of the free VPN providers make money by tracking the online activity of their users, and then selling this information to an interested seller. That means they can insert unwanted tracking ads and cookies into your browsing sessions.
By using a VPN paired with Apple TV Plus, you can significantly expand its standard functionality: virtual private networks not only protects you and your privacy on the web but also allows you to unlock any limited content with just one click of a button. The Apple TV device integrates your iTunes library, and your subscriptions to various services and applications, and the VPN provides access to a huge amount of additional content.