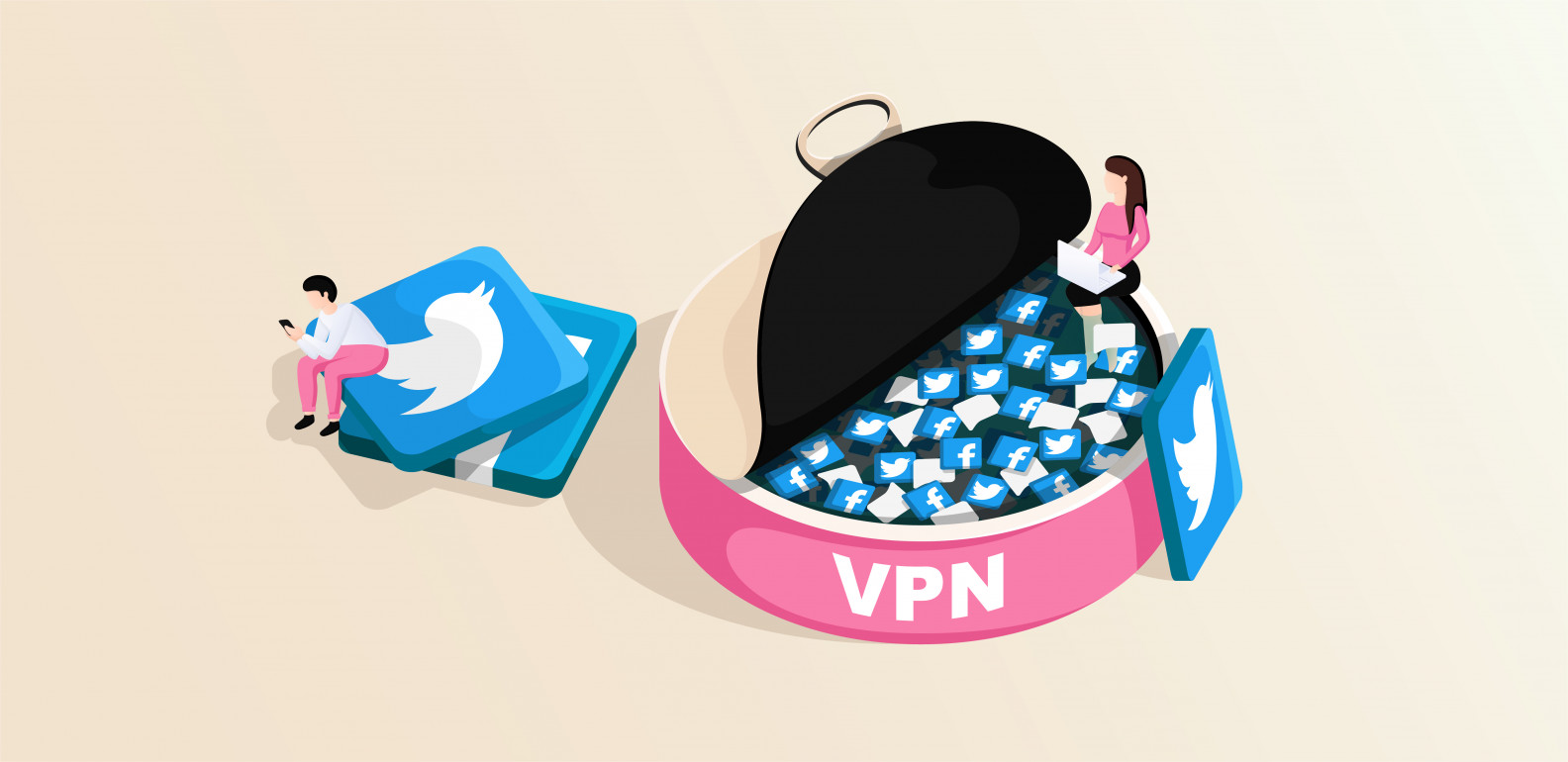 Best VPNs for Twitter, Facebook, YouTube, and other social networks
Social networks are not only an opportunity to tell the whole world what a cute cat you have but also a headache for some state leaders. Every year people spend more and more time on blogging and messaging platforms and get world news not from traditional media, but from Facebook or Twitter.
Interestingly, in some countries, the legal issues that arose in connection with the spread of social media were solved in the simplest, but at the same time, pretty rude way – access to popular websites and apps was blocked.
1. China
China uses one of the most advanced systems to restrict Internet content – the Golden Shield, known abroad as the Great Firewall of China. This technology is over 15 years old so far. Google, Flickr, Dropbox, Facebook, Twitter, YouTube, and partly Wikipedia are blocked there, and residents have to use their Chinese substitutes. The most popular social network in China is Qzone. It allows posting blogs, diaries, photos, and comments. There is also a Chinese microblogging service pretty similar to Twitter – Weibo. The portal Renren, which looks like Facebook, and is popular among students, is also heavily censored.
2. Cuba
The vast majority of Cubans do not even have the opportunity to go online. In the summer of 2013, the authorities eased restrictions by opening 118 state-owned Internet cafes, where using a computer costs from 4.5 to 10 dollars per hour, while the average salary in the country is 20-25 dollars per month.
3. DPRK
In North Korea, the majority of the population has no access to the global network at all. Alternatively, there is the North Korean autonomous Internet "Kwangmen", which began functioning in 2000. Facebook, Twitter, and YouTube are obviously banned in this country.
4. Pakistan
In 2010, the Pakistani authorities blocked social networks where images of the Prophet Muhammad were posted. In 2012, YouTube was shut down for the provocative video "Innocence of Muslims", and in 2013 – Skype Whatsapp, Tango, and Viber were banned for three months.
5. Iran
Following the 2009 anti-government riots dubbed the "Twitter Revolution," the Computer Crimes Act was passed, which allows the government to filter sites for content that is contrary to "decency and public morality." During a period of increased political activity, for example, related to elections, the authorities cut off access to Twitter and Facebook. According to the UN, nearly 50% of the 500 most visited websites in the world are blocked in Iran.
6. Saudi Arabia
The country has repeatedly prohibited Facebook, for example, in 2010, for offensive images of the Prophet Muhammad. In 2013, the Viber messenger was disabled and YouTube was banned.
7. Turkmenistan
The monopolist company distributing the Internet to the residents is called TurkmenTelekom. It is authorized to block any sites without explanation. Facebook, Twitter, WhatsApp, YouTube, Gmail, Viber, and other communication sites are constantly failing to work. On April 28, 2013, when the president fell from a horse during the race, YouTube was banned, and websites and social media were cleared of any mention of the incident. It got to the point that the police checked the mobile devices of people leaving the country.
8. Turkey
On March 27, 2014, the Turkish authorities banned access to certain portals. It was reported that the block was turned on when a post denouncing the Prime Minister of Turkey appeared on the Internet. Earlier, he said that he would "root out" Twitter. Then the Turkish Constitutional Court ruled illegal the government's decision to restrict access to the social network and YouTube. However, Wikipedia is still blocked there.
9. Egypt
In an attempt to stop the 2011 revolution, Hosni Mubarak's regime literally cut the country off from the Internet. More than 3.5 thousand routes were limited, which are responsible for routing data between the world web and its Egyptian segment. Before this, the authorities acted surgically: access to Facebook, Twitter, YouTube, Hotmail, and Google was banned by IP addresses.
10. Belarus
On August 9, 2020, presidential elections were held in Belarus; on the same day, thousands-strong protests were organized in large cities. At the same time, people in Belarus were experiencing issues with access to foreign and local websites. Services for bypassing internet censorship were also blocked. The internet was not available in the country until the evening of August 11th.
The authorities blamed the Internet shutdown on DDoS attacks carried out from abroad. IT experts, however, do not share that opinion and say it was an internal act made with the use of some special equipment to filter traffic. Many Belarusians started using Tor and VPNs to reach online resources which were blocked in Belarus but can still be accessed from foreign servers.
5 Best VPNs for Facebook, Twitter, Instagram, TikTok, and YouTube
In addition to the geographical block, social networks can be banned even in very democratic countries:
– with a special firewall at workplaces and in educational institutions
– in case of getting censored for obscene posts
– in the case of business pages – for example, if the address of the company on Facebook is specified in New York, but the administrator regularly logs in from a German IP, then the account may be frozen.
So how to bypass blocked Facebook profile? How can you unblock the Twitter account? Of course, you need a VPN for Instagram and other important media! Here are the most reliable VPNs that can give you access to social media:
ExpressVPN is famous for its connection speeds. So if you enjoy watching videos like IGTV or TikTok, the unlimited bandwidth will come in handy. Feel free to communicate with your friends all over the world and be confident in your activity online: ExpressVPN hides your IP and reliably encrypts the traffic. It works great with unblocking Facebook, YouTube, and Instagram. In addition, this service provides extra protection and safety for your browsing.
NordVPN is especially appealing due to its Kill Switch and Double Encryption options, which are extremely important in the Middle Eastern countries. The first feature will disconnect you from the Internet if the protected connection suddenly fails. The second one will scramble traffic twice and use two servers instead of one. These features were specifically designed to avoid government surveillance and unblock social media.
Surfshark VPN can help you to save not only your privacy but also your money. Besides, it constantly offers various discounts. With the help of this provider, you can open Facebook anonymously, unblock Instagram, change the Twitter IP address, etc. It offers pretty impressive speed, and also provides a Kill Switch feature. Surfshark uses military AES encryption and a dual VPN MultiHop to ensure your anonymity during Internet sessions. You can also use individual DNS on each server, making sure nobody's monitoring your activity.
IPVanish VPN – the name speaks for itself: it is a great IP changer. It will switch your address for the Facebook business page or Twitter account. Bypassing an Instagram ban is also a piece of cake for this provider. For better security, IPVanish uses 256-bit data encryption. Most importantly, it does not record user data, so you stay fully anonymous. The service offers a channel with unlimited bandwidth, unlimited P2P traffic, and an unlimited number of server switches.
CyberGhost VPN has every feature you've come to expect from reliable and stealthy service:
high speed
enhanced privacy
hidden IP
no logs policy
strong Wi-Fi protection
unblocking restricted websites, including social networks
bypassing excessive censorship
straightforward usability.
Of course, each VPN provides apps for most popular platforms and devices and has the possibility of multiple connections through one account.
"I want to break free"
In many countries, there are special laws regulating what is allowed online and what is not. In Spain, for example, crimes committed on the web are included in the criminal code. The situation is similar in the UK. However, the countries mentioned above went further.
Is it possible to limit a person's freedom of expression on their own, personal account? Can it be ok to be put in prison for posting something on the Facebook's wall? Should authorities be allowed to control social media? Unfortunately, the answer to these questions is still a firm "YES" in different parts of our world.