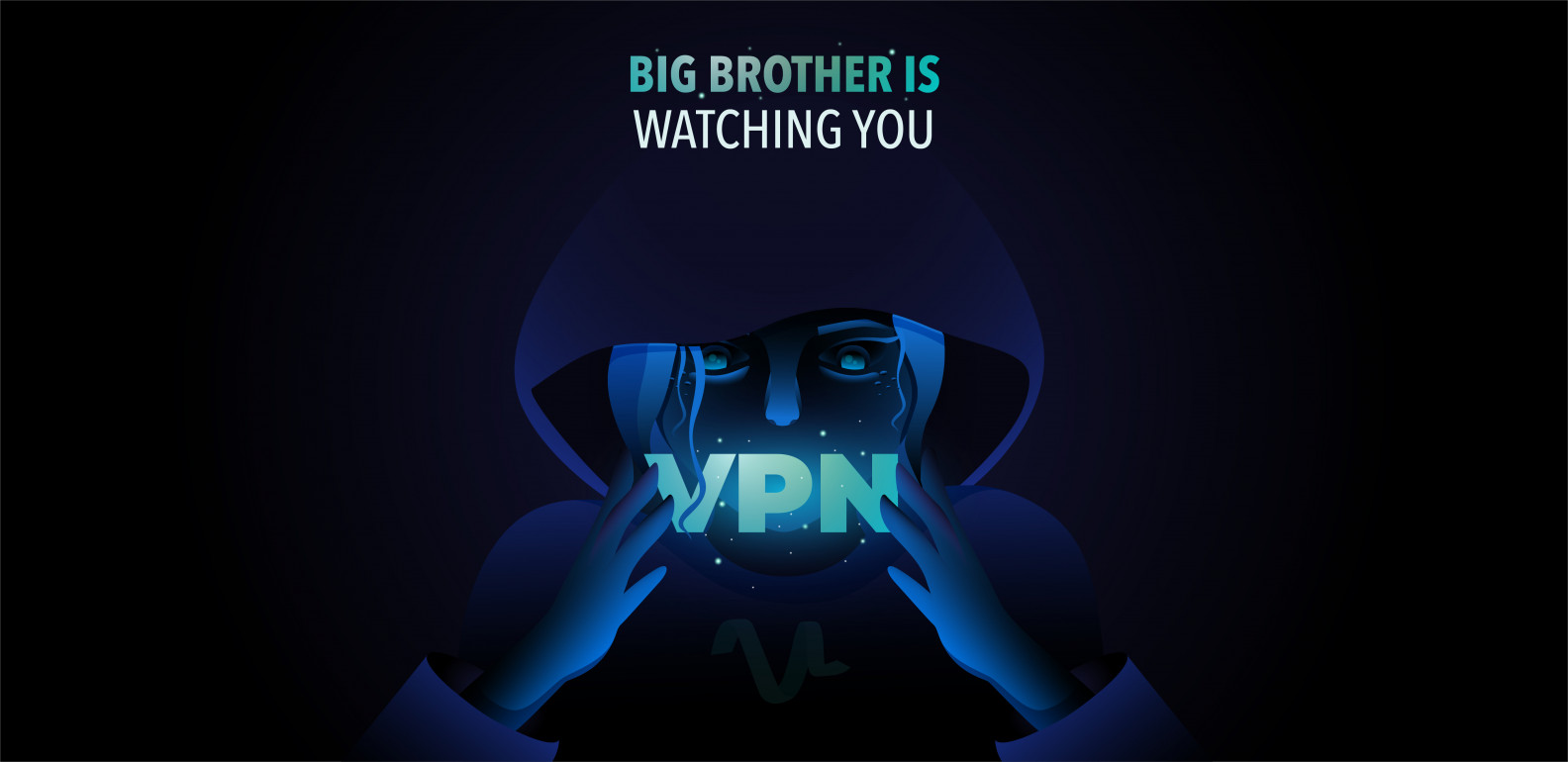 Why Do You Need a VPN in the Dark Web?
Connecting to a hidden network is easier than you might think. The most commonly used tool is the Tor browser, or the Onion Router, an encryption and data transfer technology created by employees of the US Naval Research Laboratory.
It works like this: the message is hidden in several levels of encryption because of which the analogy with a bow suggests itself. Then it is transmitted through many network nodes — the so-called onion routers. Each of them removes the protective layer to find out the next node in the chain. As a result, no intermediary sees either the content or the entire message route. Full decryption takes place only on the recipient's side. This is how you can get into the Dark web. 
Where is a Dark web?
As you probably know the global network is conditionally divided into three layers: 
Superficial, or visible.

These include public, open web resources. That is any site that can be visited via the standard link and found in search engines.

Deep web. Includes content that doesn't get into search engines. The contents of private cloud storage, corporate networks, and various closed databases — all of this is a deep Internet. Most often, access to such resources is protected by login and password.

Darknet, or Dark web. This is the collective name for computer networks for the anonymous transmission of information. There are also services for trading, communicating, and sharing content, but they cannot be opened through a standard browser or found in a regular search engine.
The architecture of covert networks impedes the surveillance of users and control over the transfer of information.
Who uses the Darknet and why?
Dark Web activity is more popular than you think: it is used to bypass network censorship, content filtering systems, and surveillance. It is also suitable for file sharing. For example, journalists often contact informants through Tor. 
Facebook, The New York Times, and the BBC use it to, despite blocking, to remain available in totalitarian countries. The companies even created Tor-versions of their websites on the Darknet. 
Typical Darknet threats
Can you use Tor without a VPN? Of course! But be ready for:
Cyber-fraud. Do not rush to buy anything. After receiving the money, the anonymous author may not fulfill his obligations. Besides, phishing is common in hidden networks — login details to your accounts and cryptocurrency wallets can be stolen through the fake sites.

Shock content. Due to the lack of censorship on the Darknet, it's easier to stumble upon explicit or brutal content, even if you're not looking for it intentionally. Therefore, impressionable people should carefully choose resources for surfing.

Psychological attacks. Manipulators and psychopaths can attack victims in the dark with impunity. The most dangerous can bring a person with an unstable psyche to suicide. VPNs can help you to avoid such kind of pursue. 

The actions of hackers. You can become a prey for the hackers who want to steal money or personal data. At a minimum, you should not click on unknown links and download suspicious files.
So, is Dark Web safe? In most cases, no.
How to enter the Dark Web safely? 
If you want to protect your data in the best possible way, then use Tor and VPN together. The VPN service encryption protocol will not allow infected sites to find your IP address and operations on the Internet, and will also prevent your ISP and all other spies from discovering the use of Tor. Obviously, you don't want to cause too much attention. Therefore, you can even visit Dark Web sites that block connection for Tor users.
Onion over VPN: which provider to choose?
The principal VPN features for darknet VPN are no logs policy,
strong encryption and leak protection, fast and reliable speeds, and anonymous payment options. Find more about basic VPN features you can in the article What is a VPN?
The most popular VPN services for the Onion Dark web browser are:
NordVPN is maybe the best VPN for Tor.
NordVPN
Perfect fit for Tor
This service has a special function — Onion Over VPN. It has all the benefits of an Onion (Tor) router combined with the added security of a VPN tunnel. This method of connection guarantees protection against unauthorized access by the Internet provider or authorities. Your ISP may see that you are using Onion, but cannot see why. NordVPN protects you from all third parties and does not monitor your online activity — you use the Internet in complete privacy.
ExpressVPN has its own DNS servers that guarantee your privacy.
ExpressVPN
Perfect fit for Tor
This service never registers your Internet traffic, so no one will be able to identify you by IP address or timestamp. When you make payments online, ExpressVPN will help maintain complete anonymity. The service does not provide your information to any government sources and does not store traffic logs so that your data does not fall into the wrong hands. All of it makes ExpressVPN one of the best VPN for the Tor browser.
CyberGhost VPN provides protection against DNS-leaks and emergency blocking of connections.
CyberGhost
Perfect fit for Tor
All data is encrypted using the 256-AES hacking protocol. CyberGhost VPN reliably hides your IP-address and makes outgoing Internet traffic anonymous. What makes this provider one of the best VPNs for the Deep Web is its NoSpy server. Only CyberGhost specialists have access to NoSpy servers, they can control and manage these servers. This significantly reduces the risks of external access and interference by these individuals.
Be safe and confident in your security by combining Tor and VPN
VPN is a powerful tool for data protection and online anonymity. You can use VPN to browse the Internet safely and reliably anywhere in the world without worrying about hackers, spies, and malware attacks. However, if you use VPN and Tor together, you can protect yourself and make Tor more secure. If you want to protect your confidential information (such as browsing history or bank information) or avoid online monitoring while browsing Dark Web, you better use an onion router through VPN connection. It is the safest way to use Tor!