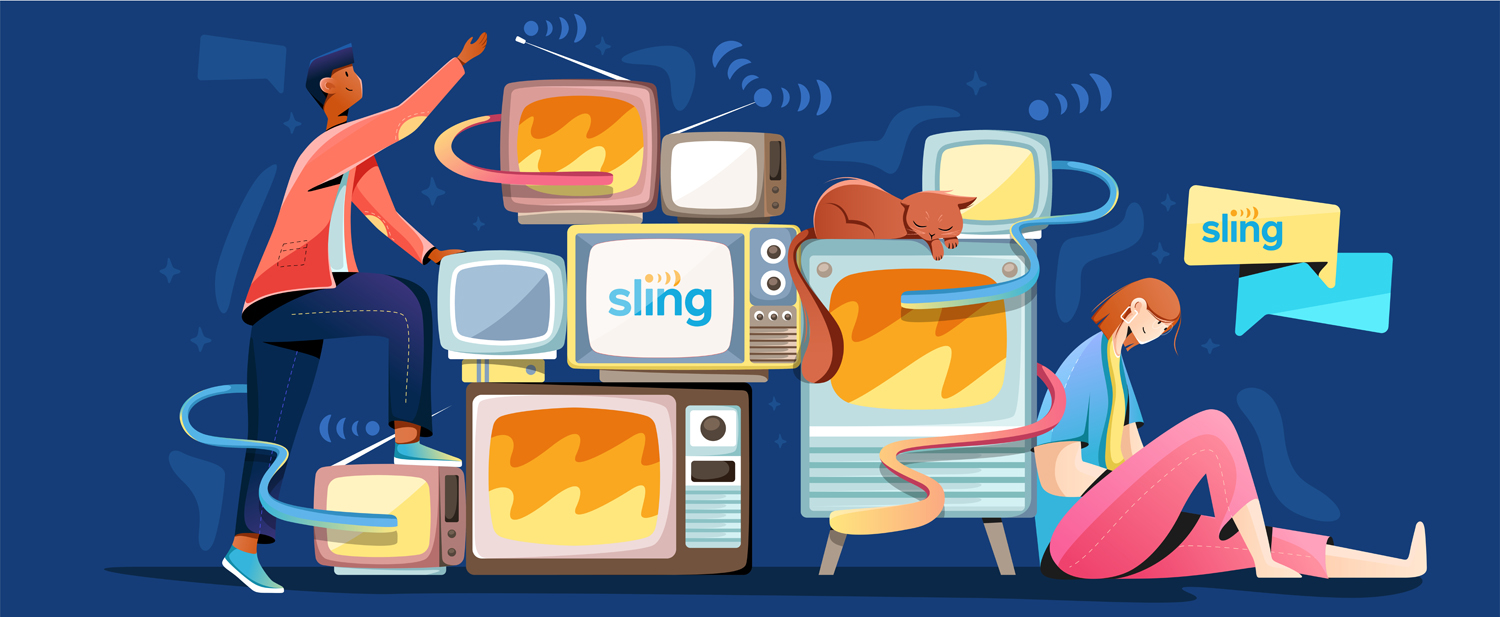 How To Stream Sling TV Outside the US
We should start by saying that American cable is amazing. It's been bringing families together since the dawn of… well… cable. And it's still making the rest of the world green with envy. But now that it's the 21st century, cable is bringing itself online. And one of the few services that help it do so is Sling TV!
Sling TV is one of the few cord-cutting services that have successfully carved out a niche in a crowded pool of streaming platforms.
Its bargain subscription plans and across-the-board offerings make it hard to look past where paid over-the-top streaming services are involved. For just $35/month, the platform offers a decent package of at least 30 essential and premium channels and up to 50 hours of DVR storage. It is, therefore, no surprise that Sling TV has become the go-to service for anyone looking to get American TV as streamable as Netflix.
And we're not just talking about the US. Everyone wants to get their hands on some good ol' American TV. And Sling TV just might be the gateway we've been waiting for… if you have the means to access it!

Watch Sling TV from anywhere with ExpressVPN!
What's on Sling TV?
We will do you one better: Why is Gamora? What's not on Sling TV?
The platform allows you to watch all US television as you would ordinarily do with a cable subscription but in an unbounded sense. Think of it as a web-based TV platform with live and on-demand content.
And this doesn't just mean no more holes in the walls. This is basically all of the American TV you could ever want as easily accessible as Netflix.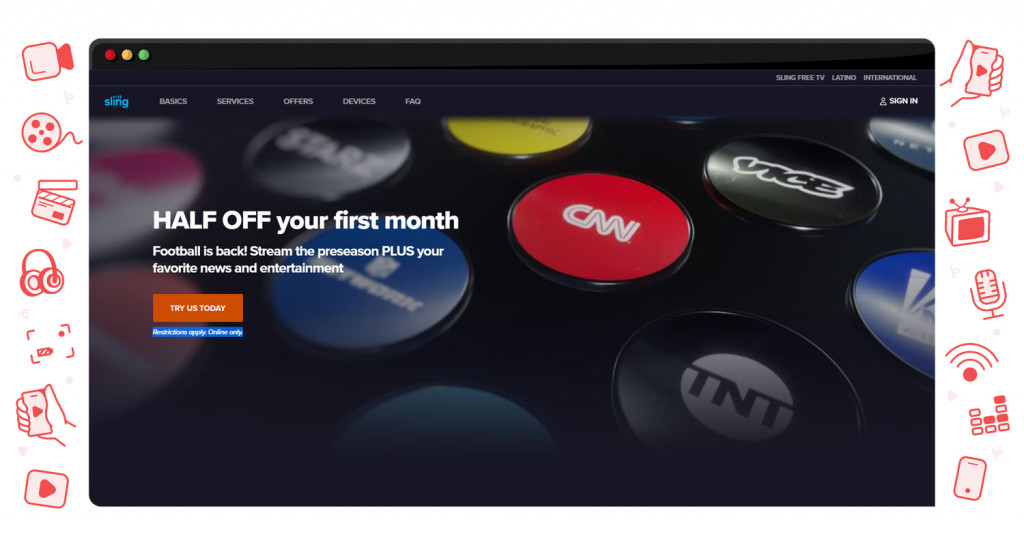 However, there's a bit more to it than that.
Base service
Sling TV offers three plans for its base service – Sling Orange, Sling Blue, and Sling Orange & Blue.
Sling Orange is more or less curated for family content with a catalog of 31 channels. This plan only supports a single device stream, that is, all its package channels can be viewed by only one device at any time.
Sling Blue has a larger catalog of 41 channels, mostly offering Pro Sports and News content. Its channels can also be viewed by up to 3 devices simultaneously.
The hybrid plan Sling Orange & Blue has 47 channels, including those absent in the individual plans.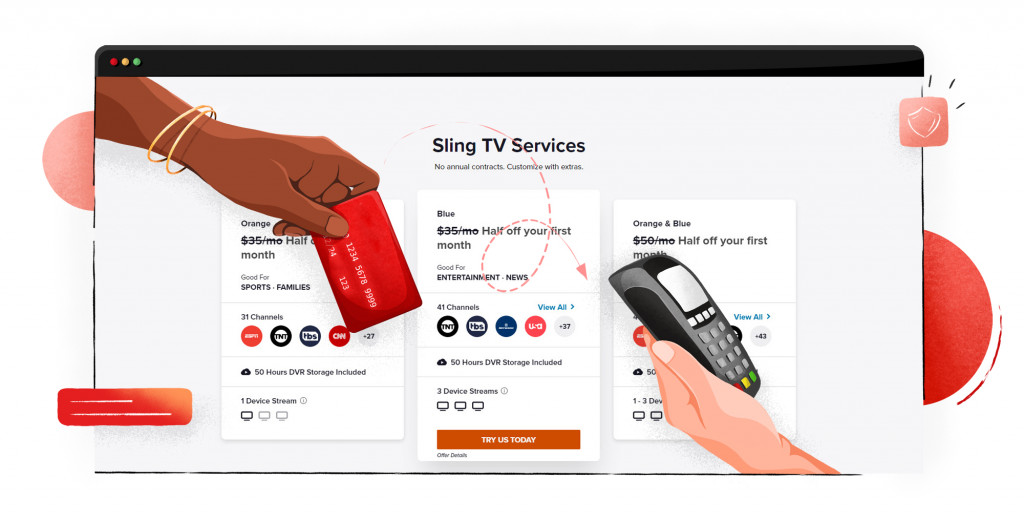 The channels offered across all three base services include TNT, AMC, Comedy Central, BET, Bloomberg TV, CNN, Cartoon Network, TBS, and Vice.
Some popular channels in Blue (but not in Orange) and hybrid plans are Bravo, Fox News, MSNBC, National Geographic, FX, and Syfy. By the same token, the Orange and hybrid plans come with channels like MotorTrend, Freeform, ESPN, and Disney that are not included under Blue.
Additional services
To complement the base service lineup, Sling TV supports other standalone services like Starz and Showtime. Depending on the offered channels, these add-ons cost between $5 and $15.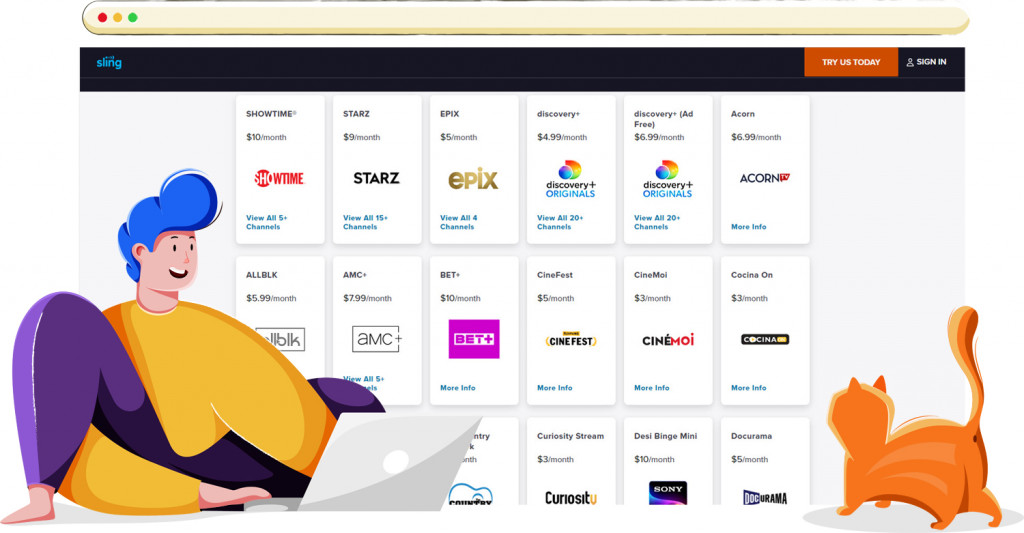 There are also other unique packages for viewers that prefer specific programming, including Sports, Lifestyle, Kids, News, and Comedy. The Sports Extras add-on has 20 dedicated channels, including the MLB Network, NHL Network, NBA TV, beIN Sports, and even the NFL Netrwok. It costs $11/month – all the other dedicated extras on the platform cost $6/month.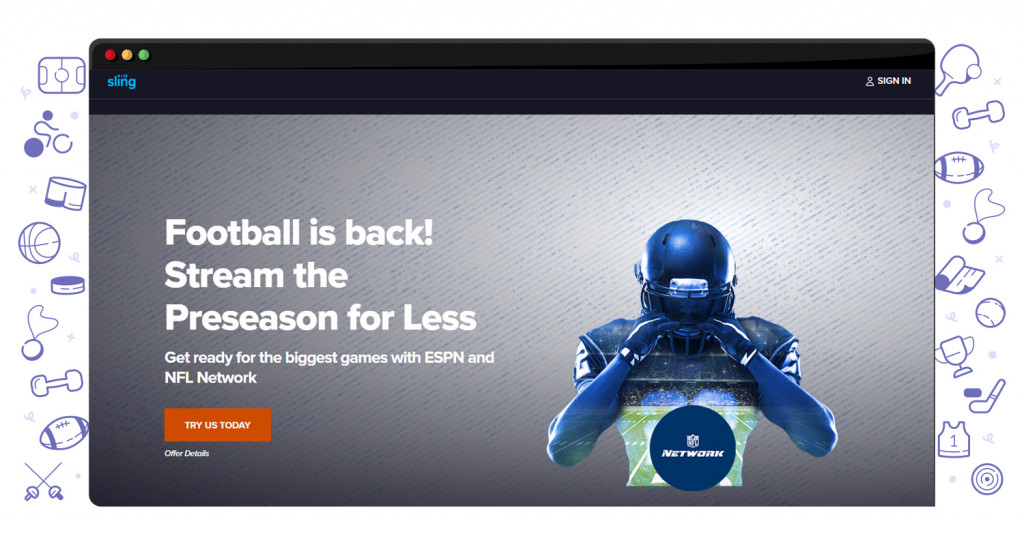 Sling Free
One thing Sling TV has that no other cable-cutting streaming service does is a free subscription.
It might not seem like it offers that much, and when compared to all of the paid subscription tiers it doesn't. However, it definitely has enough content to keep you informed and entertained.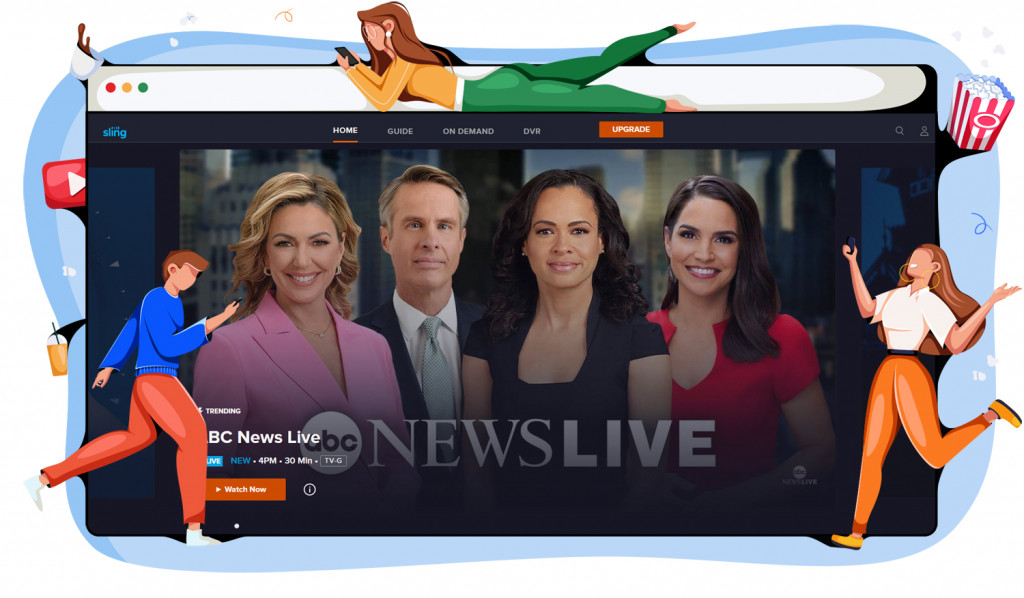 Sling Free has enough sports, news, shows, movies, and even kids' content to hold its own and rank as one of the best free streaming platforms the world has to offer.

Wonder what those may be?
Check out our list of the best free streamers!
However, the free Sling TV subscription is best seen as a sneak peek into the vast awesomeness that you get with a premium account. And given the prices that all other cord-cutters sling (Eoooo!) your way, this is very much appreciated.
Speaking of the other cable streaming platforms…
How does Sling TV compare to YouTube TV, fuboTV, and Hulu + Live TV?
As awesome as it sounds, Sling TV didn't really come up with the concept of "putting cable on the Internet". There might not be a lot of competition in the field, but there are other cord-cutting streaming services that are all fighting for a piece of the streaming pie. Most notably, YouTubeTV, Hulu + Live TV, and fuboTV.
So, naturally, one has to consider how Sling TV compares to the competition and whether the service does indeed offer something others do not.
Funny you should ask! We have taken it upon ourselves to compare all of the cord-cutters, so consider away:
| | | | | |
| --- | --- | --- | --- | --- |
| Platform | Sling TV | YouTube TV | fuboTV | Hulu + Live TV |
| Total Channels | Up to 47 | 85+ | 225+ | 75+ |
| Cost (Base Plans) | $50/mo | $55/mo | $70/mo | $70/mo |
| Max. device streams | 1-3 | 3 streams on 6 accounts | 3 streams | 2 streams on six accounts |
| Free trial | Occasionally offered | Yes – Trial lengths vary | 7- days | 7- days |
| Sign up discount | 50% | N/A | 25% | N/A |
Is Sling TV accessible outside the US?
Though it provides an extensive range of niche programming, there is one slight issue with Sling TV – which you have likely encountered if you are reading this. Sling TV is only available in the US, and since it's pretty much just streaming cable, there is no way it is going to make it over the pond.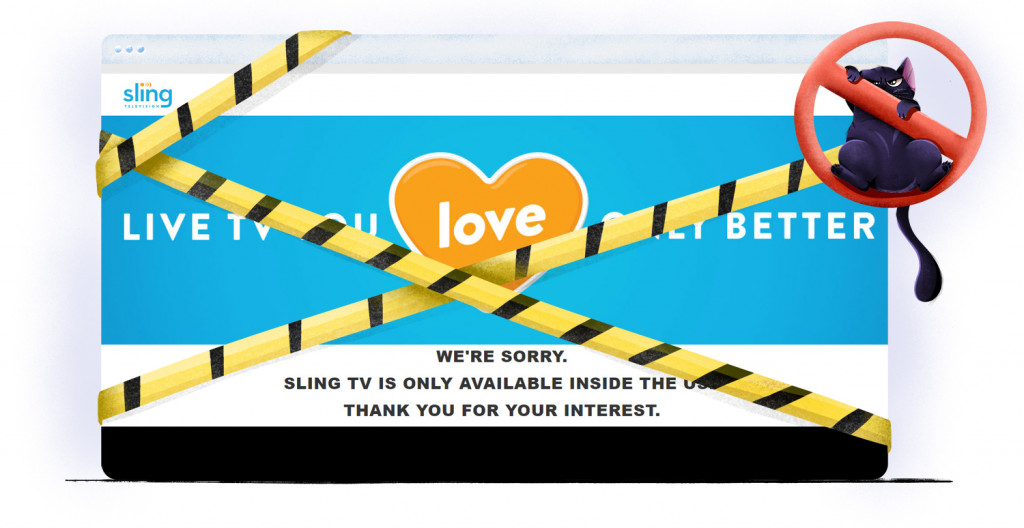 So, much like the proverb, the mountain is going to have to come to the Sling TV.
How can I watch Sling TV from my location?
All the goodness that Sling TV has to offer is geo-restricted, which is a huge inconvenience.
And it's not like all it does is keep anyone who's not in the US out. Even if you live in the States and are a faithful Sling TV subscriber, all of your cable streaming privileges will be revoked as soon as you step outside of the country.

This is called geoblocking
Find out how it keeps content from you!
 Fortunately, there is a quick fix – what you need to bypass the service's geo-blocks is a VPN. But not just any VPN. To crack Sling TV's subscription you have to go for the best.
Choosing the right VPN for Sling TV
American cable is just as precious as its gold supply. So beware: Accessing the streaming service is not easy.
This is why none of those free VPNs will be able to get you where you need to be, which is Sling TV streaming heaven. No. To make this work you have to go for the best of the best streaming VPNs. And there's only one to fill those shoes: ExpressVPN!
Here is why ExpressVPN, and not anything else:
The VPN does a wonderful job at bypassing geo-blocks which ultimately justifies its significantly costly plans compared to other providers.
It also has high-speed servers in more than 20 different locations in the US giving you a range of options to connect from.
In addition to being the best at unblocking streaming platforms, ExpressVPN ticks the other two crucial checkboxes for the right VPN – assured security and privacy.
Want to get to know ExpressVPN better before you buy?
Check out our review for everything you need!
Bypassing the geo-restrictions is only half the fix. You need to pay for your preferred plan when signing up which is equally not a straightforward process. Currently, Sling TV supports both Credit Card and Express Payment options in Amazon Pay and PayPal.
How to Sign Up for Sling TV Outside the US
There are two ways to complete checkout when subscribing to the service outside the US – using a Gift Card or a US Virtual Prepaid Card.
For the former option, you need a gift card that you can purchase online on PayPal's Gift Card Store before signing up. The alternative option is to use a virtual prepaid card from a reputable third party and complete the payment process.

Your own American bank account anywhere!
Here's the step-by-step guide on how to watch Sling TV:
Get ExpressVPN on your device.
Connect to any US-based server.
Sign up for a virtual prepaid card from virtual payment providers like Wise, ideal for longer commitments, or US Unlocked, which is suitable for quick and smaller payments or subscriptions.
Once the card is approved, visit the Sling TV website and sign up for a new account.
Use your virtual bank credentials to complete the checkout process.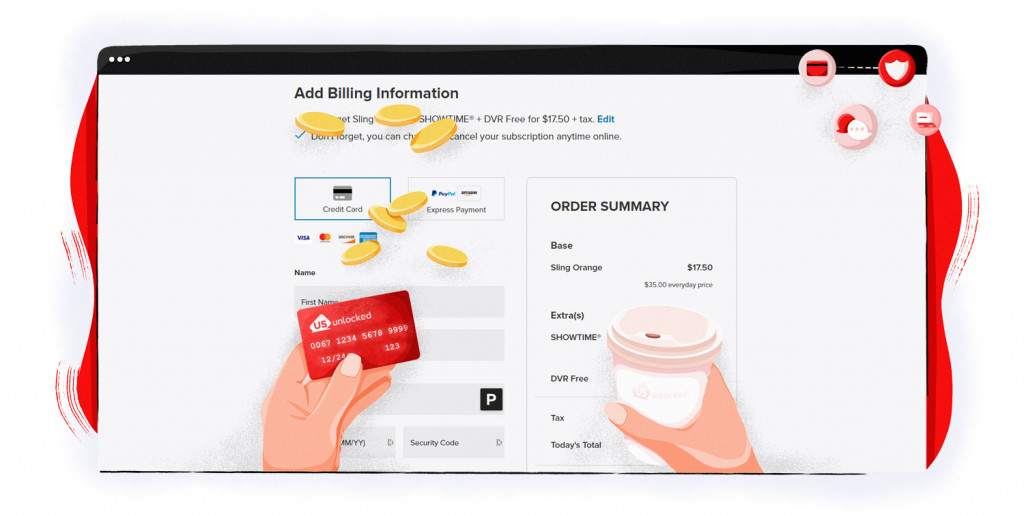 Nice! You are now able to browse through and enjoy absolutely everything the Sling TV platform has to offer.
The best of cable at a bargain!
Sling TV has grown to become a popular streaming service among cord-cutters since its launch in 2015. The platform has so far kept up with the stiff competition from other services, simultaneously proving to be a solid replacement for cable TV.
And you can start enjoying everything the platform has to offer yourself today!
All you need is a VPN. Just remember to set up a connection with a server in the US before visiting the website, otherwise, your browser's access request will be denied.