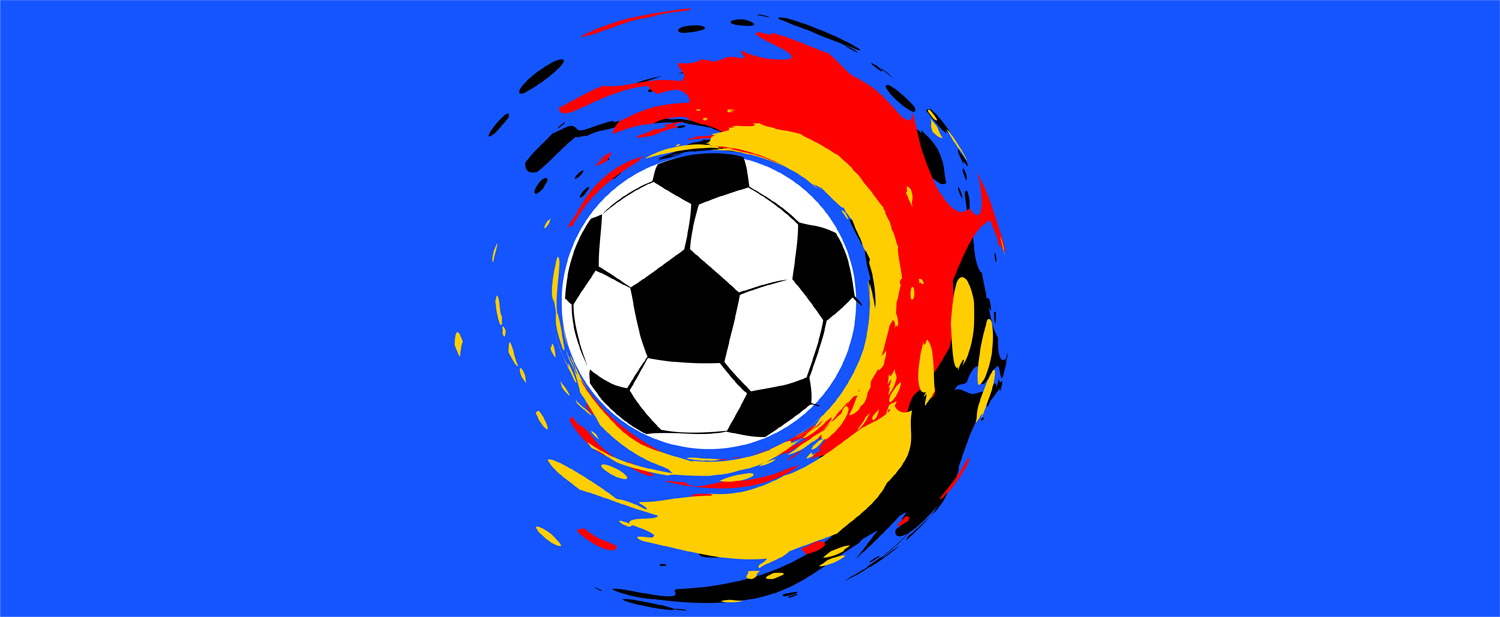 How to watch Bundesliga 2022-2023 from anywhere
In the immortal words of legendary Gary Lineker: "Football is a simple game. Twenty-two men chase a ball for 90 minutes and at the end, the Germans always win." Well, now is the time when this statement can be nothing but true for it's Bundesliga season!
You heard it right! The 2022-2023 season of the Fußball-Bundesliga is finally upon us. The season kicked off on the 5th of August and will run until May 2023. Bundesliga 2, which might be even more interesting to some has already kicked off on July 15th and will run through May as well.
In recent years, the Bundesliga has amassed a huge level of appreciation both inside, and outside of Germany. It's seen as one of the best soccer tournaments the world over, it's a great place to see emerging talent as well as football innovations that ultimately shape the sport. And it's simply a true pleasure for any fan to enjoy.
Enjoyment is where things get tricky though. While it is a German football league, the Bundesliga has a massive following and fans all over the world. Following the tournament, however, is tough not just outside of Germany, but in the country itself.
So we're here to talk about anything and everything streaming the 2022-2023 Bundesliga tournament so everyone can appreciate it!

ExpressVPN: Stream the Bundesliga wherever you are!
Bundesliga 2022-2023 expected highlights
Before we get into all of the intricacies of following the Bundesliga, it might be nice to go through why you definitely should tune in and follow Germany's main soccer tournament.
First of all, this is the first time in a while that Bundesliga champions Bayern Munich will be playing without their heavy-hitter Robert Lewandowski who has left the team for Barcelona in-between seasons. Lewandowski was a crucial component of Bayern Munich, scoring 98 goals in the past two seasons alone. It's hard to see the team without him. So it is very interesting how the reigning champions will do this time around without their star player. During the break, Bayern Munich did replace Robert with Premier League star Sadio Mane so it's very interesting what he will bring to the table after an incredibly successful career so far.
There are also a lot of new coaches in the mix, as is tradition following the end of every Bundesliga season.
Dortmund ended up with Edin Terzic, Gladbach is going with Daniel Farke, Hertha Berlin has brought back Sandro Schwarz, and Wolfsburg has brought on the former Bayern Munich boss Niko Kovac. It's not often that fans get to see so many coaches being swapped out and we are curious to see how the teams will change under the new guidance.
And, finally, it's always interesting to see whether anyone will be able to challenge Bayern this year. As things are looking now, this doesn't seem likely. However, there's always a Cinderella story with every Bundesliga season, and the 2022-2023 one will probably not be an exception.
So it seems that the current tournament will be as lively as ever. So the obvious question is: How can you stream it?
Who is streaming the 2022-2023 Bundesliga?
Bundesliga might be a German tournament, but it has always been exciting and in the last few years it has gathered a massive audience all over the world. So there's no lack of streaming options.
However, as with any soccer tournament, watching the Bundesliga might turn into a bit of a hassle. Not to mention cost an arm and a leg depending on where you live. While in some countries enjoying the tournament comes at a reasonable rate and doesn't require you to take out a bunch of useless streaming subscriptions, others might have to deal with just that.
For example, Italy and the UK can only enjoy the entire tournament on Sky Sport.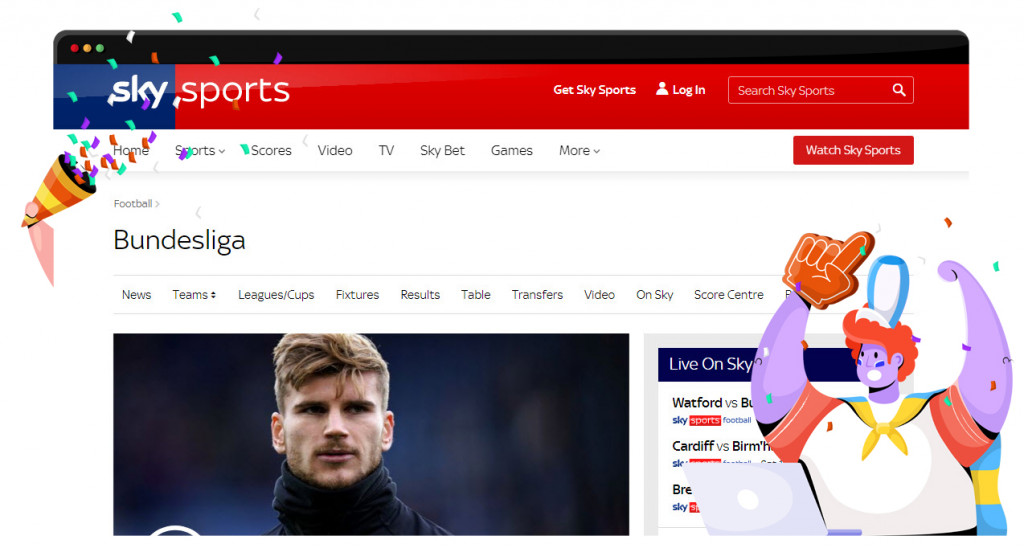 Poland, on the other hand, can only enjoy the tournament on Viaplay, a new streaming service that has been buying up sports streaming rights like there's no tomorrow. And Australia and France can only follow the soccer competition on beIN.
So, as you can see, the rights to the Bundesliga are as all over the place as they can be. Not to mention the price! While some get to enjoy some of the matches for free, others have to pay massive monthly premiums.
But what if you didn't have to? What if there was a better way to stream the Bundesliga for everyone? Now we're talking!
The one thing you need for a better way to stream Bundesliga 22/23
Every country in the world has its own way of streaming the 2022/2023 Bundesliga. And it just so happens that some have it better than others.
But what if you could join them? What if you could have a better viewing experience, without having to pay too much for it?
Well, all you have to do is find a way to make all of those better local streaming options believe that you have the right of passage and you just might have the best Bundesliga streaming experience the world has to offer. And for that, you need a VPN.

Curious to know more about VPNs?
Check out our full guide to everything you need to know!
But not just any VPN. Somehow, the rights to football streams are protected more than anything else, which is why you need a VPN that can keep up with the restrictions. And there's only one that can cut the mustard: ExpressVPN!
So what makes ExpressVPN superior when it comes to streaming football? Well, how about all of this:
ExpressVPN is as focused on streaming as it is on your online privacy and security.
This is THE VPN that can unblock any sports stream you might want to watch.
Unlike most VPN providers that focus on the US, ExpressVPN has some of the toughest servers all over the world giving you plenty of options to connect to when looking to stream something.
It's fast, the fastest VPN in the entire industry, actually, so you will be able to stream all of Bundesliga with no interruptions.
Want to know more?
Check out our full ExpressVPN review!
Now that you have the right tools, time to get to the actual streaming options.
The best ways to stream the 2022-2023 Bundesliga tournament
You might not be the biggest fast of the Bundesliga streaming options you have in your country. But there are plenty of better ones if you venture outside of your virtual comfort zone.
We have scoured the internet to bring you the best ways to watch the 22/23 Bundesliga championship. So here goes:
OneFootball
Believe it or not, there are still places that believe in streaming football for free. The problem is getting there.
One of the few places where you can still catch ALL of the 2022-2023 Bundesliga completely free of charge is the revolutionary freemium platform OneFootball. However, you can only find free streams in Brazil – the only country where the streaming platform has Bundesliga streaming rights.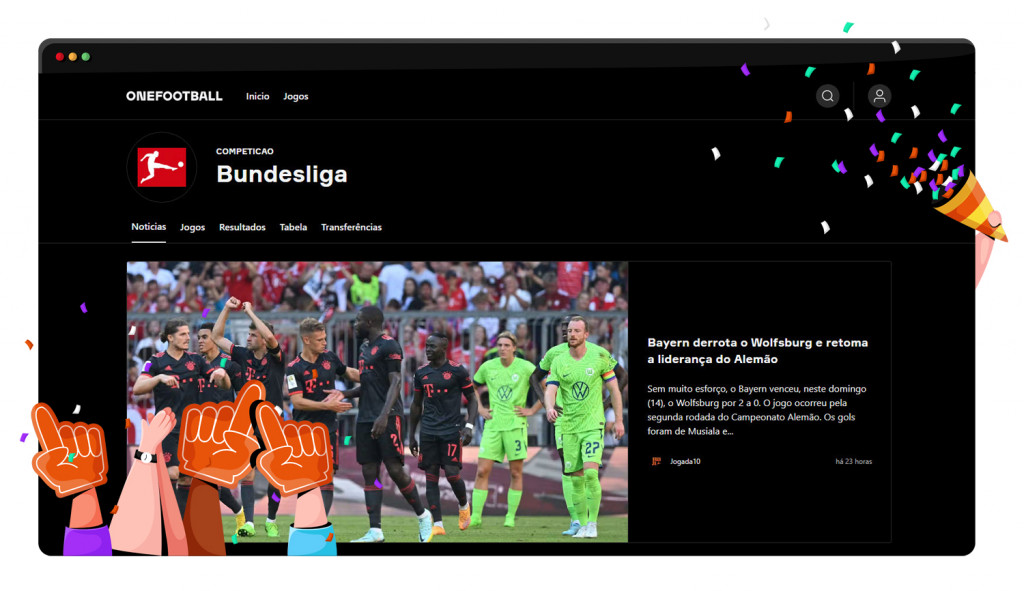 Can you imagine it? Almost a year's worth of Bundesliga content for free! And all you have to do is move to Brazil.
That, or arm yourself with a VPN that is actually capable of unblocking streaming services in the country. And there is but one that we know of: ExpressVPN. And here's all you have to do to get it:
Get ExpressVPN.
Launch the app can connect to one of the provider's amazing Brazillian servers.
Launch the OneFootball app (but we recommend using the website).
Stream all the Bundesliga you could ever want!
Sat1 and Ran
When it comes to streaming the Bundesliga, you have to start at the source. And, of course, Germany had to make some of this season's matches free to watch!
This year the best places to catch some of the matches are Ran.de and Sat1. Granted, they won't be showing every game of the season, but it's a great place to catch some of the more important matches, including the opening and the closing ones. This is also a great place to catch all of the season's highlights completely free!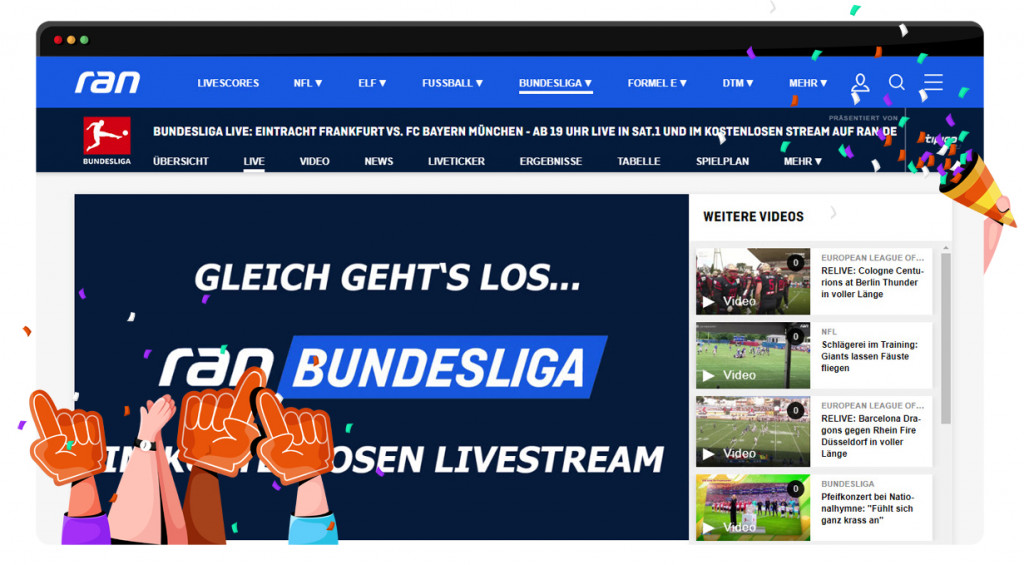 As you would expect, the live streams are only available to the people inside of Germany. However, with the help of ExpressVPN, you can pass as one with but a click. All you have to do is:
Get ExpressVPN.
Connect to a server in Germany.
ARD
While we're on the topic of Germany, another great place to follow the tournament is a local channel ARD which has its own online live ticker.
It might not be streaming the Bundesliga matches live, but it does provide audio live streams, which is great if you speak a bit of German, they feature live scores, and it's a great place to stream 2. Bundesliga matches live. But best of all, it's free for anyone in Germany!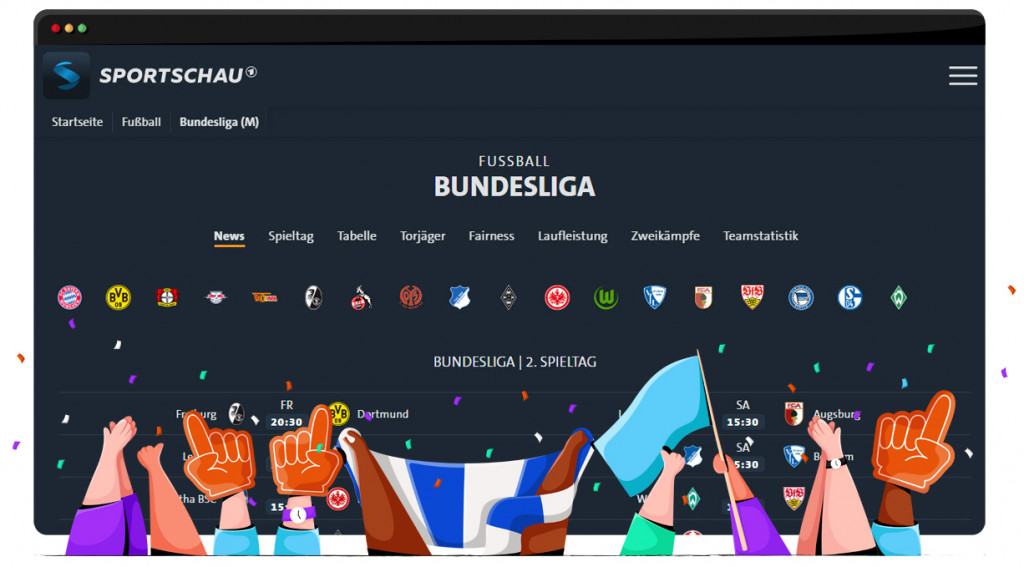 You won't be streaming much of anything outside of Germany, but ExpressVPN can fix that right up. Here's what you do:
Of course, start by getting ExpressVPN.
Connect to a server in Germany.
Head over to the ARD Sportschau segment, listen, watch, and cheer!
ESPN+
Juke! Taking you to the US with this one! And this is probably the best way to follow the tournament in its entirety!
Germany might be the home of Bundesliga, but the main rights holder to streaming the event in the country ty is DAZN, and a monthly subscription to the service costs nearly €25! So even the local fans are not willing to pay that.
In the US, however, the rights to the 2022-2023 Bundesliga tournament are with ESPN+. You can stream every game, get a ton of additional content, and, of course, the signature ESPN commentary that you won't find anywhere else!
But the best part about streaming Bundesliga on ESPN+ is that it only costs $6.99. And if you bundle it up with Hulu and Disney Plus, it's a steal!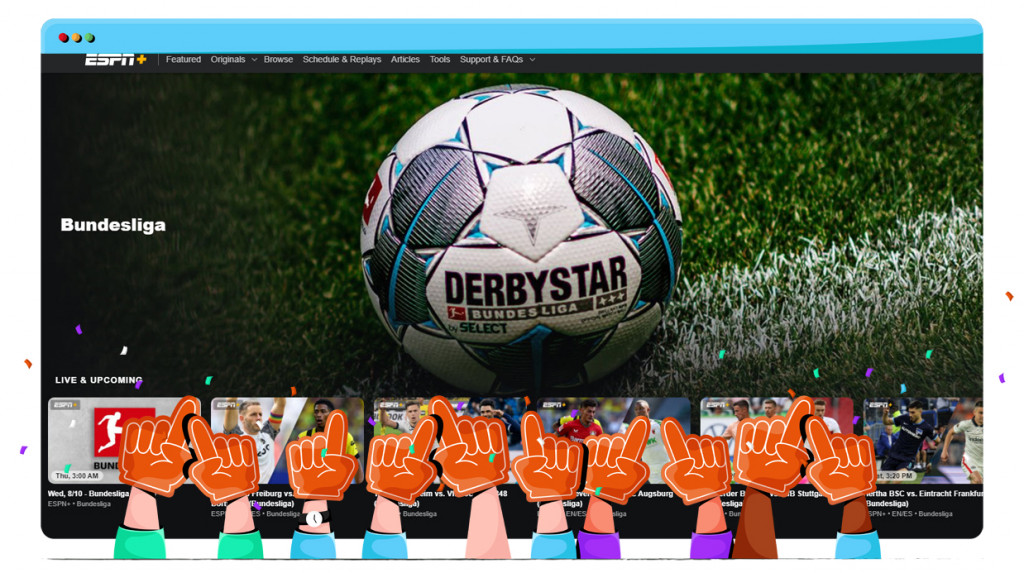 Of course, ESPN+ is only available in the US and it has no plans of broadening its horizons. But with ExpressVPN digital borders mean absolutely nothing! So:
Get ExpressVPN!
Connect to one of the provider's amazing servers in the US.
Head on over to ESPN+ and make an account. You might have to use an American payment method to take out a subscription, but you can easily do so with the help of awesome services such as Wise or US Unlocked.
All that's left is to enjoy!
Don't forget the beer!
Because beer has to go together with any German soccer stream. That's the law!
Soccer streams are getting tougher to access year after year. There seem to be nearly no free streaming options left, and you might be cut off from the action. So much so that the 2022-2023 Bundesliga seems to be nearly inaccessible to the average fan at first glance.
But, with the likes of a powerhouse that is ExpressVPN guiding the way, anything is possible. So get yourself a shiny new VPN subscription, pick your streaming poison, and enjoy. If you're a football fan, this is the new way to go!