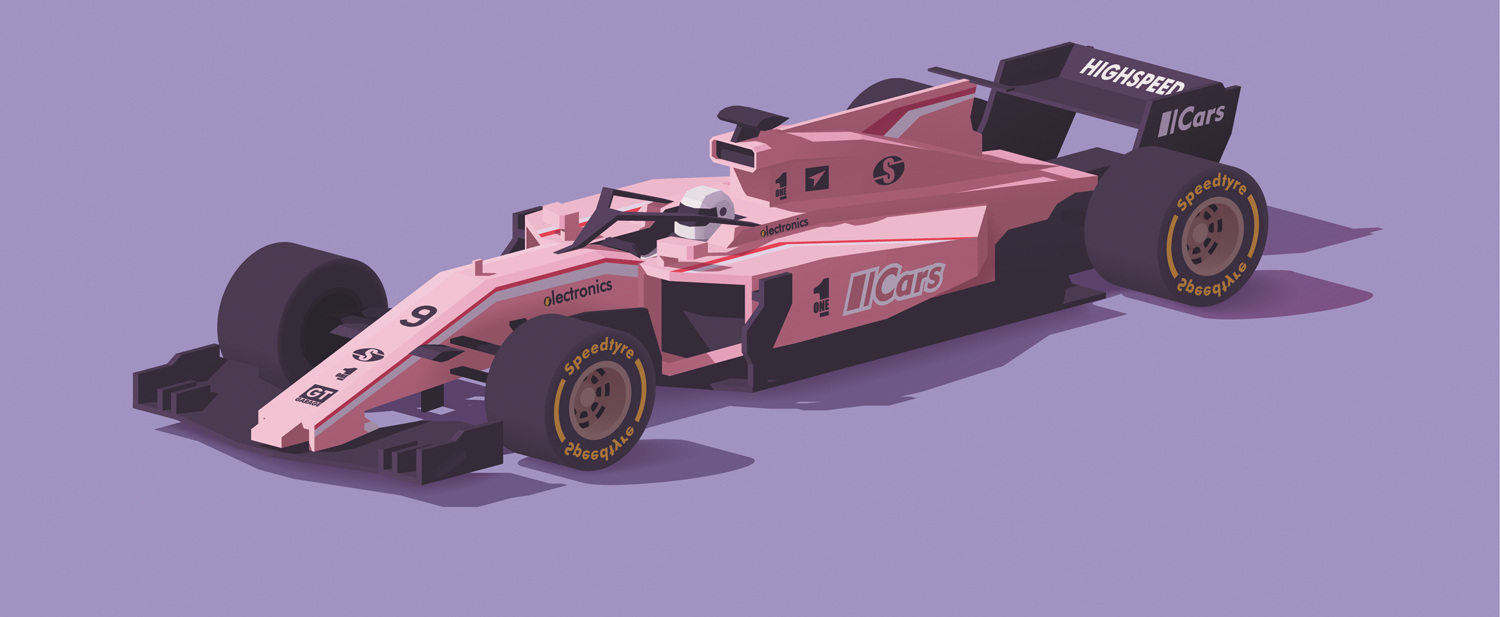 How to stream the Emilia Romagna GP 2022 live and free?
So how about that Australian GP, huh? Charles Leclerc clinching his second win of the 2022 season, letting everyone win that Ferrari's first win of the season wasn't just a fluke. And the Emilia Romagna GP that's up next is taking Ferrari to home turf.
And, honestly, we couldn't be happier. We've been waiting for Ferrari to make a comeback for years now and have almost given up hope. Almost. But we're happy we didn't.
On the other hand, last year's favorites Hamilton and Verstappen have a lot to prove, as they don't seem to be getting better this season. However, things might still change on a dime with a lot of this year's season ahead of us, and the next race in Imola being right around the corner.
We know you are excited because we sure are! The question is: What's the best way to stream the upcoming race?

ExpressVPN: Never miss a race again!
How can you stream the Emilia Romagna GP in 2022?
Formula 1 rights are as hot as they come. So every year every country's streaming services scramble to acquire the rights and never let them go.
Sure, you can ride along with your favorite driver on F1 TV. But if you have that kind of money lying around, you might as well catch a plane to Italy, and, well, ride along with your favorite driver.
Other than that, fans in the US have the option to stream the season on ESPN. The UK can stream all of the races on Sky Sports. Australia can stream the GP on Kayo Sport, and Canadians have a wide range of channels and streaming platforms, including RDS and TSM.

We've covered all of your streaming options in our guide
Check it out!
But who wants to dish out cash left and right? The true competition is being able to stream every 2022 F1 race both live and free! And lucky for you, we found FOUR ways to do that!
The one thing in common between them? – All of them are local, and geoblocked, which means you have to find a way to overtake those limitations.  And we know just the virtual race car for the job: ExpressVPN!
Why is ExpressVPN the best VPN for F1 streaming?
There are lots of different VPNs out there. Even free ones! So one might be tempted to go for a lesser provider.
However, when it comes to unblocking streams as tough as Formula 1, there is simply no substitute for ExpressVPN.
And here's how this amazing VPN provider is going to help:
When it comes to sports streaming, no other VPN does it quite like ExpressVPN.
This is the ONLY provider you should consider when looking for some good old sports cheering!
ExpressVPN is as fast as an F1 race car.
This means you will be able to stream anything you want from anywhere you want. And that's a guarantee.
ExpressVPN might not have the biggest server count, but it sure has the most diverse server network.
And with some of the streaming options we found, you are definitely going to need all the diversity you can have.
Its logo kind of looks like a race track. Coincidence? We think not!
Want more?
Check out our full ExpressVPN review!
The four ways you can stream the Emilia Romagna GP for free
We have gone all out this time, and found four whole ways of streaming the Imola race not only live, but also completely free (if you happen to have an ExpressVPN subscription).
So, without further ado:
ServusTV
Everyone's favorite Austrian place to catch all of the F1 is coming through yet again, streaming the entire GP both live and free.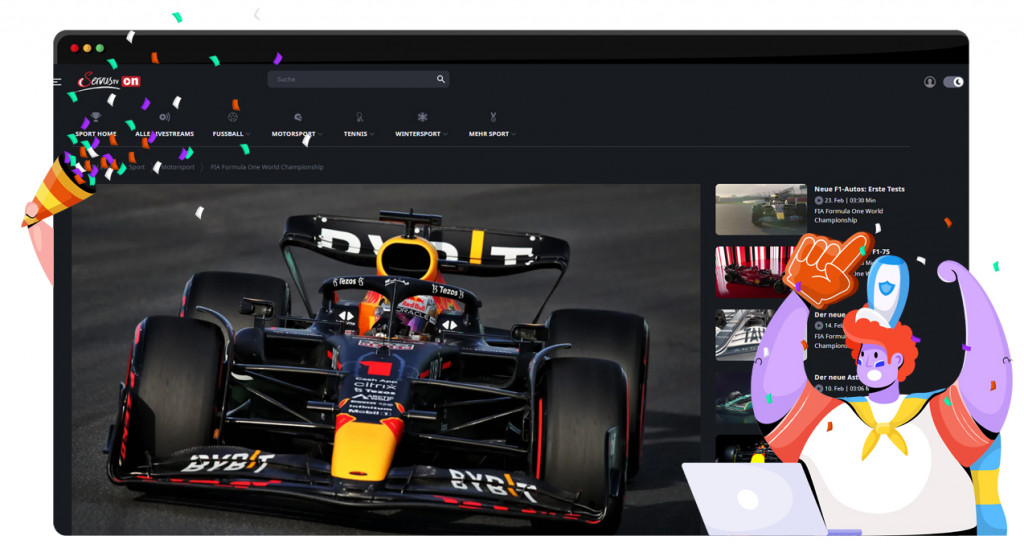 ServusTV has been ramping up security, as of late, so you definitely need the powerhouse that is ExpressVPN by your side. And here's how you would go about cracking the stream:
Get ExpressVPN.
Connect to an Austrian server.
Head on over to ServusTV and tune in!
Don't forget the 'bier'!
TV8
The host of the race usually broadcasts the race for free, and that's definitely the case with Italy!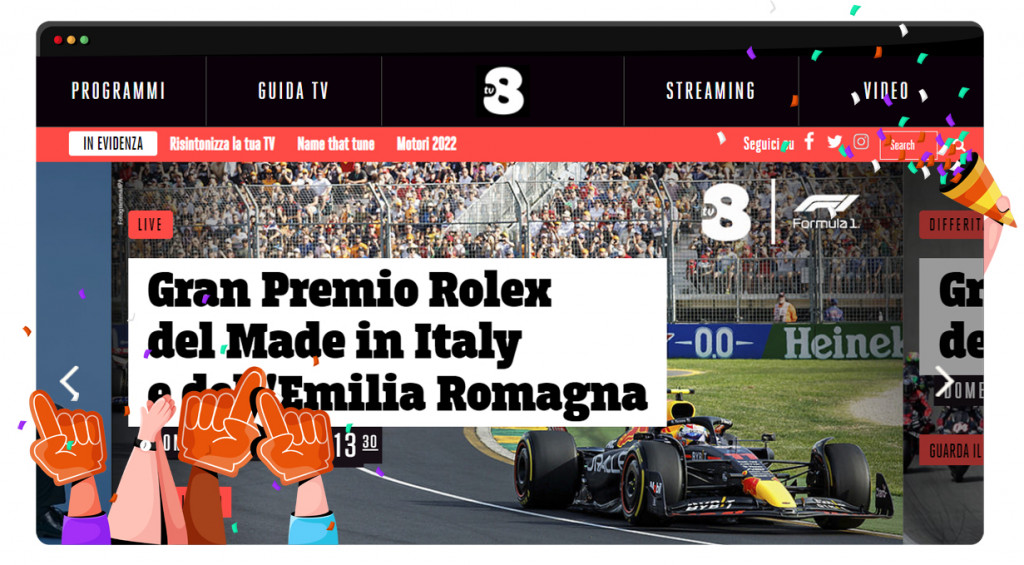 TV8 will be streaming the entire weekend live, free, and in stunning Italian. And here's how you can enjoy all of it:
Subscribe to ExpressVPN.
Connect to one of the provider's Italian servers.
Tune in to TV8.
Grab some pizza to set the mood!
RTBF Auvio
The Belgian streaming platform RTBF Auvio comes through yet again [if you can navigate their elaborate website].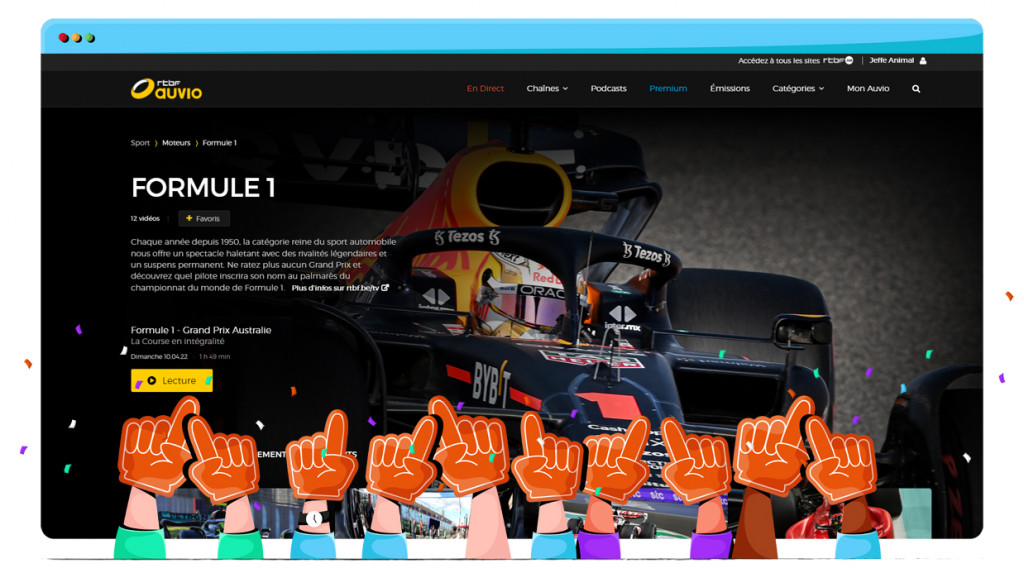 And lucky for you, the Belgian stream is no match for ExpressVPN! So:
Get ExpressVPN!
Connect to a Belgian server.
Head on over to RTBF Auvio and make a free account with a Belgian postcode.
Enjoy!
RTL Zwee
If you're really looking for an out-there stream, then nothing will do it better for you than RTL Zwee – a free streaming platform from the tiny, yet awesome country of Luxemburg. And it's streaming the entire F1 session for free in 2022.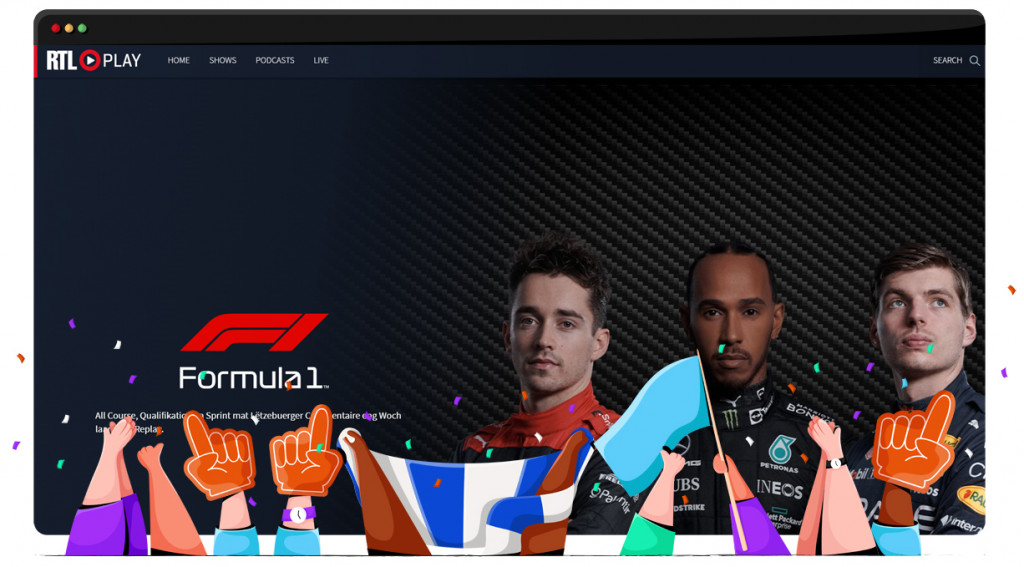 ExpressVPN has you back, probably being the only VPN with a server in the country. And here's how you can access the stream:
One last time: Get ExpressVPN!
Connect to a sever in Luxemburg.
Head on over to RTL Play and tune in.
More 'bier'!
Why pay?
We all know that nothing beats free. And whatever you're paying for your current streaming options, ExpressVPN is definitely a better deal!
So get yourself our leading VPN provider. Get your beer helmet ready, your pizza piping hot, and our guide to lead the way, and enjoy the Emilia Romagna GP in the best way possible – live, free, and exciting!