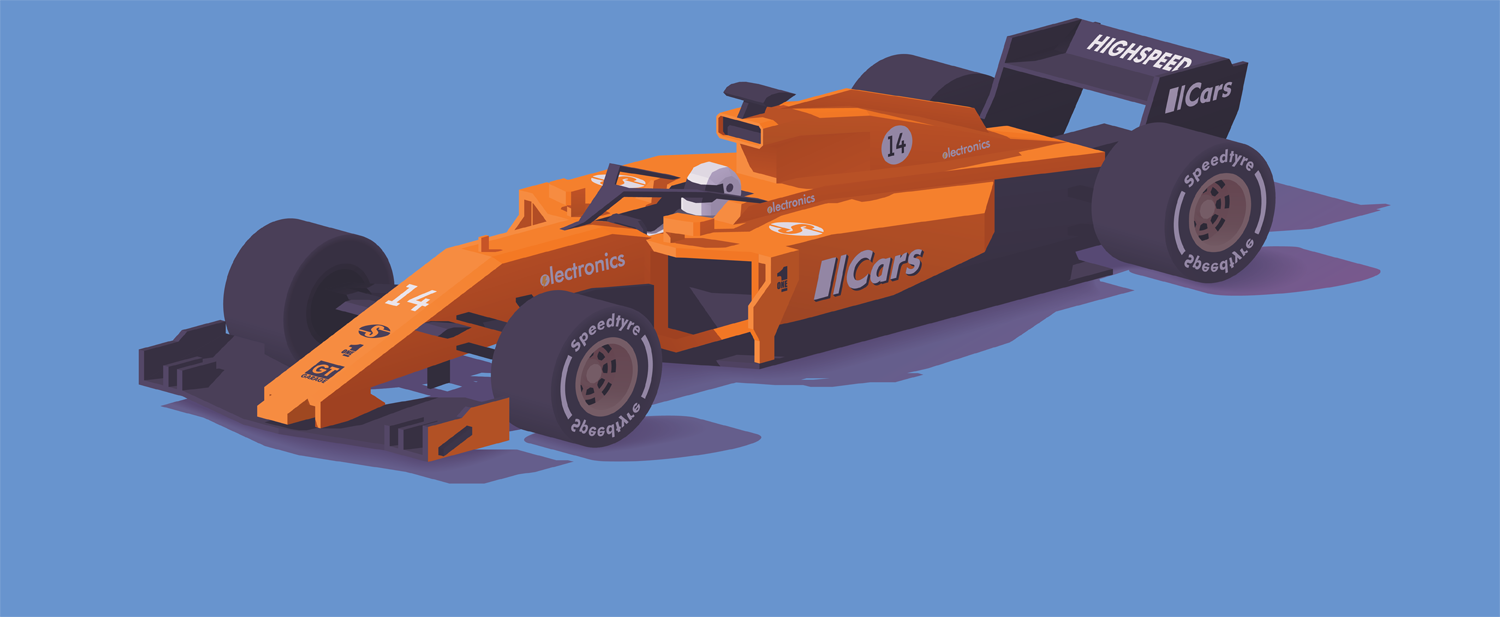 How to stream the 2022 F1 Canadian GP live and free?
What a race at Azerbaijan it was! Given how the season was shaping up we knew that the race would be spectacular, but the 2022 Baku GP managed to blow us away.
Rarely is the Azerbaijan race one of the highlights of a Formula 1 season, but 2022 managed to prove us wrong and give the Grand Prix of Baku the love and attention it deserves! And, if anything, this sets the perfect stage to see what's to come.
But back to Baku for now. The Dutchman Verstappen has proven to be unstoppable once again, further enhancing his 2022 lead. His teammate Sergio Pérez took second place, proving that Red Bull is a force to be reckoned with.
Ferrari was struck with misfortune again, though. Due to their cars' malfunction, both Leclerc and his teammate Carlos Sainz had to retire from the race. And while all is not completely lost for the team, it doesn't look especially good.
Mercedes isn't doing that much better. Russel managed to clutch 3rd place on the podium, and Hamilton did place 4th (which is his best performance the entire season), even still they are struggling with their cars. The porpoising issue could have taken Hamilton out of the running due to back issues entirely, and right now it's up in the air if he will even participate.
What does all of this amount to? The next race, of course! And next up it's the Canadian GP!

Watch the Canadian GP live and free with ExpressVPN!
How to stream the 2022 F1 Canadian GP live and free?
Everyone wants to stream the upcoming Canadian GP. But this is exactly where things get complicated.
This time around, even Canadians themselves don't have a way to stream the GP for free. So wherever you are, you might be off even worse, stuck with either having to have a cable subscription or take out an elaborate streaming subscription.
But don't call the cable guy just yet for we know how you can stream the Canadian GP not only live but also completely free!
Want to know more about F1 streaming?
Check out our full guide for 2022!
See, some places in the world actually make their F1 broadcasts free for their viewers. And while this sounds like a dream come true, this is only for the locals to enjoy. Do not despair though, for all you need to break down these restrictions is the right VPN. What is the right VPN for streaming Formula 1? Well, there are no two ways around it – it's ExpressVPN!
You might be wondering why we choose this provider above any of the dozens of others. Well, there are a couple of reasons:
ExpressVPN thrives on breaking through online restrictions.
There is actually no better VPN for streaming sporting events than ExpressVPN. Period.
When it comes to servers, ExpressVPN might not have the most of them, but it does have the most diverse network out of any VPN provider.
Fast, reliable, and available in every country of interest, this is the VPN to go for if you want to access free F1 streams.
Above all, ExpressVPN is the fastest VPN provider in the world.
When streaming an F1 race, the last thing you want is lag. And with the speeds that ExpressVPN brings to the table, this will never be an issue.
Want to know more?
Check out our brand new ExpressVPN review!
Now that that's done, time to figure out where you can actually stream the Canadian GP.
Who is streaming the 2022 Canadian GP live and free?
This time around we have found three ways to stream the 2022 Canadian GP both live and free. And with ExpressVPN by your side that won't be a problem – we have personally tested them all!
So, let's go!
ORF1
Austrian channels ORF1 and Servus TV share the rights to the F1 races this season. One of them streams half of the races, and the other one streams the other half. And the Canadian GP is on ORF1's turf!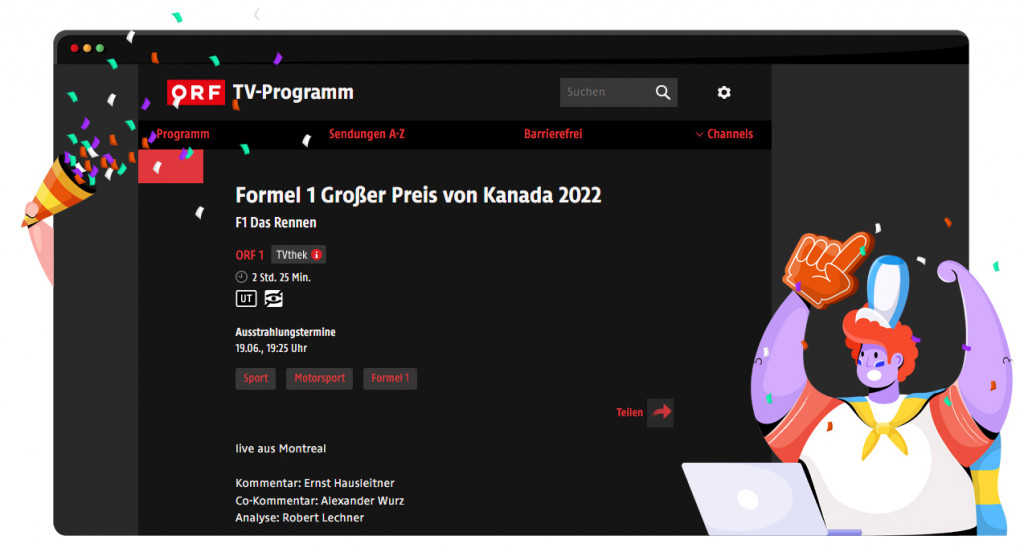 Now, getting to watch the F1 stream on ORF1 is not as easy as it once was, but with ExpressVPN you can definitely get it done! Here's what you need to do:
Get ExpressVPN.
Connect to a server in Austria.
Go to the ORF1 websites and enjoy the live stream. No registration or anything.
RTL Zwee on RTL Play
Next stop on our list – RTL Zwee which comes from the little and awesome country of Luxembourg.
You guessed it, the channel will be streaming the Canadian GP live and free and you can follow all of the excitement through the RTL Play online streaming platform.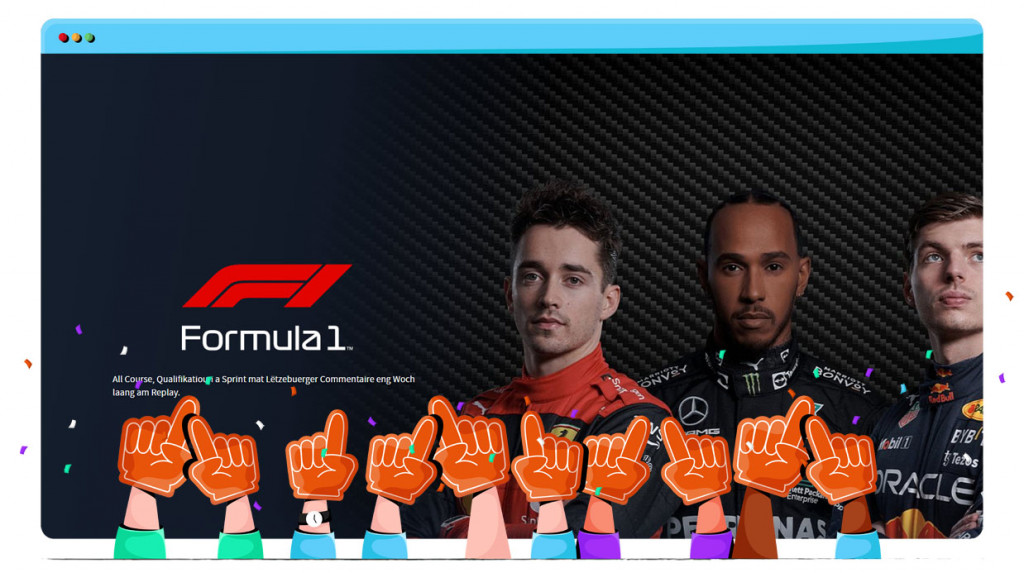 The streaming platform, however, is only accessible to locals. Fortunately, with ExpressVPN as your co-pilot, you won't have any problems passing as one.
Here's what you have to do:
Get ExpressVPN if you haven't already.
Connect to the provider's stellar server in Luxembourg.
Head on over to the RTL Play streaming platform, navigate to the RTL Zwee stream and enjoy the race when the time comes!
RTBF Auvio
Last but certainly not least is the RTBF Auvio streaming platform courtesy of the Belgian RTBF channel.
And this year the platform will be streaming the entire F1 championship for free, and that includes the Canadian GP of course.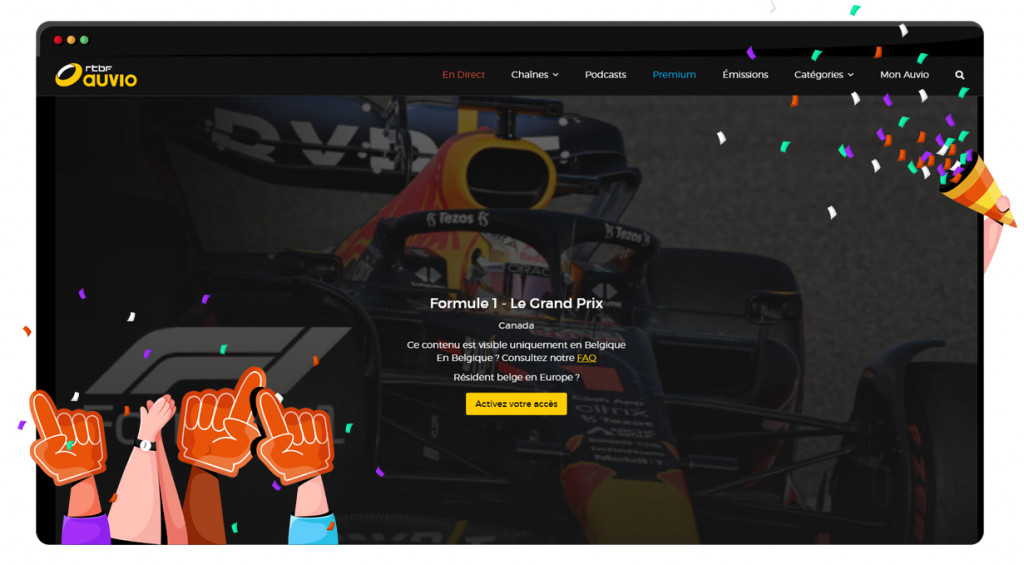 Getting this option to work is a bit trickier than the other two, but it's definitely doable with ExpressVPN having your back. Here's all it takes:
Get ExpressVPN!
Connect to a server in Belgium.
Go to the RTBF Auvio streaming platform and create a free account. You will be asked to provide a Belgian postcode, but this is just a formality and you can easily google one.
Navigate to the live stream and enjoy the race!
Canadian GP 2022: The race we've been waiting for!
The Canadian GP is not traditionally the most exciting one. But if the race in Baku was any indication this F1 season is full of surprises. So you best tune in!
Will Verstappen prove to be an unstoppable force in racing? Can Leclerc still come back and make this the season that Ferrari was hoping for? Will Hamilton be alright?
Well, grab ExpressVPN, tune in, and find out for yourself!