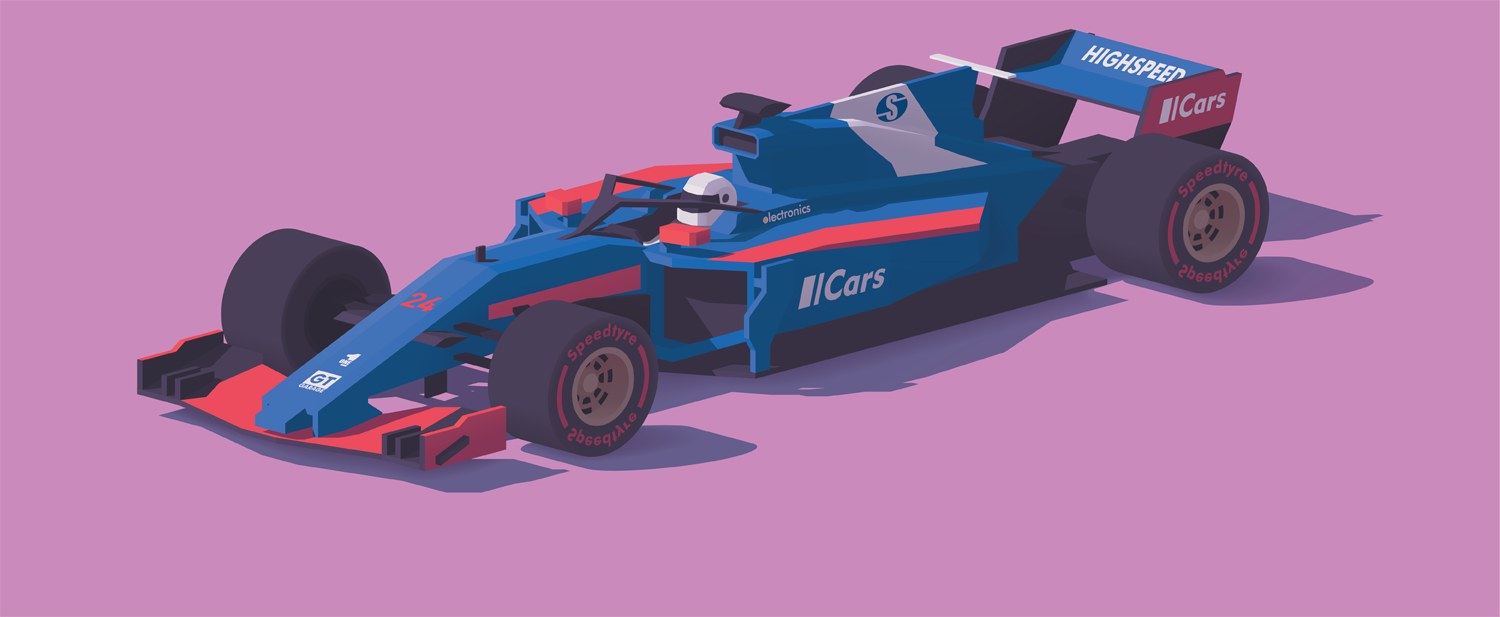 How to stream the 2022 F1 Azerbaijan GP live and free?
The 2022 Monaco GP was everything we had hoped for: dramatic, nail-bitingly intense, and unpredictable. Truly a race for the ages! But however tough the last race was, there's always another one coming up. Next up on the 2022 Formula 1 agenda: the Azerbaijan Grand Prix in Baku. And we can't wait!
And what a race it was in Monaco! S. Pérez finally didn't have to settle for second place and finished first after his teammate and the main Champion title contender Max Verstappen failed to overtake Carlos Sainz of Ferrari.
Leclerc, who wasn't able to finish in the Spanish GP due to a car malfunction, fought furiously to make it back into the lead but was only able to finish in 4th position, even though he did make up some much-needed time. Finally, team Mercedez left everyone hoping the team still has a win in them after drastically improving in Spain, but they fell back to what seems to be their 2022 comfort zone.
The Monaco GP was full of much-anticipated excitement, hard-fought battles, and a spectacular crash by Schumacher that split his car in two.
But the season isn't over yet. And the next race up is the Azerbaijan GP in Baku. While not the most exciting race traditionally, things are very much different this time around! And we can't wait to see what happens next!

Don't want to miss the action?
Get ExpressVPN and stream F1 for free!
Who is streaming the 2022 Azerbaijan GP?
If you haven't heard yet, Netflix and Amazon Prime Video have joined the battle for Formula 1 rights in the United States! That's right, Netflix might be venturing into sports territory!
But even if you have a subscription, this deal is not likely to come through this season. On top of that, if this option does indeed ever see the light of day, it will only be available in the States. It's not like there are Formula 1 fans outside the US, right?!

Want to get more out of Netflix?
Check out how you can expand your content library!
Other than this mildly stimulating bit of news, you have your regular F1 broadcasters in your usual places.
The best place to stream anything Formula 1 is still F1 TV, and it's still as expensive, and as one-note as you remember it to be.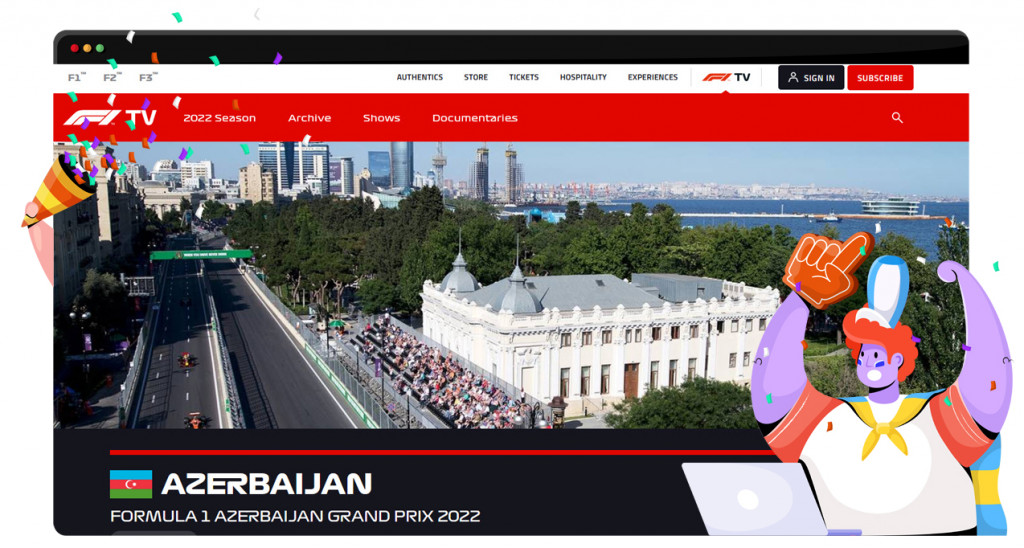 If you're not about to take out a singular streaming subscription that will cost you more than HBO Max, you've got your usual broadcasting and streaming options available in your neck of the woods. In the US it's ESPN and ESPN Deportes. The UK can enjoy all of the races exclusively via its local Formula 1 overlord Sky Sports, as well as catch the highlights for free on ITV.
Canada has its choice of RDS or TSN. And Australia has got its Formula 1 fix covered by Kayo Sports.
Outside of the English-speaking countries, the choices of Formula 1 streaming platforms seem to follow the rules of 'Whoever got them first'. So you might as well check with your local options.
But what if we told you there is a way to stream the Baku GP both live and free? Not that sounds interesting, doesn't it?
How can you stream the 2022 Azerbaijan GP live and free?
Believe it or not, there are still places in the world that believe in streaming F1 live and free of charge for any fan to see! Awesome, right?
The problem? Well, we're talking local fans. This means that if you are unlucky enough to be from a different country, you don't get to see the live stream.
So, what now? Back to square one? Not on our watch!
This geoblocking is exactly where a VPN comes in handy. And while there are far more uses for a VPN other than sports streaming, this alone would make it worth it!
However, far from every VPN is able to cut it. Sports streams are expensive, and as such, they are extremely difficult to unblock. So most VPNs fall short without even putting up much of a fight.
But we do all of the testing for you so you don't have to. And the single best VPN provider for Formula 1 streaming is, without a doubt, ExpressVPN!
And here are just some of the reasons why:
ExpressVPN might not have the biggest server network, but it definitely has the most diverse one!
With free F1 streams being available in different countries every year, this is the only provider that always has a server around the corner.
Sports streams can be hard to crack, but ExpressVPN is everyone's most trusted when it comes to streaming sports.
Perfectly optimized to unblock any streaming platform, this is the VPN that can get it done.
When it comes to streaming Formula 1, speed is of the essence, and ExpressVPN has speed in spades.
The fastest VPN provider around, it will let you stream any race wherever you are!
Want to know more?
Check out our brand new ExpressVPN review!
Now that that's over with, time to get to the actual streaming part.
Who is streaming the Baku GP for free in 2022?
If you don't count the great country of Azerbaijan itself, we have currently found 3 places that will be streaming the Baku Grand Prix both live and free. So strap in!
ServusTV
For a couple of years now the Red Bull-owned Austrian channels ServusTV and ORF 1 have been everyone's go-to when it comes to free Formula 1 streaming. The two channels share the races they stream, and the Azerbaijan GP will be shown on ServusTV.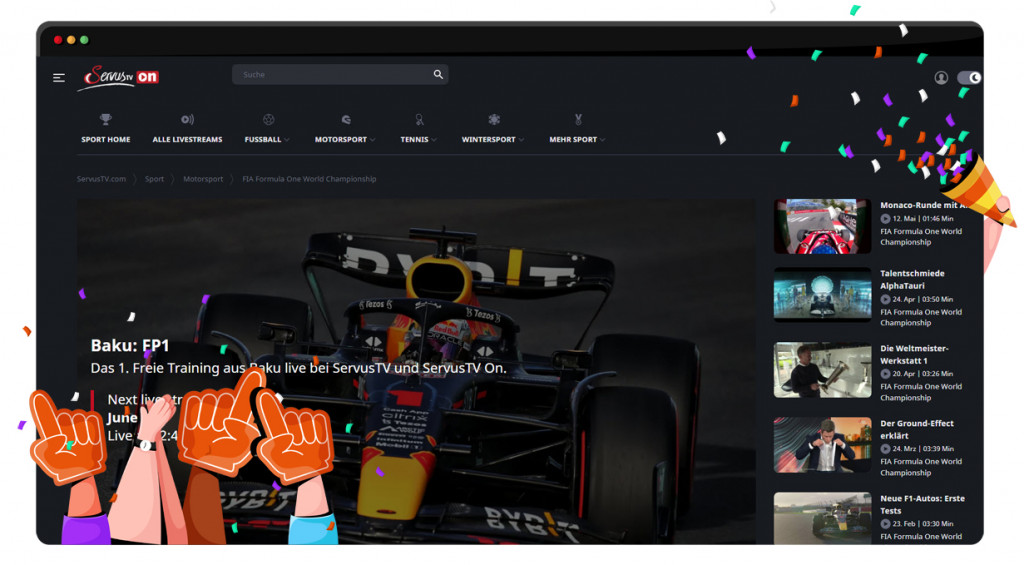 However, the two are also becoming increasingly hard to crack year after year, which is why you need the best VPN there is to enjoy some Baku racing.
And this is how you'd go about enjoying the Baku race on Servus:
First of all, get ExpressVPN!
Connect to one of its Austrian servers.
Head on over to the Servus TV website and enjoy the stream. No subscriptions or anything required!
RTL Zwee
The second pit stop on our Formula 1 streaming list is RTL Zwee from the tiny and awesome country of Luxembourg.
This year the local platform RTL Play is streaming every Formula 1 race both live and free, and ExpressVPN is just about the only VPN that can crack it!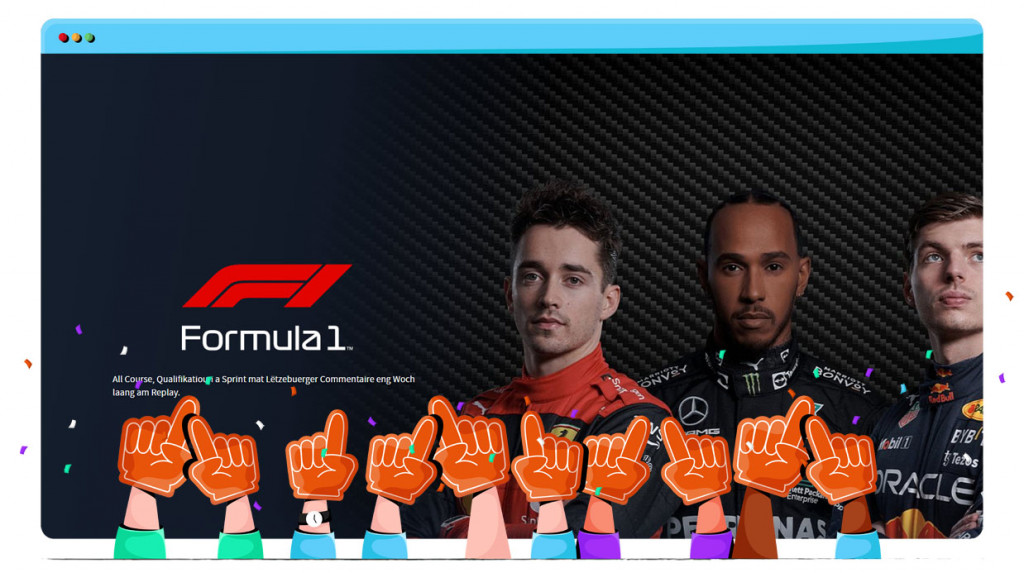 So here is how you'd go about enjoying it here:
Get ExpressVPN if you haven't already.
Connect to a server in Luxembourg.
Go to the RTL Play website, navigate to the RTL Zwee stream and enjoy the race come Sunday.
RTBF Auvio
Finally, for those of us who prefer F1 commented on in the language of love, there's the Belgian streaming platform RTBF Auvio. And, you guessed it, it will be streaming the Azerbaijan race both live and free. Otherwise, why would it even be on this list?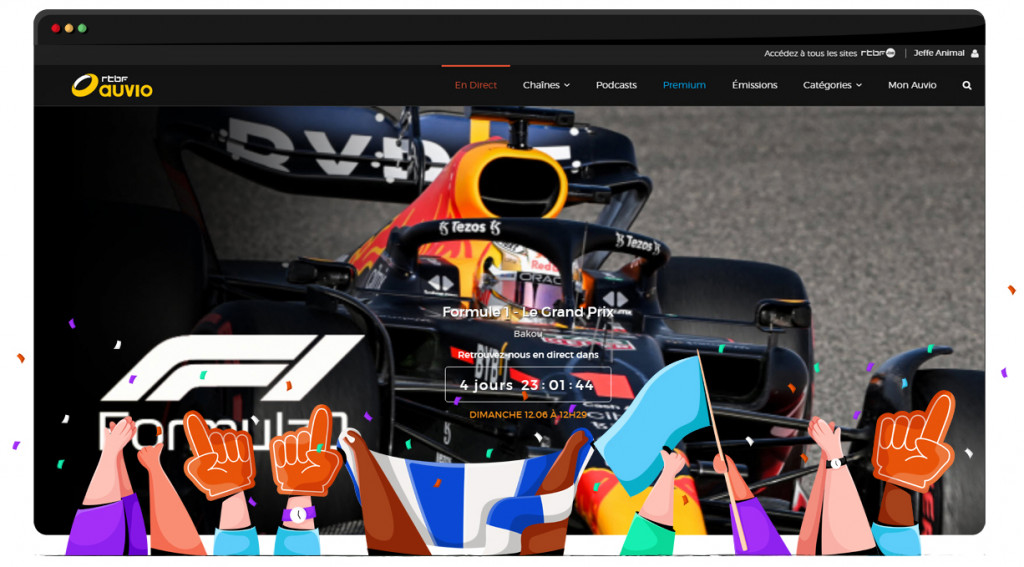 This one has tougher blocks and is a bit more difficult to unblock, but with the likes of ExpressVPN by your side, this will not be an issue.
So, one more time with passion:
Get ExpressVPN if you haven't already.
Connect to one of the provider's servers in Belgium.
Head on over to the RTBF Auvio website and create a free account. You will have to use a Belgian postcode to subscribe, but we assure you that this is just a formality and you can easily get one off Goggle.
When it's time for the race, navigate to the live stream segment of the streaming platform and enjoy!
Who is it going to be this time?
Unlike most other Formula 1 seasons, this one is packed with surprises. And it feels that, for once, anything can happen in Azerbaijan.
Can Verstappen broaden the gap between him and all the other drivers? Can Leclerc come back after the unfortunate race in Spain? Is Peréz this season's sleeper hit?
To find out, you are going to have to tune in yourself. But with ExpressVPN to keep you company, that is no problem, now is it?