How to watch France – Morocco live and for free from anywhere
We knew going in that the 2022 FIFA World Cup would give us some crazy matches, but who knew that one of them would be Morocco taking on the last World Cup winner – France?! How would that go? Well, we're about to find out, as the two are about to play in the Semi-finals on December 14th at the Al Bayt Stadium!
Despite how well France may have played, all eyes are on Morocco in this match. The Moroccan national football team has truly accomplished something unique. Not only is this the first match for the country in the World Cup Semi-finals ever. It's also the first time any of the African countries made it this far in the World Cup. Ever. So now Morocco's football team is the first sign that the landscape of modern football might be changing. And whether the team will make it into the finals or not, it has already made history.
Then again, France is no small team to play against. And it's not just because it's the winner of the last World Cup. But because it has been laying waste to nearly every team it has come across so far (except Tunisia, but that was weird). Most recently, England was trampled by the French teams in a brutal match that gave us some of the best football in the entire World Cup.
France might be the biggest opponent that Morocco had to face in this Championship. And this alone should make for a pretty intense match. So you can't miss it!

Watch any World Cup match for free with ExpressVPN!
The one thing you need to watch Morocco v. France your way
The Morocco – France matchup might be one of the most interesting football battles we have seen this World Cup, but not everyone might get to experience it their way.
While most of the world gets to watch the entire World Cup live and for free, other countries still have to pay for this privilege. But what's even worse is that thousands of fans all over the world are not able to watch their local, national streams outside of the country.
Due to licensing restrictions and geoblocking, not everyone gets to experience what could be the most exciting match their way. And it's just not fun to watch a random stream at a pub in a language you don't fully understand with the announcer rooting for the other team.
Fortunately, however, all is not lost! Because all you need to watch the match whichever way you please is ExpressVPN!
This is what ExpressVPN does for you that no other service can:
It is optimized to access streaming services in nearly every country, giving you the full freedom of watching whatever you want wherever you want.
On top of that, ExpressVPN has one of the most diverse and strongest server networks out of any VPN provider, giving you nearly unlimited streaming potential.
Unlike most similar services, it's also extremely fast, meaning you don't sacrifice viewing quality for access.
And, finally, it comes with a generous 30-day money-back guarantee. This means you can always get a full refund if things don't work out.
Want to know more about ExpressVPN?
Then you should definitely check out our full review!
Now that you are armed with the best VPN service there is, onto the streaming options!
The best ways to watch the Morocco – France match wherever you are
With the entire world watching the match, there is no shortage of live streams. So instead of mentioning all of them and making you scroll through a massive list, we're just going to stick to the ones we found to be the most useful, of the best quality, as well as easy-to-access.

Don't see the stream you want?
Check out our full guide to streaming the World Cup!
Let's go!
Watch France – Morocco on TF1 from abroad
All of France is going to be watching the match. And wherever the French fans might be, they are going to want to watch the match stream with the rest of the country.
And it's not just them. The French-speaking fans of Morocco might also want to tune in and watch along with their football rivals.
Well, fortunately for anyone in France – you are in luck! Because the match (along with most of the World Cup), can be seen on the local TF1 channel that has its very own online streaming platform.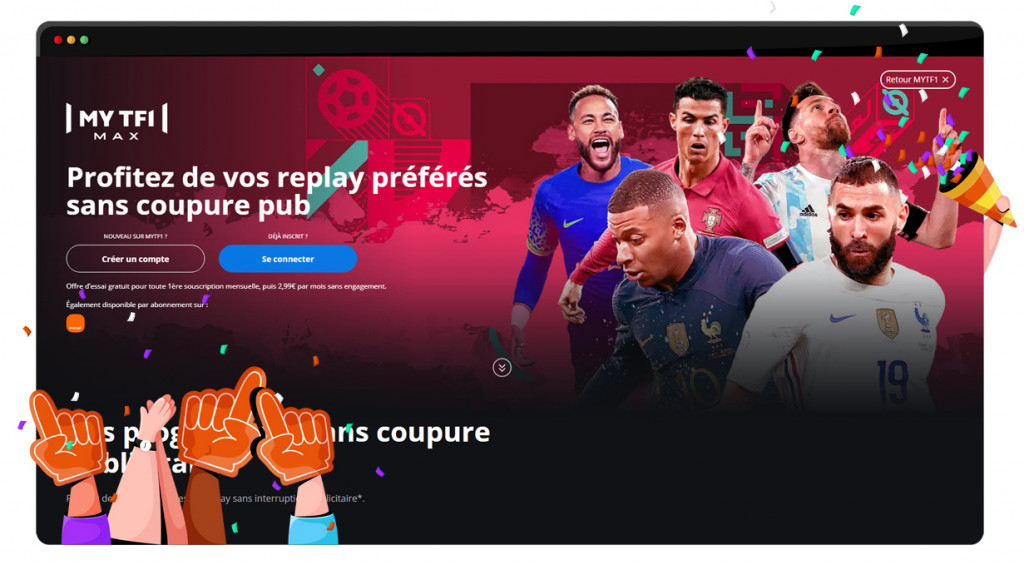 This might sound great until you realize that you can't access the live stream from abroad. And this means thousands of fans might not get to cheer for their team along with the country… That is unless you have ExpressVPN. So here's what you do:
Start by getting an ExpressVPN subscription, downloading and installing the app on your preferred device. Trust us, no other VPN is capable of unlocking French streaming services.
Next, launch the app and connect your ExpressVPN app to one of the provider's servers in France.
Then, launch the TF1 website and log into your account as you normally would.
Don't have an account? Just make one!
Finally, navigate to the live stream and enjoy the game!
Watch Morocco vs. France in Arabic on SBS on Demand
Moroccan fans have their work cut out for them. The team is going to need a lot of support and cheering to pull this one off. And, of course, every fan is going to want to tune in and follow the match live.
This might present a problem for some, however, as streams in Arabic are hard to come by, and they are usually paid.
But fear not, because help is coming from the most unexpected of places – Australia! That's right! Not only is the Australian local streaming platform SBS on Demand streaming every single match live and free for anyone to watch. It also has dedicated streams in Arabic for everyone rooting for the Moroccan team to enjoy!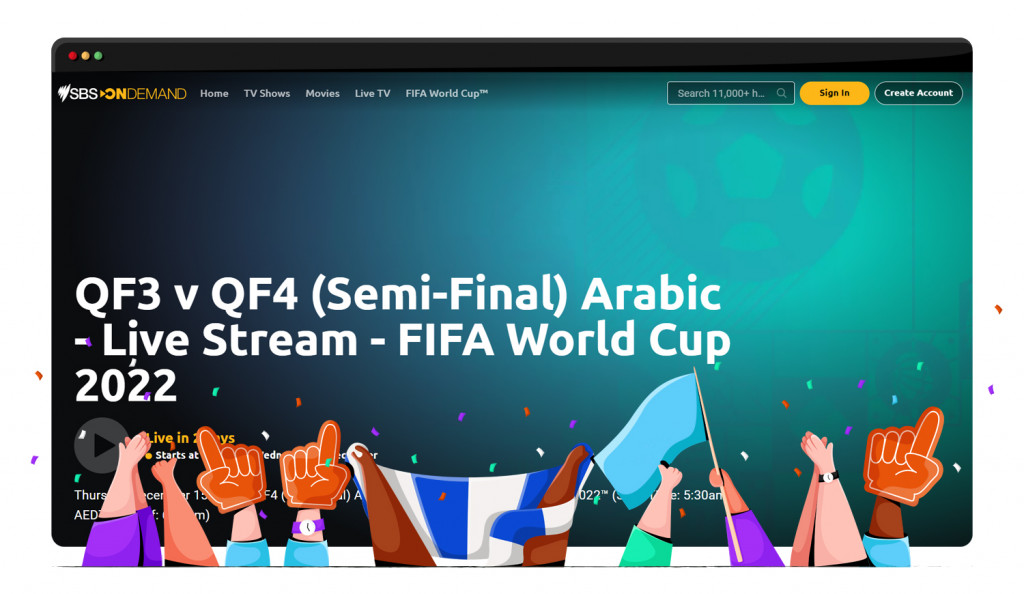 Want to join the streams too? This is how you do it:
First of all, get an ExpressVPN subscription. This is the only VPN provider that isn't just able to unblock Australian streaming but is also fast enough to make streaming from as far away as Australia enjoyable.
Once you install the ExpressVPN app on your device, launch it and connect to one of the provider's servers in Australia.
Then, launch the SBS on Demand online streaming platform and apply for an account. Setting one up takes just a couple of seconds and doesn't require you to provide any complicated information.
That's it! All that's left is to navigate to the Arabic stream and enjoy the game!
ITVX
Not looking for anything in particular? Just want to enjoy some great football in good old English with some stellar commentary? We've got you covered as well! If that's what you're looking for, there's no better place to be on December 14th than ITVX!
The UK might be out of the Championship, but it sure isn't done watching it. This is why the whole country can watch Morocco vs. France live and for free on the recently launched ITVX streaming platform.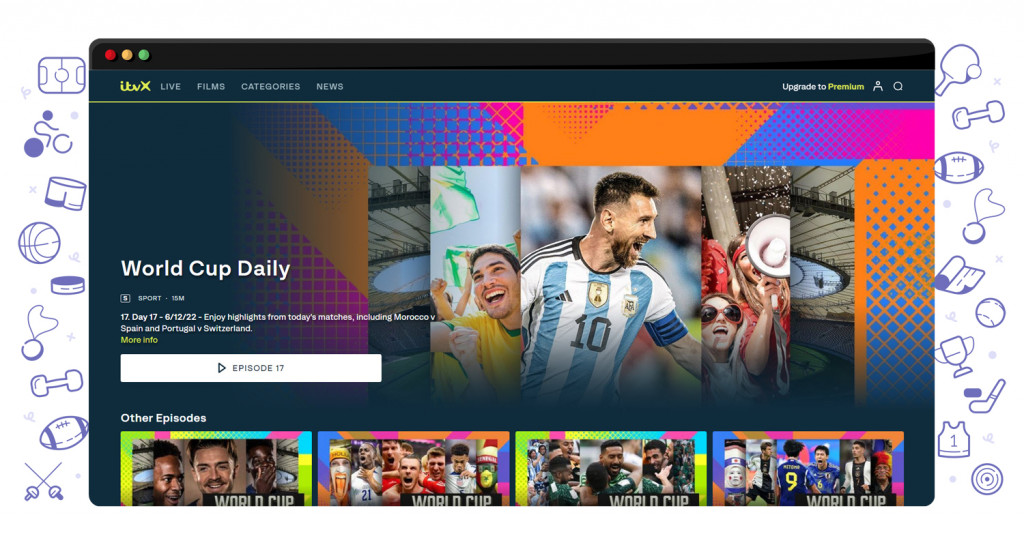 As you may have guessed, the stream is only available in the United Kingdom. But all it takes for you to access it is to follow our simple guide:
Start by getting an ExpressVPN subscription. ITVX has ramped up security since its relaunch, and no other VPN does UK streaming better than ExpressVPN!
Next, launch the app and connect to one of the provider's server locations in the UK.
Head over to the ITVX online streaming platform and apply for a free account.
In order to make one, you are going to have to provide the platform with a local postcode. No worries! We've got you covered: GU26 6SB, ML12 6JD, CF81 9QQ, IV7 8AU, FY8 2AG, TS9 7EJ, SE15 6LG, EH2 4LH, OX15 6LZ.
Finalize creating your account and navigate to the live stream! You're done!
Can Morocco do it?
This World Cup's semi-finals have some of the most unusual matches. But while Croatia defeating Brazil and now going up against Argentina is unexpected enough, no one could have foreseen Morocco going up against France in the other slot.
Whatever comes next, Morocco has already made history. But we bet they are not done yet. And Morocco taking on France is sure to be one of the, if not the most exciting match of the 2022 Qatar World Cup.
You better not miss it! But now, you know all the best ways to watch it! ⚽??