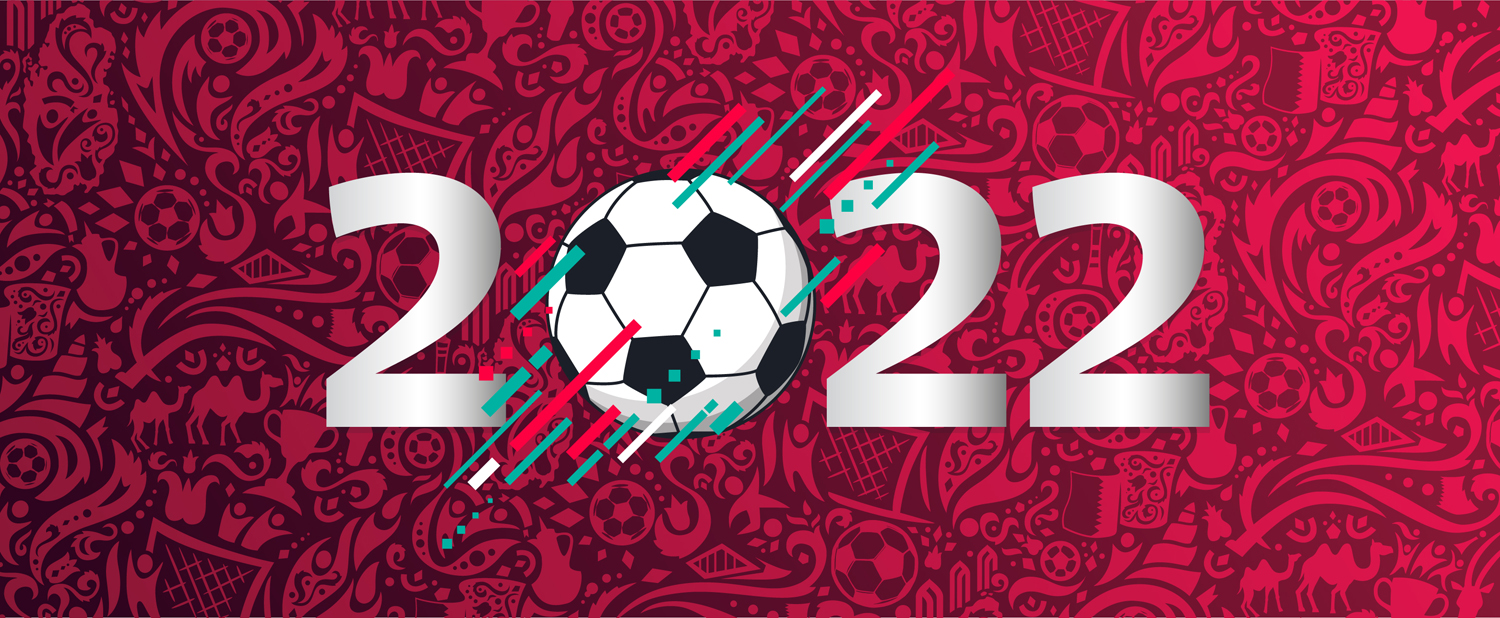 How to watch the 2022 World Cup for free?
It's here, it's finally here! After four years of agonizing wait, the 2022 World Cup is back to bring the entire world to a screeching halt and make it care, look forward to and talk about one thing and one thing only: football. Or soccer, for those of us who think 'football' is a name reserved for a different kind of ball-centered sport. Regardless of what you call it, the football World Cup is a sporting event of such magnitude, no other can even come close to it. Not the Super Bowl. Not the Olympics. Maybe the Second Coming… nah, the World Cup would still take the ball (HOOO!) there. And it's finally here!
The FIFA World Cup will take place from November 20th and run until the 18th of December. This time the tournament will be held in Qatar taking the fans across 8 of the country's brand-new, shiny, and impressive stadiums.
But while Qatar is busy laying the freshest grass on its football fields and fighting off controversy after controversy, the whole world is gearing up to watch and talk about little else other than football.
Those Black Friday sales and Q4 reports are just going to have to wait, Bob. It's time to watch the 2022 football World Cup!

Stream the World Cup for free with ExpressVPN!
Everything new with the 2022 World Cup
A lot has happened since the last time we cheered our lungs out. The World Cup has moved from one controversial location to another and will be held in Qatar. And the choice of the Cup's host alone has sturred enough controversy to make the event worth watching.
This will also be one of the shorter World Cups in history held in the span of just 27 days instead of the usual month. But, still, that's 27 days of nothing but football across 8 stadiums with some of the fiercest sports clashes this side of the NFL.
Speaking of clashes, the teams that qualified for FIFA's World Cup strike a perfect balance between expected and exciting. There is, of course, the defending champion France, as well as fan favorites such as Croatia, England, or Germany (whose Bundesliga has turned into one of the most followed football clubs worldwide). However, there's always a nice mix of both old, missed faces as well as new competitors.
Most notably, Qatar is making its World Cup debut along with being the Championship's host.
Five countries are coming back to the FIFA World Cup after missing the 2018 tournament in Russia. Those are the USA, the Netherlands, Ecuador, Ghana, and Cameroon. Canada is making its first World Cup return since 1986. And Wales is coming back for the first time in 64 years!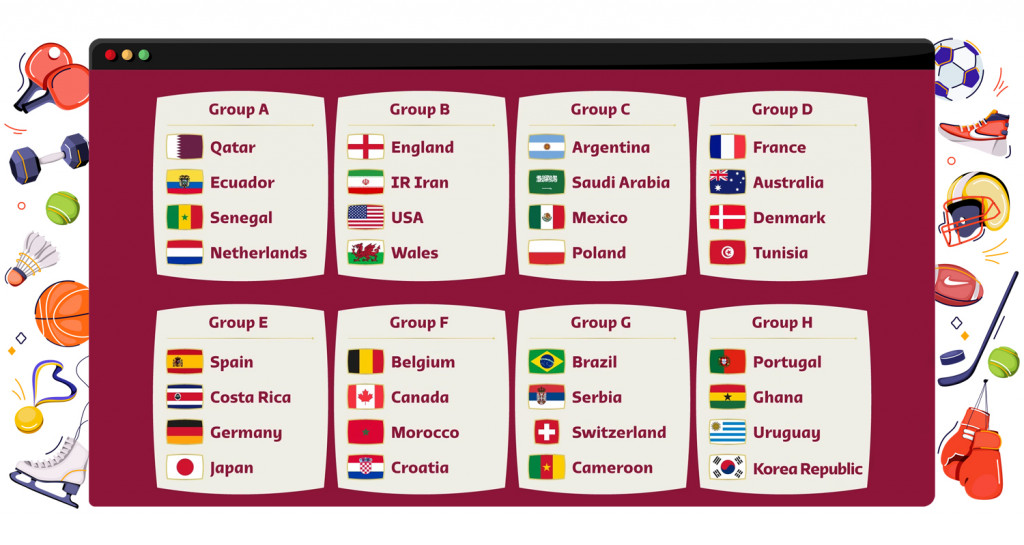 While the teams are getting ready to face the toughest competition for 4 years to come, and Qatar is trying to convince the world it didn't violate any human rights (sure), those not lucky enough to take a month off work and support their teams in real life are getting ready to stream the event.
And we're all about that!
Who will be broadcasting the 2022 World Cup?
How about everywhere?!
No, really, we usually thrive on broadcasts you wouldn't be able to watch otherwise. However, with the World Cup, we might as well be working on a guide on how to avoid watching it. The football World Cup being the biggest sporting event in four years, every single country will be broadcasting, streaming, radioing, commenting, and making upper shows about the Cup.
The real question is whether everyone gets to enjoy the World Cup in the same way and how much it will (or won't) cost.
Take USA for example. You'd think because the US team qualified for the World Cup you'd be able to watch the matches on your milk frother if you so choose. But no. The broadcasting rights in the US are shared between Fox and Telemundo which basically leaves you with one option: cable.
But what if you want to watch your boys compete online? Well, then your only options are either taking out an insanely expensive cable streaming service (fuboTV, Hulu + Live TV, SlingTV, YouTube TV, or Vidgo) or NBC's PeacockTV that will be streaming all of the games live, although exclusively in Spanish and through a paid subscription.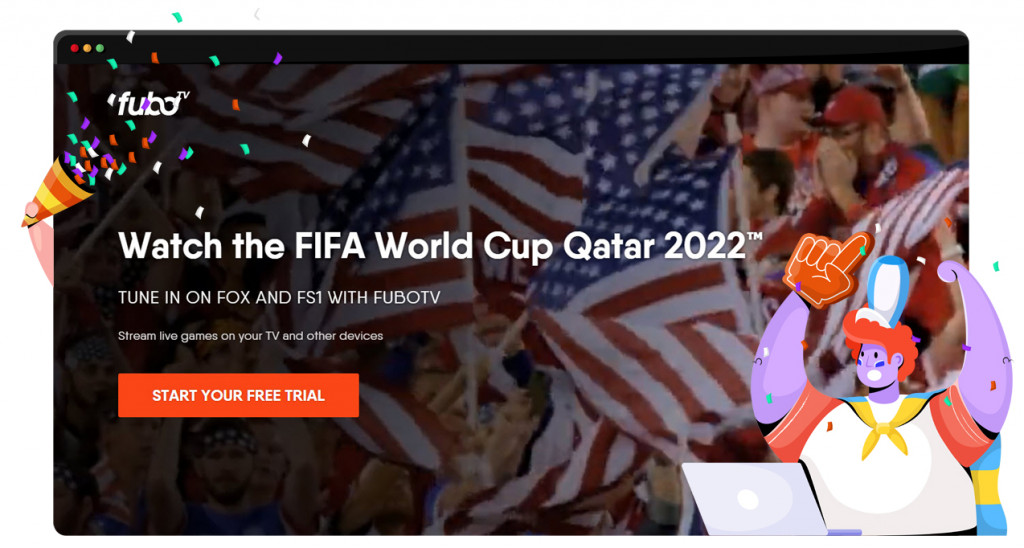 The same thing can be said about Canada, where the rights to the 2022 World Cup are with TSN, which is also a paid streaming platform.
Mexico and New Zealand have their broadcasts stuck with Sky, and it's no stranger to cranking up the price.
You get the picture. Although most of the world will be able to watch every single match live and free, the countries that were robbed of this event are not uncommon. There are more of them than you think. And if you're reading this, you just might know exactly how this feels.
Streams blocked abroad
But it's not like the whole world is having a grand ol' time except for the unlucky few. Fans from all over the world are having issues following their team from abroad.
Sports streaming rights are something savage. And so is geoblocking that arbitrarily comes with it.

Want to know more about geoblocking?
Check out what it is and how to beat it!
Most of the local streams are made free, that's true. However, as soon as you step outside of the country – that's it! Every stream is only available within the country that has the rights to it, which leaves hundreds of fans that are abroad without any means to support their team with the rest of the country. As well as complain about how badly the coach sucks.
And, sure, you can probably drop into the local pub and watch the game there, but it can make for some awkward looks if you're cheering for another team.
So… this it's a pickle, to say the least. Is there nothing you can do? As a matter of fact, there is!
The way to watch the 2022 World Cup wherever you are for free
You might think you're going to have to go for an expensive subscription. Or settle for a stream in a language you don't really understand. But it doesn't have to be that way!
Streaming platforms block your access based on your virtual locations. So, technically, if you alter it, you will be able to enjoy the World Cup broadcasts for free or get to watch your local stream from abroad.
How? Well, lucky for you, there are actually apps for that! And they're called VPNs.

Never heard of them?
We'll catch you up!
However, when it comes to streaming sports and especially streaming the World Cup, things might not be as easy as grabbing any free VPN from the app store. The restrictions you are going to be dealing with are something fierce. And there is only one VPN that can help you tackle ANY block and hunt down ANY stream – that's ExpressVPN!
There are more than enough reasons to get ExpressVPN. But for this particular occasion, this is the only option that works because:
This is the only VPN optimized for streaming in any country with easy access to any broadcast in the world.
ExpressVPN has speedy servers in over 160 locations in the world. This means you will always have one in a place you want to stream from.
It's also the fastest VPN globally thanks to its many features. And because of this, you will never miss a goal.
Finally, ExpressVPN is synonymous with great support and comes with a 30-day money-back guarantee. So you can pretty much watch the whole World Cup and still get your money back!
Want to know more before you buy?
Check out our brand new ExpressVPN review!
Every way to follow the World Cup live and free in English from anywhere
We've decided to do things a little bit differently this time around.
Since there are so many people looking for all kinds of World Cup broadcasts for all kinds of reasons, we have decided to start off our guide by listing every way you can follow every single match for free in a familiar language.
Whether you're supporting a local team that's qualified for the tournament, a fan of a particular commentary, want to watch along with your friends from abroad, or merely want something in English – there's plenty to choose from! And we know how to get to all of it!
The BBC iPlayer and ITV
Let's start with the obvious.
England is home to some of the strongest football teams, as well as some of the toughest football fans. So you bet the country is going to be streaming the entire World Cup live and free. Heck, even the new Prime Minister can chill out – he knows he'll keep his job for at least a month because no one will be paying attention to politics.
Jokes aside, the rights to the 2022 World Cup in England are split between two major broadcasters: ITV and BBC iPlayer. And they are promising an insane show, with all of the games, special commentary, and loads of additional content from some of the best commentators the world over!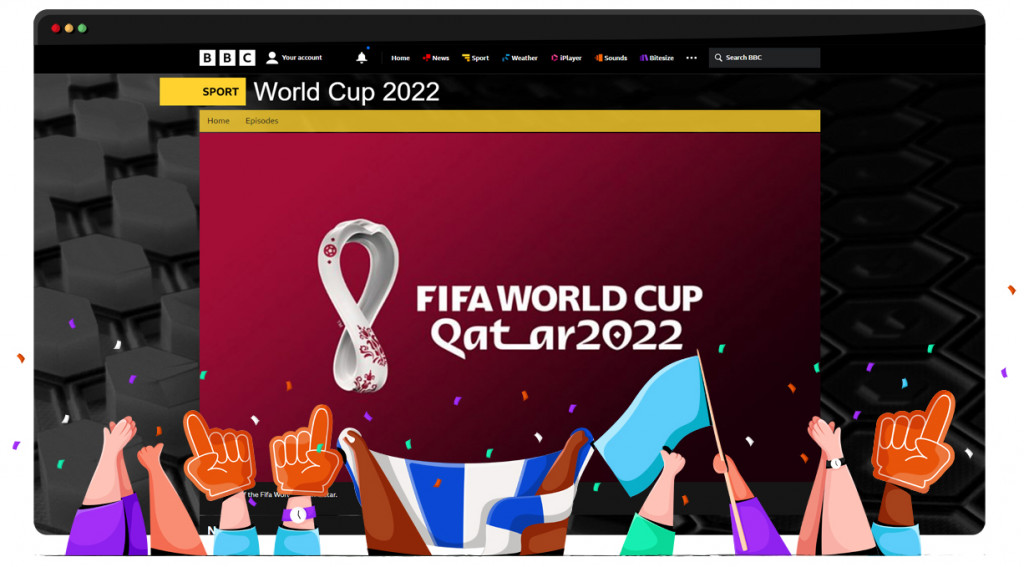 The two platforms are going to alternate with one another in match coverage, so you need both of them to watch the World Cup in its entirety. Fortunately, that's no problem for ExpressVPN!
And here's how you get your hands on one of the best streaming options this year:
First of all, get ExpressVPN!
Connect to a server in the UK.
Make an account on both BBC iPlayer and ITV. The hardest part about it is that both platforms require you to have a local UK postcode, so here are some so you don't have to look for them: YO11 3AZ, BD11 1AA, CW6 9BG, NR27 9ES, SA5 7EJ, EH11 2EW.
Enjoy the matches and, maybe, everything else these two platforms offer not to get too carried away with football.
Australian stream from anywhere
Next up – Australia and its free-to-air streaming platform SBS in all of its free World Cup streaming glory!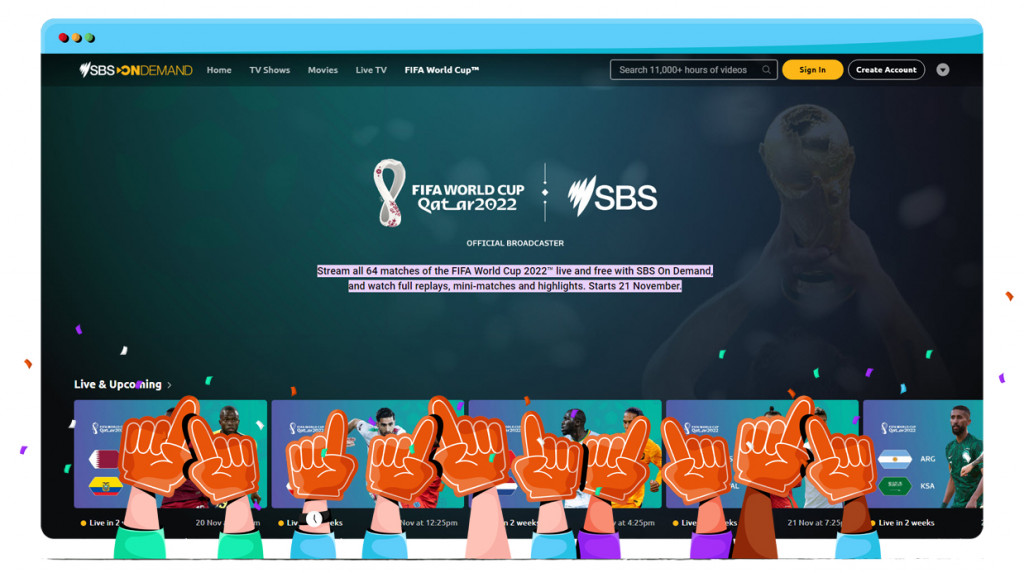 So if you're abroad and want to support your team, or if you just prefer Australian commentary to just about any other, you are in luck because ExpressVPN has your back! This is all you have to do:
Get ExpressVPN, of course!
Connect to a server in Australia.
Head over to the SBS-on-Demand streaming service and enjoy all 64 matches! That's literally it!
Irish broadcast from anywhere
Ireland might not have qualified for the World Cup but that doesn't mean the whole country isn't going to still watch the entire Championship. And, of course, it's going to be made free on TV, on the radio, and online for the entire country.
In particular, you will be able to stream every single World Cup match on the RTÉ Player streaming platform!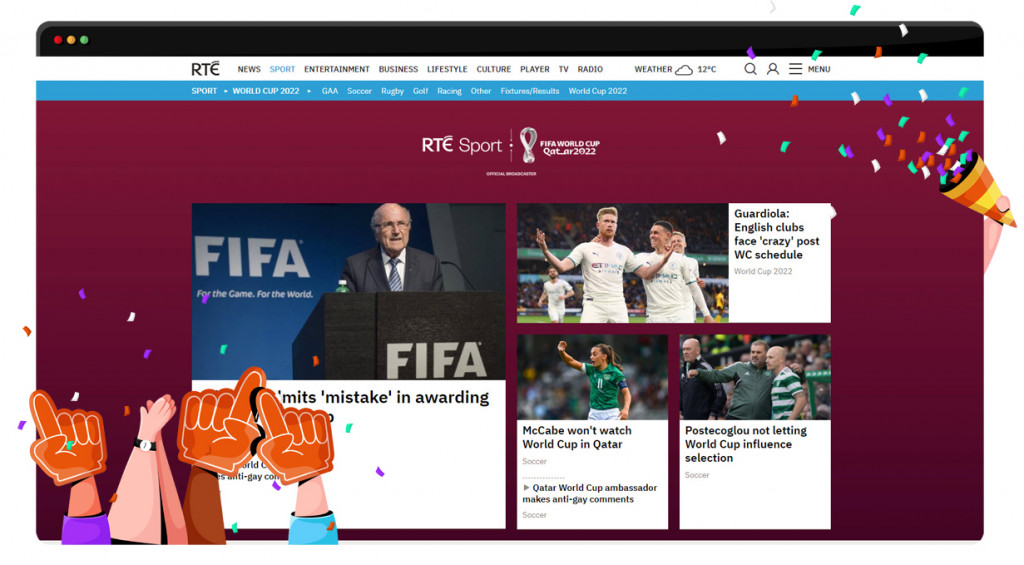 A fan of Irish commentary? Just want to follow your local broadcast from abroad? That's no problem because ExpressVPN is the ONLY provider that is actually optimized for accessing Irish streaming platforms from anywhere. And here's all you have to do to join in:
Start by getting and installing ExpressVPN.
Next, connect to one of the provider's servers in Ireland.
Join the stream on RTÉ Player and enjoy the World Cup in all of its spectacular glory!
How to watch local World Cup broadcasts from abroad?
Football is just part of what makes the World Cup so special. Sure, the heart-pounding action, the adrenaline, and the sportsmanship are great, but it's still just part of it.
What truly makes the most important football tournament so special is the sense of comradery, coming together, and cheering for your own team along with the entire country. There's truly no feeling quite like it! And this is also exactly why most countries will be broadcasting and streaming every single game live and free.
It's just nice to forget the world is on fire for a but and enjoy football, isn't it?!
However, if the World Cup catches you outside of home, you might find yourself not being able to follow the stream along with your fellow fans.
Not with us by your side, though! We have gone through every country, and found and tried every streaming service to make sure you will be able to watch the World Cup the way you want it! No matter the circumstances.
So…
German broadcast from anywhere
Lots of eyes are on the German team this year, which is more than earned. The country has fought hard to bring together the best of the best for this year's World Cup.
And this is one of the many reasons you don't want to miss the local broadcast and everything the team has in store for the competition.
In Germany, the World Cup and all of its games will be streamed by local broadcasters ZDF and ARD both live and for free for the entire country to enjoy.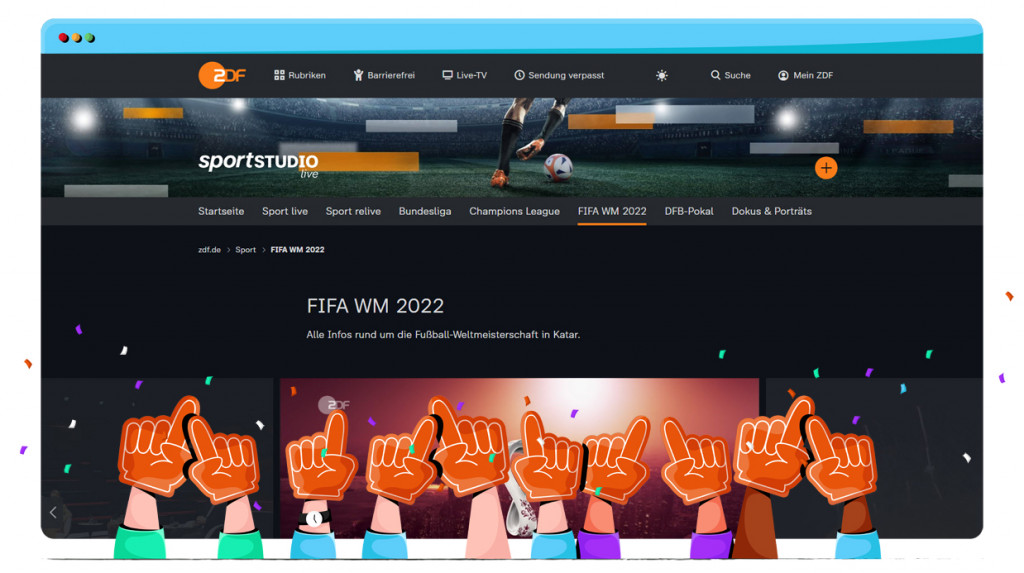 If you want to watch the Cup in local commentary – this is a must. Luckily, we know how to get you there wherever you may be:
Obviously, start by getting ExpressVPN and installing it on your preferred device.
Next, launch the app and connect to one of the provider's several server locations in Germany.
Austrian broadcast anywhere
Austria might not have gotten its foot in the World Cup this year, but its sports broadcasts have always been some of the best. And we're not just talking football either. Whether it's Formula 1, MotoGP, Sail GP, tennis, or pretty much anything else, Austria is the place to be!
And the broadcasters are familiar as well. Once again, it's ServusTV and ORF.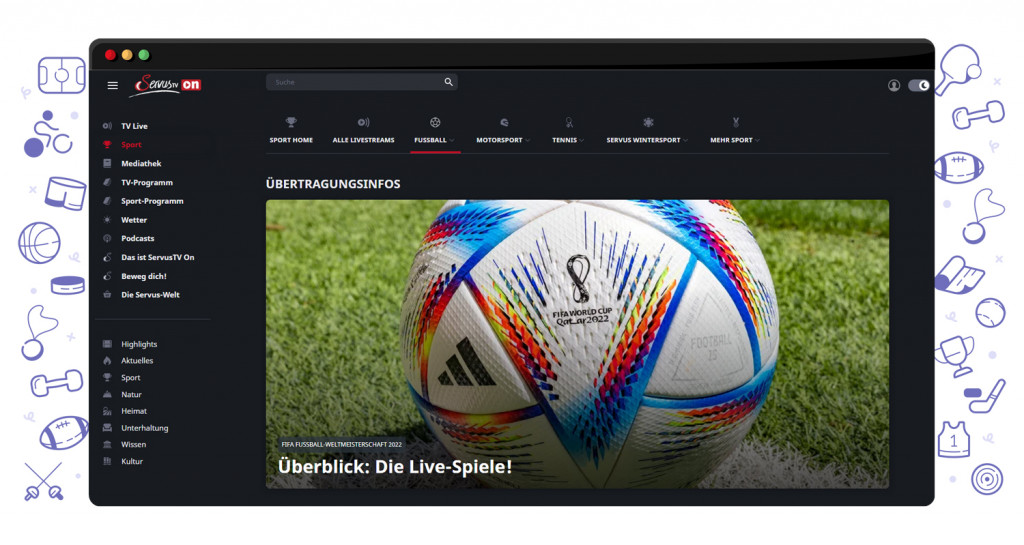 If you're a fan of what ServusTV and ORF are offering (we know we sure are) with the right tools getting your hands on them is no problem at all:
As usual, start off by getting an ExpressVPN subscription.
Connect to a server in Austria.
Dutch broadcast from anywhere
The Netherlands – a country so obsessed with football it has dedicated an entire color to its football team – is back in the World Cup.
This is big news. And it wouldn't be complete without the entire country being able to tune in and watch the matches from every pub, cafe, and house for the next month.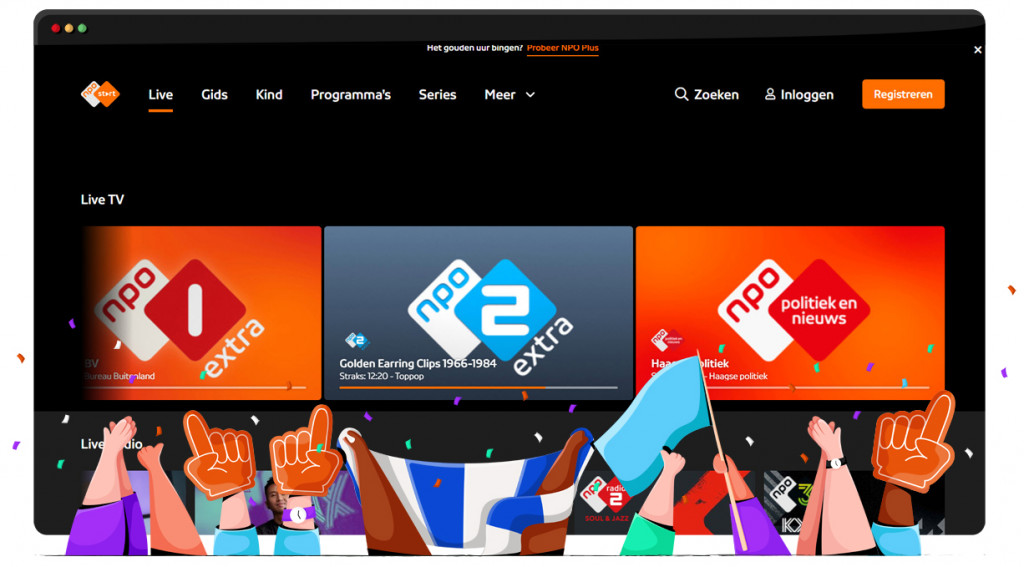 Every single match will be shown on local NOS and NPO platforms. And it doesn't take much to get to them except for a VPN optimized for some Dutch streaming. So:
Get ExpressVPN and install it on your device.
Connect to a server in the Netherlands.
Belgian broadcast anywhere
Staying in the Benelux area for a while. Belgium will, of course, be supporting its team on its RTBF streaming platform. Which is, of course, free. But only for Belgium to watch.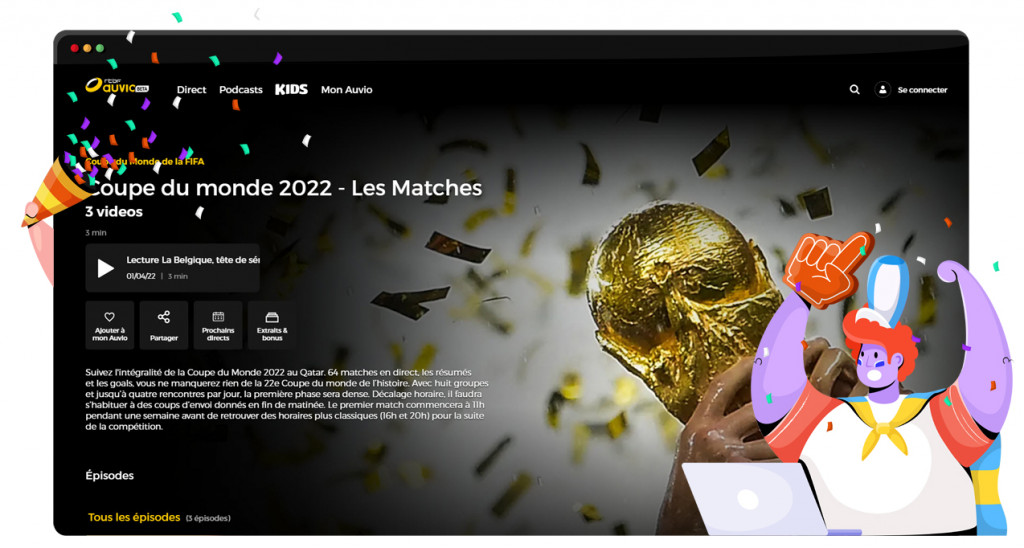 Getting your hands on this streaming platform might be a bit tougher than the rest. However,  it's just a small extra step and ExpressVPN has got your back every step of the way:
Get yourself an ExpressVPN subscription – the only VPN that can crack Belgian streaming options.
Connect to one of the provider's servers in Belgium.
Head over to the RTBF Auvio streaming platform and apply for a free account. This is where the extra step comes in as the platform requires you to have a local postcode. So here are some so you don't have to look for them: 6960, 4400, 3798, 5600, 2221, 1790.
Enjoy!
French broadcast anywhere
Speaking of French, you bet the defending champions are going to have to make their stream live and free this year!
The whole World Cup in its glorious entirety will be streamed live and for free by the local TF1 broadcasters on its website!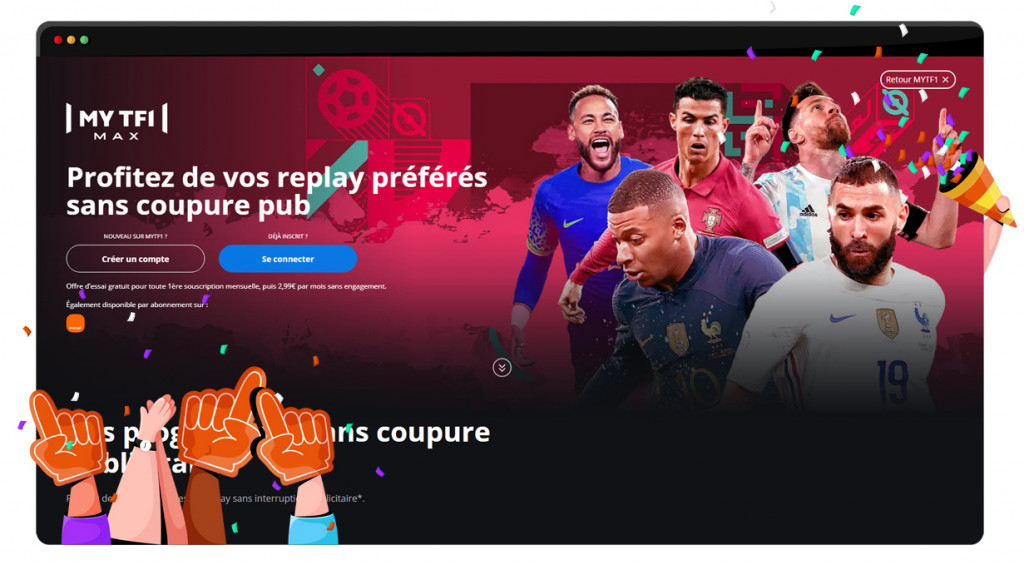 It shouldn't come as any surprise, but ExpressVPN has your back with this one as well:
Get ExpressVPN, install and launch the app on your preferred device.
Connect to a server in, you guessed it, France.
Head over to the TF1 streaming platform and enjoy every single match in stunning French!
Spanish broadcast from anywhere
Of course, Spain couldn't go without a free World Cup broadcast either. No surprises there, the country is home to some of the biggest football fans. This is why the entire World Cup will be shown live and free on the local RTVE streaming service!

And, as usual, you are going to need some ExpressVPN magic in order to tune in. So:
Get ExpressVPN.
Connect to one of the provider's stellar servers in Spain.
Launch RTVE and enjoy the full WC live stream!
Brazilian broadcast from anywhere
Speaking of fierce football fans. You can't spell 'World Cup 2022' without 'Brazil'.
It's a bit complicated with all the local ways to broadcast the matches in the country, but you can still follow every game on the Globo platform.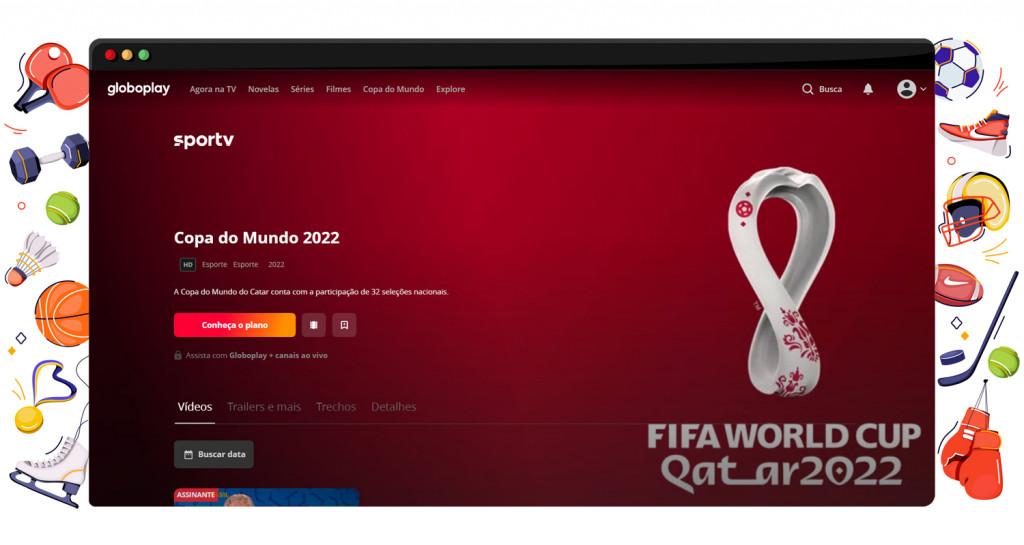 Wanna guess how to watch along? You probably know it by now:
Get ExpressVPN, download, and install the app on your device.
Connect to a server in Brazil.
Make a free account on the Globo streaming platform.
Enjoy all of the games completely free!
Polish broadcast from anywhere
You bet Poland is going to bring it in the coming World Cup. And you bet every single Polish person in the world is going to want to tune in and watch the competition.
Well, lucky for them, the whole Cup is going to be broadcast both on TV and online by the main sports broadcaster in the country – TVP.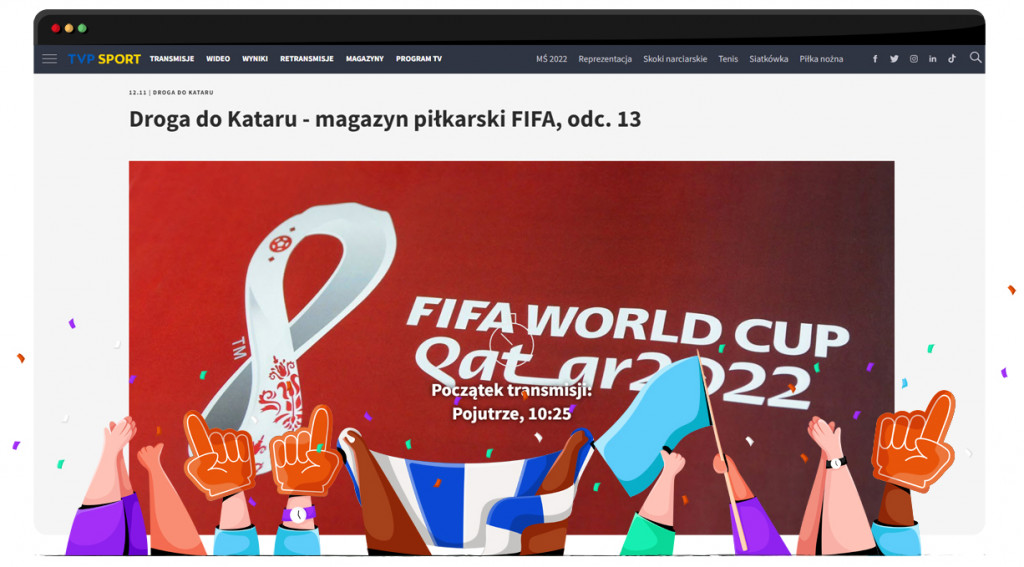 Obviously, Polish fans are going to want to watch their own broadcast. And obviously, ExpressVPN can help them tune into TVP wherever they might be:
Therefore, get ExpressVPN.
Launch the app and then connect the VPN to a server in Poland.
TVP is free-to-air within the country, so all you have to do is head over to the website and enjoy!
Italian broadcast from anywhere
Italy may not have qualified for the World Cup, which is a great shame, however, everyone in the country will still be streaming the matches!
And you can follow along because all of the broadcasts are going to be made free on the local RaiPlay streaming platform.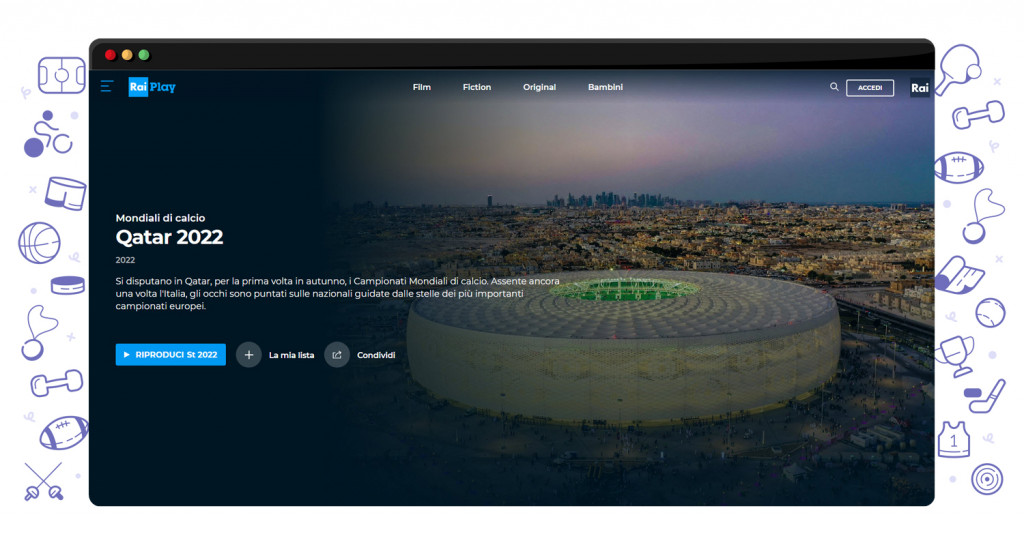 If you're one of those looking to catch the local stream – that's easy, because ExpressVPN has recently become an expert in cracking Italian streaming services.
So, yet again:
Get an ExpressVPN subscription, download, and launch the app.
Connect to one of the provider's servers in Italy.
Head over to the RaiPlay streaming platform and enjoy the World Cup!
Turkish broadcast anywhere
Turkey also didn't land itself a place in the battle for the World Cup. But we're sure any and every Turkish football fan anywhere would want to follow the FIFA Championship in familiar commentary with the rest of the country.
They are in luck because the Cup can be seen on TRT – one of the biggest if not the biggest sports broadcaster in the country.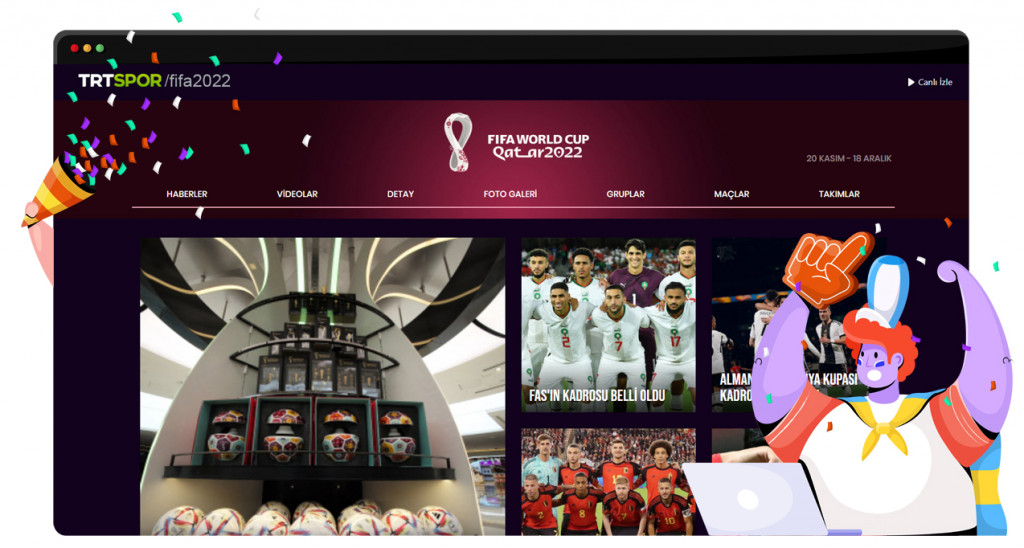 Streaming anything from outside of Turkey is no easy task, but, yet again, ExpressVPN comes through and brings you everything you need in just about one click.
So, for the very last time:
Wherever you are, get ExpressVPN!
Connect to one of the provider's servers in Turkey.
Head over to TRT Spor and enjoy the World Cup 2022 broadcasts as you would regularly do in Turkey!
Watch the 2022 World Cup your way!
Obviously, we haven't listed every streaming service, platform, and broadcaster that will be streaming the 2022 World Cup. But if we were going to, we'd never get this piece out the door before the World Cup.
On top of what we added and will keep adding in the weeks coming to the World Cup, there are also NRK TV from Norway, SVT and TV4 in Sweden, DR TV in Denmark, SRG SSR in Switzerland, MTVA in Hungary, MTV in Finland… All of them streaming the 2022 World Cup live and free. Because of course, they are!
TechTypical is a multilingual platform for a reason. So if your country's option is missing from this list, be sure to check some of our other languages. You might find a guide you're looking for. ?
So whether you don't have streaming options or free streaming options where you live, or just want to tune in and watch the matches with that legendary commentator who's been reporting on football as long as you've been alive, you now have a perfect solution!
But wherever you are and however you want to watch it, there's just one ExpressVPN click between you and the World Cup 2022 broadcast you have been waiting to watch for 4 years!