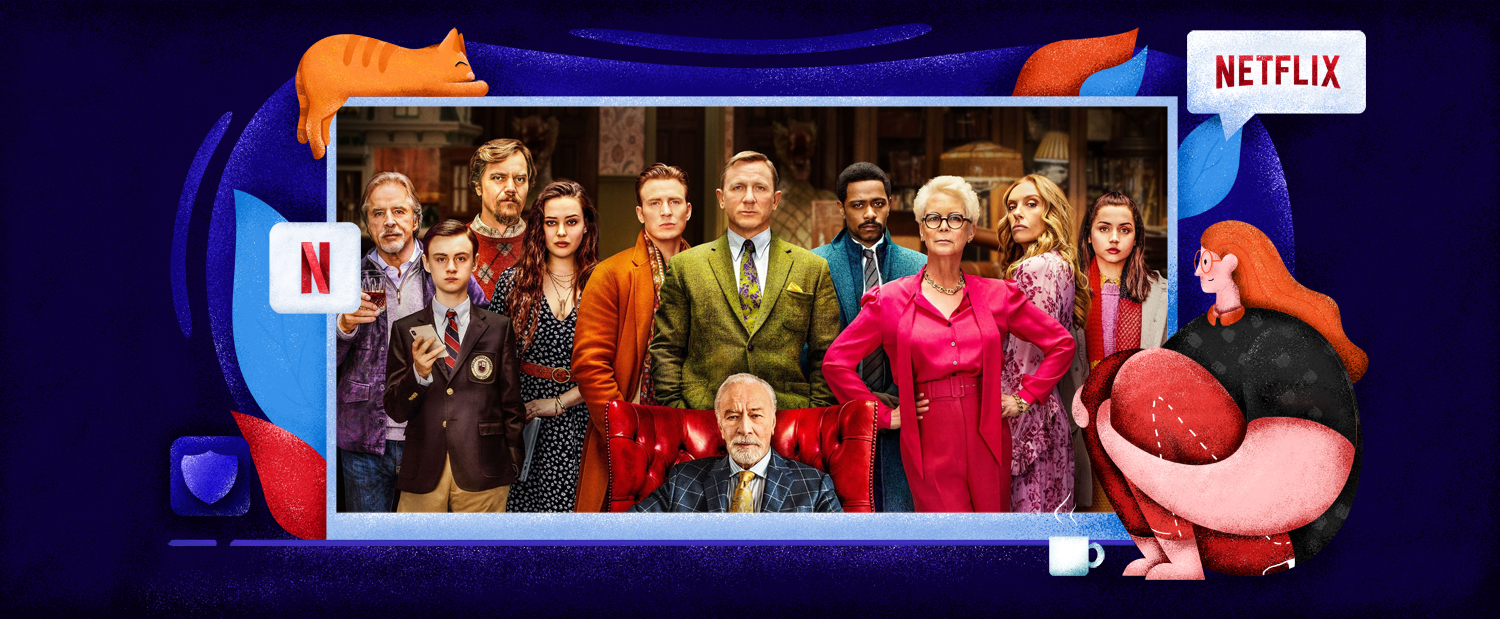 How to watch Knives Out on Netflix?
I suspect foul play. I have eliminated no suspects.
There is no bargain when it comes to whodunit films. Not so many titles fall under this vaguely defined genre, and even fewer manage to stick the landing. But the ones that manage to pull that off are almost always gems.
It has been over two years since Rian Johnson's Knives Out premiered at the 2019 Toronto International Film Festival and looking back, it has been one of the best crime drama movies in the modern era. So good that IndieWire's Chief film critic David Ehrlich described it as "a crackling, devious and hugely satisfying whole school whodunit with a modern twist."
Variety's Peter Debruge, in his review, noted, "The thing that makes this a better mousetrap than most isn't the complexity, but the fact he's managed to rig it without the usual cheese." And if this isn't praise, we don't know what is. Then again, the movie is so awesome, we're kind of afraid that even this is too much of a spoiler. So tread lightly!
The movie has been out for a while, so chances are, you have already seen it. But this one just keeps getting better every time you watch it. And in case you forget, just watching the trailer gets you hyped to rewatch the entire movie:
Can't take our or their word for it? Fair enough.
How about we tell you where you can watch it and make your call? We'll even do you one better by showing you exactly how you can watch it on everyone's favorite streaming platform!
Can't find Knives Out on Netflix? Try ExpressVPN!
There is one guilty party behind it all
The best and most effective way to write a murder mystery is by using bullet points. Did you get that?
A balanced mix of intriguing dialogue, top-notch production, and a well-structured plot with guileful twists is a close second, though. No doubt, Rian Johnson understood this when coming up with the script for Knives Out.
So quick recap to catch you right up and get you in the mood for some streaming.
This riveting crime drama pastiche revolves around the dysfunctional family of renowned wealthy crime novelist Harlan Thrombey.
Harlan is found dead at his Massachusetts mansion by his housekeeper Fran just after celebrating his 85th birthday. This untimely death creates a perplexing mystery for the adept and suave detective Benoit Blanc to solve.
It's a weird case from the start. A case with a hole in the center. A doughnut.
The amazing cast, including Ana de Armas, Don Johnson, Christopher Plummer, Daniel Craig [and the man cherishes every moment he is not playing James Bond], Chris Evans, Toni Collette, Katherine Langford, and, of course, Michael Shannon, ultimately delivered their roles. No wonder the film grossed north of $310 million despite only costing $40 million.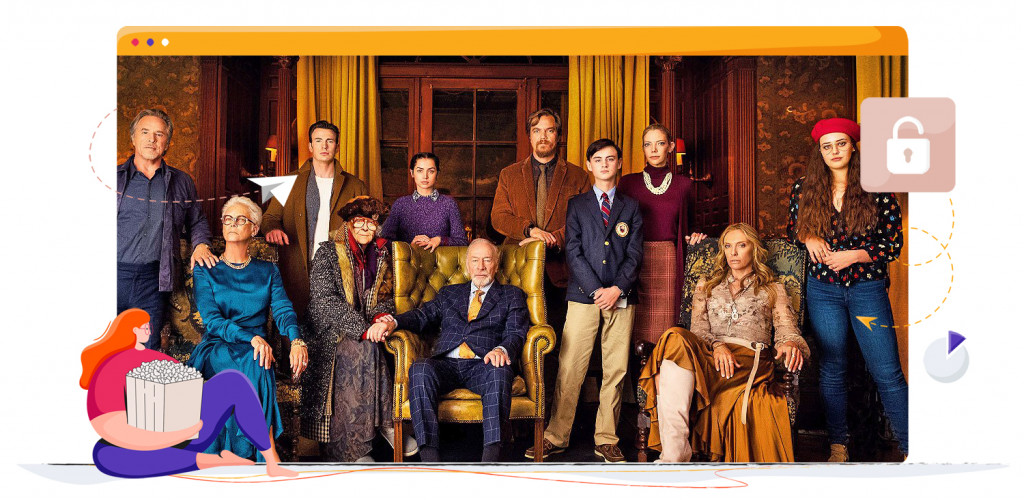 And frankly, we can't get enough of it. That's also probably why the movie is slated to get a sequel, one that, rumor has it, will start the Office's own Jim Halpert.

Speaking of which...
Want to know how you can stream The Office on Netflix?
Is 'Knives Out' available on Netflix?
If you ended up here, it's safe to assume that you have already perused through the titles on your Netflix library but couldn't find Knives Out. And you would not be the only one.
Indeed, Knives Out has long since left Netflix. And there's no buzz suggesting it's going to come back anytime soon, even though Netflix has several sequels of the movie in production right now.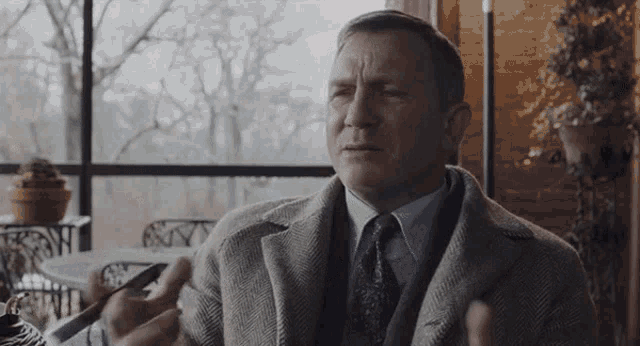 We guess, Knives Out is just going to join that weird lineup of movies and series like Full House, where all the sequels are made by the streaming giant, but the original isn't on there.

That's another good one!
Want to relive Full House on Netflix as well?
After taking its sweet time moving from one streaming platform to another one, Knives Out finally find a home for itself on Amazon Prime Video. And who knows how long it's going to stay on there.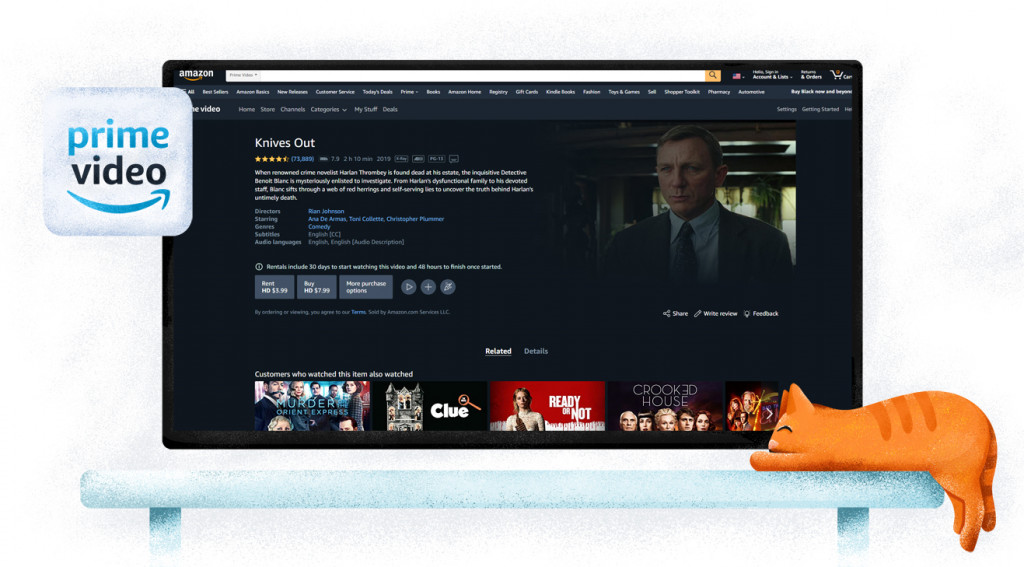 One might say that Knives Out is going through a mystery of its own. A mystery of where it's going to end up next?!
However, we are as observant as detective Blanc himself. So what if we told you, you could get Knives Out on good old Netflix without ever having to turn off the app? And it's all much easier than one might think.
---
Knives Out and all of its twists and turns might not be on Netflix in the US. But it is on Netflix in Japan and South Korea!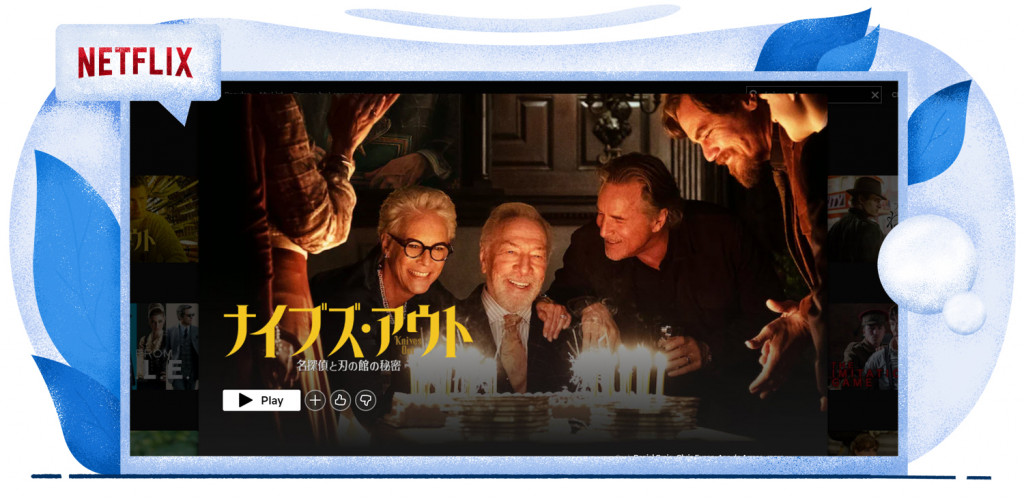 You heard it here first. The juicy comical whodunit film is not available on Netflix anywhere else in the world, and this means that your options are quite limited.
Now, you are probably thinking: How in the world does that help me?! – Well, what if we told you that you could get access to Japanese Netflix without ever standing up?! Whaaaaaaat!

Wait, what is this magic we're talking about?
Find out how Netflix works and how you can get the most of it!
But how do you get Knives Out on Japanese Netflix?
While it may sound hectic, getting access to Japanese Netflix is plain sailing.
The only thing you need to solve this mystery is a solid VPN that is able to bypass Netflix's geo-blocks.
Now that might sound easy (and it is if you have the right tools), but these days very few VPN providers can pull this off these days. After Netflix had enough and slammed the door into nearly every VPN provider's face, very few of them managed to bounce back to their previous glory.
We understand, and admittedly so, that the thought of trying out different VPNs to find the best one is dispiriting [is that a word? It's a word!]. The good thing is you don't have to worry about that. We have done all the testing for you, to find out, which VPN will definitely work and guarantee you a smooth, mystery-filled experience.
That's none other than ExpressVPN.
Heard enough?
Get ExpressVPN right now!
Though the service's subscription cost is almost as much as Netflix, we promise you,  it's worth every cent. And here are just a few reasons that will definitely have you convinced:
First and foremost, ExpressVPN is one of the few VPN providers that can actually unblock Japanese Netflix!
And that's far from the extent of it. This was one of the few providers that were barely phased by Netflix's restrictions, so it continues to effortlessly unblock any library that you might want to get your hands on!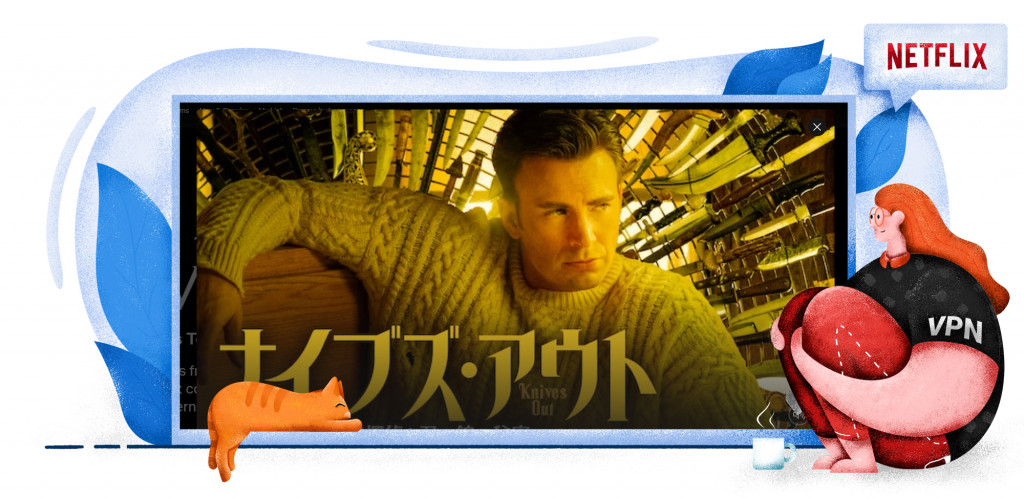 When streaming is what you're after in a VPN, speed is key. You are connecting to Japan and South Korea, after all, those are far away!
Lucky for you, ExpressVPN comes with its own exclusive Lightway protocol – the fastest VPN protocol around! So you know lag won't be pulling you out of the mystery.

ExpressVPN comes with three server locations in Japan, and it even has South Korea covered as well, in case that's your preference and you are not taking 'No' for an answer!
Need more reasons to pick ExpressVPN?
We list all of them in our extensive review!
Now, if you're going to dedicate your time for this "popcorn crunching whodunit of the highest accord" in the words of The Curvy Film Critic Carla Renata, you might as well go for the best, right? And the best is, quite simply put, ExpressVPN!
This is a twisted web, and we are not finished untangling it, not yet
Knives Out has become such a massive success over the years that Netflix agreed to shell out a whopping $450 million to make a sequel and threequel. It has been confirmed that the immediate sequel (whose name is yet to be confirmed) will have a different plot, cast, and setting.
And if you play around with Netflix and VPNs a bit, you can even get the placeholder card of the upcoming Knives Out 2 movie! That's not much, but hey, our Mom thinks it's cool!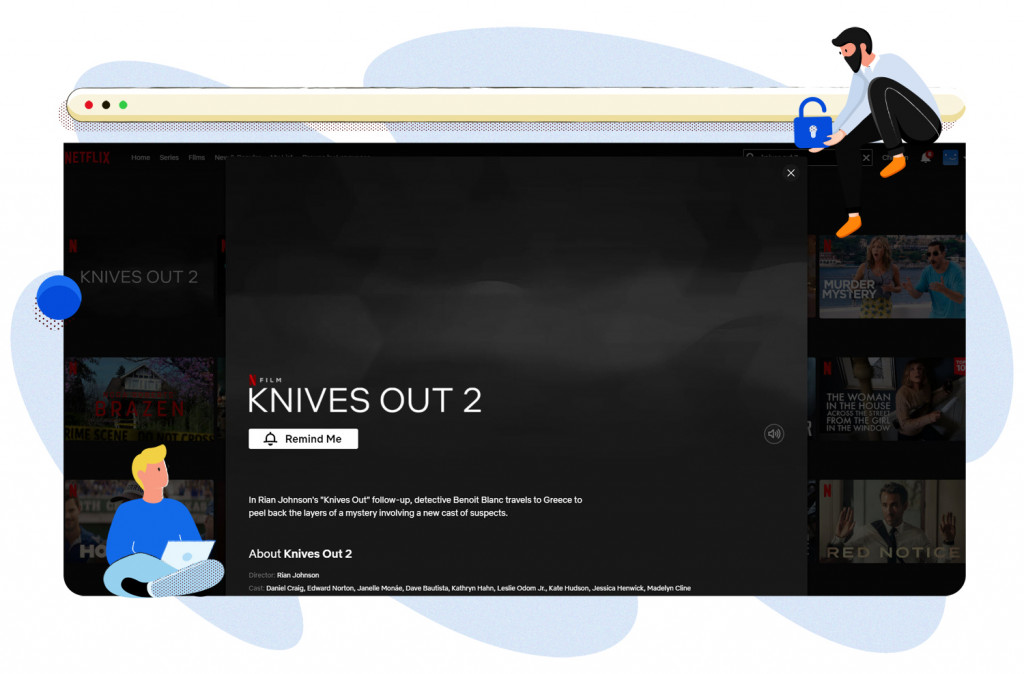 Filming of let's-call-it-Knives-Out-2-for-now began (and got concluded) last year with Johnson at the helm and Daniel Craig reprising the Detective Blanc role. Other notable names in the cast include Ethan Hawke, Dave Bautista, Kate Hudson, Janelle Monáe, Madelyn Cline, Kathryn Hahn, Edward Norton, and Jessica Henwick. And if you're not excited just reading this list, you're probably not from this Earth and we question why you're still reading this.
Bar any changes, it will likely premiere on Netflix when it arrives in fall. We hope you'll be ready for the whole new adventure and serious foul play it will bring.
For now, though, get ExpressVPN and refresh your memory with the total blast that the first comedy-thriller is.