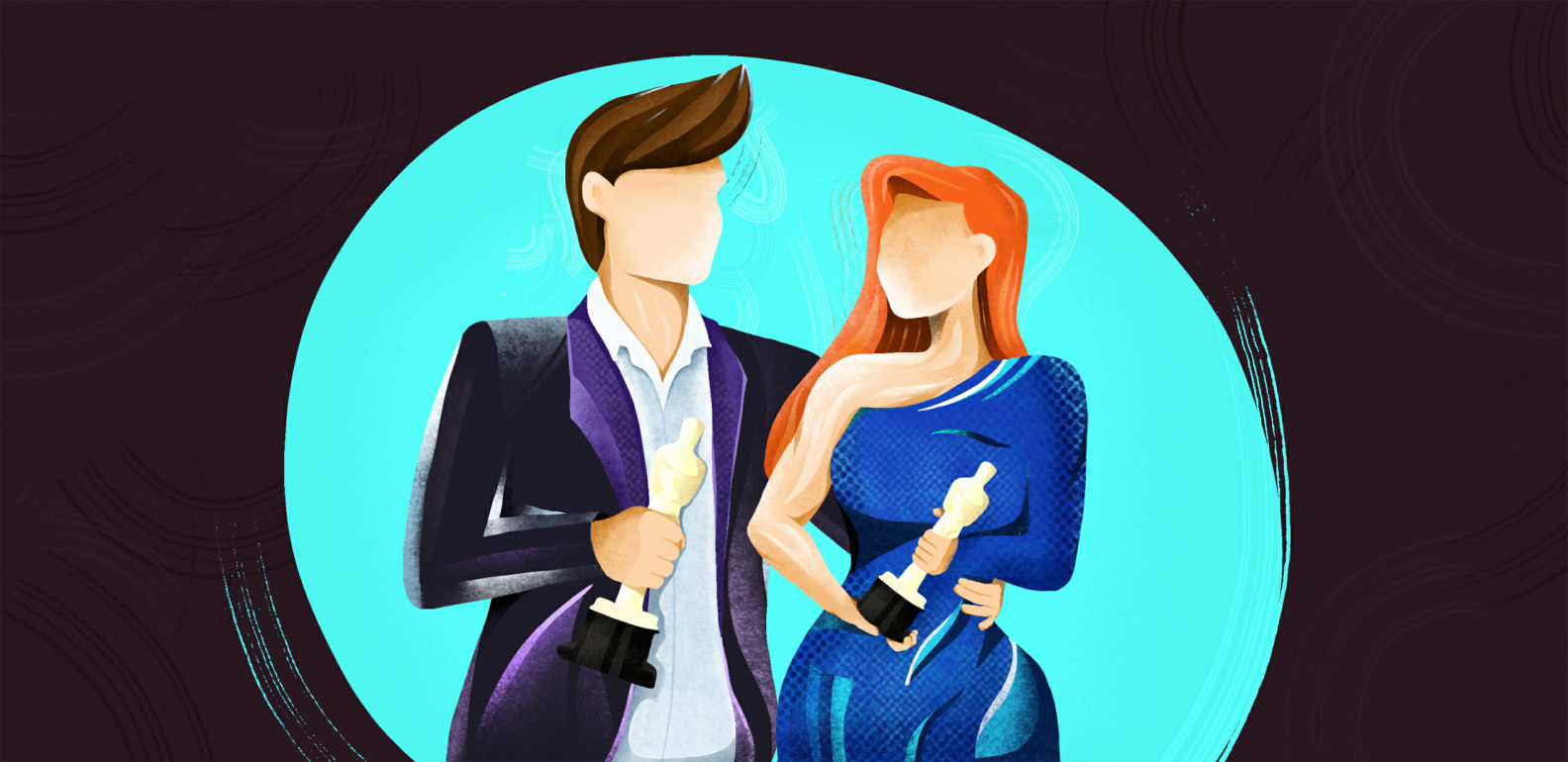 How to stream the 94th Oscar ceremony live and free
This weekend, the 27th of March, is the day any cinephile is waiting for all year round. You guessed it, it's the 94th Academy Awards Ceremony!
Ah, it's the night where everyone wears the most impractical dresses, the ceremonies drag on way too long while no one gets to say what they want to say, and none of the movies you liked get the statuette. We don't know about you, but we can't wait!
If you are as much of a movie buff as we are, you know you have to make yourself a massive bowl of popcorn and sit through the entire thing. And lucky for you, we know all about this year's ceremony. Including all of the ways you can live stream the much-awaited 2022 Oscars for free!

Surfshark: Never miss a movie night ever again with the best VPN for streaming!
The changes to the 2022 Oscars
This ceremony marks the year when the Academy of Motion Picture Arts and Sciences has introduced the most changes to its ceremony.
First of all, the live hosts are back. And this year the Oscars are hosted by comedians Amy Schumer, Regina Hall, and Wanda Sykes. Love them or hate them, they are a staple of the ceremony, even if to contribute some traditional awkwardness.
This is also the first time that no fewer than 8 prizes will no longer be awarded live. This has led to much controversy in the film industry. But the consensus is that the Oscars drag on for too long and can be a slug to sit through. So something had to be cut somewhere.
The viewership of the Oscars has been dropping year after year, with last year's numbers being the lowest in Oscar history (9.23 million viewers). So we are curious if the changes will indeed help the ceremony make it back into the public eye.
But the real reason anyone ever tunes into the Oscars is, of course, the movies! And this might be the first year after the pandemic where we don't have to settle for the bottom of the streaming barrel!
What are the 2022 Oscar nominees?
There are indeed some notable nominations this year. So we're starting off strong.
The most celebrated film this year is Jane Campion's The Power of the Dog. And it's closely followed by Denis Villeneuve's Dune with no less than ten nominations. First of all, that's a lot for a science fiction film. Second, Denis Villeneuve has been doing amazing work for years, so these nominations are well overdue!
Other contenders for this year's Oscars are Steven Spielberg's West Side Story, Kenneth Branagh's Belfast, and Paul Thomas Anderson's Licorice Pizza. All of them – solid movies!
The most controversial addition to the Oscars' roaster is, perhaps, Don't Look Up – a satirical drama (?) that was panned by critics but loved by audiences (for some reason). But when a movie has Leonardo DiCaprio, Jeniffer Lawrence, and Meryl Streep all sound judgment flies out the window.
This lineup of movies might not be the most exciting we have ever seen. But it's definitely well worth the price of tuning in and watching the ceremony in all of its unnecessary splendor!
So where can you stream the Oscars in 2022?
As usual, the Oscar ceremony can be seen exclusively on ABC in the US. And if you're an online streamer, it's not exactly as easy as just tuning in – you still have to have a cable provider in order to stream the ceremony.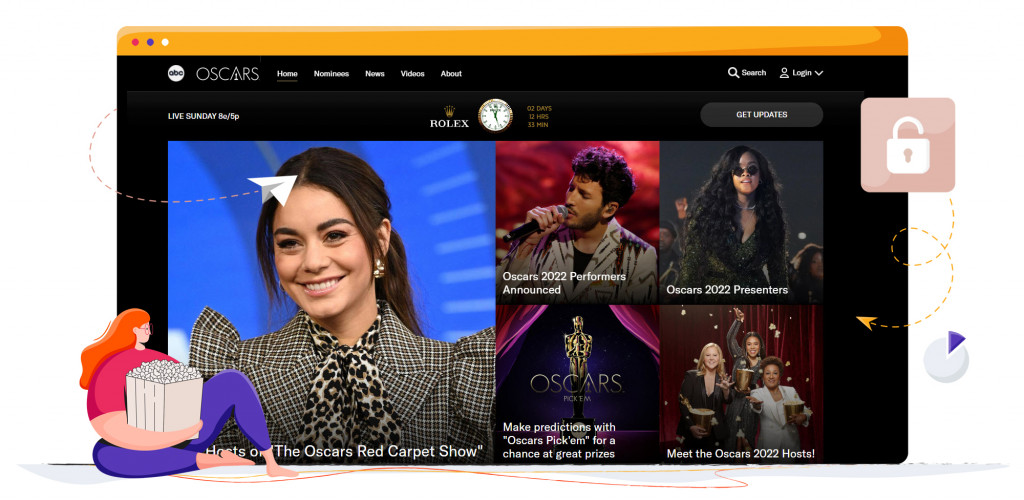 Other places of the world (which, believe it or not, watch movies too) might not have things that easy.
Canada can stream the ceremony on CTV. And the good people across the pond will only be able to stream the Oscars on Sky Cinema.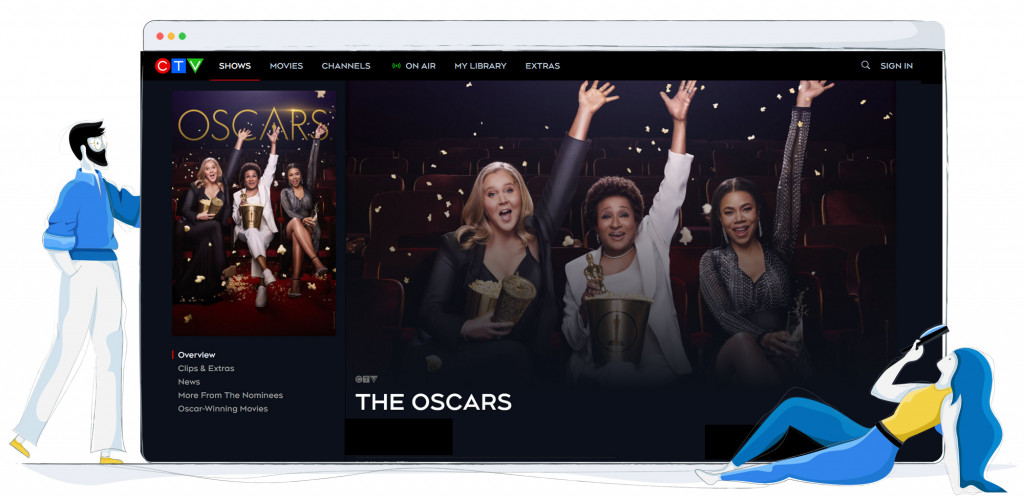 And since battling paywalls in the middle of the night takes all of the fun out of the Oscars, we've found the perfect workaround! Wherever you are, tune into a stream that is broadcasting the Oscars not just live, but also free of charge.
All you need is to know where to look, and the right tools to access the streams!
What are these right tools you are talking about?
There is a handful of places in the world that are streaming the Oscars free of charge and as live as they can be. Finding them is easy.
The real problem is trying to access them since none of those streaming options are willing to make the biggest annual event in the film industry free of charge. So, you're once again met with geoblocks and online restrictions, that you have to bypass.

Geoblocks?!
Yep! And you are facing them very single day!
No need to go searching, though, or pay more than the cost of your local streaming platform that's holding the Oscars hostage. We've got the perfect solution for you right here: Surfshark!
When it comes to streaming, we generally can't get enough of Surfshark.
Fast, reliable, able to break through any block thanks to its wide and exclusive collection of features, this is the VPN to get around blocks and stream whatever you want!
Surfshark might not have the biggest server network, but it has perfect and powerful serves in every place that matters.
Wherever you need to connect to and stream from, Surfshark will definitely have your back.
A few other providers might work just as well, but Surfshark is THE most affordable premium VPN out there!
So why pay more, when Surfshark can get the job done just as well?!
Need to know more?
Find out why Surfshark is one our favorite VPN providers!
The best places to stream the 2022 Oscars for free
Unlike last year, there are much more places that are broadcasting the 94 Academy Awards for free. But we're not about to list any kind of stream we came across.
No, we have gone through all of them and handpicked the best possible options for you! We're talking streaming options that you can generally understand, and ones that you don't have to register for.
So… here goes!
7Plus
Just like last year, the Australian streaming platform 7Plus is our favorite place to stream the Oscars. In addition to this stream not being in Flemish or something, the presentation is quite nice as well.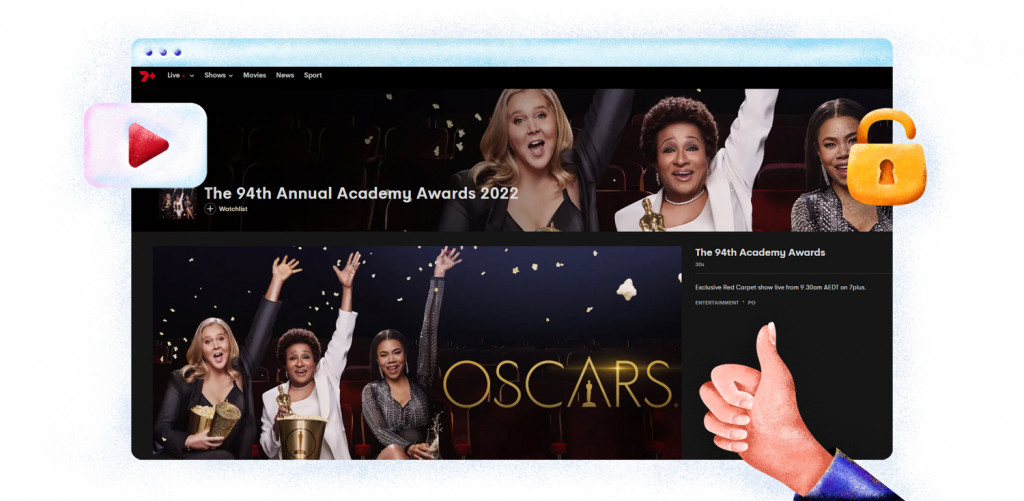 Here's how you would go about streaming the Oscars from 7Plus:
Get Surfshark. The streaming platform is geo-restricted, so you can't get around the blocks without a stellar VPN.
Connect to one of Surfshark's great Australian servers.
Head on over to 7Plus and enjoy the live stream!
RTE2
Australia isn't the only place to kindly stream the Oscars for free. You can also watch the entire ceremony on the Irish RTE2 platform.
All you have to do to tune is:
Get Surfshark. Still a must!
Connect to the VPN's glorious server in Ireland.
Find the RTE website and tune in when the time comes!
Simple as that!
ORF 1
We all know and love the Austrian ORF 1 streaming channel. After all, this is our go-to streaming platform for all things Formula 1 [or, at least, half of them, which is still pretty great].

What are we talking about?
Check out all the ways you can stream F1 in 2022
But motorsports isn't the only thing that this amazing (and free) platform has to offer. It's also streaming the Oscars this year! Live, free, no registrations, no nothing!

So if you don't mind a bit of German, here is how you go about 'hacking' into this live stream:
Get Surfshark! As awesome as the platform is, it's still blocked to outsiders.
Connect to an Austrian server.
Head on over to ORF 1 and check out the live stream!
Don't forget your best dress!
It's almost that fateful night everyone can't wait to critique! And now you can tune in and enjoy all of it wherever you happen to be!
So, are you VPN-armed to the teeth? What are your predictions? Is Don't Look Up going to get away with all of the statuettes?!