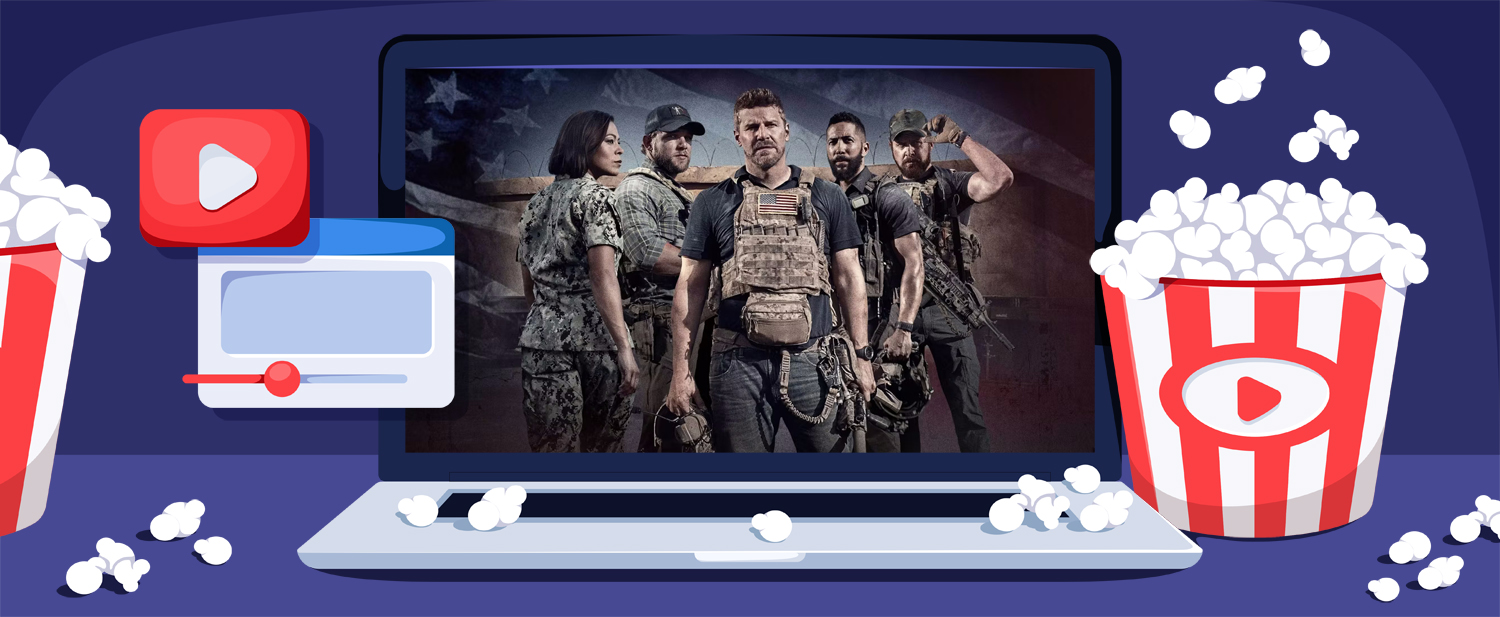 How to stream SEAL Team season 6 wherever you are?
Have you ever wanted to ride along with real American Navy SEALs? Have you ever wondered what the brave men and women in uniform go through as part of their daily lives? If so, the series SEAL Team is probably the closest you can get to experience it without having to join the military. Does that sound like something you'd enjoy? Well, you're in luck, because we've been just blessed by the TV gods with season 6!
If shows that feel like someone's trying to make Call of Duty a series don't feel like your cup of tea, relax. SEAL Team has plenty of emotional drama, tough topics, and dizzying tension alongside some of the best seat-of-your-pants action modern streaming has to offer. And after that incredible season 5 ending, the series seems to have reached its fever pitch. And, frankly, we can't wait to see where the story takes us next.
Fortunately, we don't have to! SEAL Team's season 6 is finally out with new episodes airing every Sunday.
But does everyone get to see the new episodes as soon as they air? We're here to find out and, perhaps, teach you how to go behind enemy lines and stream the new season early.

Stream SEAL Team season 6 right now with ExpressVPN!
Who is streaming SEAL Team season 6?
SEAL Team is a CBS production. And it comes as no surprise that the entire series, including all of the new season 6 episodes are exclusive to CBS's own Paramount+ streaming platform.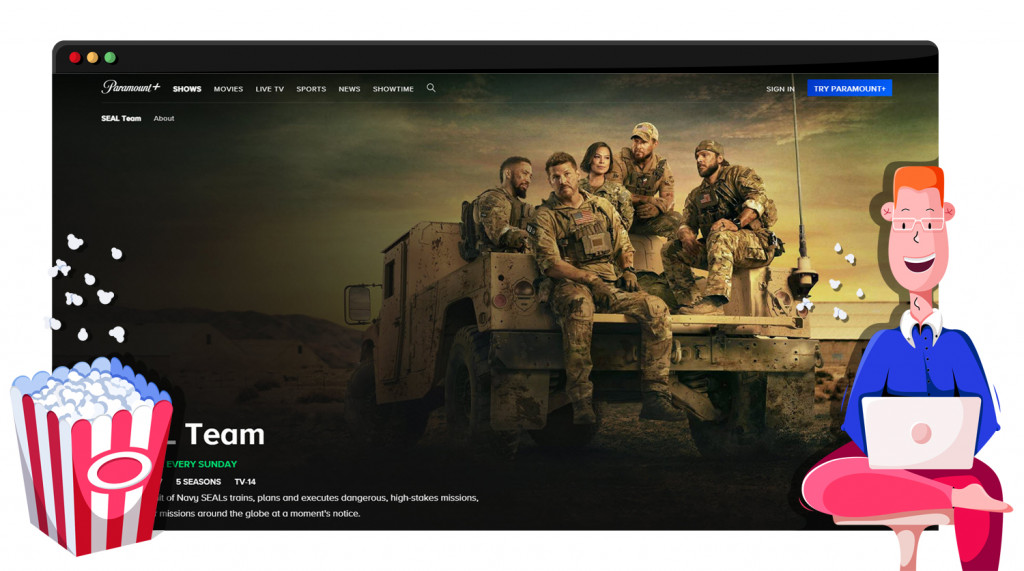 That's great! However, this also means that the latest season is currently available exclusively in countries that have Paramount+, which pretty much equates to the United States, Canada, and Australia.

Don't have Paramount+ yet?
We can fix that! Check out how to get Paramount+ anywhere!
Despite what CBS might think, there are fans of the SEAL Team series in other countries too. However, Paramount+ is not available globally, which means that all of the fans dying to find out what happened to Bravo Team can just keep on waiting. Heck, even countries that have Paramount+ won't seem to be able to get their hands on any of the new episodes until long after the new season airs.
Truly, all of those geoblocks seem to be employed by the same terrorists that Navy SEALs are sent to fight.
Don't think it's that bad?
Check out how geoblocks affect you every single day!
So? What now? Do you just give up? Well, Bravo Team doesn't give up no matter what each new season throws at them, we're pretty sure we can tackle a few streaming restrictions. [Granted, this wasn't our best segway, but we've also done much worse]
How can you watch SEAL Team season 6 right now wherever you are?
Obviously, the best place to stream the new SEAL Team season is Paramount+. This is where you can find all of the show's seasons and this is where all the new episodes air first. Plus [pun not intended, but in retrospect, yes, completely intended], it's a pretty cool streaming platform overall.
But how do you get it if all you see upon trying to access Paramount+ is its vague promise of 'Coming soon'?! You get the ultimate weapon in your online toolbox: a VPN!
Wondering what a VPN can do?
Check out our complete guide to everything you need to know!
A VPN lets you virtually alter your online location and get instant access to places, platforms, and services that would otherwise be unavailable.
However, streaming platforms are getting harder to crack, so you need a truly powerful provider that can help you get your hands on SEAL Team early. And that's ExpressVPN!
Why ExpressVPN? Well, there are a few reasons for choosing this VPN over any other:
First of all, this VPN was made for unblocking streaming platforms as much as it was for keeping you safe and anonymous online.
With easy access to nearly any streaming platform in the world, this is the VPN to go for if you are into streaming.
Equipped with military-grade encryption, and packed with streaming unblocking features, this is a service that would make a navy seal proud.
Fast, reliable, and extremely easy to use, this is the best VPN on the market today!
It comes with a 30-day trial, so if you're fast enough, you can stream all 6 seasons of SEAL team ?
Want to know more?
Check out our full ExpressVPN review!
How to get Pramount+ from anywhere?
Now that you're equipped with the best online camouflage coupled with a geoblock-buster that the online world has to offer, let's get to unblocking Paramount+.
It's all fairly simple. And if you have 15 minutes to spare, you too will be streaming SEAL Team episodes as soon as they air. Here's what you have to do:
1. First of all, subscribe to ExpressVPN, download, and install the app on your device.
2. Next, launch the ExpressVPN app and connect to one of the provider's US servers.
3. Head over to Paramount+ and apply for an account. You will have to provide the streaming platform with a local postcode.  It's just a formality, so here're a couple so you don't have to google them: 06492, 48867, 11787, 06106, 01826.
4. The hardest part for many is probably paying for Paramount+, as the platform accepts American payment options exclusively.
Not to worry, though, getting one is not as difficult. Awesome virtual payment providers such as US Unlocked or Wise will hook you up with a legitimate American bank account in no time!
Get your own American bank account from anywhere!
5. Finish up creating your Paramount+ subscription and stream, oh my gosh!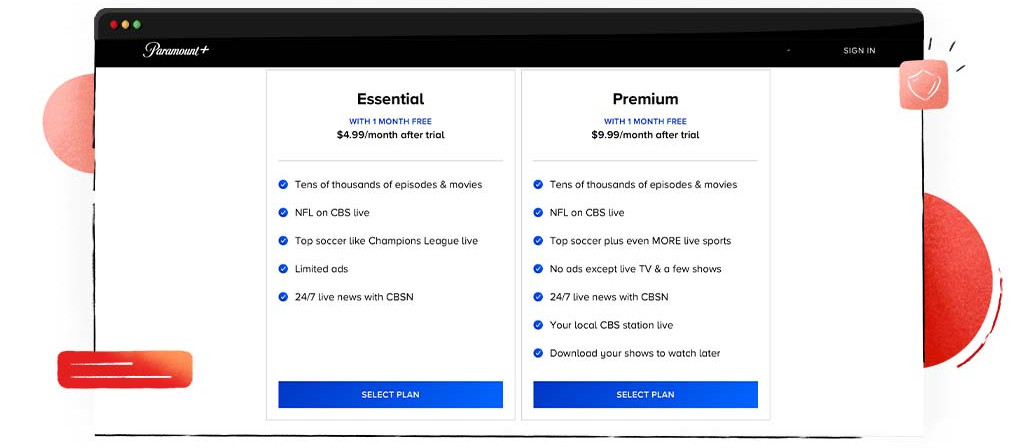 Semper Fi
Just when you think there are enough military movies and shows, a new one rolls around and it's so good that you can't help but watch. For many, this has been SEAL Team. And for 6 strong seasons, it has failed to disappoint!
So if you're looking for a new series that is as packed with action, as it is with drama and thought-provoking themes, SEAL Team will have you hooked!
Thankfully, you now know how to stream the show wherever you are. So get yourself ExpressVPN. Get yourself Pramount+ and get to streaming!