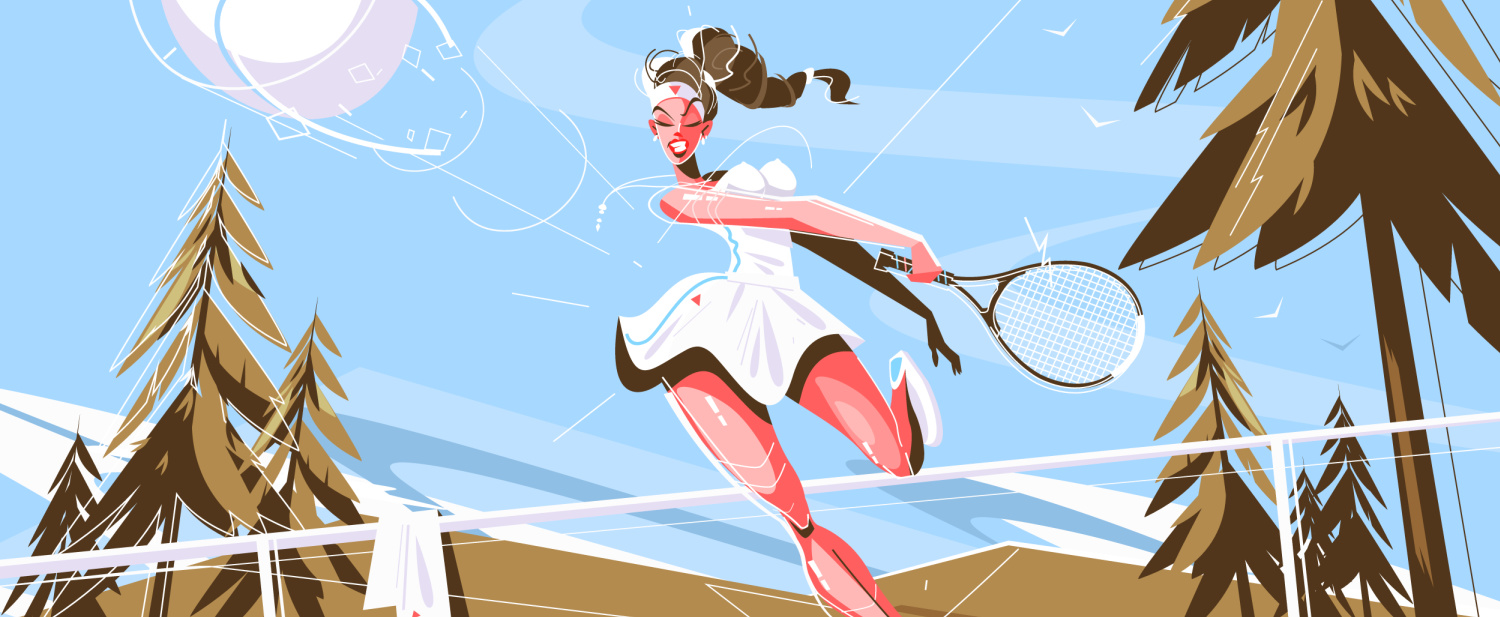 How to Stream Wimbledon 2022 Live and Free
It's Friday then… there is Saturday and Sunday (insert Mufasa's reaction), but for those of us who love tennis, it is the French Open, Wimbledon, and then the US Open to wrap up the Calendar Slam.
The French Open (Roland-Garros) got underway this week and will run until June 5. This clay court season will then usher us into the grass outdoors of the prestigious and iconic Wimbledon set to start on June 27. Though the former is arguably the most demanding, it is Wimbledon's glistening silver-gilt cup or sterling silver salver that almost all tennis professionals hope to win.

Don't miss the 2022 Wimbledon tournament!
Get ExpressVPN and stream Wimbledon for free!
Wimbledon 2021 key moments and what to expect in 2022
Last year, three-time defending champ Novak Djokovic won against Matteo Berrettini, retaining the 2019 Wimbledon men's singles title.
In the women's single, Ashleigh Barty defeated Karolína Plíšková to win the Venus Rosewater Dish in the absence of defending champion Simona Halep who didn't compete due to an injury.
Djokovic's win marked his sixth Wimbledon title and, overall, completed his second decade of major titles – to equal the Swiss Maestro Roger Federer and King of Clay Rafael Nadal. The Serb will once again be on a journey to defend his title, while Naomi Osaka and Emma Raducanu are expected to put up a show on the women's side.
Ash Barty, however, won't be gracing us with her presence following her shocking and unexpected retirement after the Australian Open. Nonetheless, this year's tournament is set to be an interesting one, not to mention Wimbledon will be celebrating its 100th anniversary in the All-England Lawn Tennis and Croquet Club.
With that out of the way, let's get straight into how and where you can watch the action.
Who is broadcasting Wimbledon in 2022?
Wimbledon is arguably the most popular and prestigious of all tennis tournaments and this translates to a massive viewership demand. A few cable channels get exclusive broadcasting rights in different regions to maximize returns.
In the US, ESPN has held rights to broadcast the Championship – both men's and women's – since 2012. We mean, they have an entire Wimbledon Channel for streaming, you guessed it, Wimbledon specifically. So that is the perfect place to follow just about everything surrounding the competition and beyond.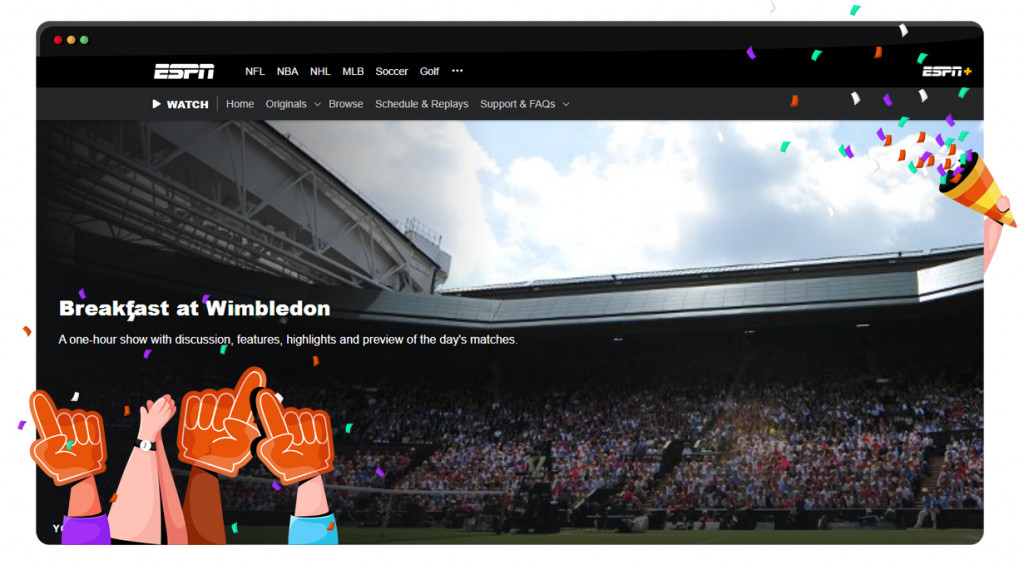 Besides the standard cable option, fans can access the channel via other streaming services like Sling TV, YouTube TV, fuboTV, and Hulu + Live TV.
Neighbors up north in Canada can follow the competition on TSN. Aussies, on the other hand, have Stan Sports as the go-to option to watch the action from Wimbledon.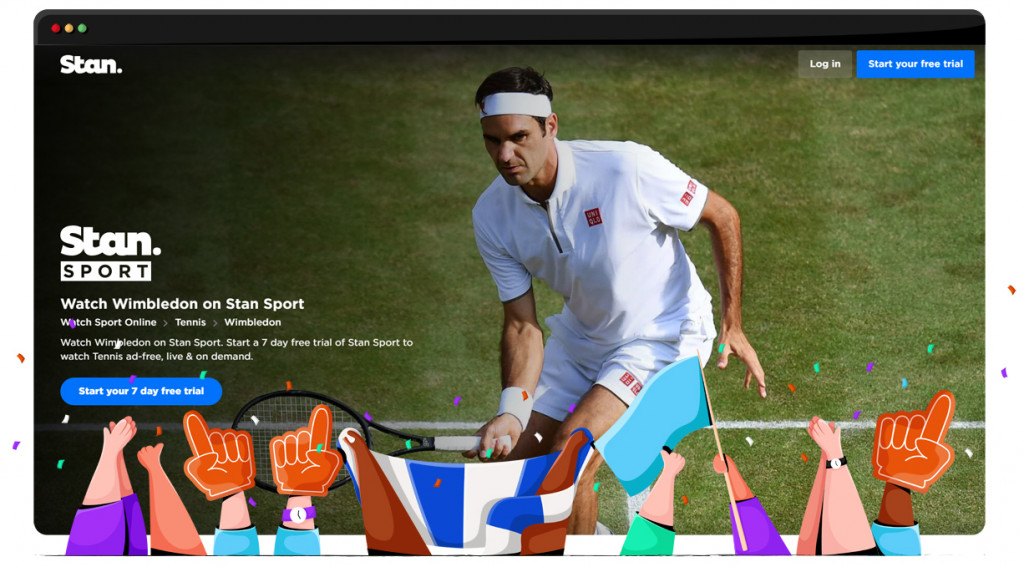 How can you stream Wimbledon in 2022 live and free?
Now, the Wimbledon streaming options you have in your neck of the woods might not be the best ones. But some countries are actually broadcasting the entire competition for free. No cable subscriptions, no streaming platforms for a monthly price, no nothing!
There is one problem that ties all of the tennis streams – probably all of the sports streams together – and that's geo-blocks. Meaning, the streams and broadcasts may very well be free, but they are only accessible to the residents of those countries.
Is it fair? Well, it kind of is. But when you're the fan that can't watch your favorite sport while others can, it definitely is not.
And that's exactly where VPNs come in – to right this wrong. However, to stream a sports tournament as coveted as Wimbledon in its entirety, you need a crazy powerful VPN. And there is but one VPN that can be called that: ExpressVPN.
'Why?' we can hear you ask. Easy:
ExpressVPN is the only VPN that lets you have all the goodies – security, privacy, and streaming – with no compromises or trade-offs.
It is the fastest VPN and when it comes to streaming live sports, nothing matters as much as speed.
It's also the most reliable thanks to its TrustedServer technology. So you don't have to worry about your stream lagging during a crucial stage like a tiebreak.
Though ExpressVPN might not have the highest number of servers, it has the most diverse server network. This means, that wherever the free stream may be this year, it will be able to unblock it.
ExpressVPN may be on the pricier side of the VPN spectrum, but you know that you are getting the quality, service, and support you deserve!
Want to know what makes ExpressVPN the best?
Check out our completely new and revamped review!
Who is broadcasting the Wimbledon championship for free in 2022?
Wimbledon is tough. And, as you would expect, free Wimbledon streams aren't just lying around.
But, once again, we have done all the heavy lifting for you and scoured the Internet for every single way you can stream the tournament as live and as free as one can. So, here are your options:
BBC iPlayer
Aaah yes! The famous British streaming platform is coming to the rescue again, having signed a new three-year deal that extends its rights until at least 2026. As usual, it has all the rights to Wimbledon and will be streaming the whole tournament for all the Brits.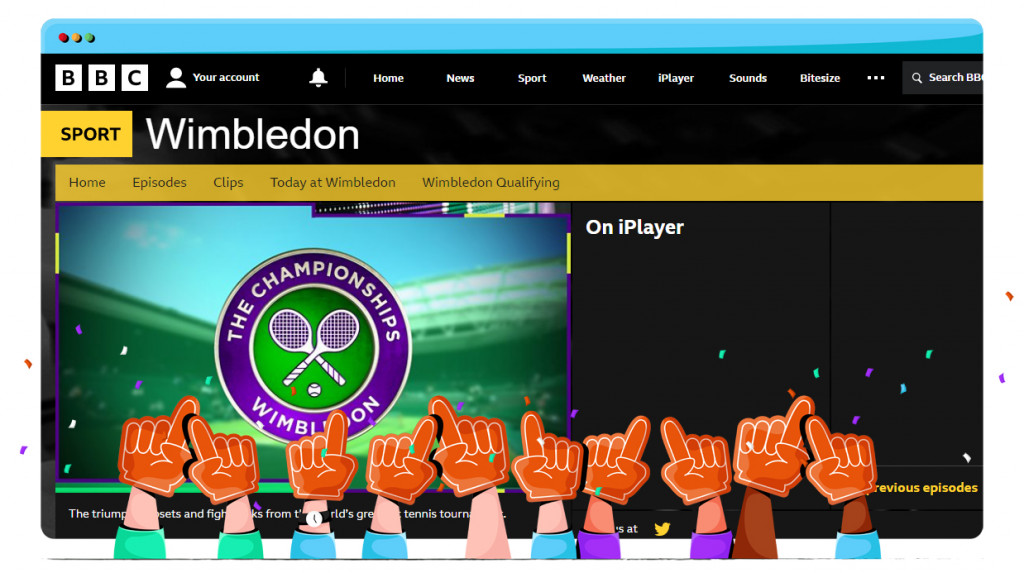 If you reside outside the UK, you'll need to bypass BBC's blocks and ExpressVPN is the ultimate key:
First, get ExpressVPN.
Connect to a server in the UK.
Create an account using a British postcode generator you can get online. If prompted about the TV license, fill in that you have one.
Visit the BBC iPlayer website when the time cometh and watch all your favorite players in action.
Zattoo
Zattoo is an awesome platform that allows you to watch select content from select platforms for free. In this case, think of it as another way to stream BBC, but through Switzerland.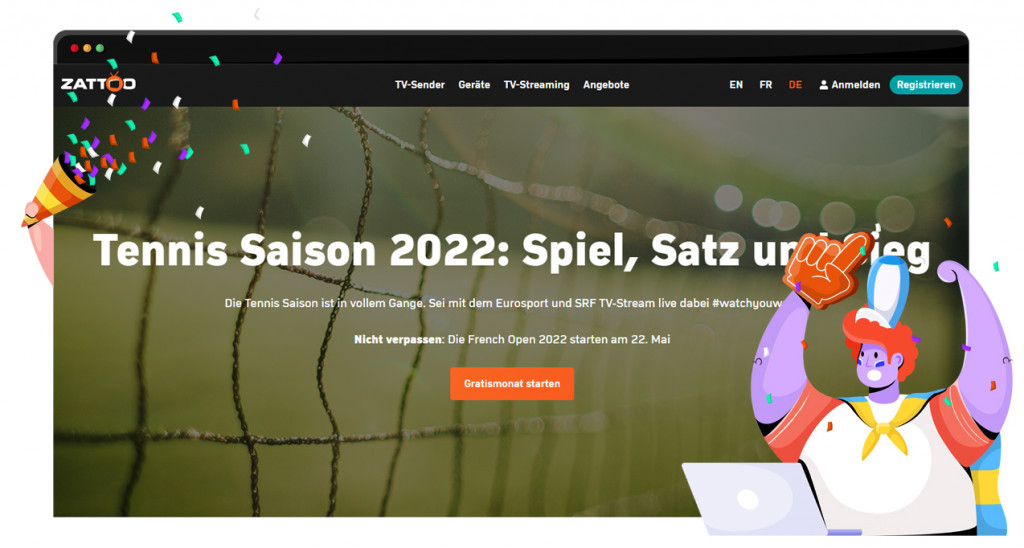 It doesn't matter how many borders you need to cross; ExpressVPN will still get you there and here's how:
Get ExpressVPN.
Connect to a Swiss server.
Head on over to Zattoo and opt for a free subscription.
Create your account and unlock BBC through Zattoo.
Enjoy the star-studded affair as the world's in-form tennis players take on each other seeking ultimate glory.
9Now
There's no streaming platform to get you ready and well-prepared for the 2022 Wimbledon as 9Now. This free ad-supported service has compiled together highlights of all the matches from last year's tournament.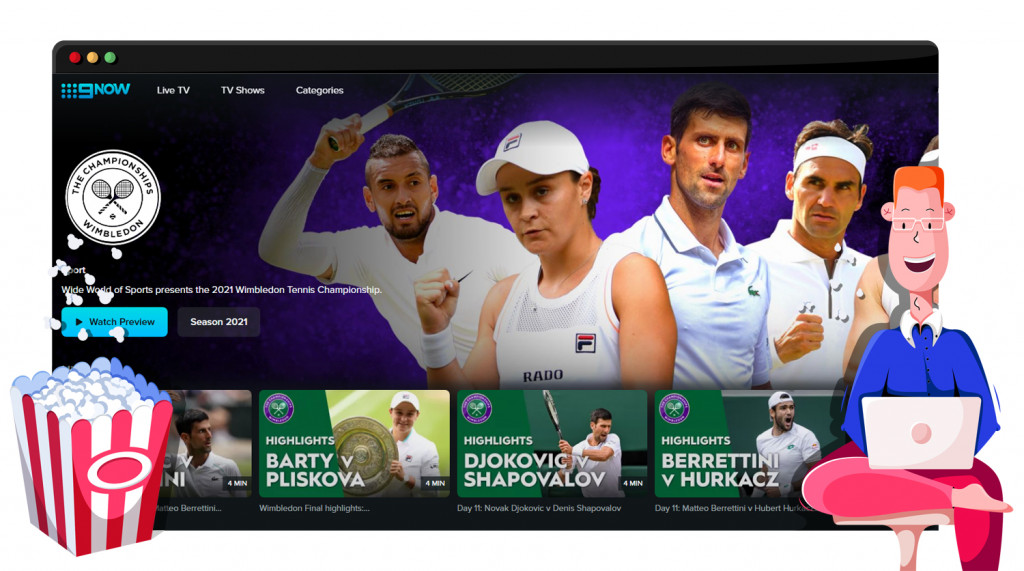 Aussies will definitely be at home watching this year's edition on 9Now.To follow the entire Championship (in English) outside Australia:
Get ExpressVPN.
Connect to one of the many server locations in Australia.
Create your free Nine account.
Catch the live stream when the time comes, and dream of sugar gliders and kangaroos.
Amazon Prime UK
For the really adventurous who just can't sit still without taking risks, there is yet another option to stream the tournament from the UK. Amazon Prime will also be broadcasting the event this year, but only in the UK, and as you probably know, Amazon Primes are not created equal. Amazon Prime is also no Netflix, so you can't really throw a switch and end up in an entirely new library of streaming goodness.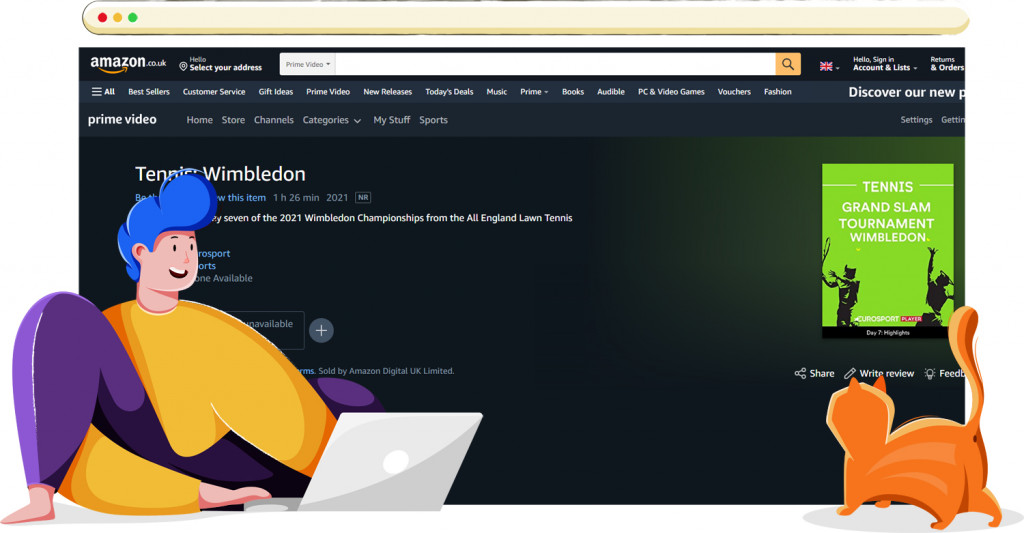 So why are we even recommending this even though Amazon Prime screams premium? Well, Amazon Prime has a 30-day trial version everywhere, so you can technically watch the entire competition (along with everything else Amazon Prime Video UK has to offer) during the trial period for free!
Here is how to go about it:
Get ExpressVPN because, of course, that's your gate pass to the platform.
Connect to one of the British server locations.
Head on over to Amazon Prime and create a

new

account.
Apply for a free trial and enjoy Wimbledon as well as the wide range of content in the sports segment.
Can Djokovic put the Australian Open drama behind and make it a fourth consecutive?
All eyes will be on Djokovic, who failed to make it a record nine titles in the Australian Open earlier this year. The Serbian will be looking to put his disappointments in Australia aside to bag a sixth Wimbledon title. It, however, won't be an easy path with the likes of Berrettini and Nadal equally eyeing the pineapple trophy.
The women's single will also be another affair to follow closely. Iga Swiatek, Osaka, and Raducanu will battle it out as favorites to leave their mark at the All England Club.
Either way, this is sure to be one exciting competition! And now you are fully prepared to not miss a beat of it!