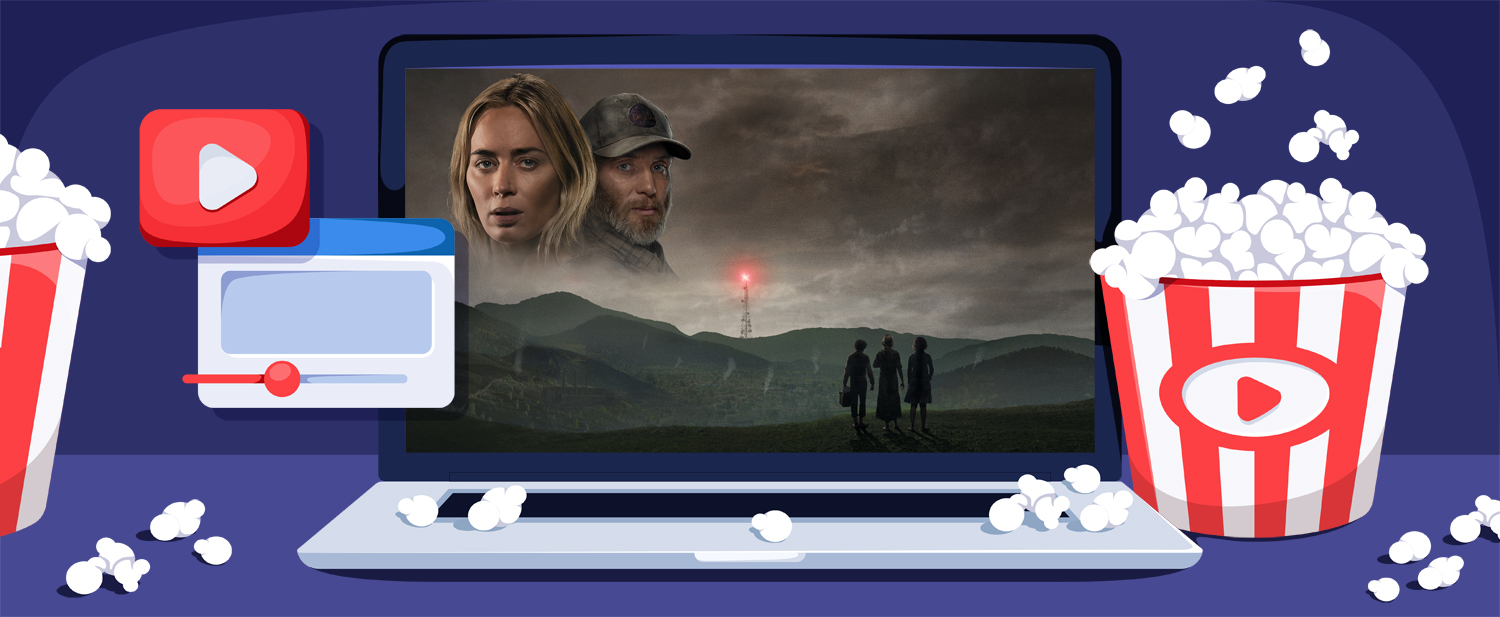 How to watch A Quiet Place and A Quiet Place 2 on Netflix?
Once in a decade (if you're lucky) a scary movie rolls around that redefines the mainstream horror genre. And in recent memory, for many this has been John Krasinski's directorial debut A Quiet Place (2018). When it came out, the movie blew everyone away with its insane tensions, amazing performances, and unique twist on a common premise. And as though that wasn't enough, A Quiet Place 2 came out in 2021 and turned out to be equally as good as the original, if not better.
The premise of the Quiet Place movies is rather simple. Aliens. Big whoop. But the unique twist that these terrifyingly animalistic creatures navigate exclusively by sound has led to both the original and the sequel having some dizzyingly intense moments. Who could forget Emily Blunt's bathtub scene from the first movie? Or the train scene in the second one?
The two movies have instantly cemented John Krasinski as a national treasure (as though The Office wasn't enough), and we can't wait to see what he comes up with for the Prequel-Sequel currently slated for 2025.
Are you a horror fan and these ones somehow slipped under your radar? — You have to see the Quiet Place movies! Do you enjoy good cinema? — You have to see the Quiet Place movies! Have you already seen them? — You have to re-watch them both!
And now that we've firmly established that you have to watch the Quiet Place movies no matter what, the question is: Where?

Watch A Quiet Place 1 & 2 on Netflix with ExpressVPN!
Who is streaming the Quiet Place movies?
A Quiet Place 1 & 2 are both Paramount movies. And, as such, in the US both of the movies can be seen exclusively on Paramount's very own streaming platform Paramount+.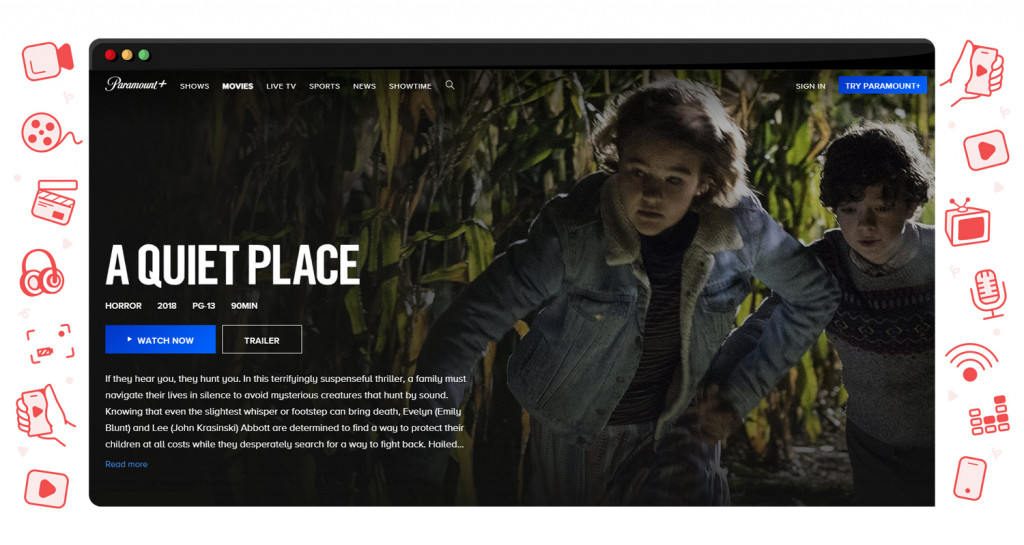 So we guess anyone who gets a successful movie gets their own streaming platform now?
Jokes aside and as awesome as Paramount+ may be, the US is pretty much the only place where the streaming platform is available (that and Australia). So does that mean that the rest of the world has to go Quiet Placeless?

Not in the US but still want Paramount+?
Check out our step-by-step guide on how to get it anywhere!
Well, not entirely. But the streaming options do vary wildly and depend solely on where you are and who has the rights to the movie.
For example, in the UK you can pretty much exclusively rent both of the movies. In Canada, you can stream A Quiet Place 2 on Amazon Prime, but not the first one, for some reason. And in the rest of the world, the situation varies from country to country with pretty much every streaming service in existence having its shot at the rights to one or the other movie.
When did it all get so complicated? You just want to see amazing Emily Blunt take on some perfectly spooky aliens! Can't you just watch everything on Netflix like in the good old days?
As a matter of fact, you can!
Where is A Quiet Place available on Netflix?
You might not be able to find any of the Quiet Place movies in your Netflix library, but that doesn't mean they're not there. In fact, every country's library is very different. So if something is not available where you're at, it most certainly is elsewhere.

Want to know more about how Netflix works?
Check out everything you need to know!
For example, A Quiet Place 1 is currently streaming on Netflix in Brazil, France, Italy, South Korea, Denmark, and Japan.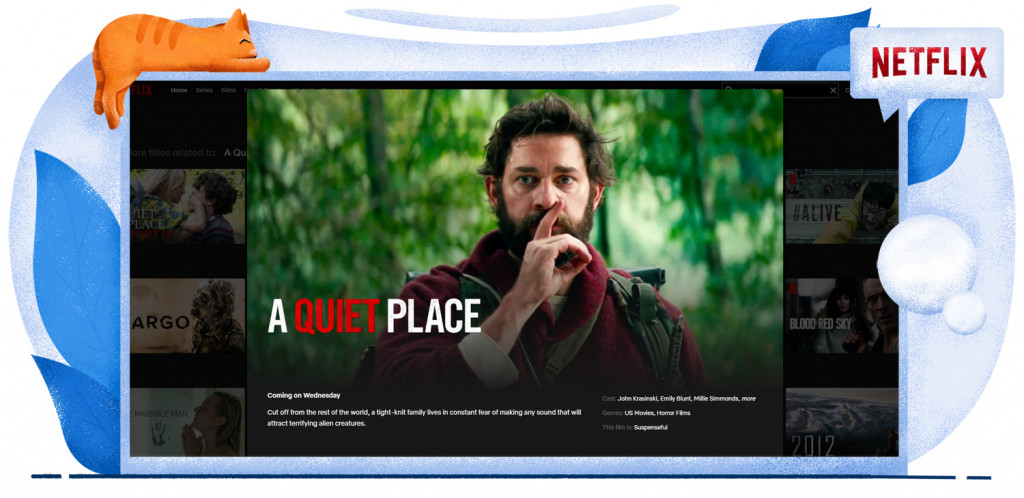 Sweet, eh? No need to take out a new streaming service subscription!
Where is A Quiet Place 2 available on Netflix?
A Quiet Place 2, on the other hand, is a bit more elusive. But that doesn't mean we didn't find it for you.
The second movie is available in the Japanese Netflix library. So Japan is definitely the common denominator for Quiet Place streaming!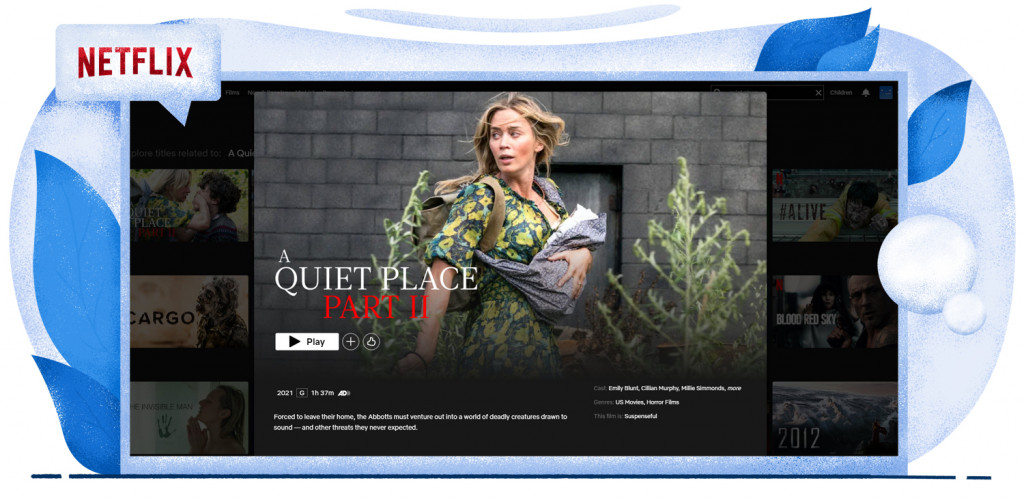 Now, the question is: How do you get access to the Netflix libraries that hold the Quiet Place movies?
How can you watch both movies on Netflix?
Simple. All you need is a VPN!
Slow your roll there, buddy. Just about any VPN won't cut it. As you can see, the libraries where the Quiet Place movies are available can get rather exotic. So any free VPN you can find in your local app store simply won't be able to get you where you need to be.
Even the premium VPN providers are having trouble with Netflix ever since the infamous VPN ban.
No, what you need is a VPN that is particularly suited for unblocking some of the toughest Netflix libraries and still somehow doesn't make it an exercise in tedium. And the only provider that is currently able to do that is ExpressVPN!
Here's what makes ExpressVPN stand out among the competition:
First of all, it's currently the VPN that works best with Netflix.
ExpressVPN can unblock pretty much all of the Netflix libraries we mentioned and then some.
It's fast enough to be streaming all the way from Japan without a hitch.
Finally, it has a 30-day money-back guarantee trial period, which basically means that you can get it, watch both of the movies, and get a full refund!
Want on know more?
Read our full ExpressVPN review!
Got it? Good! Now all you have to do is:
Get ExpressVPN, download it, and install it on your device.
Connect to one of the servers we mentioned in our review (we recommend the Japanese server, as both Quiet Place movies are available in the country's Netflix catalog)
Relaunch Netflix and there you have it!
Hush!
OK, that's a different movie (and an awesome one at that), but it makes more sense here!
If you haven't seen any of the two Quiet Place movies, you are truly missing out and we are so very very jealous! And if you have, it's about time to relive all the heart-pounding horror of simply shutting the heck up! And now you don't even have to leave the comfort of Netflix to put your nerves to the test.
So get ExpressVPN, access any Netflix library you want, and watch A Quiet Place 1 & 2. Just remember to keep quiet! ?