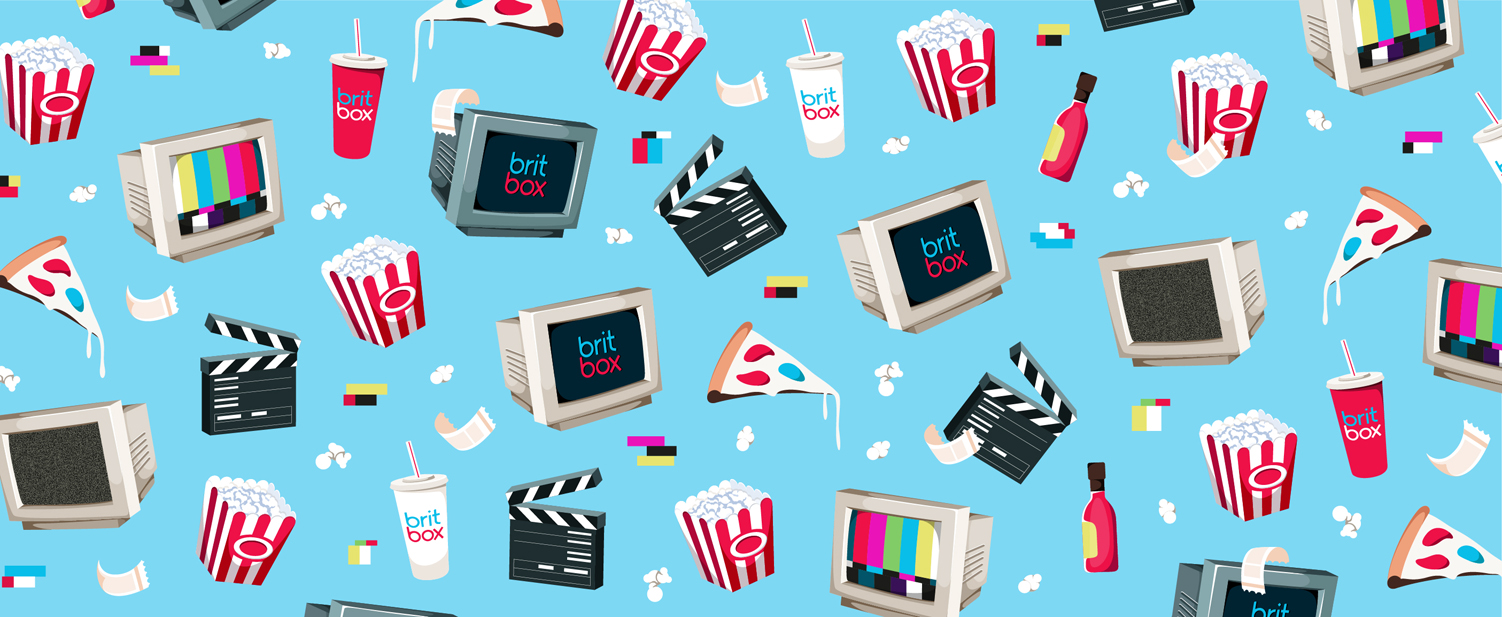 How to Stream BritBox from Anywhere
Fair enough! The name already gives it away and you probably got it right on the first guess, even if you are new to the streaming. BritBox is all about that amazing, unique, and one-of-a-kind British content that no one else can emulate. And this alone makes this platform one that everyone wants to get!
BritBox is a digital video streaming service that is packed with some of the best shows, movies, documentaries, and all kinds of other video media the UK has ever produced. The platform and all it offers were made possible thanks to the joint effort of BBC and ITV – the two biggest local broadcasting networks.
Despite its relatively late entry into the market, the streaming service captured its target base and has grown popular among fans of 'hardcore' British TV. And as soon as you find out what the platform has to offer, you too will immediately get what makes this rather specific streaming platform so unique and so sought-after in an oversaturated streaming market.
But can you? Or was this Box of streaming goodies not made with everyone in mind? Well, we're here to find out exactly that and talk you though everything that BritBox is, why everyone wants it, and how YOU can get it wherever you are!

Get BritBox from anywhere with ExpressVPN!
What's on BritBox?
OK, so there are too many streaming platforms to keep track of these days. So what makes BritBox worth a mention?

Want to check out other streaming platforms?
Check out the 11 best for streaming series!
BritBox has proved to be one of the favorite go-to places for British entertainment options, serving an all-inclusive range of British TV shows and movies. And when we say 'all-inclusive' we mean ALL-inclusive!
We can't even begin to exhaust everything that is available on BritBox. There are just too many goodies. However, this won't stop us from trying! So here's a rough rundown of everything that is available on this aggressively British platform
Everything BBC and ITV
Given its parentage, one would, and correctly so, expect that BritBox is flush with content aired by its co-owners – ITV and BBC Studios.
The over-the-top service allows users to stream all content aired on BBC and ITV. BritBox is the most convenient way to watch all your favorite British TV shows on their respective platforms, offering a good blend of movies and TV shows.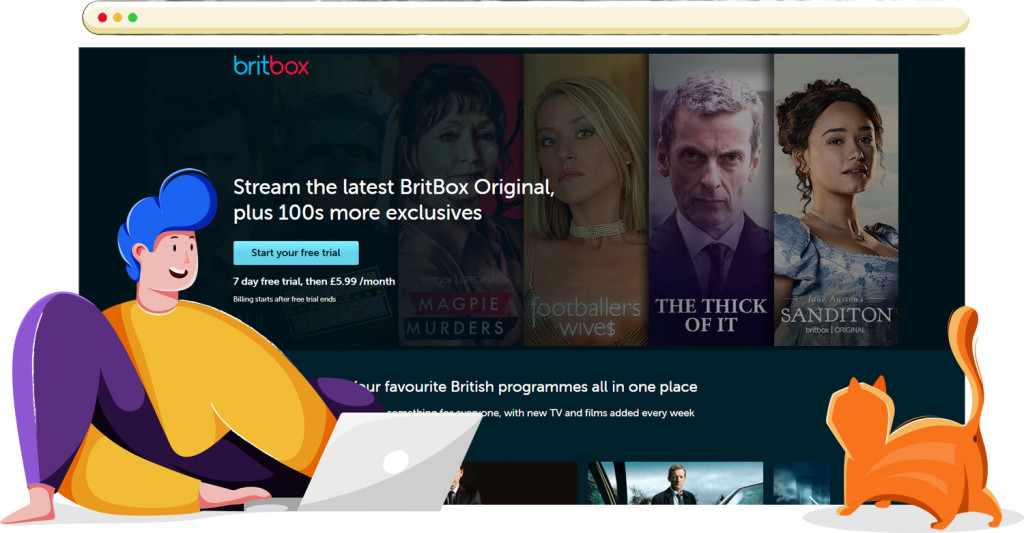 You might be wondering: Don't ITV and BBC have their own streaming platforms? And aren't those free? So why pay for something you can get for free?
Well, there is one thing that BritBox has on all the other British streaming service that makes it a valuable addition to the family. TV series and movies that have run their course on ITV Hub and BBC iPlayer (after 30 days on the former and 12 months on the latter) are available on BritBox.
This means that if shows such as Conversations With Friends timed out on you at the turn of the year, you're effectively covered.
Classics
BritBox hosts a fantastic collection of old-school shows ranging from fan favorites such as Thunderbirds, teenage kicks such as The Sarah Jane Adventures, The Inbetweeners, The Press Gang, Outnumbers, and Grange Hill, and there's some children's fun, too, with Children's Ward, an ITV classic.
Talking 'range' for classics also means a collection of 'old-school' TV content from across the years with shows such as The Secret Service, Doctor Who, and Stingray – Best of 60s collection; Bugpass, The Tomorrow People, and Catweazle – Best of 70s collection;  A little Princess, Danger Mouse, and The Box of Delights – Best of 80s collection; and Fantomcat, The Worst Witch,  and Century Falls – Best of 90s collection.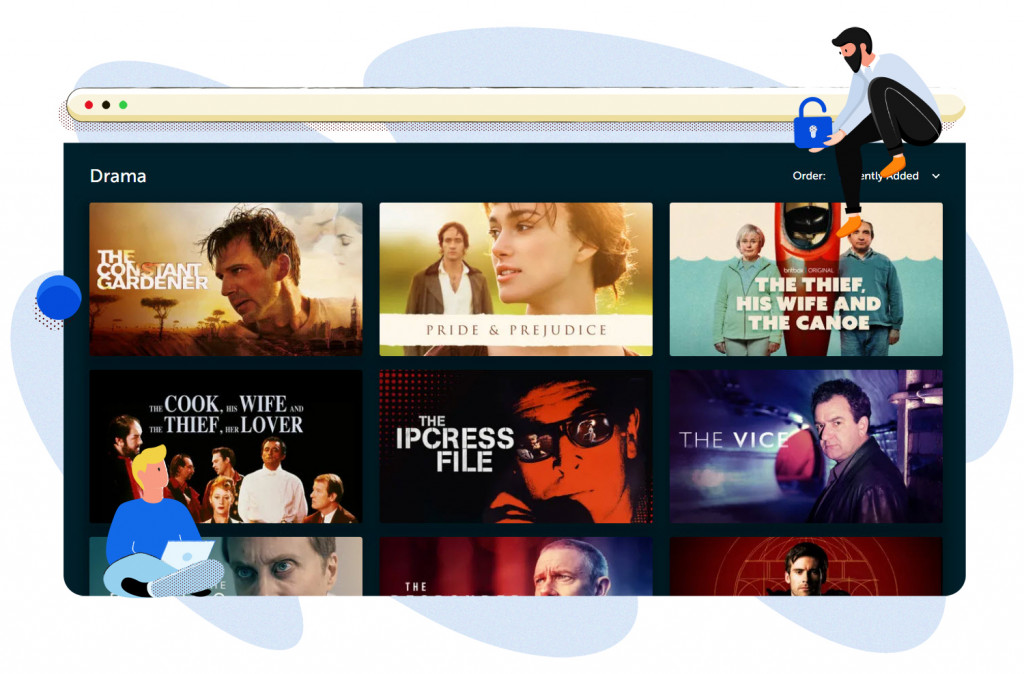 Originals
Characteristic of virtually all streaming platforms today, BritBox offers an extensive range of originals that will tickle your fancy.
Some of the titles on the platform include The Beast Must Die, Secrets of the Krays, The Wedding, Lambs of God, Feel the Noise, and Why Didn't They Ask Evans?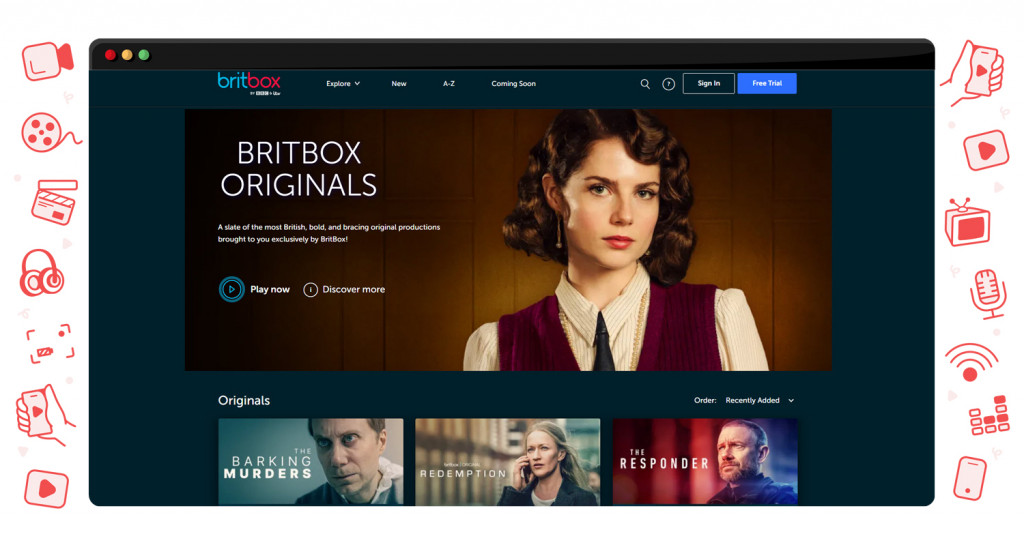 The platform is still young, though, and it's been growing with original content like crazy. So you bet your last penny it's going to bring even more streaming goodness in the coming months and years.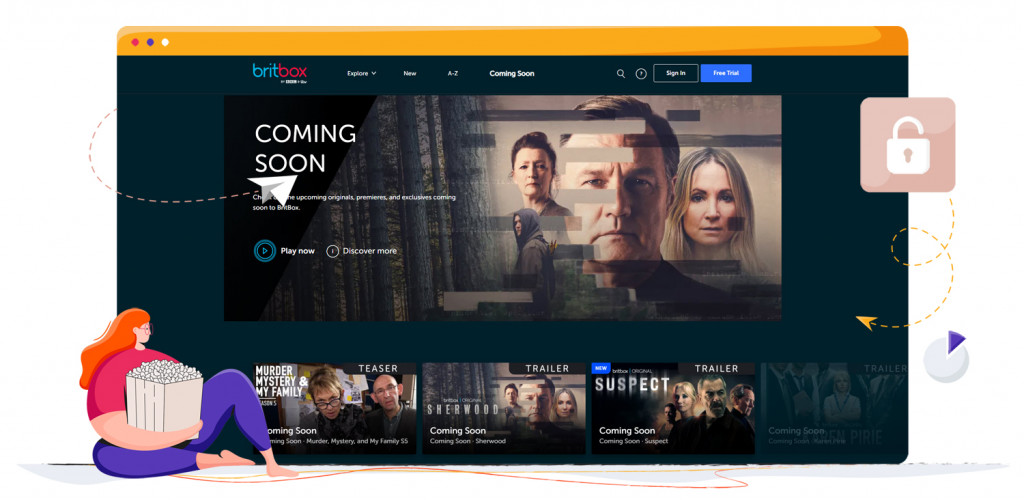 Where is BritBox available?
As you can see, BritBox delivers a compelling and almost irresistible wide range of content. And this is usually grade-A content that is either scattered across seventy thousand other streaming platforms or not found anywhere else at all. So,  obviously, any true fan of British shows and movies wants to get their hands on the platform as soon as they can.
However, as is the case with most other streaming services, the biggest issue with BritBox is that it's not available everywhere.  This is naturally down to the limiting distribution/broadcasting rights provision and licensing agreements.
Anyone in the UK, obviously, and the US, Australia, Canada, and South Africa, can stream on BritBox conveniently. The platform has also expanded into the Nordic countries of Sweden, Finland, Denmark, and Norway earlier this year via partnerships with local television services.
And as for the rest… well, any other fan of British storytelling is going to have to sit this one out. Or are they?

Can I still watch BritBox outside the UK, and how?
BritBox might be much more available than most other streaming platforms, but it still covers but a fraction of British TV fans around the world.
Trying to access the platform outside of said regions returns a blank page with the error message 'Unfortunately, BritBox is not currently available where you are. Visit our Help & Support'.
BritBox is, of course, gracious enough to share a link to the Help & Support page. How helpful!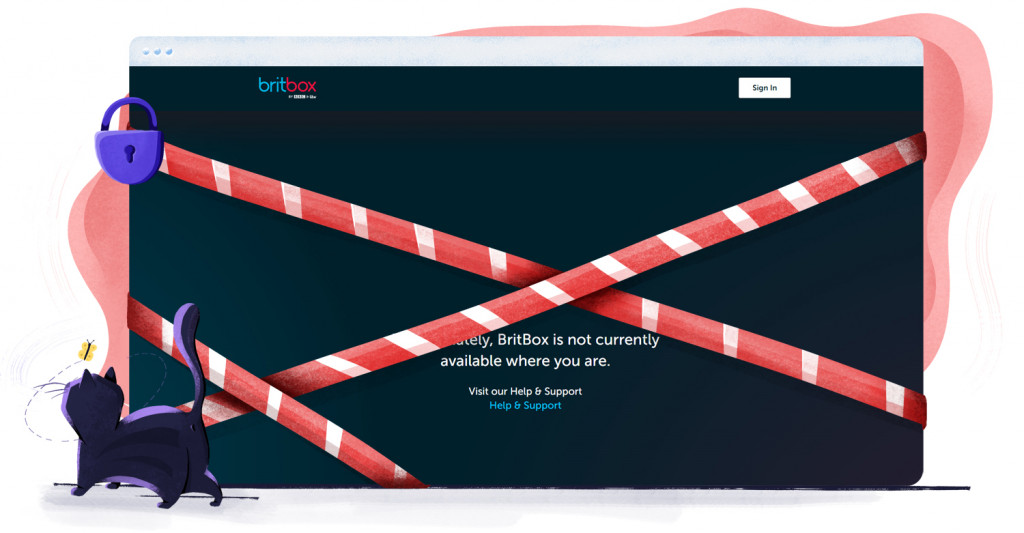 But it's not like everyone covered by BritBox's availability has nothing to worry about.
BritBox does allow its subscribers to use their subscriptions across the regions it is available in. However, not only does this require highly specific vacation planning, but the usually frustrating geoblocks are also in play when it comes to the content offered. BritBox clearly outlines this in one of its general knowledge pages:
"If you subscribe in the United States or Canada, your subscription can be used in either region; however, show availability may differ."
Want to know how else geoblocking affects you?
Check out our new and updated guide!
So… what now?
Well, whether you are traveling and want to take your stories with you, or cut off from BritBox entirely, things are not entirely bleak. All you need to make BritBox available to you wherever you are is a VPN!

Have you never heard of VPNs before?
We've got you covered with everything you need to know!
Although, it's not just about having a VPN. It's about having a VPN that can actually unblock BritBox. Which brings us to…
Choosing the right VPN for BritBox
Top of the list of VPNs capable of bypassing the imposed blocks is ExpressVPN!
Why? Well, its streaming and security capabilities speak for it to be anyone's top VPN choice. But if just that doesn't convince you, how about all of this:
With ExpressVPN, you are getting unrivaled security, privacy, and buffer-free streaming capabilities, all of which make it the best place to start.
Its server network features some of the most powerful, resilient, and impeccably tuned servers that will serve you best out of any VPN provider.
Your goal is the easiest way to get to BritBox, right? ExpressVPN is just the 'guy' for you, as it deploys some of the best geoblock workarounds for streaming services.
Moreover, ExpressVPN comes with a wholesome money-back guarantee, so if you'd rather test things before you commit, it's all well and good.
Want to know more about ExpressVPN?
Check out our new monster of a review!
ExpressVPN is undoubtedly the best VPN service for BritBox, thanks to its exceptional performance and fantastic customer assistance. And with our blessing, we wholeheartedly advise you to go with the best VPN for streaming there is!
That said, we are all about transparency and giving you the best and fullest information. So we would be remiss not to mention another great provider for unblocking and streaming BritBox!
The next best thing
There are fewer and fewer VPN providers that pack the streaming unblocking potential to let you get your hands on BritBox. However, NordVPN is definitely the next best thing.
Thinking back, you'll easily remember that it all started with this VPN, albeit it hasn't been as dazzling lately. One thing is for sure – its reputation has withstood the test of time. And here are just some of the things NordVPN can help you with:
It has the largest server network of actual, real, physical servers out of any VPN provider, and that makes all the difference when trying to crack local streaming services.
NordVPN is jam-packed with tools and features such as SmartPlay designed specifically for unblocking streaming platforms.
Thanks to its 10 GB servers, NordVPN is able to handle millions of users streaming, downloading, and browsing without a single drop in Internet quality. So it can definitely handle you.
It might not currently be as good as ExpressVPN, it's also that much cheaper. And few things can beat 'cheaper'.
Want to know more about what NordVPN has to offer?
Have a look at our full review!
Getting BritBox wherever you are: The step-by-step
There's one final piece of the puzzle regarding getting on BritBox from outside the UK. You might as well consider it the last hurdle you must jump to cross the finish line. And we've got your hand every step of the way.
While the streaming service accepts all major debit and credit cards, some people might find it more challenging to subscribe than others.
So, here's a guide to get you to the end:
1. Depending on your preference, visit ExpressVPN or NordVPN, subscribe to the service, download and install the app on your preferred device.
2. Launch the VPN app and connect to a server of choice in the UK (that's if you'd rather get everything the native BritBox has to offer). However, you can also subscribe to the US, Canadian, or any other version of BritBox.
3. Next, choose a service that allows you access to virtual payment systems. Our pick is Wise, as it's the only service that lets you create a bank account using credentials native to your target country – be it the UK, US, Canada, the EU, or even Australia from virtually anywhere in the world.
The fellas at the money transfer service also don't take advantage by charging absurd exchange rates. And that's just great. Especially in these times.
Get a bank account from anywhere with Wise!
4. Now use the virtual bank card details to create an account on BritBox and catch up with all your BritBox favorites!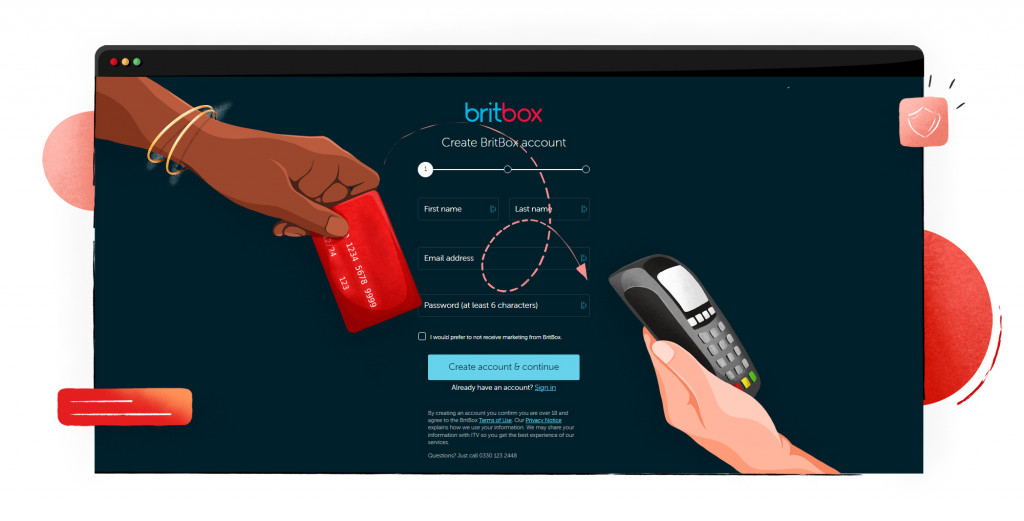 Enough streaming for you, govnah?
While it may not be as favored as other alternative streaming platforms, BritBox is a decent option to explore. And it's definitely worth it if you're a die-hard British TV fan!
If you thought you had exhausted all of that eye-catching British content, then you are in for a pleasant surprise. You possibly can't fail to find something for the binge over the weekend or push you through the week.
And the best thing is: Now you can watch BritBox wherever you are!