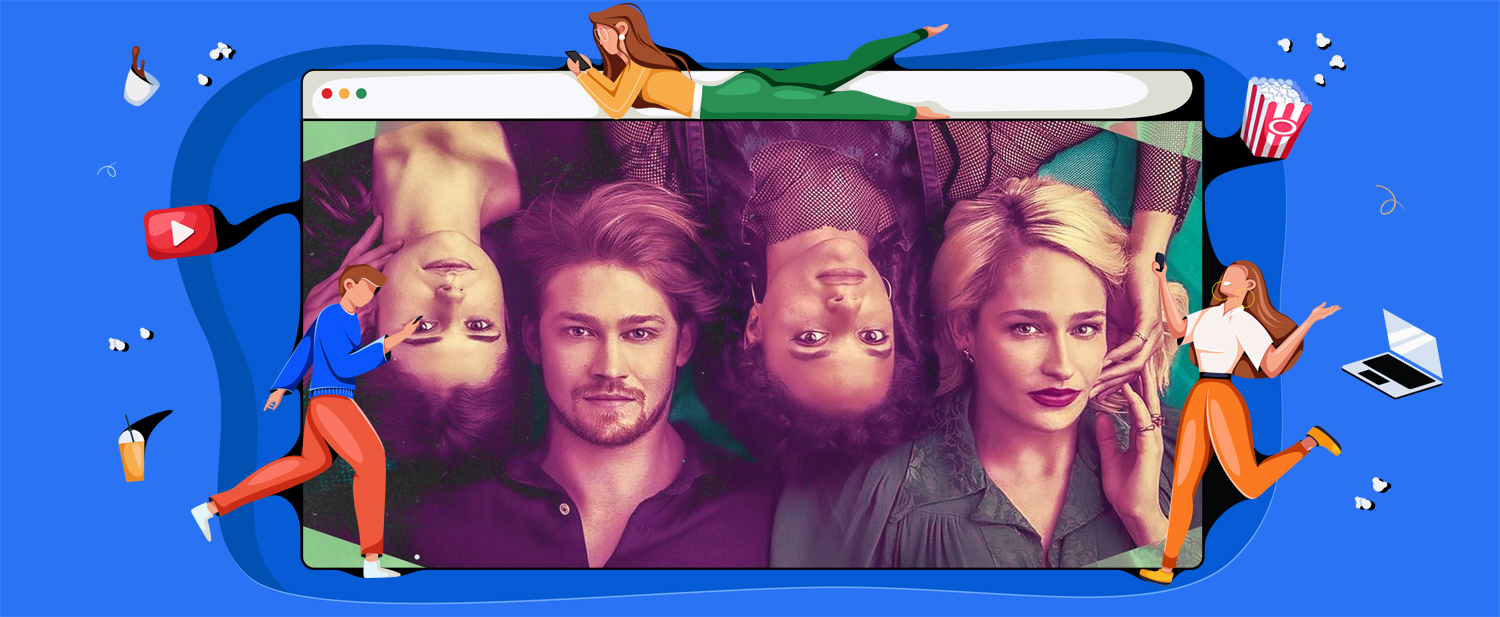 How can you stream Conversations with Friends for free?
If you thought that Normal People was intense or have read any of Sally Rooney's flawless books, you owe it to yourself to check out her latest work brought to the small screen! Conversations with Friends is the hottest adaptation of her wondrous works, and fans are already going crazy. And as soon as you find out how to stream the latest miniseries, so will you!
Closely following Rooney's debut novel, the new TV show adaptation has been tailored to more accurately reflect Rooney's early work. So if you're a fan of the author, or if you're on the hunt for some intense intimacy, romance, and betrayal, you definitely have to watch this series as soon as possible.
The questions are: How and where?
Get ExpressVPN and stream Conversations with Friends for free!
Here's everything you need to know
We're going to keep the spoilers to a minimum. That is not what we at TechTypical are about.
Conversations with Friends is a 12-part show directed by renowned Irish TV director Lenny Abrahamson. This TV adaptation revolves around young couple Frances and Bobbi and their involvement with a married couple, Nick and Melissa. Watching it, this limited series brings out a romantic adventure with episodes of betrayal, sexuality, and Rooney's signature brand of class played out in a ménage-à-quatre.
The lead role Frances, taken by a 23-year-old Alison Oliver, is tied into a complicated relationship with Nick Conway, in what is one part of an interweaving of relationships. Joe Alwyn plays Conway's character, and yes, it's the same Alwyn that's Taylor Swift's long-running boyfriend.
All in all, there's but one thing you have to walk away from this with. If you love Rooney's gripping books, this adaptation is the perfect item to have at the top of your watch list.
Where can you watch the Conversations with Friends miniseries?
Conversations with Friends is a Hulu original miniseries, and as such, it can be streamed exclusively on Hulu within the US.

Wondering how to see Hulu outside the US?
Check out the guide we made specifically for that!
So, where can you watch it from if you're outside of the United States? Well, it's up for grabs.
In Canada, it's available on Amazon Prime Video; the same goes for Australia. And in some countries, you can even catch the show on HBO Max of all places.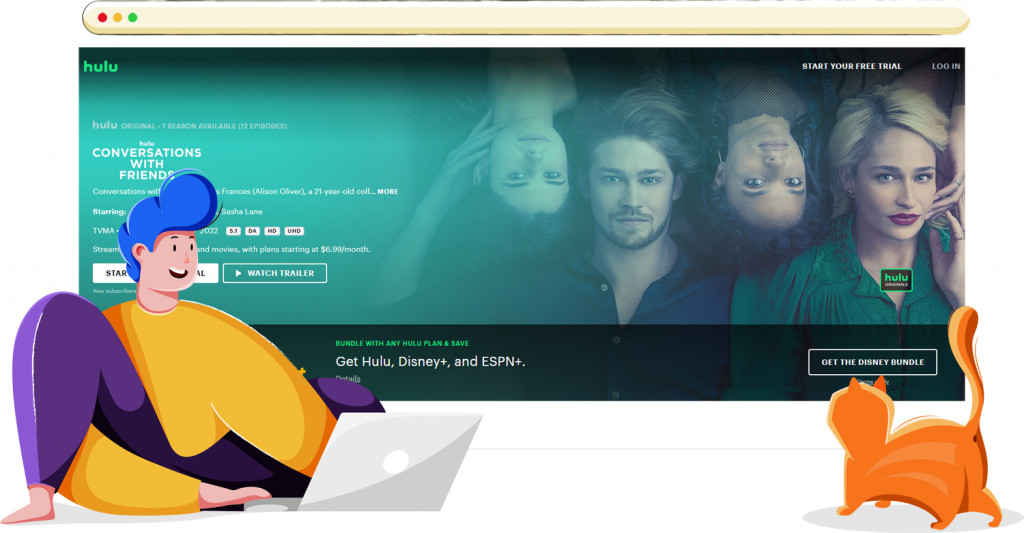 But, honestly, nothing ever beats free. And a unique twist of events, Sally Rooney's latest masterpiece brought to TV is streamable completely free!
Where can you stream Conversations with Friends for free?
Britain has been our go-to place for some free streaming action for a while now. From Wimbledon, to the latest episodes of the Peaky Blinders, to some steamy Love Island action, the country has figured out streaming like no other. And Conversations With Friends is no exception!
The show is streaming on BBC iPlayer. And there aren't many streaming platforms that are able to compete with this one, since it's completely free! How about that?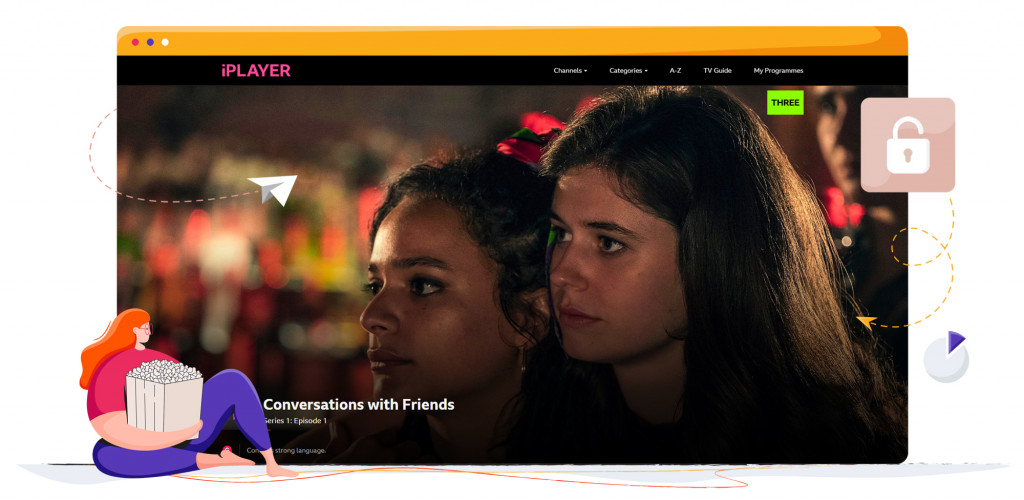 But it's not all free streaming and in-depth discussions about classism. It just so happens, that BBC iPlayer is only available in the UK. Otherwise, why would you even be reading this, honestly?!
So what you're doing to want to do is hack the platform. Just kidding! Everything is much, much simpler than that.

Want to watch BBC iPlayer?
Check out our extensive guide on how to get it anywhere!
All you have to do is convince the platform that you are a UK resident, and you will be able to stream the show with no effort. But to pull that off you are going to need a VPN.
The problem here is that over the last few months BBC iPlayer has been ramping up security kicking out just about any sub-par VPN provider. Just about any, but not all of them. And the one that will always work for you is ExpressVPN!
And just like Sally Rooney, we have a point behind everything we say. And here are just some of the reasons you should choose ExpressVPN over any other VPN:
For whatever reason, nearly every VPN provider struggles to get good servers in the United Kingdom.
ExpressVPN may not have as many UK servers as some other providers, but it definitely has the best ones. Fast, reliable, stable, and local, they will help you pass for a Brit with no effort.
This is THE VPN you turn to when it comes to unblocking British streaming services. And BBC iPlayer is definitely no match for ExpressVPN either.
Is there even a need to say it at this point?
ExpressVPN is blazingly fast. It delivers incredible unmatched speeds, which means there will be no lag in the way between you and some drama.

Want to know more?
Check out our new and improved ExpressVPN review!
Streaming the show on BBC iPlayer
Unblocking streaming services might seem scary, but it shouldn't be.
All you need to do is take note of the following simple steps, and you're good to go.
1. GetExpressVPN and install it on your device!
2. Connect to a server in the UK.
3. Create a free account. You will be requested to provide a local postcode, but this is just a formality, and a postcode generator will take care of that for you right quick!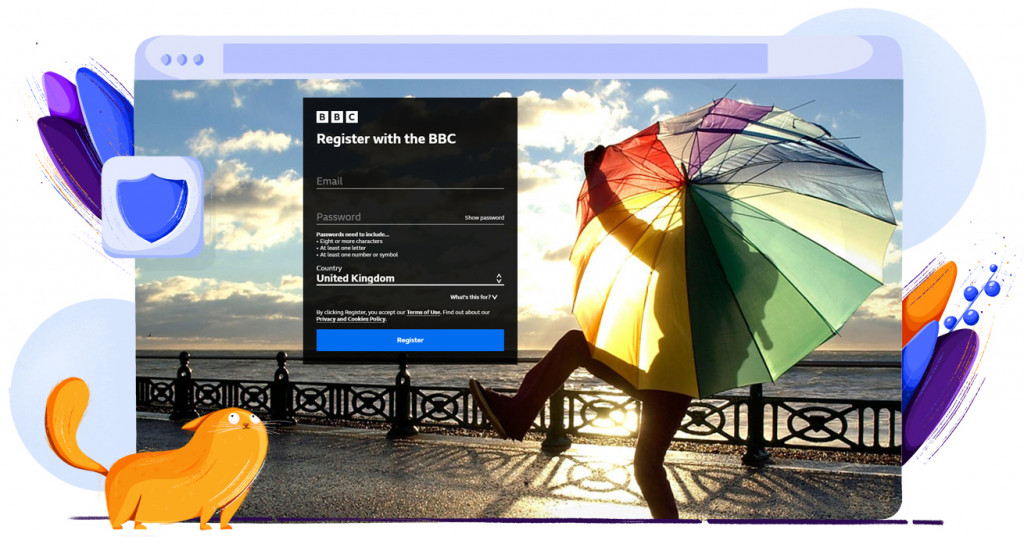 4. If prompted on ownership of a TV license, confirm that you hold one.
5. The final step, Enjoy!
It's never just friends
Well, since Conversations with Friends is already streaming, you need to get on it quick.
BBC iPlayer offers just the perfect streaming platform for that and ExpressVPN is your pass.
All the first dozen episodes were released on May 15, which means you have plenty to unearth in the relationship between Frances and Bobbi.