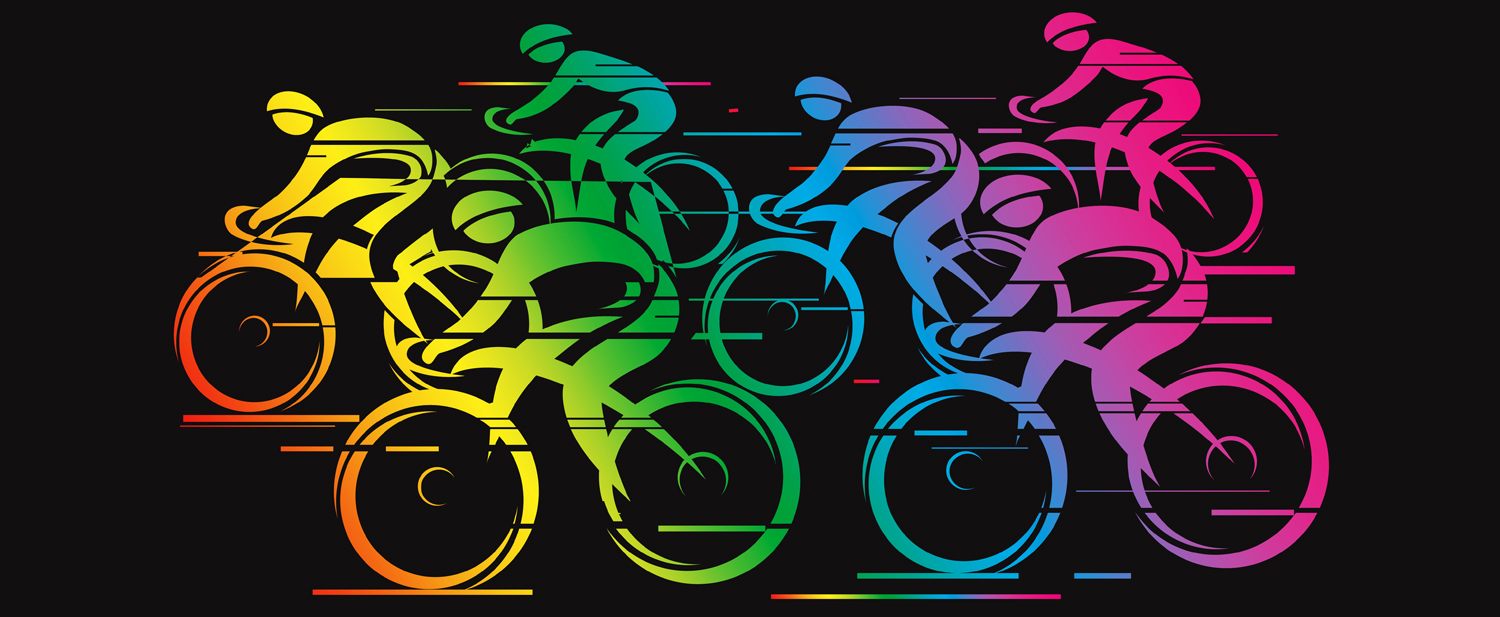 How to stream Critérium du Dauphiné 2022 live and free?
With Tour de France on the horizon, we can already gear up for this year's tournament and enjoy the tour toppers battling it out in 2022's Critérium du Dauphiné. The 8-stage tournament will kick off on the 5th of June and go on until the 12 of June to warm up before Tour de France or weed out the weak from the strong. And you can't miss any of it!
The Critérium du Dauphiné is by no means an easy tournament taking the riders on some of the hilliest and toughest slopes of the Alps. So if there was a good way to see how tough are the toppers: Critérium du Dauphiné is it!
And, of course, you want to see it all. The question is: How?

Follow Critérium du Dauphiné for freer with ExpressVPN!
What can we expect this year?
So far, the line-up and the fierce competition we can expect at this year's Critérium du Dauphiné are definitely piquing our interest, to say the least.
Jumbo Visma riders Wout van Aert and Primož Roglič are definitely some of the top contenders for the victory. All eyes are generally on the Dutch team to deliver the victory. However, the team itself states that they are not in it to win, and are merely seeing this race as an opportunity to train more.
The race is coming off the back of the ever-intense Giro d'Italia, which forced defending champion Richie Porte to withdraw due to health issues. A lot of riders in general are feeling the previous race, and might not be in their peak condition to take on the tough routes of Critérium du Dauphiné. Porte's incredibly strong team, though, is said to be ready to take on the challenge.
The Emirates team sees strong potential in Brandon McNulty and Juan Ayuso. Bahrain has a huge pick of potential leaders, which includes Dylan Teuns, Damiano Caruso, Jack Haig, and Pello Bilbao.
Movistar is hoping Enric Mas will begin his Tour de France with a strong showing at Critérium du Dauphiné. And the French are putting their hopes in Ben O'Connor, David Gaudu, and Michael Storer.
The Norwegians, though, are the ones to watch if you're in it for the spectacle. Their particular attacking style, as well as their strive to show the organizers what they are capable of after Uno-X missed out on the wildcard for Le Tour are sure to spark some much-needed intensity.
So this is shaping up to be a good one. All you have to do is find out where you can stream the races.
Where can you stream Critérium du Dauphiné in 2022?
Sadly, biking is no MotoGP or Formula 1 in the eyes of the rights holders. So there's not as much coverage of the Critérium du Dauphiné as one would hope.
Regardless of whether you are in the US, Canada, UK, or Australia, the single best place to stream the tournament is GCN+. The Global Cycling Network's streaming platform is generally the place to be for everything cycling as the name suggests.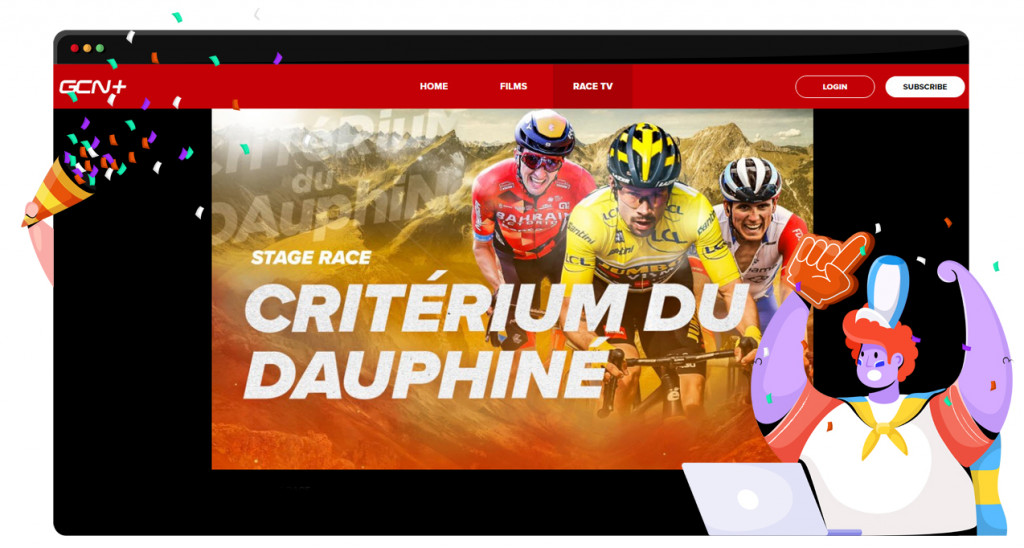 But GCN+ costs money. And regardless of how big a cycling fan you are, we bet you have a finite amount of it.
Lucky for you, we know everything about streaming sports for free. And Critérium du Dauphiné is not immune to our tenacity!
How can you stream the 2022 Critérium du Dauphiné for free?
Believe it or not, there are some places in the world that believe in streaming the most gentleman's sport of all for free.
The only problem: all of those streaming services are local. And that means you are going to have to deal with everyone's favorite: geoblocks.

Don't know what geoblocks are?
Check out how they are affecting you every day!
Good news: No matter how tough the regional restrictions you can break through them with the right VPN.
But free sports streams are getting harder to come by, and the blocks you have to deal with are getting tougher. So you need a VPN that knows what it's doing. And there's currently but one VPN provider we entrust our sports streaming with: ExpressVPN!
Why ExpressVPN and not, say, BicycleVPN? Well, saddle up:
While you might be tempted to go for a VPN with the largest selection of servers, it's not the quantity that counts, it's the quality!
ExpressVPN has some of the strongest servers in the industry, as well as some of the most trusted collections of IP addresses. This means any streaming service you want will accept you as one of its own.
ExpressVPN also has the most diverse server network out of any VPN provider.
This means that no matter how obscure the place you want to stream from, ExpressVPN will be able to crack it.
ExpressVPN is so fast, that it might as well win the race itself.
When streaming Critérium du Dauphiné with Express, you won't miss a thing!
Want to know more?
Check out our full ExpressVPN review!!
Not that that's nice and settled, time to get to the streaming part.
Who is streaming the 2022 Critérium du Dauphiné for free?
Now that you have the right tools, time to find out the right places to stream Critérium du Dauphiné.
And we know just the place! Two, actually!
RTBF Auvio
RTBF Auvio – a Belgian streaming platform – is the single best place for all of your Critérium du Dauphiné needs in 2022. It's actually the only place where you can stream the entire competition this year.
And the best part is: It's both live and free!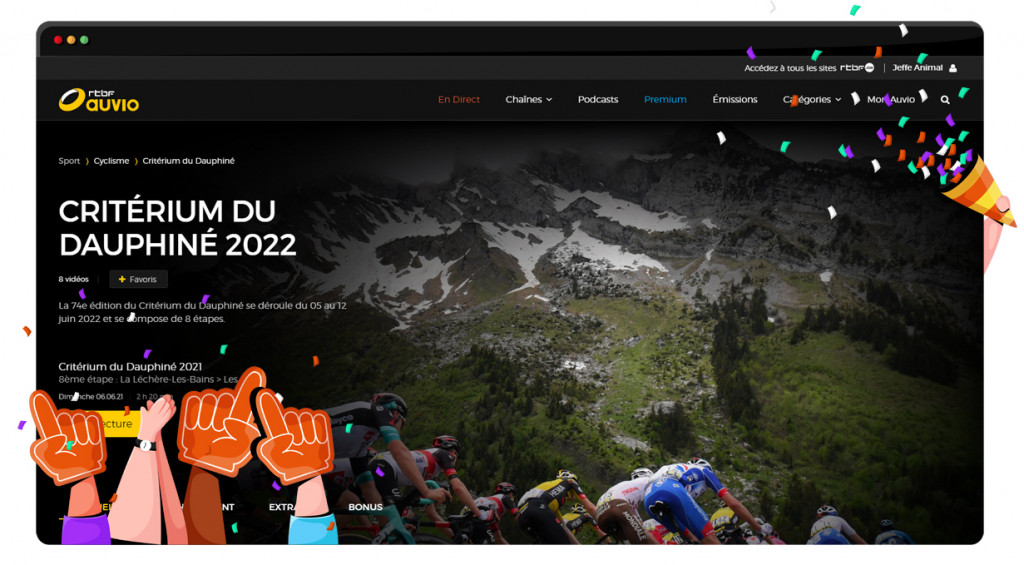 Here's all you need to stream the stages:
Get ExpressVPN!
Connect to a server in Belgium with the VPN.
Head on over to the RTBF Auvio streaming platform and make a free account. You will have to provide a Belgian postcode, but you can easily google that.
Enjoy Critérium du Dauphiné and everything else the platform has to offer for free!
ITV 4
Have you missed it all? Well, all is not lost, for you can still catch up on all the action on UK's ITV 4.
The British streaming platform will be catching its viewers up on every stage with the highlights and great commentary.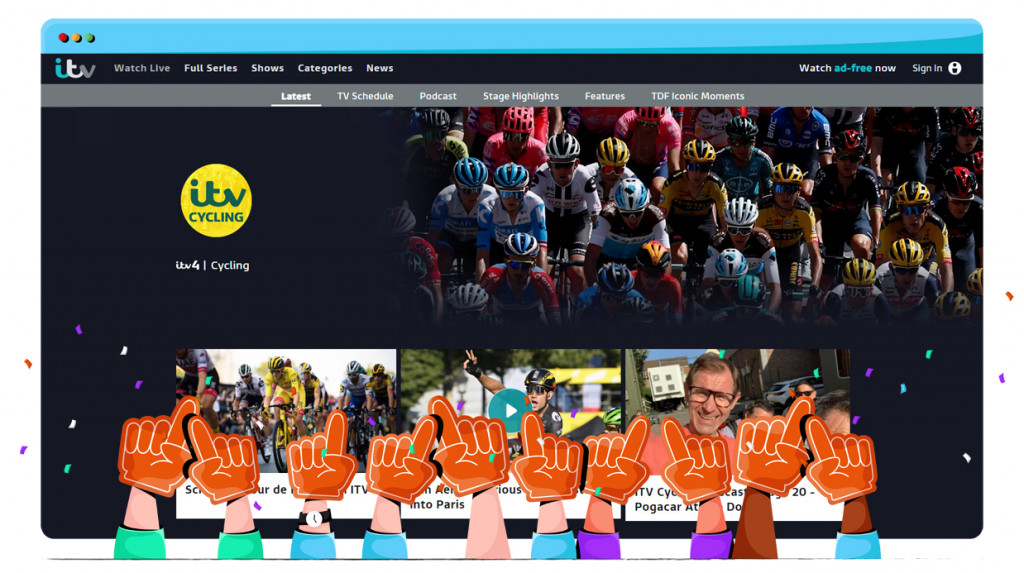 But, of course, this option only works in the UK. But it's absolutely no match for the likes of ExpressVPN. And here's how you would go about streaming the highlights:
First of all, get ExpressVPN!
Connect to a server in the United Kingdom.
Head over to the ITV HUB and create a free account.
Just like with RTBF, you are going to have to provide a local postcode, but you can use a British postcode generator for that.
Check out the broadcast schedule and tune in for the highlights!
Who's going to peak?
Having good legs to climb the slopes of the Critérium du Dauphiné is a must. And that just makes streaming the 7-day tournament that much more interesting!
And a good VPN is a must to be able to stream all of the races live and free. With ExpressVPN by your side this will never be a problem ever again!