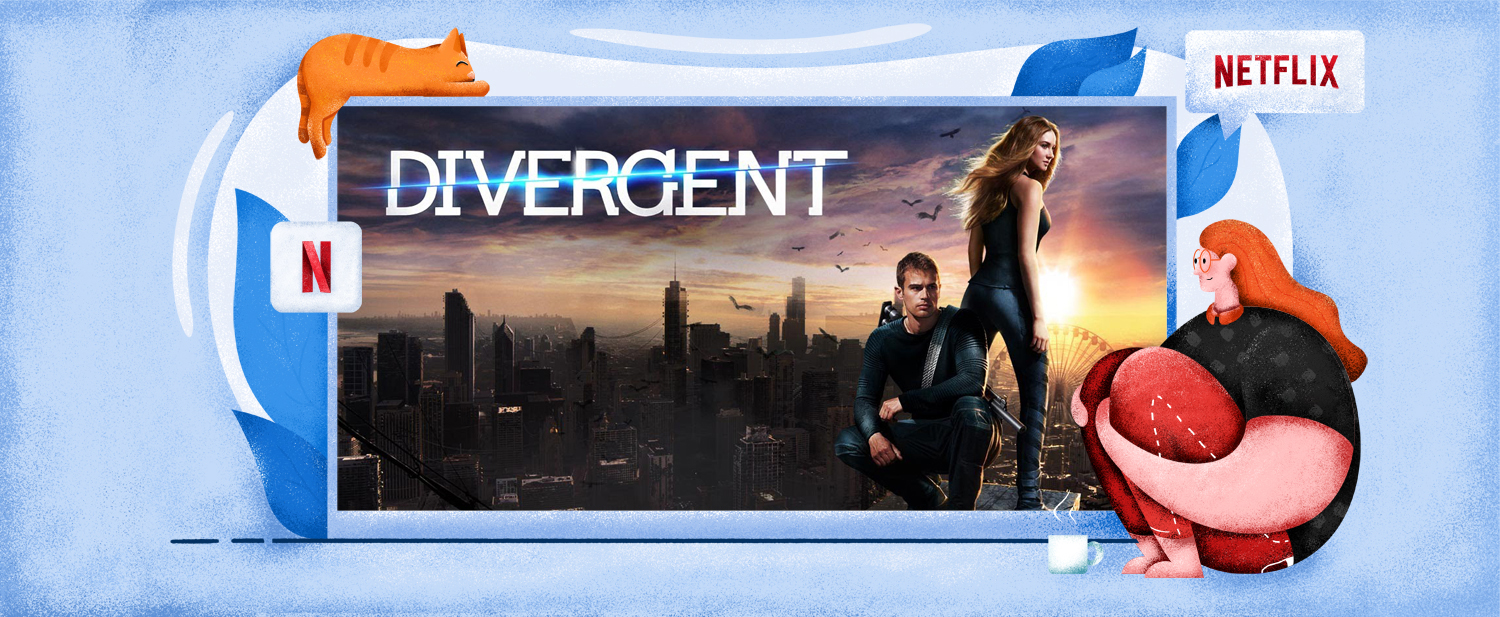 Can't find the Divergent trilogy on Netflix? We can fix that!
Imagine living in a society where you can only possess one attribute from a list of intelligent, kind, brave, honest, or selfless. Frightening, right? Well, except if you choose 'brave'.
Film adaptations of young adult dystopian novels are all the rage right now – The Hunger Games, Ready Player One, The Maze Runner, Mortal Engines… we can keep going, but you probably know them by heart.
Neil Burger's Divergent fits right in this list as the first of three titles in the Divergent Series – the others being Insurgent and Allegiant.
A fourth title (Ascendant) planned for release in March 2017 was canceled. Starz and Lionsgate Television started laying the groundwork to turn the fourth film into a TV series not long after but abandoned the plans as the cast showed disinterest in the project.
But despite us never getting the sequels we were promised, you still have to admit: Those movies are iconic!

ExpressVPN: Divirge from the norm and access any Netflix catalog!
Don't have time to rewatch the Divergent trailer? We've got you! [trailer included]
Based on Veronica Roth's eponymous debut novel, this action-adventure movie is set in a futuristic post-apocalyptic world with five human factions where one can choose to fit. After reaching the age of sixteen, everyone is tested to determine which one of the five they are best suited to belong to.
And if this doesn't sound like being a teenager, we don't know what does.
The factions are based on personality: Dauntless (brave and free), Amity (kind and peaceful), Abnegation (simple and selfless), Erudite (intelligent and prudent), and Candor (honest and orderly). By the laws of this dystopian society, a person can only belong to one permanently for the rest of their life.
"Divergence threatens that system."
Tris Prior, in what is an infrequent occurrence, turns out to be a square peg in a round hole with qualities fitting three factions. While trying to survive, she learns about an alarming and threatening plot against her kind.
Enough of that. We're not about to make you read an entire movie.
Considering it is a young adult film adaptation, the cast is a perfect balance. Theo James and Shailene Woodley play the lead roles with other cast members, including Zoë Kravitz, Miles Teller, Ansel Elgort, bringing the other novel characters to life. Kate Winslet, Ashley Judd, Tony Goldwyn, and Maggie Q turn up, delivering outstanding support to make it a complete performance.
All of this, plus stellar special effects and a story that speaks to any teen ever, and you've got a killer trilogy on your hands!
Is the Divergent series on Netflix?
No, and yes.
After a lot of moving around, the entire Divergent movie series finally found a home for itself on Amazon Prime Video in the US.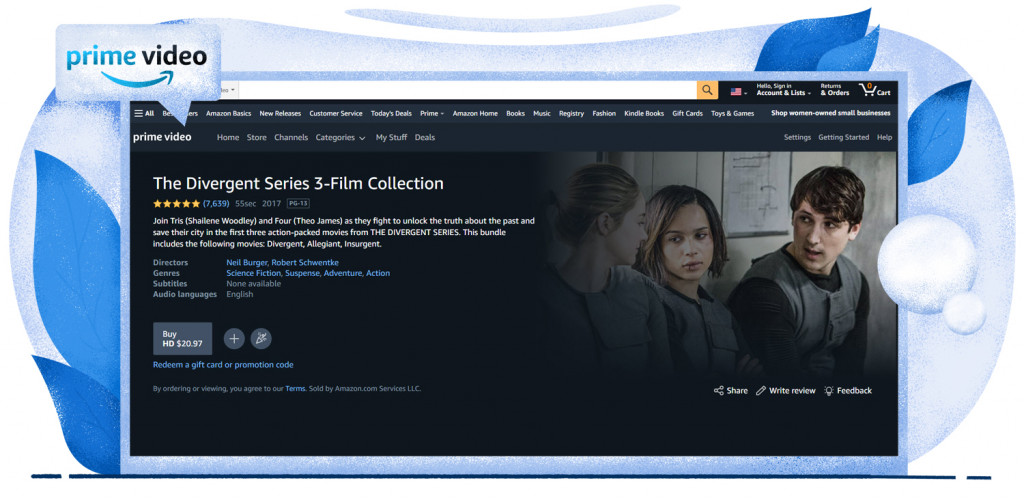 But streaming services are an interesting bunch. And the fact that you can't seem to find a movie on your local Netflix library doesn't really mean it's not there. All you need are the right tools and knowing where to look.
And that's exactly why we're here!
Want to know how Netflix works?
Be a rebel! Check out our complete guide!
So, where is Divergent available on Netflix?
Just a while ago Divergent was scattered across lots of Netflix libraries all over the world. But that is no longer the case.
The streaming world keeps changing. Rights to different movies and series keep going from one streamer to another like it's a game of hot potato. There's almost no reason to get more than one streaming service – by the time your payment goes through, the show you've been dying to watch will have already gone to someone else.
So, you have to get creative!
---
It took us quite a bit of digging and testing, but we managed to find two whole places where you can stream the entire Divergent series right now. And we warn you – they are not your conventional options!
Right now the entire Divergent movie series is featured in the Indian and Brazilian Netflix libraries.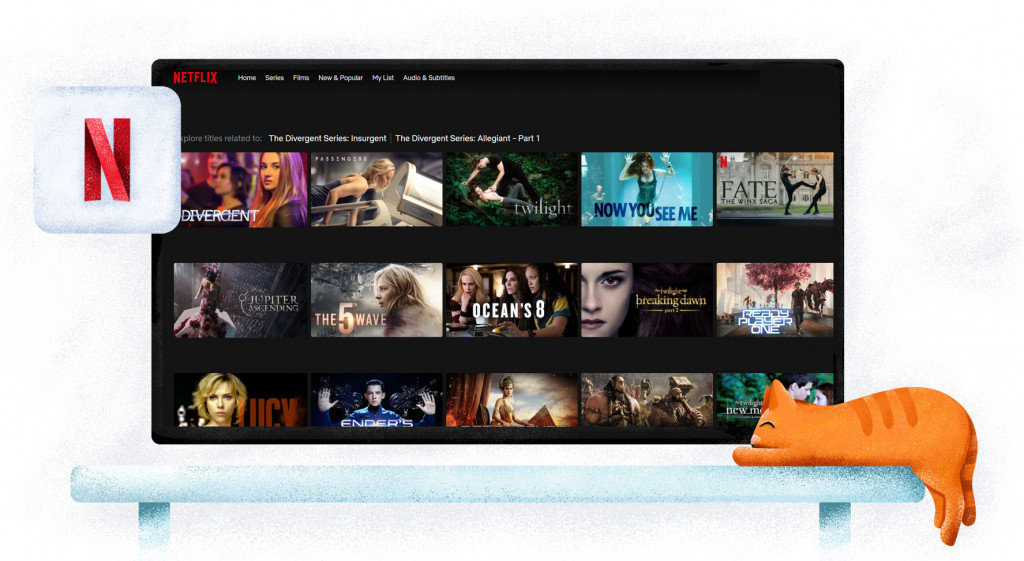 Told you! Not conventional!
So what do you do now? It's not like Brazillian libraries are lying around all over the place. Well… we might know a way!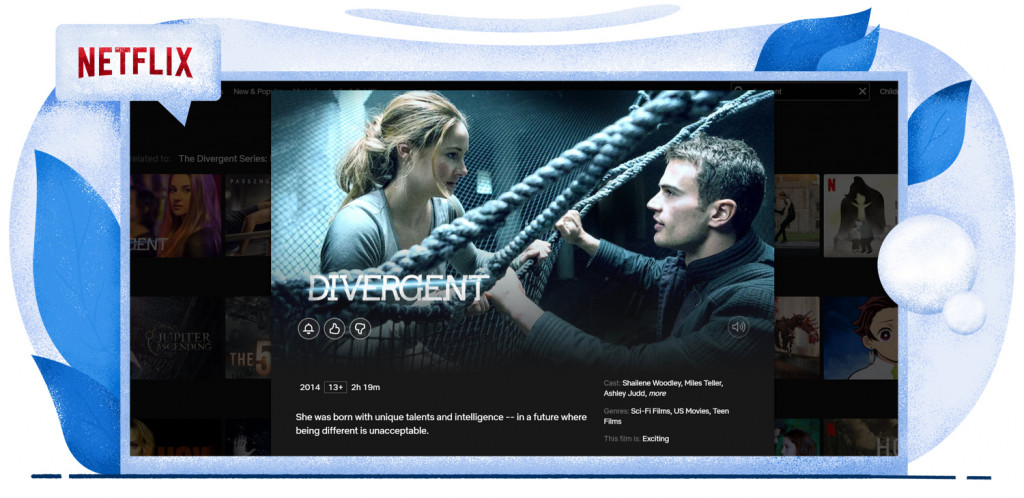 But how do you unblock Brazillian or Indian Netflix libraries?
You might very well be familiar with unblocking different Netflix libraries. But we bet you're used to streaming something like Full House in Canada, Rick and Morty in the UK, or The Office in the Netherlands. Safe stuff.
Brazillian or Indian Netflix… That's a whole other level.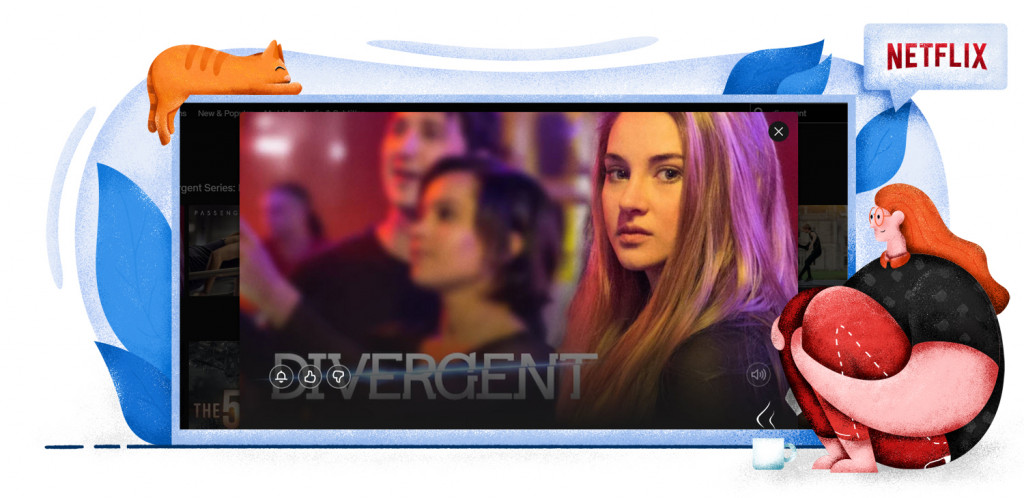 There are very [and we do mean VERY] few VPN providers that bother to unblock Netflix libraries as obscure as those ones. So you might very well try a few, but you will most likely end up frustrated.
Why? Well, first of all, if you manage to find a free or cheaper VPN with servers in India and Brazil that won't slow down your connection to a mind-numbing crawl, you might consider yourself lucky. But that's still not enough to unblock Netflix libraries, especially after Netflix banned most VPN providers, including some of the premium ones.
So one would need a true Divergent of a VPN to break through all of the restrictions you need to bypass. And there's but one that can fill those shoes: ExpressVPN!
Want to know why? Well, here are but a few reasons ExpressVPN is the only VPN for the job:
ExpressVPN doesn't limit itself to just one feature. With a VPN this big, you can have it all.
Security, privacy, streaming, and easy access to pretty much any Netflix library you fancy!
When it comes to streaming, speed is key. And few do speeds as well as ExpressVPN.
ExpressVPN comes with its very own, lightning-fast Lightway protocol, that makes a VPN connection basically unnoticeable.
This is probably the only VPN that can unblock the Brazillian Netflix library. And just to be safe it works with the Indian one as well.
And we should know! We've just come back from testing it! IT WORKS!
Need more reasons to get ExpressVPN?
We've got plenty of them! So check out our review!
They can't control you [cause you have ExpressVPN]
If you're into dystopian or post-apocalyptic movies, Divergent is definitely a 'must' on your list of binding material. And Insurgent. And Allegiant.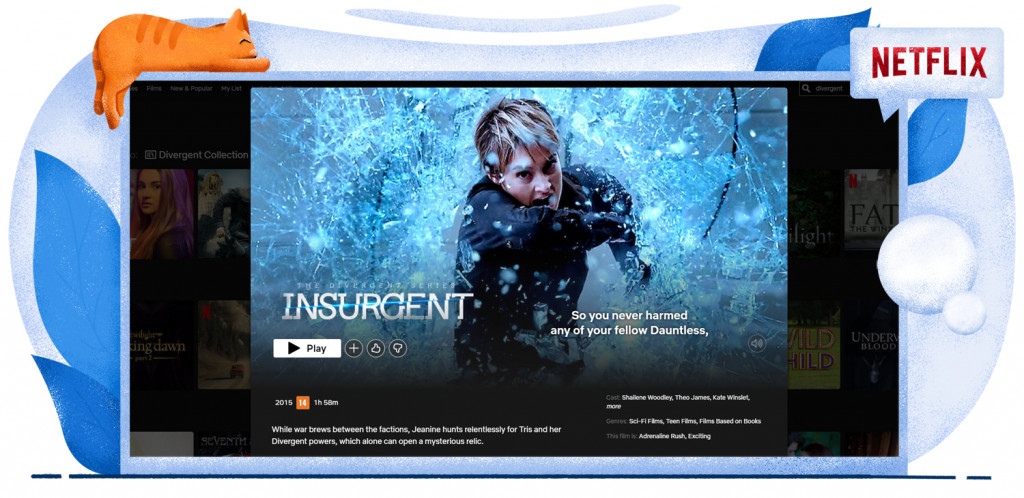 Do we really need to say it? Anyway, they (we all know who) can't control you.
So grab ExpressVPN and enjoy the superb action sequences, great dialogue & soundtrack, and strong acting from some of the best cast ever seen in a young-adult dystopian film!