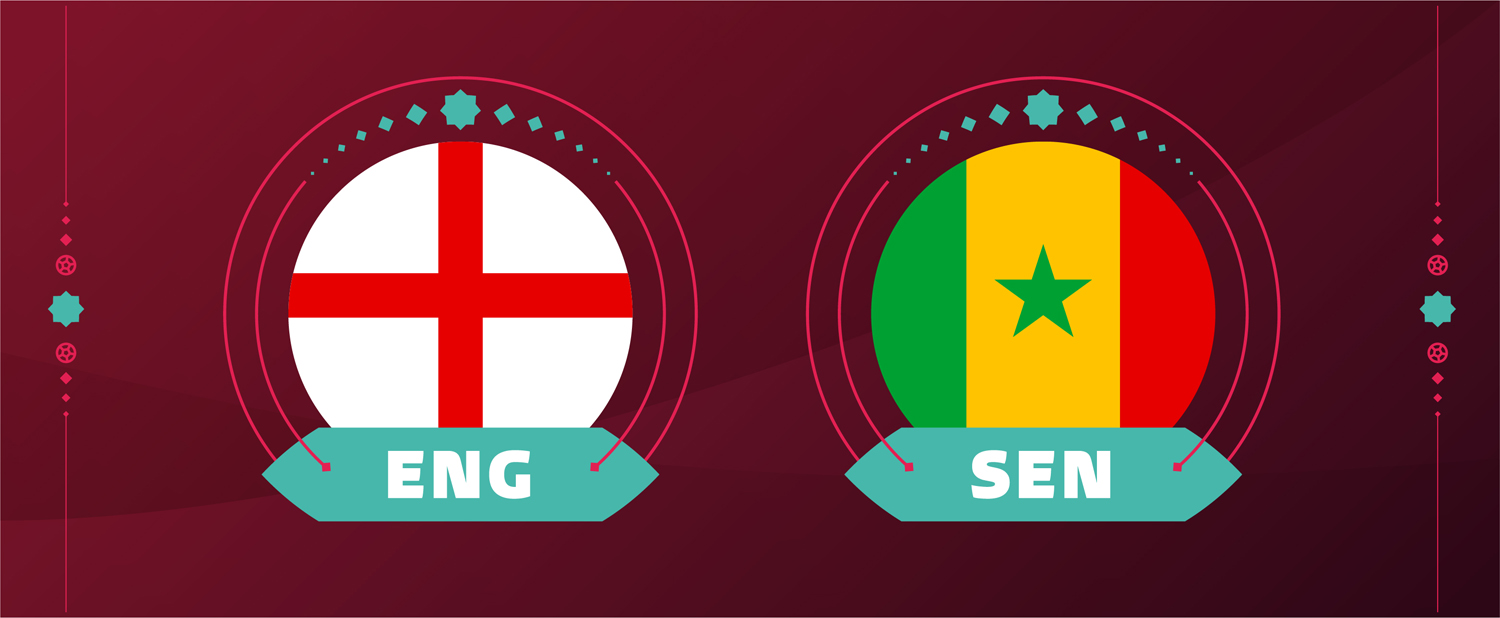 How to watch England vs. Senegal live, for free, and from abroad
The World Cup is out of the group stage and into the knockout. And the first opponent England is set to face off against is Senegal. So on December 4th everyone will be watching the two compete at the Al Bayt Stadium because only one can advance.
It may have been a rather uneventful World Cup so far, but England is definitely the team worth watching. First, it crushed Iran 6:2, then it went up against USA and ended up tieing 0:0, and, finally, England defeated Wales 3:0.
Senegal, on the other hand, didn't have the best run in the Cup so far, but still managed to survive the knockout phase. First, Senegal lost 0:2 to the Netherlands which is currently up against the US in their first knockout match. It did win 3:1 against Qatar, which, honestly, wasn't hard. And as its last match, it defeated Ecuador 2:1.
Obviously, England is the clear favorite of this match. However, when the stakes are as high as the knockout phase, you can't take chances and rely on stats. Everything can change on a dime. And you might want to see for yourself if the team you are rooting for is going to advance.

Watch the World Cup live, free, and anywhere with ExpressVPN!
The one thing you need to watch England – Senegal for free from anywhere
Even though the World Cup is the biggest sporting event of the year, you might be having trouble following the matches. Whether it's due to having to subscribe to a paid sports streaming platform or not being able to watch your own, local stream due to being abroad and falling victim to annoying geoblocks and licensing restrictions.
Fortunately, though, in this age of technological wonder, nothing is impossible or out of reach. And all you need to watch England come up against Senegal is a VPN. This little app allows you to switch your virtual location and instantly get access to streams and broadcasts that are otherwise unavailable.
Although, with the World Cup imposing some of the toughest blocks and restrictions, just about any VPN won't help. What you need is ExpressVPN!
Why ExpressVPN? Well, how about all of this:
First of all, no other VPN provider does streaming unblocking quite like ExpressVPN. This is the only VPN that can get you access to any streaming service you might want.
Next, thanks to its diverse network of incredibly strong servers, no location, and no streaming service are off-limits.
It's fast too, and thanks to that you won't miss a single pass and will be able to watch every game in perfect quality.
Did your team not make it? That sucks! But at least you can always get a full refund from ExpressVPN within 30 days of your purchase. So you risk nothing.
Want to know more?
Be sure to check out our full ExpressVPN review!
Now that you know what you need, onto how you can use it!
The best ways to watch England – Senegal from anywhere
There are too many World Cup streaming options to count. And if we were to list them all, this guide would have never made it online. So we'll stick to just the main streaming options.

Don't see the streaming option you need?
It's probably in our complete World Cup streaming guide!
With that said, onto the streaming options!
Watch England vs. Senegal on ITV from abroad
There is nothing quite like rooting (or cursing) your national team along with the entire country. And with that, the best place to watch the England vs. Senegal match is definitely ITV.
ITV and BBC iPlayer share the rights to stream the World Cup matches in 2022, and the England – Senegal game will be streamed on ITVX.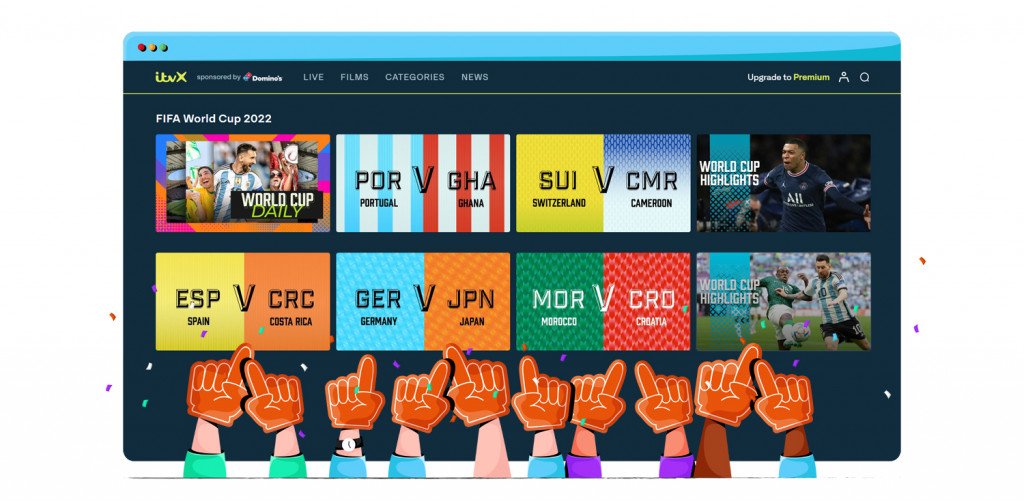 Now, if you're abroad, you won't be able to access the platform or watch the stream even if you previously had an account. Not to worry, though, because, with the power of ExpressVPN, no streaming options are off-limits. So here's what you do:
First of all, get ExpressVPN. You won't get far without it.
Next, install the VPN on your device and launch the app.
Then, connect your VPN to one of its locations in the UK.
Head over to the ITVX streaming platform and log into your account as you usually would.
Don't have an account? No problem! Simply make one. You will, however, need to provide the platform with a local postcode, so here are a few you can choose from: CT21 5UR, PA49 7UU, BA2 8SN, DN1 3TA, TW7 6XA, WC2N 4DH, B79 9JL.
Watch the game!
TF1
Of course, we can't forget the football fans from Senegal as well as everyone else looking to watch the match in beautiful French. And there is no better place to be for that than the French online streaming platform TF1, which is broadcasting the entire World Cup for free!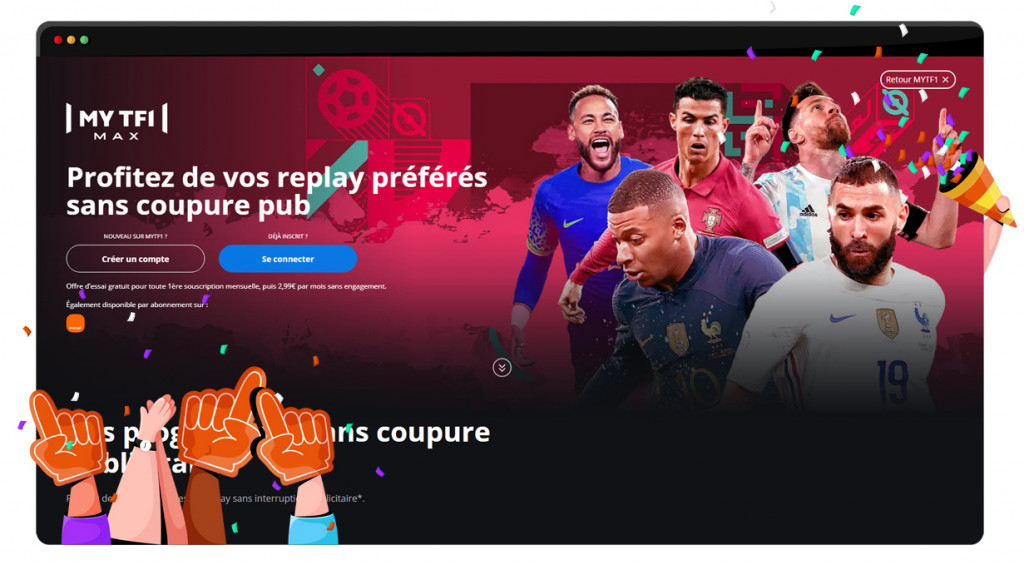 Getting your hands on the TF1 live stream of the England – Senegal match is no more difficult than ITV. So here's what you do:
Like previously, start by getting an ExpressVPN subscription and installing the VPN on your device.
Next, launch the app and connect to a server in France.
Head over to the TF1 online streaming website and make a free account, which takes just a couple of minutes and does not require you to share any 'special' information.
That's it! You can now enjoy the game in stunning French commentary!
SBS
Not it? Looking for something unbiased? How about an Australian stream?
Australia will be broadcasting the game (as well as the entire World Cup) online both free and live on their local SBS streaming platform. And if you can't get enough of Australian sports streams (we know we sure can't), you can join the stream too!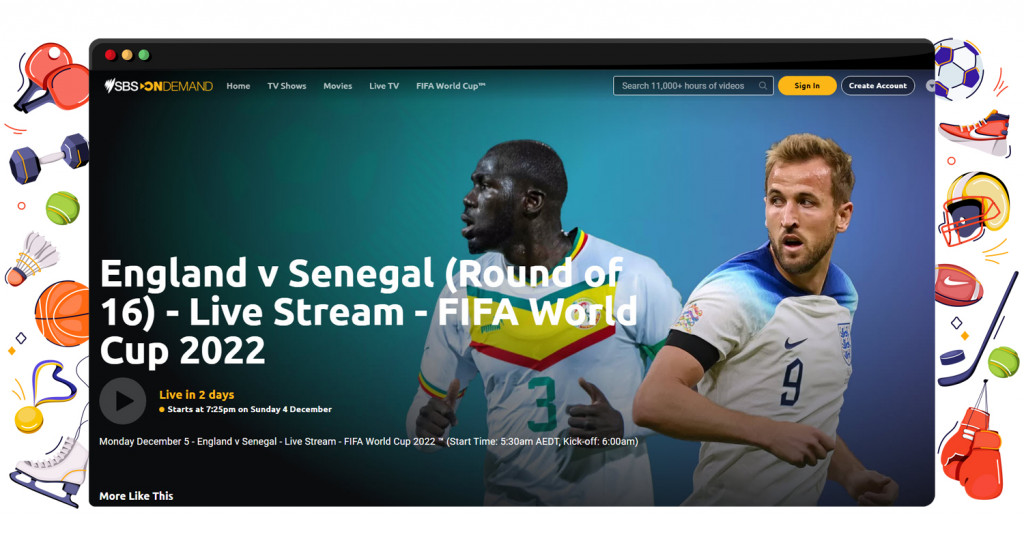 Interested? Here's all you have to do:
Again, start by getting an ExpressVPN subscription and installing the VPN on your preferred device.
Next, launch the app and connect to one of ExpressVPN's servers in Australia.
Now, head to the SBS-on-Demand streaming platform and make an account. It's simple, straightforward, and very fast.
That's it! You can now watch the game live and for free wherever you are!
Can Senegal make it?
With England being one of the toughest teams in the current World Cup, Senegal will definitely have his hands full with the upcoming World Cup. However, that's not to say that Senegal doesn't have a chance. Crazier things have happened as long as the teams bring it.
Fortunately, you don't have to find out the match results from Google this time. Thanks to the power of ExpressVPN, you can watch England vs. Senegal, as well as any other match of this World Cup, as well as any other sports stream in general, the way you want to watch it!
⚽⚽⚽