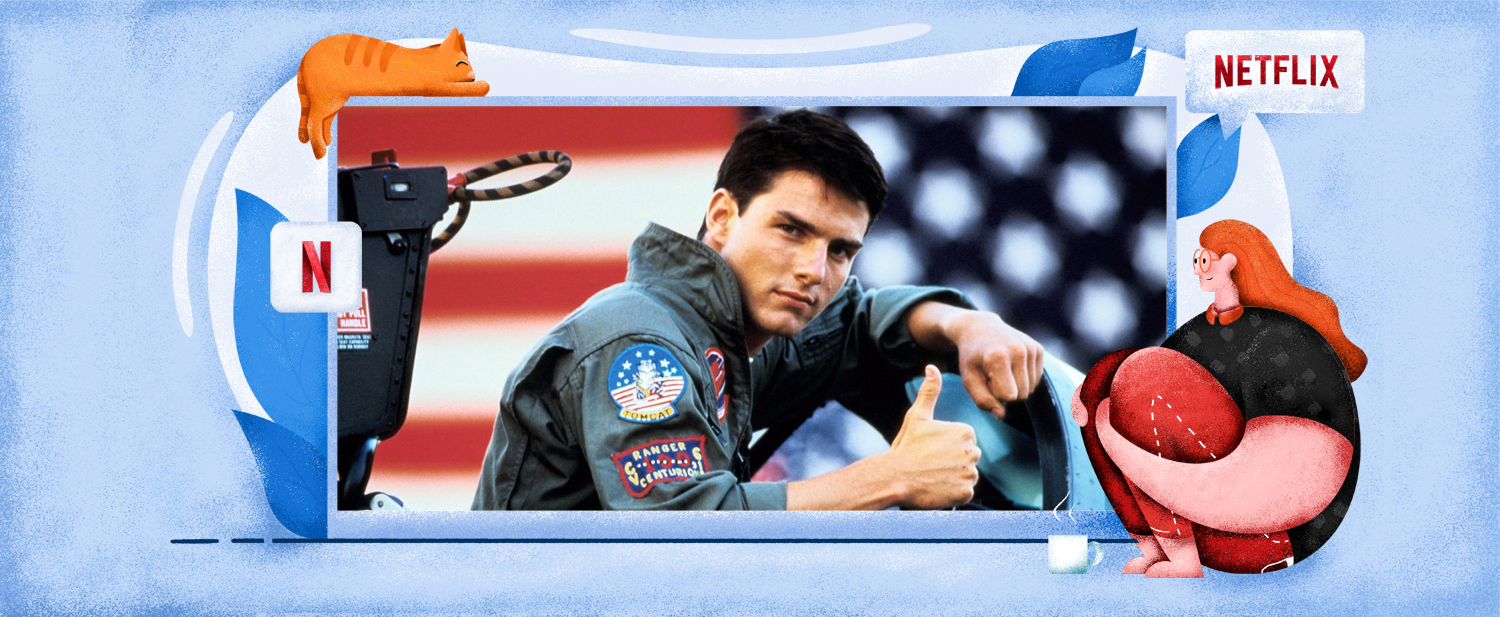 How to stream Top Gun on Netflix?
We bet nothing will make you feel older this week than realizing that the original Top Gun movie was released in 1986. That's 36 years ago! Yeah. It's been a hot minute since we got some Tom Cruise as a fighter jet pilot! But now, the wait is over, and we finally get a sequel that two generations of Maverick fans have been waiting for!
That's right! Top Gun: Maverick is finally out, and it's better than we had hoped for in our wildest dreams. Have you seen the movie yet? Are you going to? Regardless, this is one movie you can't afford to miss!
But just like any good sequel, what Maverick does best is make you nostalgic about the original Top Gun movie. And whether you want to relive the testosterone bath that is the 1986 movie before diving into the sequel, or it's the new movie that sparked your afterburner of nostalgia, there's just no Maverick without Top Gun.
And this is where the fun starts: Finding out where can you stream the original Top Gun movie?

We feel the need.
The need for ExpressVPN!
Where can you stream Top Gun?
The streaming platforms don't make it easy on us, do they?
Up until the 31st of May, it's been as easy as it should be. The 1986 Top Gun movie was streaming on regular old Netflix for everyone to see. But ever since June, the movie is nowhere to be found.
After leaving Netflix, the original Top Gun is streaming on Paramount+ and Amazon Prime Video in the US. In the UK it has made a home for itself on Sky, and in Canada, the movie is available on both Crave, Paramount+, and Starz.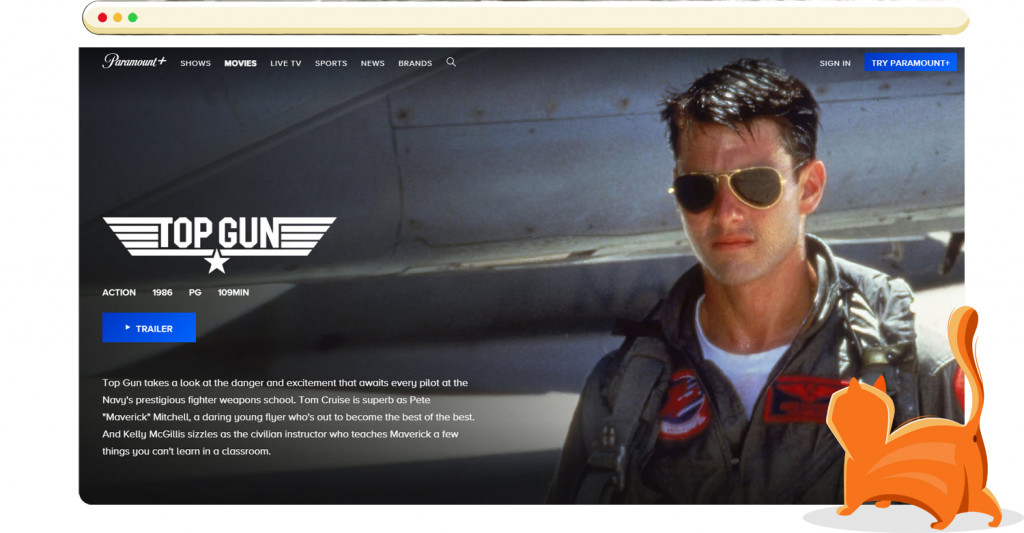 Now, whether the movie will ever find its way back to regular old Netflix remains to be seen. But who's to say you can't get it on Netflix right now ??
Talk to me, Goose!
See, the fact that Top Gun isn't on Netflix doesn't actually mean it's NOT on Netflix.
You might be wondering what we mean by that, and we're happy to explain. Every country's Netflix library is completely different. So if Top Gun is not to be found in your Netflix library, it's bound to be perfectly streamable in another one.

Want to know how that works?
Check out everything you need to know about Netflix libraries!
While you might be struggling to find the old Top Gun movie in your local Netflix library, there are some places in the world that are enjoying it as we speak! What are those places? Well, that's classified, and we could tell you, but then we'd have to kill you.
Nah! We just couldn't miss out on using another Top Gun quote!
The places where Top Gun is available on Netflix are abundant. They are just not the US, and you have to know where to find them. But we've done that for you! So you can currently find Top Gun 1986 on Netflix in Australia, Brazil, France, Germany, India, Italy, Japan, Netherlands, Portugal, South Korea, and Spain.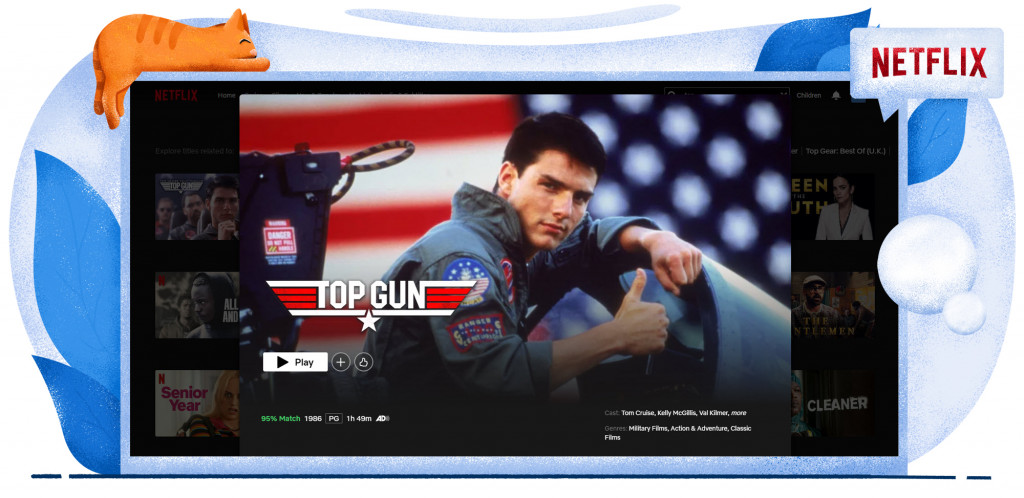 Told you – abundant. But the real question is: How do you access those libraries?
Remember boys, no points for second place
Let's get one thing clear: The only way you can access another country's Netflix library is by either moving to the country or using a VPN. There are just no other ways around this.
But just about any old VPN won't cut it as your wingman. First of all, after the infamous VPN ban by Netflix, very few providers are up to the task. Even the premium ones. Second, when the Netflix libraries you need get this obscure, you don't just need a good VPN, you need THE BEST one. And there's just one VPN that can get away with that title: ExpressVPN!
Wonder why ExpressVPN takes the prize? Well, there's more than one reason you should go for that VPN above any other:
When it comes to unblocking Netflix libraries, it takes more than fancy flying to cut it. And ExpressVPN definitely delivers results.
With Netflix going to all-out dog fights with VPN providers, ExpressVPN is the only VPN that doesn't flinch and always seems to have a workaround for any of Netflix's blocks. Every time you use it, it's "like you're flying with a ghost".
Numbers aren't everything. ExpressVPN might not have the most servers out of any VPN provider, but it definitely has the most diverse network.
With ExpressVPN's extensive web of strong, powerful, and highly reliable servers, you'll have an option to connect to.
Streaming is all about speed. And ExpressVPN definitely satisfies the need for speed like no other VPN does.
With ExpressVPN as your wingman, you'll breeze by any blocks and restrictions with the speed of the F/A-18.
Not enough?
Check out our new and improved ExpressVPN review!
Got it? Great! Now all that's left is to install ExpressVPN, connect to a server in, say, the Netherlands, reload Netflix, and there it is!
It's Top Gun, baby!
An almost 4-decade-long wait is finally over, and we got the Top Gun sequel we deserve!
But what good is a sequel if the original isn't amazing? So before (or after) you go to see Top Gun: Maverick, be sure to check out the 1986 original that made this possible!