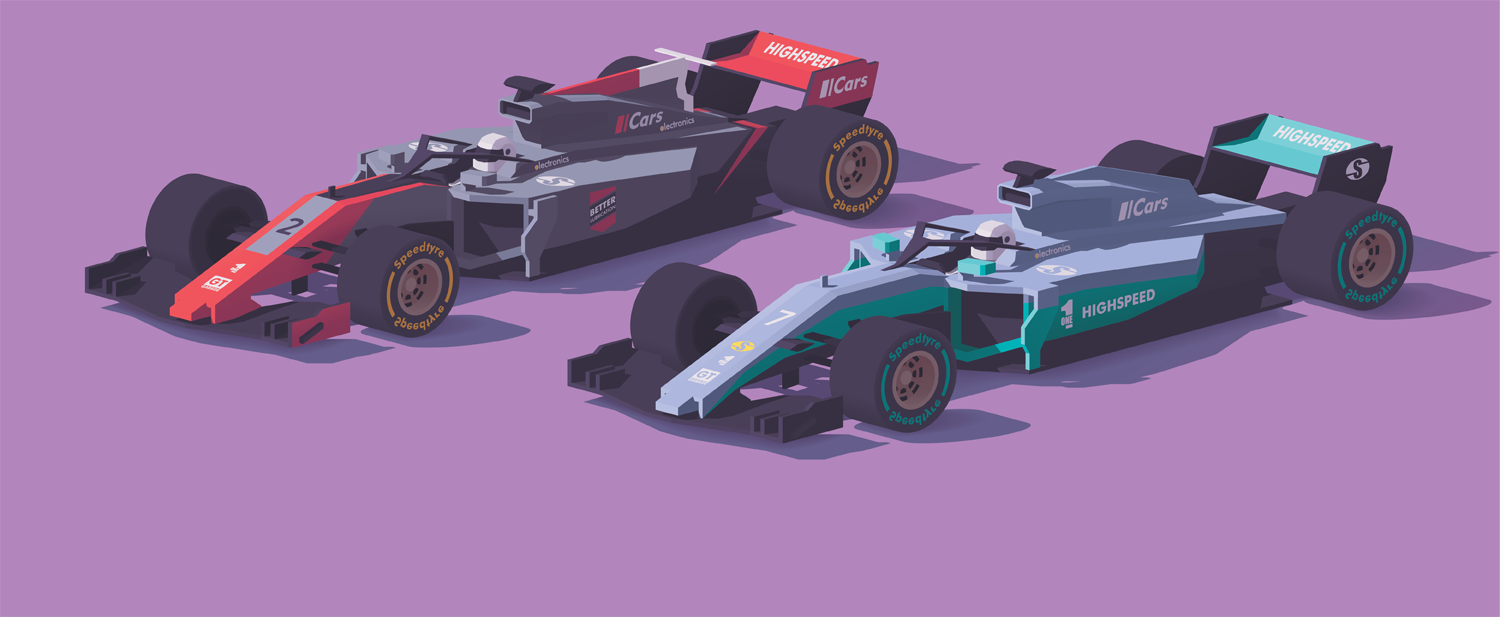 How to stream the 2022 F1 Austrian GP live and free?
We don't mean to brag, but we told you the 2022 Formula 1 Silverstone GP is going to be a doozy. And, boy, was it! Just when you'd think the entire season's outcome is clear as day, Formula 1 throws a wrench in the gears and turns everything on its head. And we can't wait to see how this affects the 2022 Austrian GP!
As usual, the 2022 British GP was a gift that kept on giving. Even more so this time! This may very well have been one of the most exciting, action-packed, and heart-pounding Formula 1 races of all time. Definitely worth the hall of fame, and we're really sorry if you missed it.
The madness began lap #1 with the nasty pair of crashes that took Zhou Guanyu and Alex Albon out of the race and may have very well affected the overall outcome of the GP. This was hard to watch.
But the true spectacle was the epic battle between Red Bull, Ferrari, and Mercedez, fighting on their home turf this time. And what a fight it was!
Leclerc ⚔️ Perez ⚔️ Hamilton

Incredible scenes at Silverstone 🍿#BritishGP #F1 pic.twitter.com/TBZ6J9bfty

— Formula 1 (@F1) July 3, 2022
Verstappen, who was having a massively successful season thus far, finished in 7th. He did, however, put a valiant fight as usual but ultimately had to give in after taking heavy car damage early in the race. His teammate S. Pérez did manage to secure 2nd place on the podium.
Mercedez finally had a good race, with Hamilton securing his first podium placement this season, finishing 3rd. His teammate Russel, though, was not allowed to continue after taking heavy damage in the Zhou crash and jumping to his aid.
The talk of the town, though, is definitely Ferrari. Leclerc drove one of his most ruthless and yet professional races. It seems that he was battling not just other drivers, but his own team too to secure as many points as possible. And despite some pretty dire front damage, he still managed to finish 4th. Carlos Sainz Jr., Leclerc's teammate, managed to grab his first-ever win, which will surely boost his confidence for races to come.
Like any great F1 race, Silverstone set the perfect stage for the next one. And next up is the Austrian GP – the home race for Red Bull. So you know this one is going to be just as action-packed as the British GP.

Stream the Austrian GP live and free with ExpressVPN!
Where can you watch the 2022 Austrian GP?
If you are reading this, then probably nowhere nice.
In the US your only options to stream the latest Austrian GP are ESPN and ESPN Deportes if Spanish is your preferred language.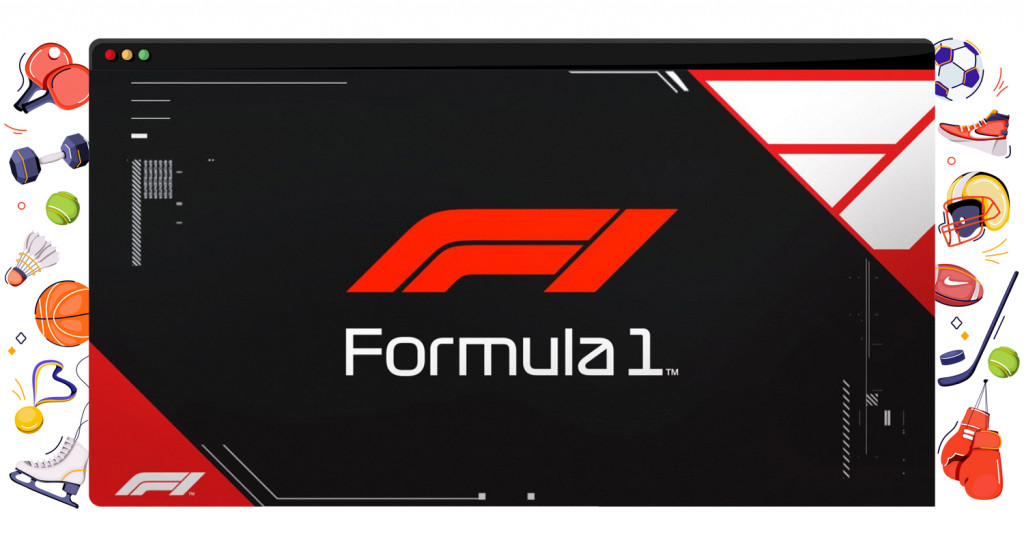 After a brief detour into a free-for-all British GP stream on Channel 4 last week, the only way to stream the race live in the UK is Sky Sport. But if you're OK with settling for the highlights, you can still stream them on ITV after the race.

Outside of the UK?
Check out how you can get ITV HUB wherever you are!
Australia has Foxtel and Kayo Sports to cover all of your Formula 1 needs. And, finally, Canada has a bunch of cable and streaming options including TSN, TSN 2 and RDS.
And the rest of the world? Well, it depends on where you are. There's probably a local streaming platform that has the rights to F1 this year and is jacking up prices because of that (Viaplay, DAZN, Now TV, Sky, you name it). Or you can always go for F1 TV, but have you seen the prices?!
Anyway, should any of that stop you from being able to stream the races live and free? We think not!
How can you stream the 2022 Austrian GP for free?
Believe it or not, some countries are actually making Formula 1 broadcasts free for everyone! Well, free for everyone in the country that is.

Wondering what those may be?
Check out our guide to everything Formula 1 in 2022!
We feel you, this is incredibly frustrating. Wherever you may be, your F1 broadcasts might very well be held hostage behind a useless paywall, and others get to enjoy the very same streams completely free! Well, those are sports streams for you!
However, that is not to say you can't join the streams. All you have to do is convince the streaming platforms in question you have the right of passage based on your virtual location. And to do that, all you need are the right tools.
What tools? A VPN of course! And, just to save you the trouble of choosing the right one, there is but one VPN provider that can handle Formula 1 streams: ExpressVPN!
There are lots of factors that go into making a free Formula 1 stream work. But ExpressVPN ticks all the right boxes:
It has strong servers in all the locations you need to stream the Austrian GP for free! ✅
ExpressVPN excels at streaming sports, breaking through some of the toughest blocks the industry throws are you! ✅
This is the fastest VPN provider around, which means lag will never be an issue with your F1 broadcasts! ✅
Want to know more?
Check out our brand new ExpressVPN review!
Now that that's over with, time to check out the actual streaming options!
Who is streaming the 2022 Austrian GP for free?
This time around we have found 4 ways you can stream the home race of team Red Bull both live and free! There are plenty of options to choose from so let's get to it!
ORF1
As you probably know by now, there are two Austrian channels that share the rights to streaming Formula 1 races. And it was just a plain pain figuring out who's streaming what this week 5 minutes before the race.
This time though it's the home race for Austria. And what this means is that for once both of the channels are streaming the race live and free! First up – ORF1!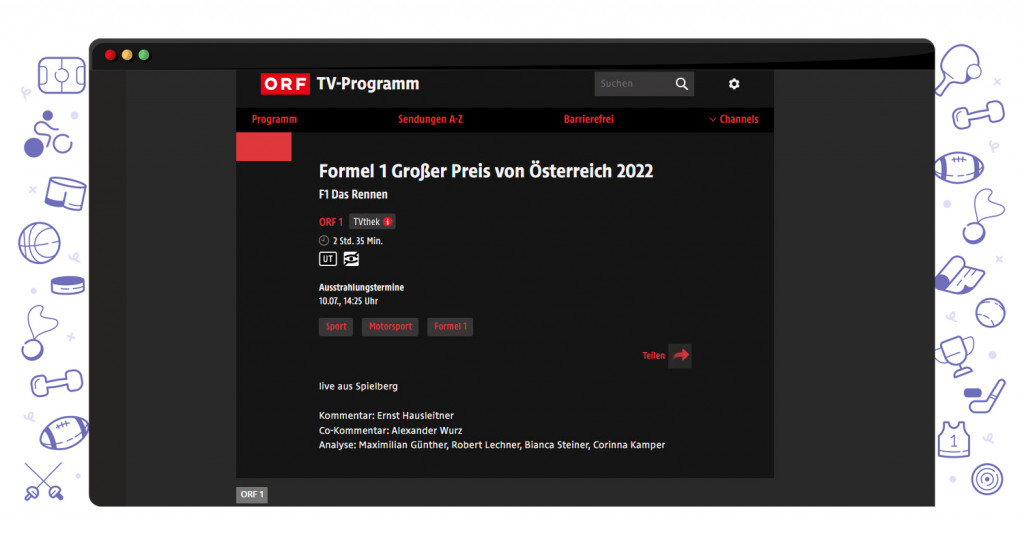 You might think that the screenshot is not much to look at right now. But come Sunday, it will be filled with some of the fastest cars in the world duking it out. And here's all you have to do to tune in:
First of all, get ExpressVPN!
Second, connect your VPN to an Austrian server.
Third, head on over to the ORF1 website and find the stream.
Finally, enjoy. And this one is mandatory!
ServusTV
So what about that other Austrian channel with all the streaming power? Well, that's ServusTV and this time it's streaming the Austrian GP just as live and as free as ORF1!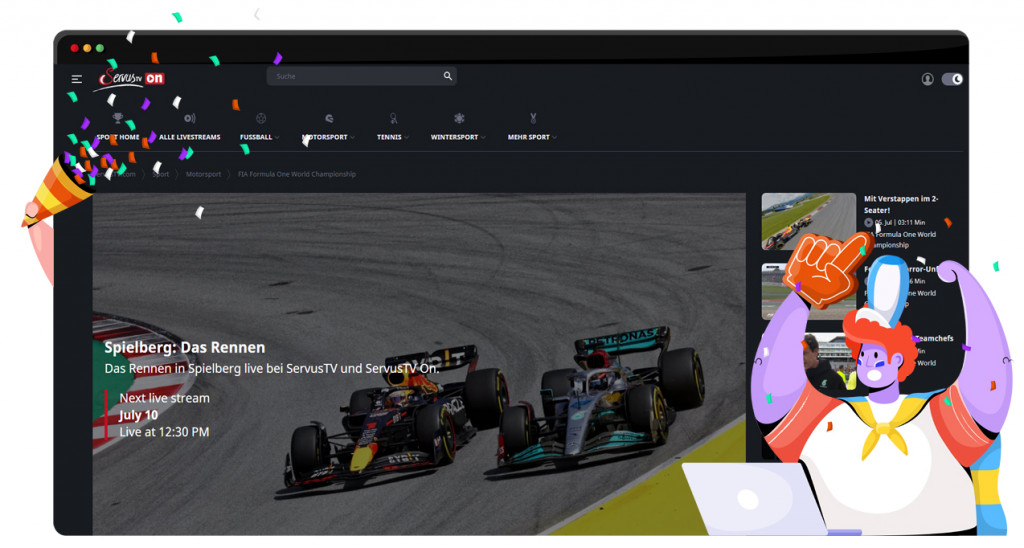 Lately, ServusTV has been giving VPN users a bit of trouble. However, if you followed our advice, you should have ExpressVPN which means you won't run into any issues. Regardless, it bears repeating:
Firstly, get ExpressVPN!
As soon as you have the VPN installed, connect it to a server in Austria.
Now, head on over to the ServusTV online streaming platform.
That's it, enjoy!
RTL Zwee
Austrian TV not cutting it for you? How about Luxemburg? That's right, the tiny country is streaming the 2022 Formula 1 season live and free in its entirety. And this, of course, includes the Austrian GP.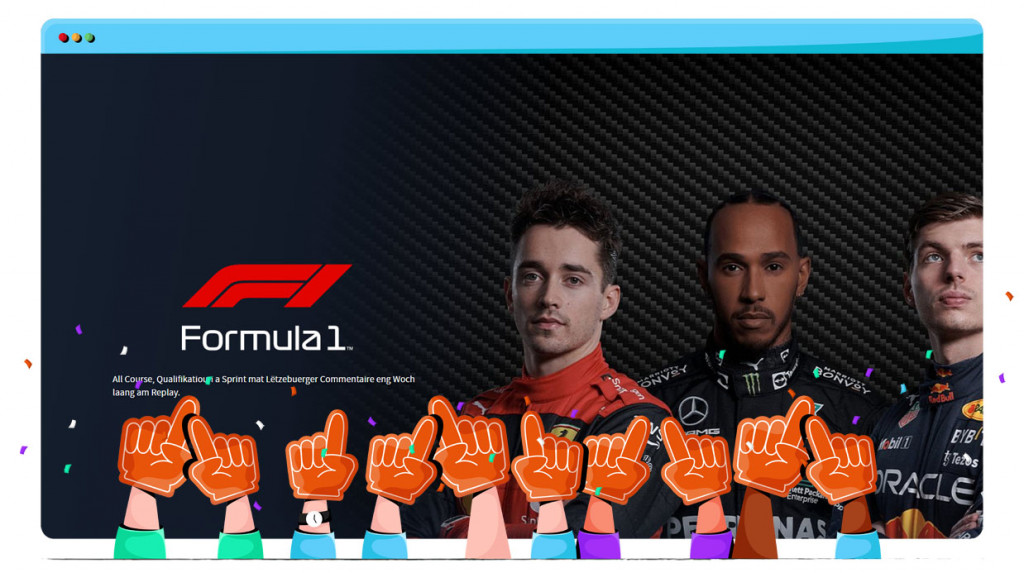 The platform itself might not be hard to crack. The problem, however, is finding a VPN that has strong and reliable servers in the country. But lucky for you – ExpressVPN has got it covered.
So here's what you do:
One more time, get ExpressVPN!
Connect to a server in Luxemburg.
Navigate to the RTL Play streaming platform and find the RTL Zwee stream of the race.
That's it! No registration or anything!
RTBF
Do you find the Germanic languages a bit too harsh for your liking? Well, first how about French then?!
The last but definitely not least free Formula 1 streaming option on our list is the RTBF Auvio streaming platform from Belgium. And it will be streaming the Austrian GP live, free, and in glorious French!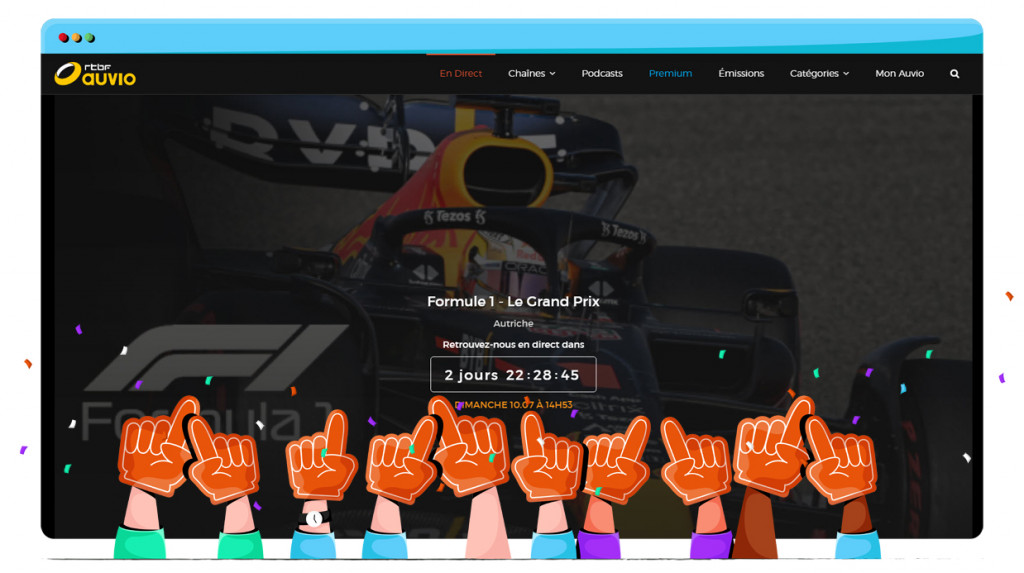 Getting a hold of this platform might not be as easy as the other three which is why we saved this one for last. However, with ExpressVPN as your loyal teammate, no streaming feat is impossible!
So, here's how you get a hold of the F1 streaming on RTBF:
One last time, get ExpressVPN!
Next, connect to one of its amazing servers in Belgium.
Then head over to the RTBF Auvio website and make a free account. You are going to be asked to provide a Belgian postcode, however, this is just a formality, so you can use this one: 1170.
Finally, tune in and enjoy the race! Easy as that!
And they're off!
Remember, the fact that you can't stream something doesn't actually mean that you can't stream something! ?
After the British GP we're no longer sure what to expect. Verstappen seemed to have had it in the bag, but with the competition getting fiercer every single race this can now change on a dime. Red Bull has a lot to prove now as well as their honor to defend on their home turf. All the while, other teams have to give it their all to stay in the running and get a place on that podium!
And now that you have the right tools, nothing can stop you from finding out for yourself!