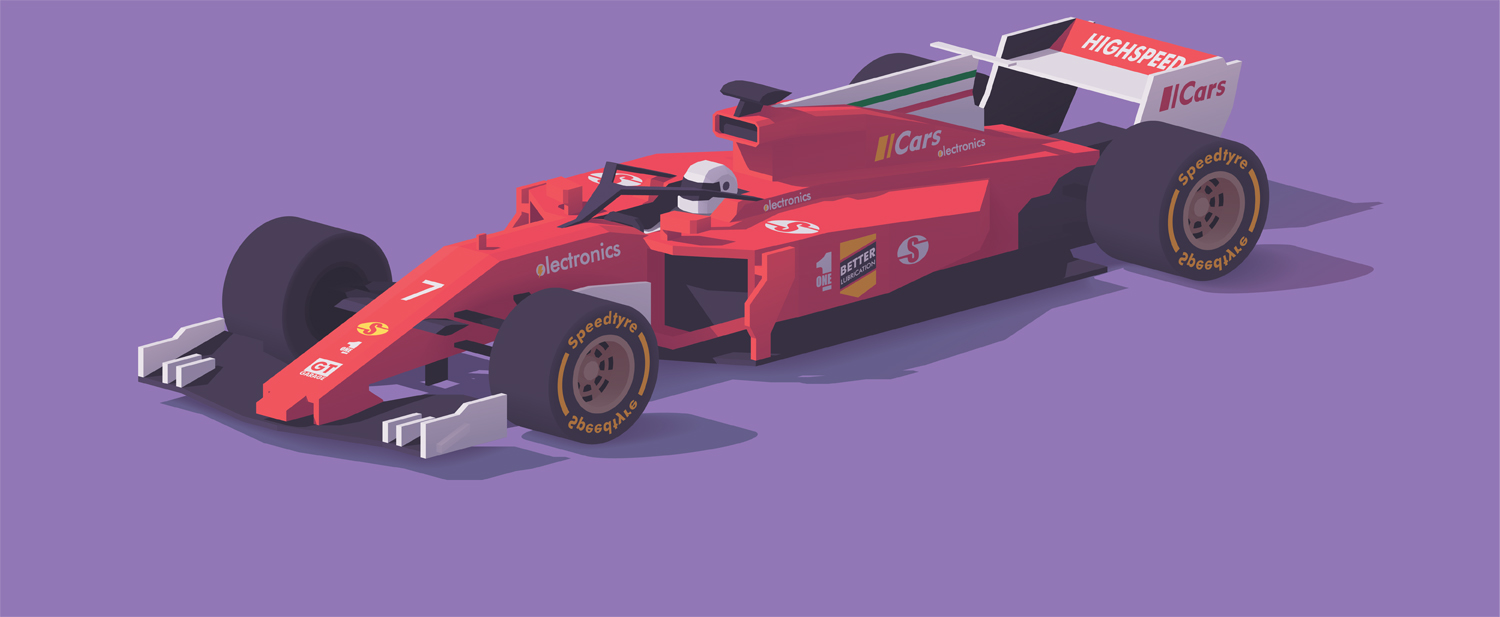 How to stream the 2022 F1 Silverstone GP live and free?
And what a race in Canada it was! In the last ten laps, Max Verstappen managed to fend off all of Ferrari's Carlos Sainz's attempts to overtake him taking yet another win for himself and Red Bull. This was the Dutchman's 6th win in a row this season and he is now 46 points ahead in the standings. While not completely untouchable yet, Verstappen is definitely getting there. The true challenge of the 2022 season that will give Max a run for his money is the upcoming Silverstone GP.
However exciting the final stretches of the Canadian GP may have been, this wasn't even the highlight of the race.
Lewis Hamilton finally managed to get a place for himself on the podium finishing third with his teammate George Russel following in fourth. Hamilton drove a near-perfect race, which really brought him back after an ultimately disappointing season start.
Leclerc of Ferrari finished 5th, after having started in the 19th position. This was probably not something team Ferrari was aiming for, but still an impressive run.
Next up is the Silverstone Grand Prix – one of the most important races of any Formula 1 season. So if there's only one race you can stream it has to be this one!

Stream the Silverstone GP live and free with ExpressVPN!
The four ways you can stream the 2022 Silverstone GP live and free
The Silverstone GP is traditionally one of the most exciting and important races of any Formula 1 season. It's also the home race for many teams, so you know they are bringing their A-game.
So streaming this race is a given. If you only have the guts for a single F1 race every year, this is it! This is the one you watch.
But therein lies the problem. Streaming F1 is never easy, and we all know how you feel about cable and whatever the 8 streaming platforms you need this year to follow the entirety of the Formula 1 season. This is why we have researched and found 4 whole ways to stream the Silverstone GP completely free and fully live!

Want to know how to stream the entire F1 season?
Check out our full streaming guide!
Want to join the millions of fans tuning in to follow the race on July 3rd? Well, here are your options:
ServusTV
Austria to the rescue once again! And ServusTV is our #1 option to stream the Silverstone GP.
ServusTV and ORF1 are the two Austrian channels that share the rights to streaming F1 races. And this time it is ServusTV's turn to stream the Grand Prix.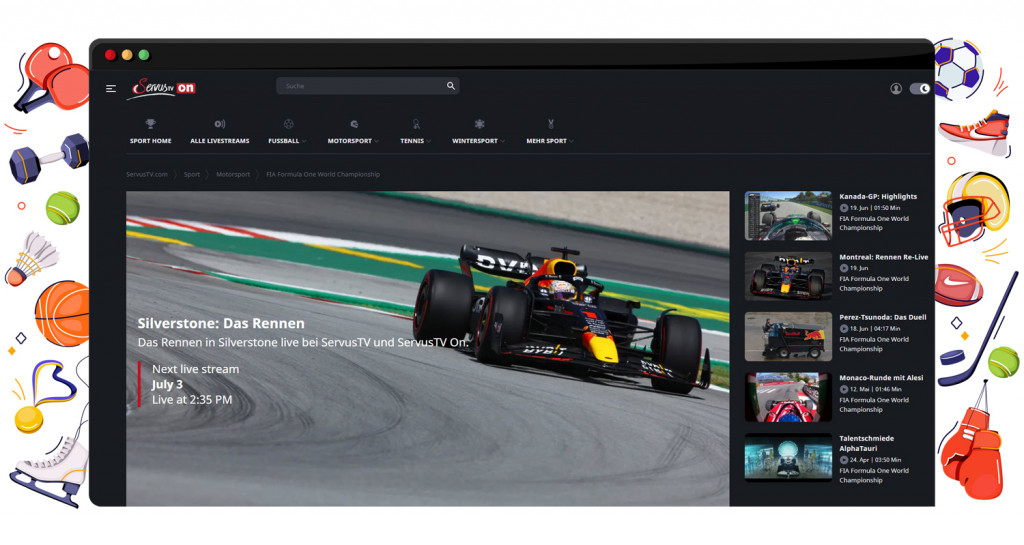 As you may have guessed, the Formula 1 live stream will only be available to local Austrian viewers. So if you're not one, you are going to have to fight the geoblocks that the platform throws your way. And for that (as well as all the other options on our list) you are going to have to equip yourself with a VPN that's equally tough!

Still not sure what a VPN is?
We've got everything you need to know!
ServusTV has become harder to crack in recent years, but lucky us – it is still no match for the likes of the streaming unblocking powerhouse that is ExpressVPN.
And here is all you need to do to be able to stream the race both live and free with this option:
Get ExpressVPN.
Connect to an Austrian server.
Head on over to the ServusTV website and enjoy the race! No registration or anything!
RTL Zwee
Option #2 comes from Luxemburg and it's RTL Zwee – a local channel that will be streaming the entire Formula 1 season this year including the Silverstone GP. And you can follow the race through its very own online streaming platform RTL Play.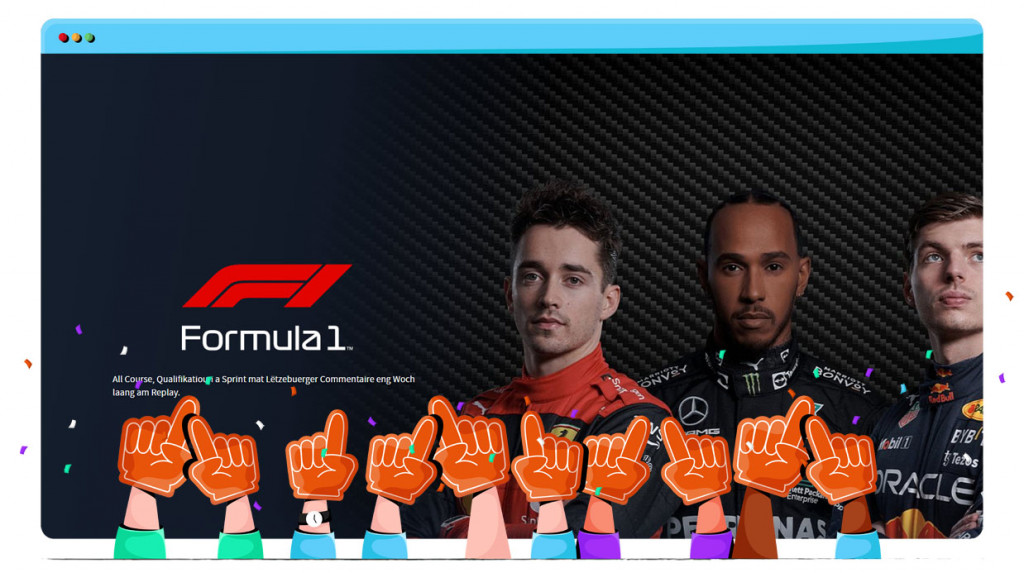 RTL Play may not be the hardest platform to crack, but the problem is finding actual local servers in the country. Fortunately, thanks to its incredibly diverse network of servers, ExpressVPN is probably the only VPN that can.
So here's how you'd go about that:
Get ExpressVPN!
Connect to a server in Luxemburg.
Go to the RTL Play website and navigate it to the RTL Zwee streaming segment.
No registration. No postcodes. Nothing. Now isn't that just the best?
RTBF
Option #3 comes from Belgium in the form of the somewhat convoluted RTBF Auvio streaming platform. And, you guessed it, it's streaming Formula 1 both live and free this whole season.
Man, Europe truly does know how to treat its Formula 1 fans, doesn't it?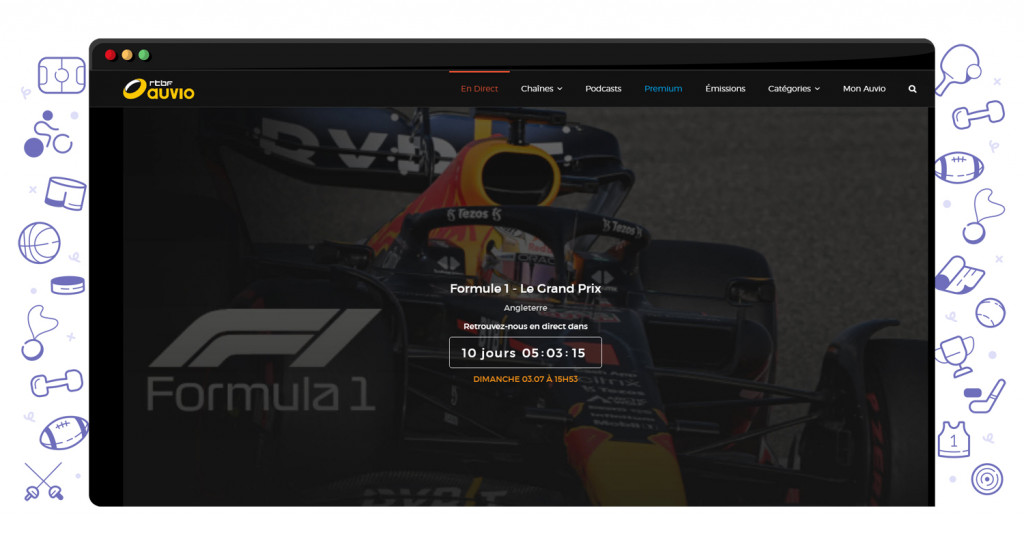 This French-speaking platform is not particularly easy to crack, but with ExpressVPN by your side, it shouldn't be a problem.
All you have to do is follow these steps:
Get yourself a fancy ExpressVPN subscription.
Connect to a server in Belgium.
Head on over to the RTBF Auvio streaming platform and create a free account. In the process you will be asked for a Belgian postcode, so here's one: 1170.
When the time comes, tune in and enjoy!
Channel 4
Normally, this would be it. However, this is the UK we are talking about. So, of course, they are going to be streaming the Silverstone GP for any local to watch! And this means you can tune in and watch just like the rest of the country (if you have the right tools!).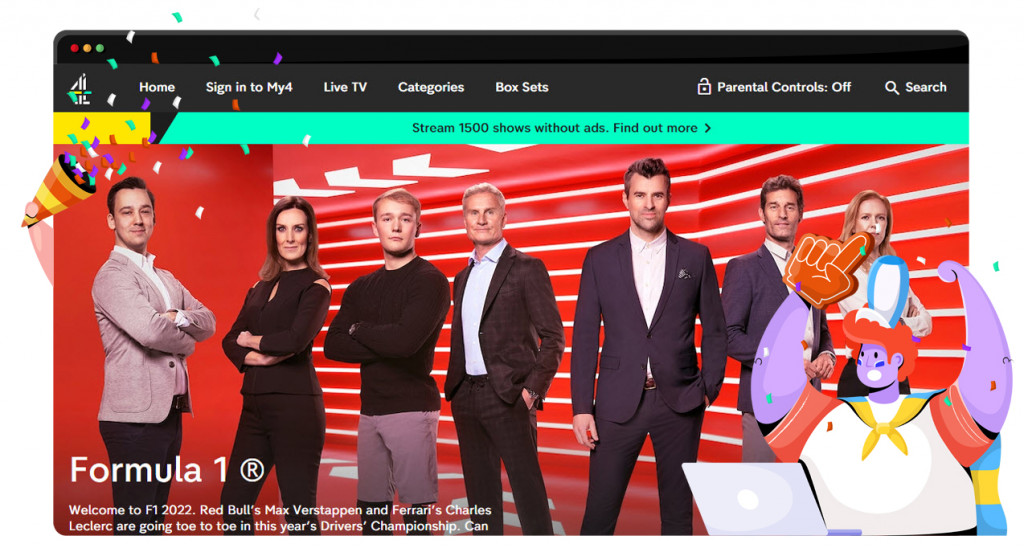 This time around the race will be streamable on the Channel 4 platform. And, of course, ExpressVPN won't let you down:
For the last time, get ExpressVPN!
Connect to a server in the United Kingdom and start making a free account.
Once again, you will be asked for a local postcode, and once again it's a formality. You can actually use a UK Postcode Generator to get yourself a random one.
As soon as it's time for the race – tune in and enjoy!
2022 Silverstone GP for free: Does it get any better?!
You can kiss all of those streaming and cable subscriptions goodbye because you don't need one to stream the Silverstone GP anymore!
With ExpressVPN by your side every step of the way, and TechTypical doing all the research for you, you just might not have to pay for any streaming platform ever again!
So, come Sunday the 3rd of July 2022, get comfy on the couch, choose the best streaming option, and enjoy! Can Verstappen make the gap even bigger?