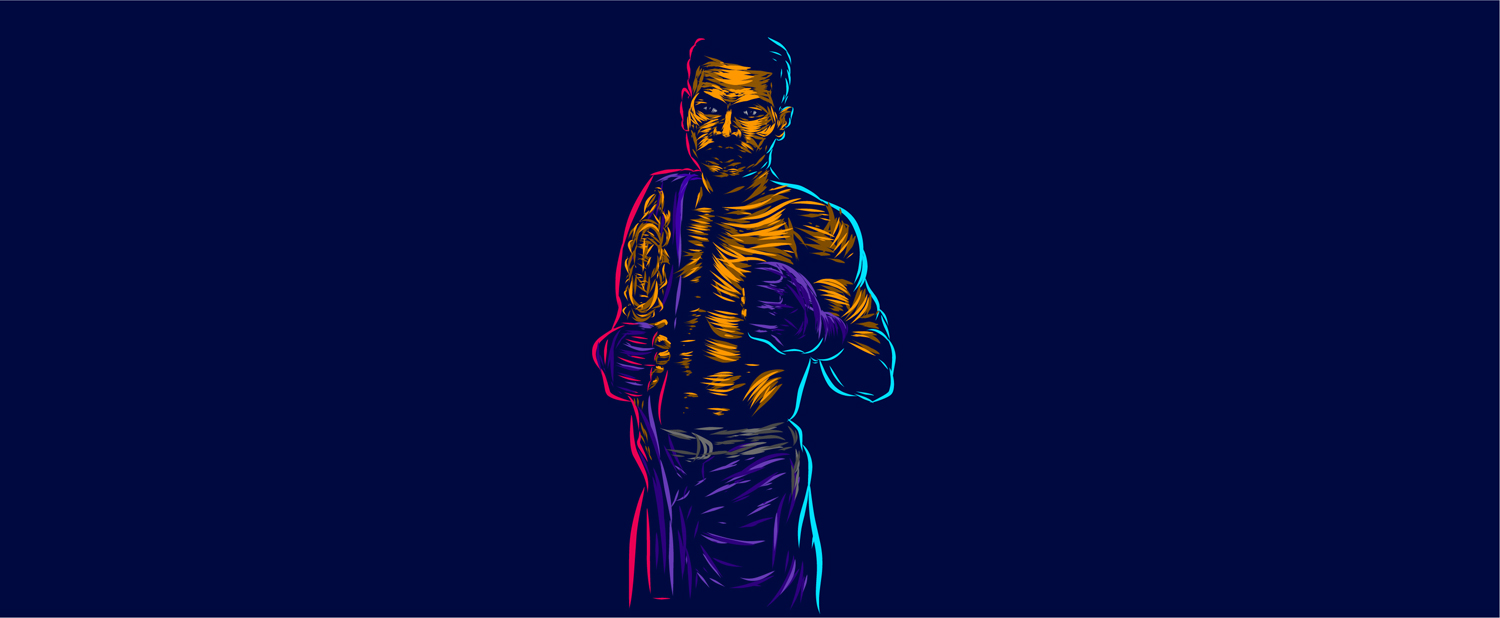 Best streaming platforms to watch UFC and MMA
Every sport is all about one thing: Finding out who is the toughest kid on the block. But there is no other sport that encapsulates this quite as perfectly, quite as brutally, or quite as literally as UFC and MMA fighting.
The Ultimate Fighting Championship is here to bring you just that: a fight in its purest and best form. Pitting the best of any and all fighting styles against each other, the UFC is truly here to find out who is the best. Any UFC match is exactly what a good fight should be. It's brutal, relentless, unforgiving, but best of all – it's always unexpected. You never know what's going to happen, or which style is going to win. Any UFC match is a continuously asked question of Who would win in a fight…?
If you're a fan of combat sports, you are a fan of UFC. It's the very pinnacle of combat sports, so how could you not be?
The only problem is being able to watch the fights. Even if you could physically attend every single match, you still wouldn't be able to afford as many tickets as you want. We mean, have you seen the ticket prices?! So, naturally, you turn to the second-best thing: streaming the UFC.

And this brings us to the best platforms for streaming UFC and MMA matches as well as accessing them wherever you are. Get ready, things are about to become bloody!

Access and stream every UFC fight with ExpressVPN!
How can you access all this goodness from anywhere?
There's nothing quite like watching a fight live. And while there are few things any fan would like more than cheering the fight from the arena, getting to Las Vegas isn't an option equally viable for everyone. So the best we can hope for is a smooth streaming experience.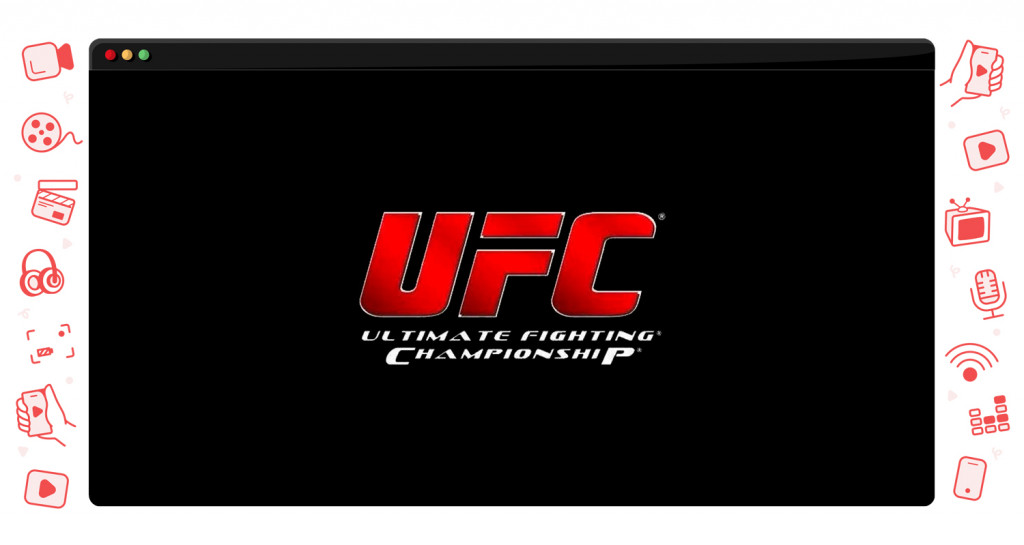 However, while there are plenty of UFC streaming options we'll touch upon soon, getting to them might not be easier than getting to Las Vegas. Most of the streaming options are not available worldwide. This means very few people can actually enjoy everything the MMA and the UFC have to offer.
Although, there just might be a friend in your corner that will help you bypass the blocks all of the streaming services throw at you. And that's a Virtual Private Network.
You're probably familiar with VPNs by now. After all, they have been waging war on geoblocks for years at this point. That said, the UFC is in a league of its own, employing the use of some of the toughest blocks the entire streaming industry has to offer. And much like in the UFC itself, there can only be one winner. One VPN that can break through all of the restrictions and get you streaming. And that is, without a doubt, ExpressVPN.
And here's why ExpresssVPN is quite simply the absolute best:
When it comes to unblocking sports streams, there's simply no substitute for ExpressVPN. This is what the provider has always been known for and still does better than anyone.
With live fights, you can't afford to miss a single thing, and for that, you need a VPN that's fast. Thankfully, ExpressVPN is the fastest VPN around!
In addition, ExpressVPN also has an awesome support team to help you in case you run into streaming trouble.
Want to know more?
Check out our full ExpressVPN review!
Now that you know how to stream any UFC match you want, it's time to cover the best platforms to do so.
The best platform to watch UFC and MMA events
UFC and MMA are no soccer, there's not an infinite number of streaming platforms you can watch. However, if you are looking for the best combat sports streaming experience, there are still plenty of options at your disposal.

Speaking of football...
Check out the best platforms for streaming football!
And we can't wait to share them!
ESPN+
This subscription-based streaming service arguably dishes out the best UFC content there is. ESPN+ serves a wide range of MMA, and boxing programming; you really can't ask for more. So if you're a combat sports fan, this is the place to be!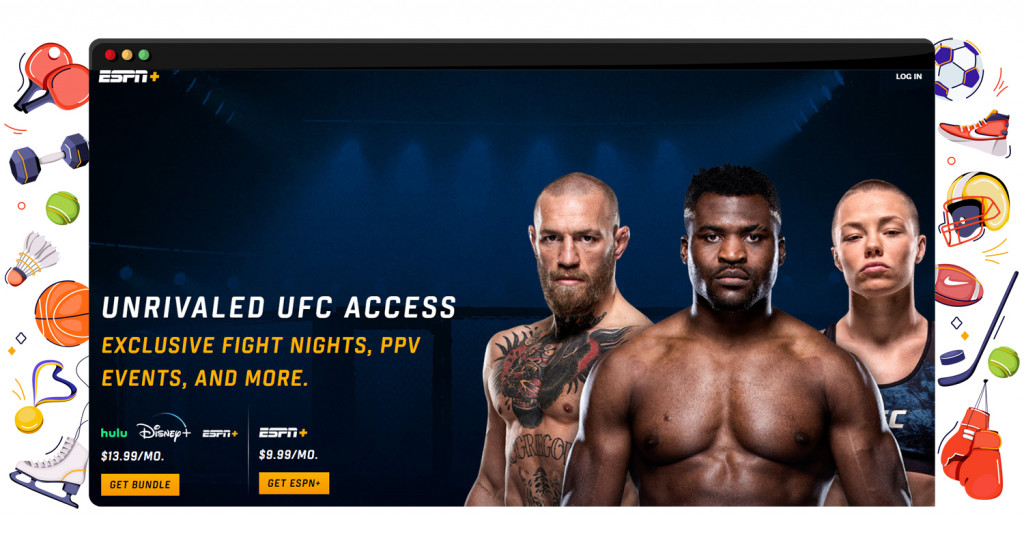 In addition to original UFC content not limited to Dana White's Contender Series, Detail from the Mind of Daniel Cormier, and UFC Destined, ESPN+ also delivers across many other categories you would imagine, including NHL, MLB, PGA Golf, Bundesliga, La Liga, NCAA basketball, and Major League Soccer.
The service also presents the best platform where you can catch some Pay-Per-View events online though you will need to pay $75 per if you are a subscriber (the monthly fee is $9.99).
Overall, the sheer breadth of content means you're getting the best value for money, provided you can access it. This is a tough nut to crack since the service is only accessible within the US.

Want to get ESPN outside the US?
We have a guide to help you!
UFC Fight Pass
With UFC Fight Pass, you will be able to stream all the non-pay-per-view fighting action. The depth of content on the platform gives you a multitude of options from which to choose. It has a vast library that delves deep to provide you with access to even some of the most iconic fight companies in history.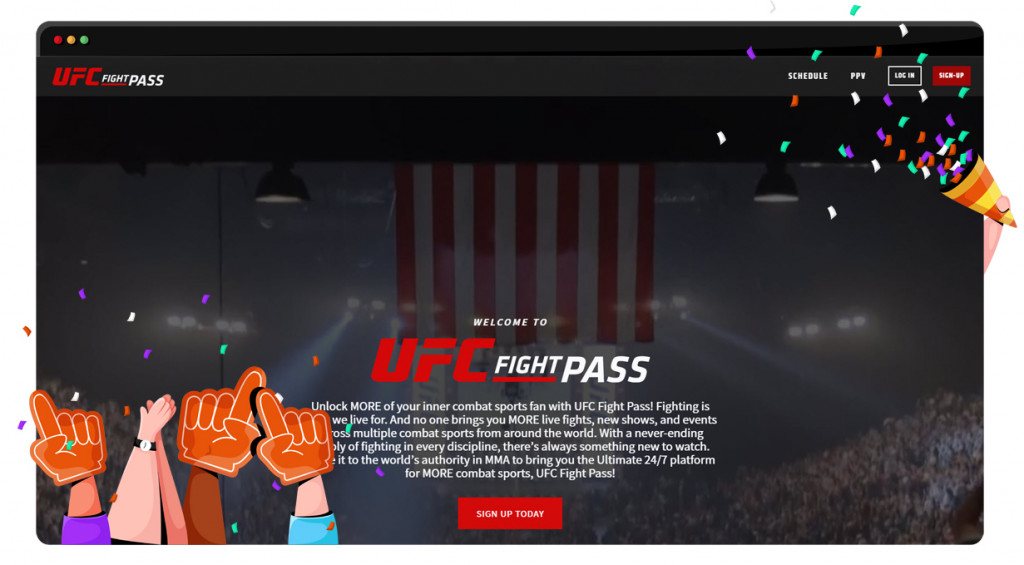 Complementing the library flush with all UFC fights in history, UFC Fight Pass allows you to stream live events covering a variety of promotions, including Invicta FC, QUINTET Cage Warriors, Cage Fury Fighting Championship, LUX Fight League, Alaska Fighting Championship, Pancrase, TKO, and more.
Not to forget, there's a plethora of historical MMA shows covering the action from top stars and content from shows like The Ultimate Fighter and Dana White's Tuesday Night Contender Series, supplementing newly launched shows. Though PPV events are offered separately, you can watch the Early Prelims action in the lead-up to the major fights.
Ultimately, UFC Fight Pass is the best way to access past UFC fights and championships. The platform has a subscription cost of $9.99 a month and can be accessed worldwide except for Brazil.
DAZN
DAZN has built itself quite a presence in the last few years, but not necessarily for UFC streams.
Well, that's probably because DAZN might be available in many countries, but it's the hub for everything UFC in Australia, Germany, and Italy.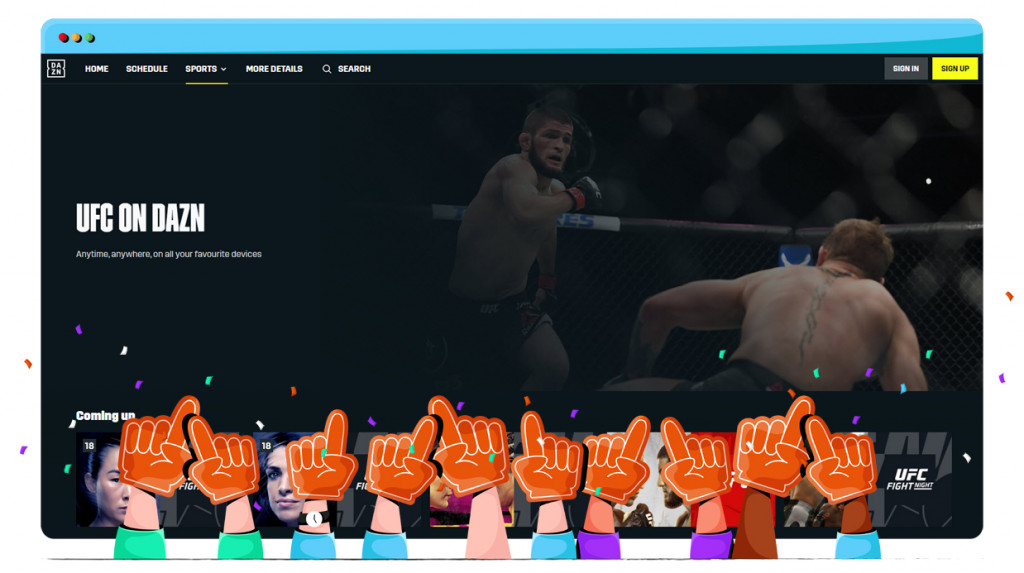 But there's always more to watch on DAZN than just UFC.
On top of the much anticipated UFC action, European DAZN is also home to basketball, baseball, chess, cricket, hockey, and rugby. There are documentaries on here too.
Showtime
This might strike you as an unconventional option, but yes, there's very elusive UFC content on Showtime.
But, of course, there's more. There's more; there always is. There's on-demand action with available content, including Showtime Championship Boxing, Bellator MMA, Shobox, SCB30, The Best of All the Smoke, The Kings, Outcry, A Season With, and more.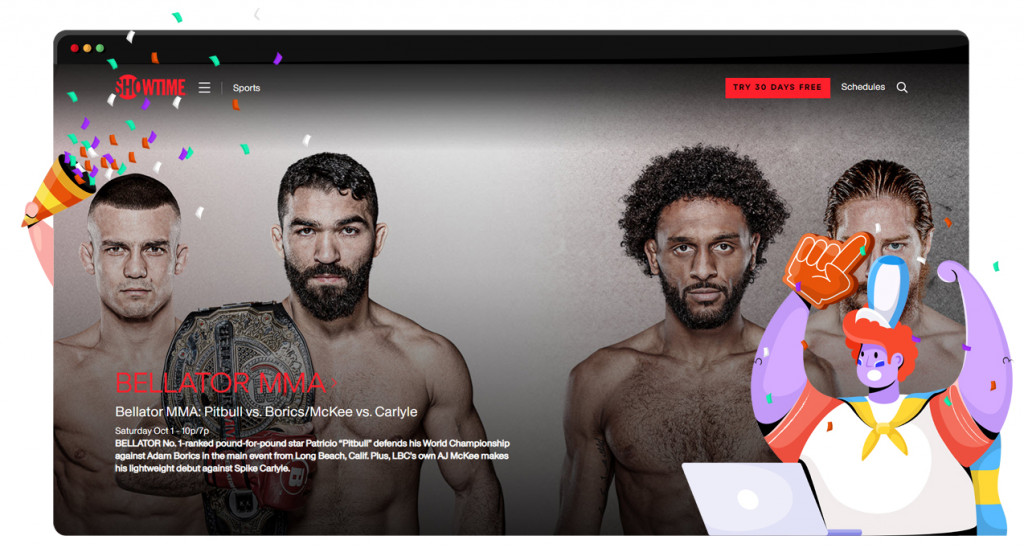 In addition to physical combat, you also get a lot more than just exciting sports. Showtime is, first and foremost, a streaming platform with lots of unique content including Lady Bird, Shakespeare in Love, the classic Hereditary, The Green Kin, and Undercover Grandpa. Being the fan of movies and TV shows we reckon you are, we bet you'll be impressed with what you see.

Want to know more about Showtime?
Check out what's on it and how you can get it!
Hulu+
Pursuing the Hulu route to get some UFC action means your end game will be ESPN+. You will only require to get onto your Hulu account and select the ESPN+ addon. Through Hulu, you can also access to PPV events that are available for $69.99.

That said, Hulu offers more than just that.
We are talking about originals such as Fearless, On the Count of Three, Maggie, and Santa Evita. For movies, you could cast your net and capture the likes of Parasite, Akira, Palm Springs, and Sputnik.

Want Hulu?
Simply follow our guide and get it anywhere!
Discovery+
You probably would never guess it, but in some places in the world, Discovery+ is actually home to any and all UFC content!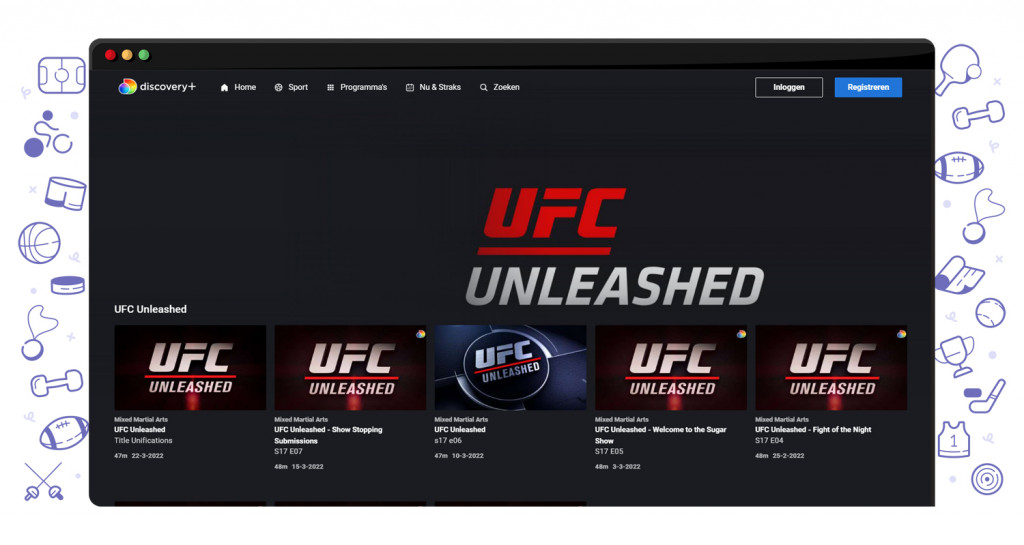 That's right! Gone are the days when Discovery was the place to watch how volcanos work. These days it might actually be streaming UFC matches.
Much like DAZN, this isn't the case everywhere. For example, among other places, Discovery+ is streaming UFC matches in the Netherlands.
So why is this even worth a mention?! – Well, because the country wins. Not only does this platform feature most of the UFC events you are dying to watch, but it also has a huge selection of PPV events that come with the regular monthly subscription that you would otherwise have to pay out of the nose for.
The punchline
Now, these aren't as many platforms are some of the other sports have, but maybe that's a good thing. You don't have to subscribe to many, and you can just choose the best one for you.
Most importantly, with ExpressVPN by your side, you don't have to settle. So grab yourself the leading VPN provider and stream the UFC and the MMA in any way you prefer!