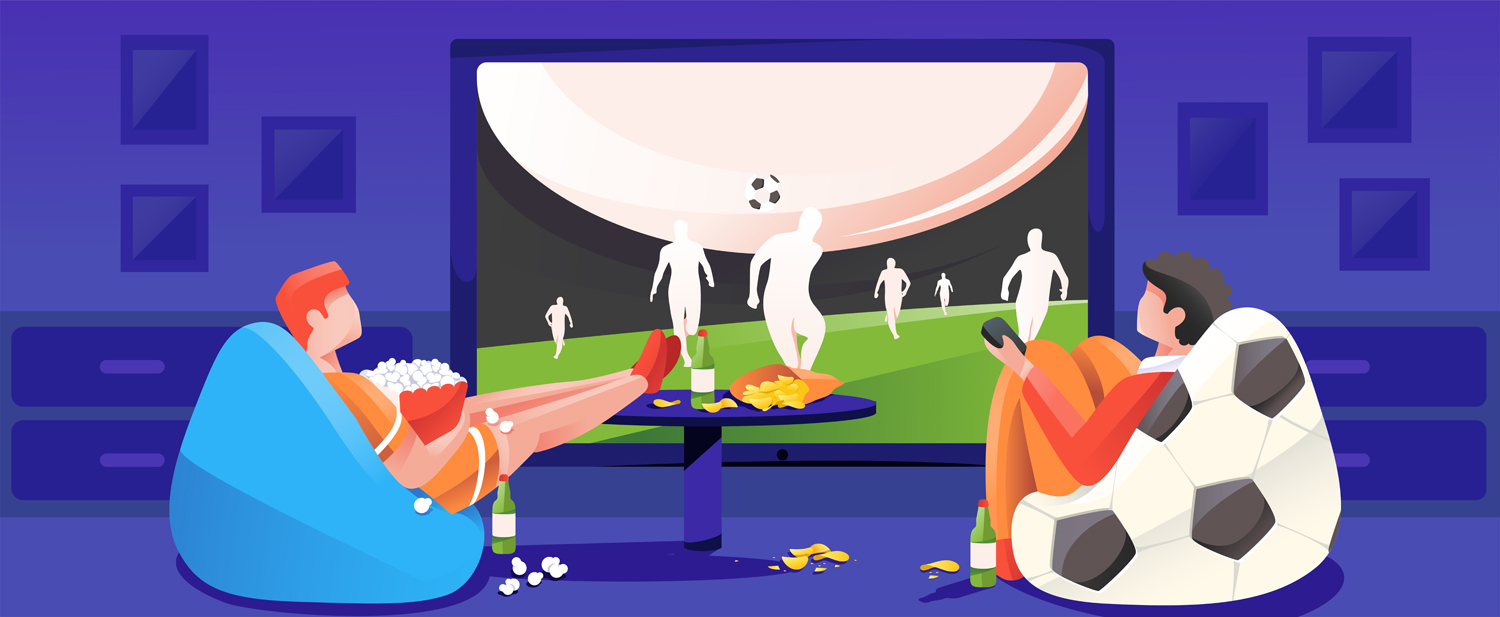 Best streaming platforms for soccer
The breathtaking drama in midweek football nights makes the week bearable, but there's nothing that gets your weekend going like a proper soccer fixture. It's a whole other thing when your favorite team is playing. The art of passing the ball, the defensive or offensive acumen displays, the adrenaline rush, the stoppage time comebacks – everything about the game makes soccer the best sport.
Now, we all know making it to match day events or gathering in the pub with your buddies to catch a match is as cozy as it is a hassle. We'd rather get the fun from the comfort of our homes. Thankfully, streaming does the job of bringing the action closer.
That's right! Soccer streaming is the new big thing sweeping the nations. However, with the breadth of options available for soccer in general, anyone would get confused when choosing the best pick.
Not to worry, we've done the grunt work – with no complaints whatsoever – and checked out everything the streaming world has to offer you soccer-wise (and beyond). But first…

ExpressVPN: The best VPN for streaming soccer!
How can you access all this soccer goodness from anywhere you are?
Before you run off having found your new favorite football streaming platform only to be met with a wall of geoblocking disappointment, we have to sit down and talk about online restrictions.
Whether you prefer to call it 'soccer' or 'football', you might find yourself not being able to access the streaming platform of your choice. Most of them are widely restricted to the US. So our choice of sports streaming goodness might very well be a tease for you.
But it's not just those of us who lack a green card that might be soccer-discriminated against. Some of the best soccer streaming platforms are not even available in the US. And even the ones you've got will stop working as soon as you step out of the country. Next thing you know, Bob of all people is the most popular guy at the office because he had everyone over to watch the game.

Still hesitant?
Check out how geoblocking affects you every day!
So how would you go about not falling victim to these online restrictions? With a VPN, of course!
With the right VPN, you don't have to worry about this as you get access to these platforms regardless of your location. The only question is: Which one is the right VPN? But that one's easy – It's ExpressVPN!
Why? Glad you asked:
For starters, ExpressVPN is the best VPN for sports streaming out there. And that goes double for soccer!
It's also the fastest VPN around, which means the world in the middle of an intense game.
It has VPN apps for virtually every device and operating system. This means streaming freedom wherever you are.
Finally, ExpressVPN is on top of all things streaming. This means even if something doesn't work, they will make it work before you can say "Not available in your country".
Need some more convincing?
Check out our full ExpressVPN review!
Not that that's taken care of, we can more to actual streaming.
List of top streaming platforms for football
Now that you know how you can access all of the platforms, time to get to the platforms themselves.
So without further ado:
Paramount+
Paramount+ offers users more than 1,000 live sports events every year and is easily one of the best platforms for streaming soccer. While it is expanding, it is still primarily a US platform and the best option if you are specifically interested in some European football.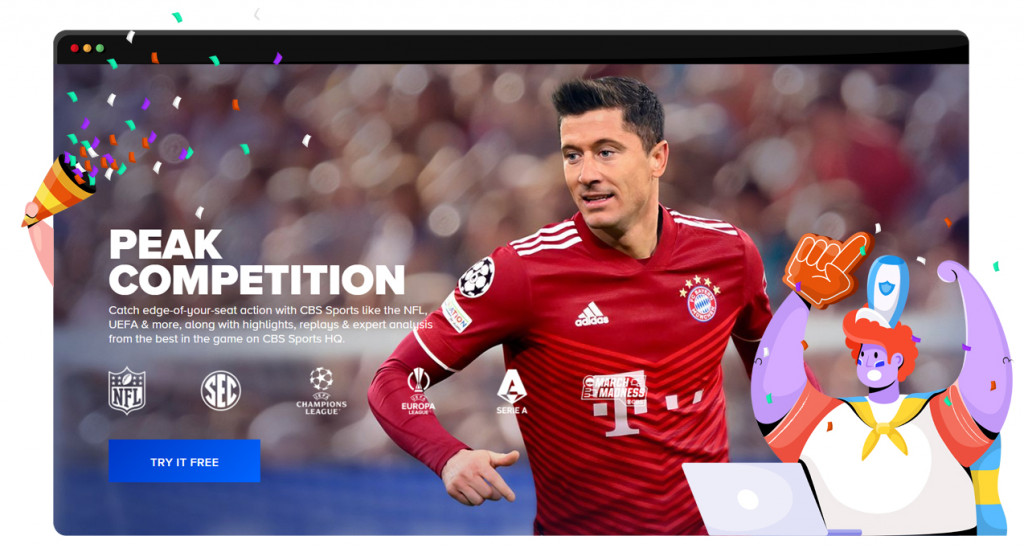 Football-wise it allows users to enjoy the thrill of UEFA Champions League Football and its junior competition, the UEFA Europa League. The platform covers all of the UEFA matches and all of its seasons. And that's a soccer fan's heaven right there!
And the fun doesn't even stop there. With Paramount+ you also get access to streams such as NFL, PGA Tour, The Masters, the Combate Global MMA, and The PGA Championship.
Paramount+ has plenty to offer outside of sports too! There's original content, including 1883 – the Yellowstone prequel, iCarly – the 2021 adaptation of sitcom iCarly, crime drama Mayor of Kingstown. The platform is also home to Star Trek: Discovery and Picard.

Interested?
Check out how you can get Paramount+ right now!
Premium options start at $4.99 a month for the Essential plan (ad-supported), while users can get the ad-free premium plan for $5.00 more every month. There's an option to bundle premium Paramount+ with Showtime for $11.99 and $14.99 for the respective packages.
Championships: UEFA Champions League, UEFA Europa League, UEFA Conference League, NWSL, Scottish Premiership, Scottish Championship, Scottish League Cup, Brasileirāo, Argentine Primera División, CONCACAF Nations League, and mens and women's CONCACAF World Cup qualifiers, Serie A, Coppa Italia and Supercoppa Italiana. Plus Copa de la Liga Profesional, The Women's Cup, Asian World Cup qualifiers, AFC Champions League, AFC Women's Asian Cup 2022, AFC Asian Cup China 2023, and, beginning in 2022, the Supercopa Argentina.
fuboTV
Do we need to say it? It is in the name.
fuboTV is a sports-focused streaming service available to users in the US, Spain, and Canada. Here, you enjoy live and on-demand action with soccer options available primarily on beIN Sports, including the La Liga, Europa League, Champions League, and Serie A.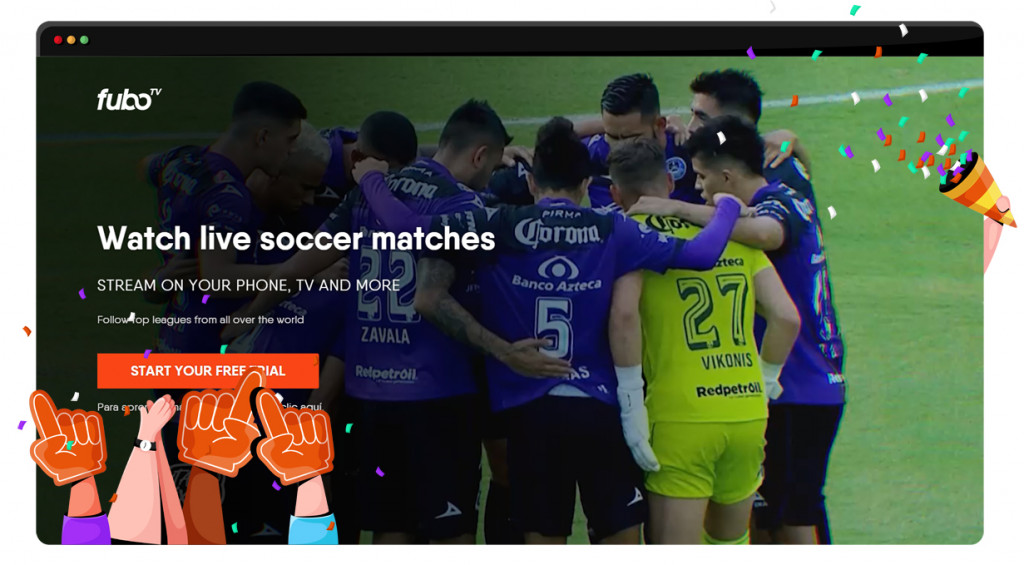 The premium packages offered by fuboTV include the Pro plan, which starts at $69.99 a month, offering more than 100 sporting events. The Elite plan has more than 130 events in 4K at $79.99 every month.
The Latino Quarterly Plan goes for $33, hosting more than 100 hours' worth of sporting events. It also comes with a unique three-month prepaid option for $99.

Check out how a VPN can improve fuboTV!
Get more and never be blacked out again!
There are also movies with a selection, including Spider-Man, Sicario, Once Upon a Time in Hollywood, Fantastic Beasts, and much more!
Championships: Ascenso MX, African Champions League, African Cup of Nations, Brasileirão Serie A, Brazilian Campeonato Carioca, Brazilian Campeonato Paulistão, Canadian Premier League, Colombia Liga Aguila, CONCACAF Champions League, CONCACAF League, Copa América, Copa Argentina, Copa de Oro, Copa Libertadores, Copa MX, Copa Sudamericana, Coppa Italia, Coupe de France, Coupe de la Ligue, Ecuadorian Primera A, English Premier League, FIFA Club World Cup, Liga MX, Ligue 1, Mexican Supercup, Major League Soccer, North American Soccer Leauge, Portuguese Primeira Liga, Primera B Metropolitano, Primera B Nacional, Scottish Cup, Serie A, Superliga Argentina, Taça da Liga, Trophée des Champions, Turkiye Super Lig, UEFA Champions League, UEFA Europa League, UEFA Supercup, Uruguay Primera Division, USWNT Friendlies, Women's Euro.
YouTube TV
Going for $14.99 in the first month and $64.99 thereafter, YouTubeTV offers users an extensive range of content from real-life drama to engrossing sitcoms. But that's not why we are camping here.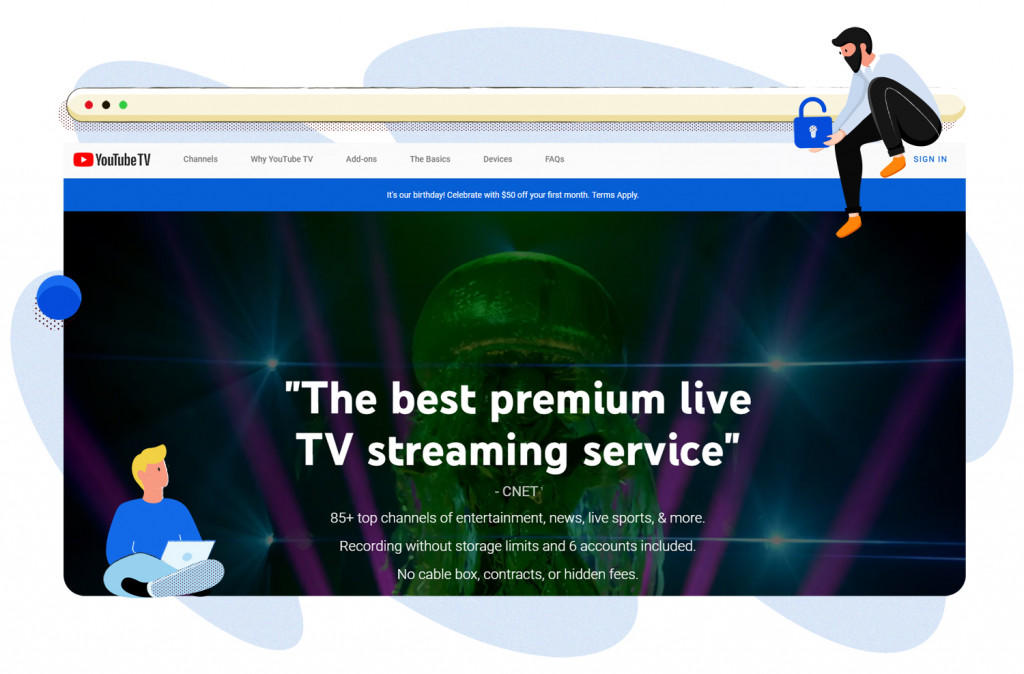 The platform also gives users the option of an additional subscription of $10.99 to access the Sports Plus add-in – the gateway to football via beIN Sports.

Want to get YouTubeTV?
We have a guide for that as well!
In addition to reputable original productions, including comedy series Wayne, the platform also offers users picks from The Batman franchise, the Spider-Man movies, and other films from the Marvel universe. If you're one for the lengthier choices, there are also TV shows such as Better Call Saul, Barry, Billions, Gotham, and virtually everything that US television has to offer.
Championships: UEFA European Championship, UEFA Europa League, UEFA Nations League, UEFA European Under-21 Football Championship, UEFA Women's Euro, NCAAM Soccer, NCAAW Soccer, North American Soccer League, FIFA Beach Soccer World Cup, FIFA World Cup, FIFA Club World Cup, FIFA Women's World Cup, FIFA International Friendlies, FIFA Confederations Cup, and more.
beIN
We have mentioned beIN as part of other options, but you can still have it independently. And you should if you like soccer!
With beIN Sports, you're getting football action and beyond. There are soccer matches for various competitions, including the UEFA Champions League, La Liga, Ligue 1, and the Turkish SuperLig.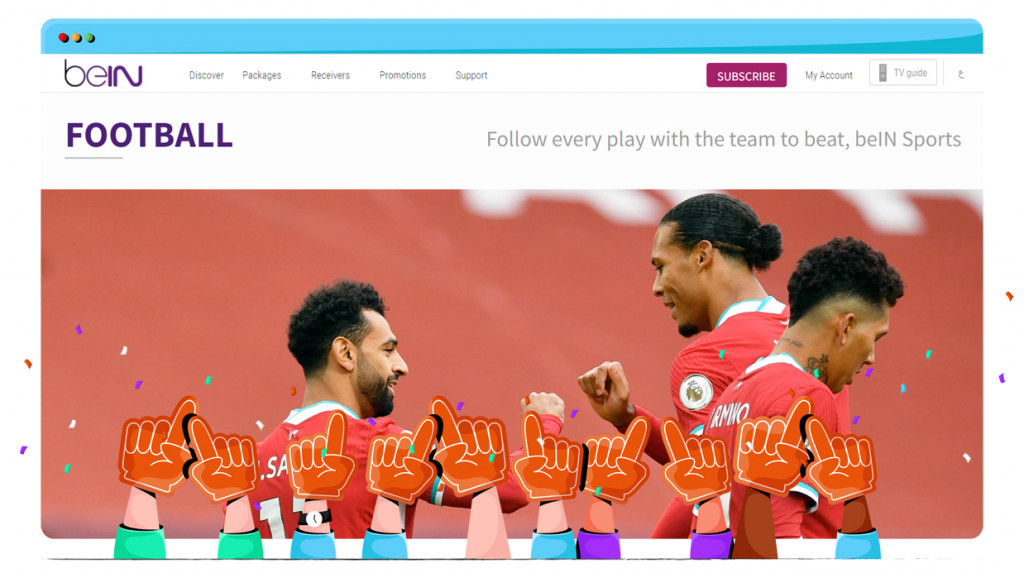 There's also basketball, rugby, tennis, and cricket games coverage. To get this service, you can pay up for beIN Sports Connect going $19.99 a month or an annual $179.99. That may seem like a lot, but it's well worth it for everything it's got to offer.
beIN's basket of offerings stretches beyond just sport, with more entertainment action available on beIN Cinema, beIN Series, and beIN Movies. The young ones can also get their picks on beIN kids.
Championships: Champions League, WK 2022, Ligue 1, La Liga.
ESPN+
Here's another option that is arguably one of the best all-around sports streaming platforms. And this includes soccer!
ESPN+ lets subscribers access pro game streams for a monthly $6.99 or an annual fee of $69.99. Between FA Cup games, UEFA competitions, La Liga, and the International Champions Cup, there are many competitions you can follow here.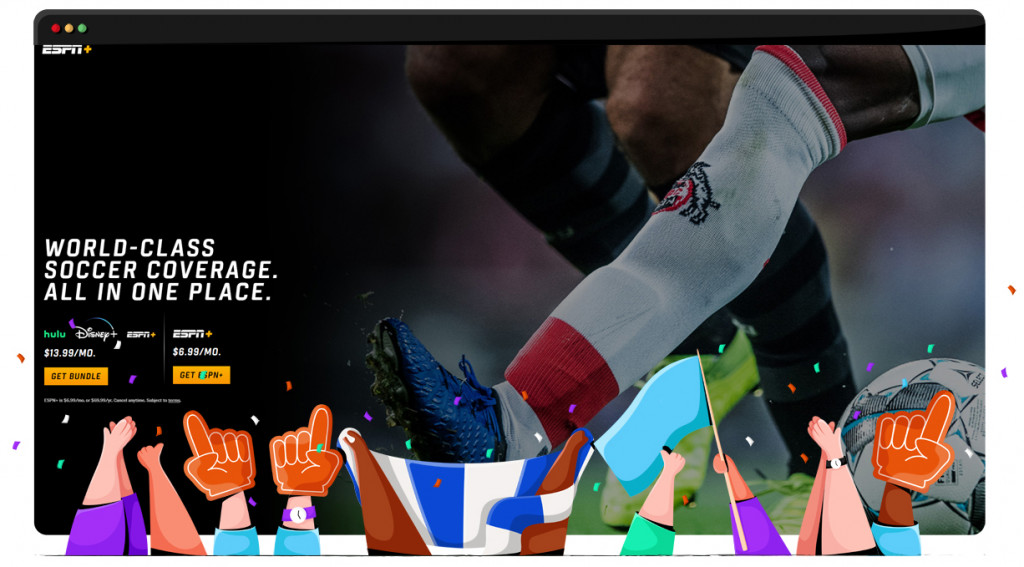 In addition to the games, ESPN+ has extras such as football news, shows, and documentaries to spice up the whole experience.

Want ESPN+?
Check out our guide!
Beyond football, ESPN+ also broadcasts matches from other sports leagues such as the MLB, NFL, and the NHL. The streaming platform additionally offers its fair share of supplementary content with on-demand documentaries, game replays, movies, and TV shows.
Championships: Lots of European and International competitions.
Peacock Premium
Both Peacock Premium and Premium Plus have some football going, but the two give users slightly different experiences. Despite the premium status, the prior plan is ad-supported and costs $4.99, while Premium Plus sets you back $9.99/month.

Want to get Peacock?
Check out our complete guide!
In addition to the Premier League games, there's also rugby and the PGA Tour.

Some Peacock originals you'll find include So Dumb Its Criminal hosted by Snoop Dogg and Girls5eva. On-demand, you can also watch Saturday Night Live, SuperStore, Parks and Recreation, and every NBC production ever.
Championships: Premier League, World Cup.
Sling TV
Sling TV is one for the wider football fanbase. Users get MLS, Ligue 1, and Premier League content via beIN Sports, ESPN, and TNT services.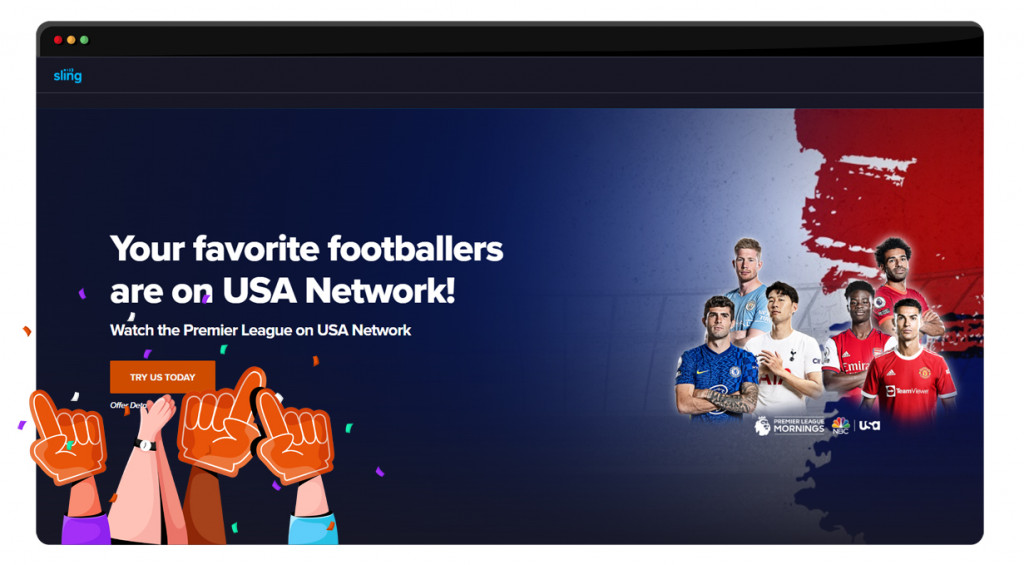 It costs $50 a month for the combined 'Orange and Blue' package. Users, however, need to shell out $11 more a month for the Sports Extra add-on or $15 for the combined package.
To supplement football, Sports Extra offers access to the MLB Network, NBA TV, and the Golf Channel.
Apart from sports, Sling TV work just like YoutubeTV and fuboTV, bringing TV to streaming. So with the right package, you can get the best of what American TV has got to offer!
Championships: Depends on your package, but can have everything US television has to offer.
Hulu + Live TV
Hulu + Live TV gives users a modest experience in entertainment options spanning various fields. It's more suitable for persons of various audiences as it boasts many channels.
Hulu + Live TV is one of Hulu's most ambitious offers, knocking viewers back $69.99 a month.

Want Hulu?
Check out our complete Hulu guide!
Users can find streams of most football games via ESPN+, which they basically get for free after a subscription.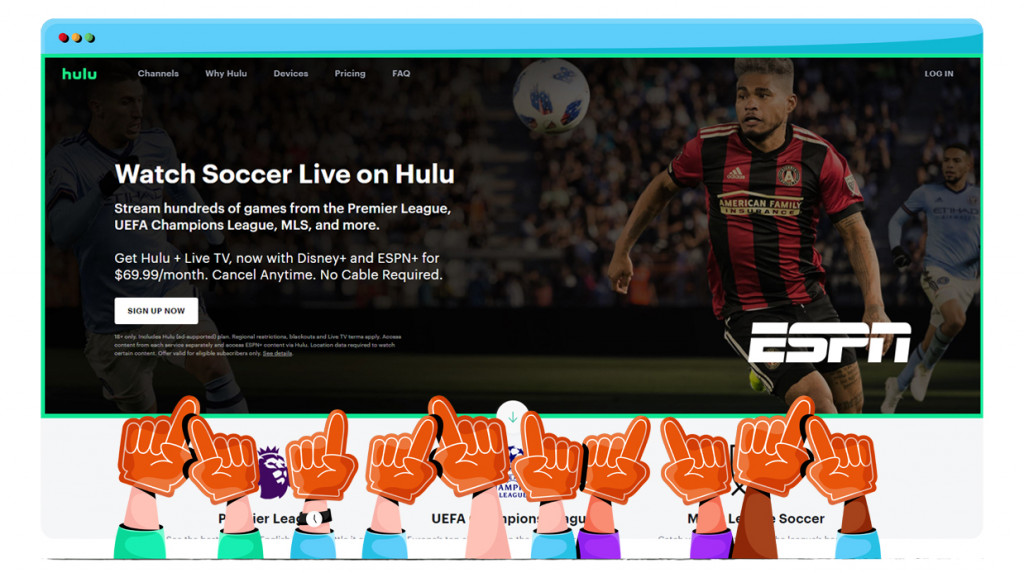 The platform has a selection for those that want more thrill. It supports add-ons for HBO Max, Showtime, and Starz to spice up the originals available, including The Handmaid's Tale.
Championships: Premier League, MLS, Champions League.
Fanatiz
Fanatiz is a dedicated football streaming platform that provides live or on-demand action for Latin American football fans.
Matches have commentary in Portuguese, and the platform offers a convenient entry into games offered by beIN Sports and TyC Sports.

Besides the freemium plan, Fanatiz offers users a paid plan at $7.99 a month. Besides real game action, Fanatiz also offers users statistics, results, and highlights of said games.
Championships: LaLiga, French Ligue 1, 2, Coupe de France, Turkish Super Liga, lots of South American football.
Homestretch
Football leagues around the world, including the Premier League and Serie A, are in advanced stages with tight margins separating teams at the top. Not that it needed saying, but this is the perfect recipe for great action in the last few fixtures.
The same goes for other football competitions like the UEFA Champions League and the Europa League – both in the semi-finals stage. This makes it convenient to tune in even if you haven't been following the action.
You can choose any option from our list to watch the upcoming fixtures in various leagues and competitions. Just don't forget to get ExpressVPN; otherwise, you'll be locked out of the content.