How to stream the F1 Italian GP 2022 live and free
Now that not even the orange flairs on the track could stop Max Verstappen, there is no question over who should be this year's Formula 1 champion. Be that as it may, the season is far from over and we are riding high into the third weekend race in a row – the Italian GP!
While the champion of the 2022 Formula 1 season might be as clear as last week, the season is far from over and there's much more excitement to be had. After all, there are still plenty of other competitors in Verstappen's dust.
L. Hamilton and team Mercedes seem to be back in action. A bit late in the game, but it was a joy to revisit the epic battle between Hamilton and Verstappen that kept us on the edge of our seats last year. G. Russel also proved to be a formidable opponent for team Red Bull. So we're very curious to see what Mercedes will do next.
Then, of course, there's Leclerc who seems to be fighting his own management as much as his opponents on the track. Finishing the Dutch GP third, we can't help but root for the relentless Moroccan.
Anyway, to anyone who says F1 2022 is done, we say there's plenty more excitement to be seen and had. And with the added weather warnings, we're more than hyped to see what the Italian GP brings us on September 11th.

Stream the Italian GP live and free with ExpressVPN!
Can you stream the 2022 Italian GP for free?
Well, not through any of your regular means, we take it…
Depending on where you live, the rights to broadcasting the Formula 1 races probably belong to either a cable channel or a sports streaming platform that is more than happy to block the stream behind a paywall and jack up the prices.
It might be ESPN in the US, Sky Sports in the UK, Kayo in Australia, TSN and RDS in Canada, or Viaplay in half of Europe, but in most of the world, the streaming rights to Formula 1 are probably held hostage by a premium subscription of some sort.
In most of the world… but not all of it.
If you have been following us for a while, you probably know that no matter the sport, there is probably at least one place in the world that is broadcasting it for free. And this, of course, goes for the Italian GP as well.

Want to know more about streaming the 2022 F1 season?
Check out our complete guide to everything you need to know!
However, in order to join in and enjoy everything those streams have to offer, you are going to have to overcome some of the toughest geoblocks in the entire streaming industry.
How? – By using a VPN, of course! Which? – ExpressVPN!
But what makes ExpressVPN better than any other provider for streaming Formula 1? Well, all of this:
Powerful servers in nearly every country in the world that give you instant access to any platform, no matter where the stream might be.
The best streaming unblocking capabilities the VPN industry has to offer.
The best speeds so you can stream anything without a hitch, no matter where you are!
Not convinced?
Check out everything that makes ExpressVPN great!
The four ways you can watch the 2022 F1 Italian GP for free!
This time around, there are not the usual three, but four whole awesome ways to stream the upcoming Italian Grand Prix for free.
So let's get to it!
ORF 1
In Austria, the streaming rights to Formula 1 broadcasts are shared between two channels that alternate between streaming races. Both of them live and free. And this time, it's time for ORF 1 to bring you the action.

Want to join the Austrian stream in all of its glory? Here's how you'd go about doing so:
First and foremost, get ExpressVPN!
Next, install the software on your device, launch it, and connect the VPN to a server in Austria.
Now, head over to the ORF 1 streaming platform and enjoy the GP!
TV8
As you may have guessed, Italy will be also streaming the GP for free for all of its inhabitants to enjoy both live and at no cost on the local broadcast channel and streaming website TV8.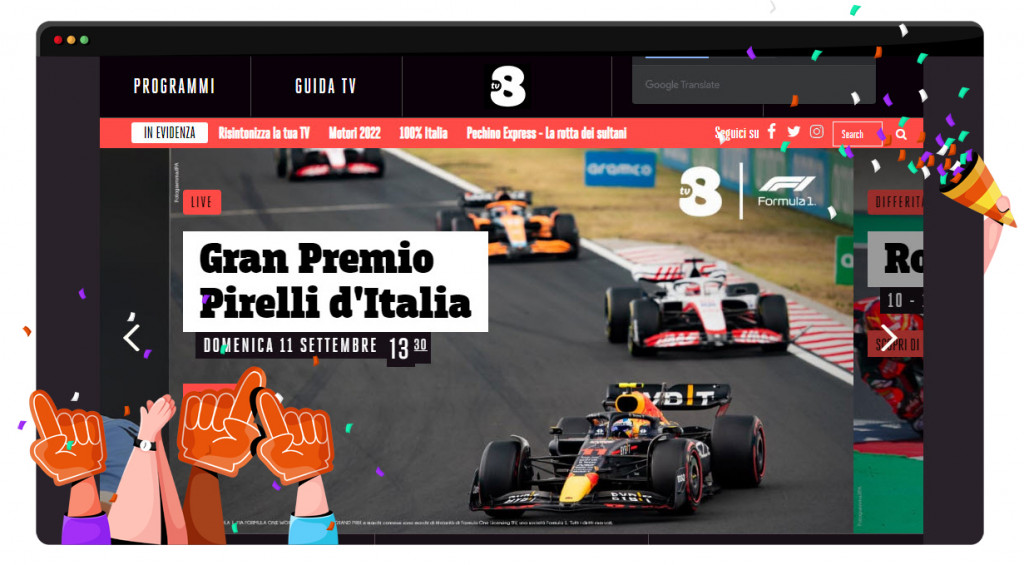 Want to join in? Sure! All you have to do is:
Get, download, install and launch ExpressVPN on the device of your choosing.
Connect to a server in Italy.
Head over to the TV8 online streaming platform and enjoy all the Formula 1 streaming you can handle!
RTL Play
Luxemburg might be small, but its love for Formula 1 is huge. This is why the local channel RTL Zwee and local streaming platform RTL Play have been broadcasting the 2022 season of Formula 1 live and free in its awesome entirety.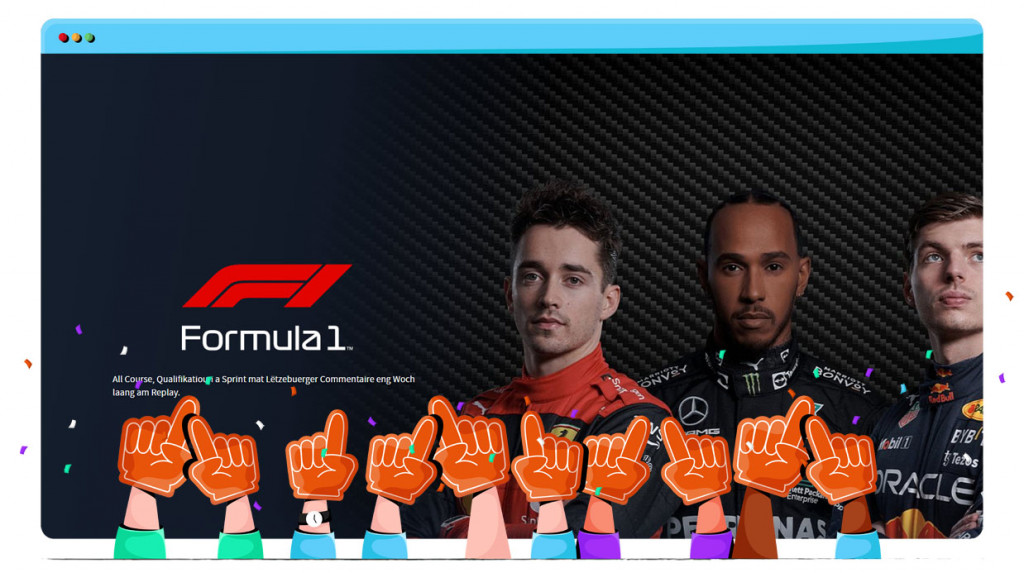 If you're a fan of both Formula 1 and Luxemburg (which, who isn't, honestly?!) this is the place to be! And lucky for you, ExpressVPN is pretty much the only VPN provider with streaming-optimized servers in the country! So:
Get ExpressVPN!
Install the software and connect to a server in Luxemburg.
Come Grand Prix weekend, head over to the RTL Play streaming platform, navigate to the RTL Zwee stream, and enjoy all the F1 racing you can handle!
RTBF
Finally, there's RTBF which has been our fateful French-speaking companion throughout the 2022 season of Formula 1 in its entirety (as well as MotoGP for that matter).
And, of course, the Grand Prix in Italy is no exception!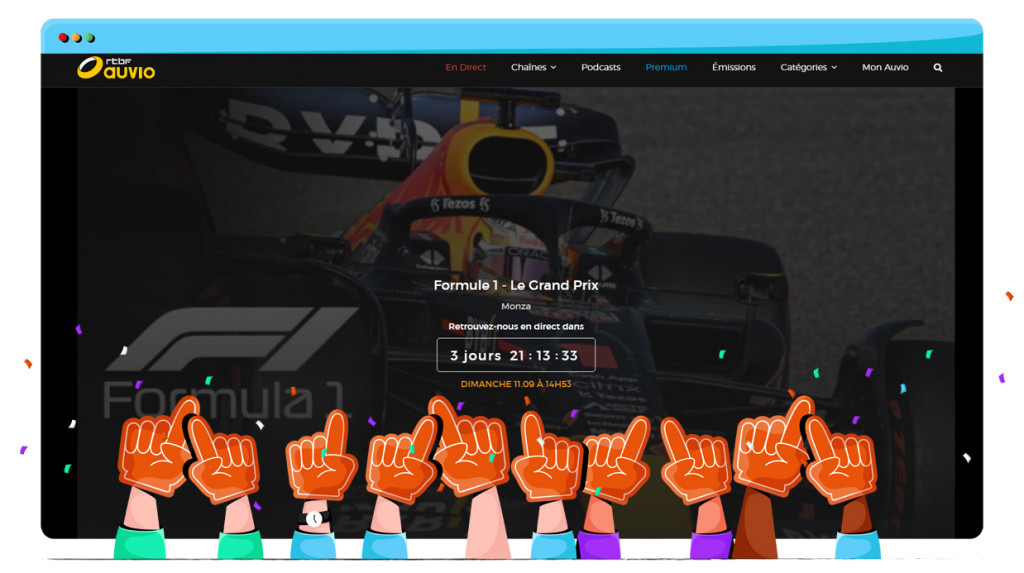 This one might be harder to get than any of the other options. But it's like 2 minutes more worth of tinkering. That is to say, it's not hard at all if you do the following:
Get ExpressVPN and install it on the device of your choosing.
Connect to one of the provider's stellar servers in Belgium.
Head over to the RTBF Auvio online streaming platform and apply for a free account. To make one, you are going to need a local Belgian postcode, so here are a few, just remember to share: 7540, 4287, 5140, 1480, 9770, 9290.
Stream!
Italian GP 2022: On your mark!
The champion of this year's Formula 1 season might be determined, but there's much more to Formula 1 than just finding out who gets the trophy!
So if you're a fan of high-stakes, high-octane action the Italian GP will most certainly deliver. And with the announced weather conditions, the 2022 Italian GP is sure to be something we have not yet seen this season.
So get yourself ExpressVPN and start streaming. You have four options to watch the race for free, for goodness sake! You have no excuse to miss it!