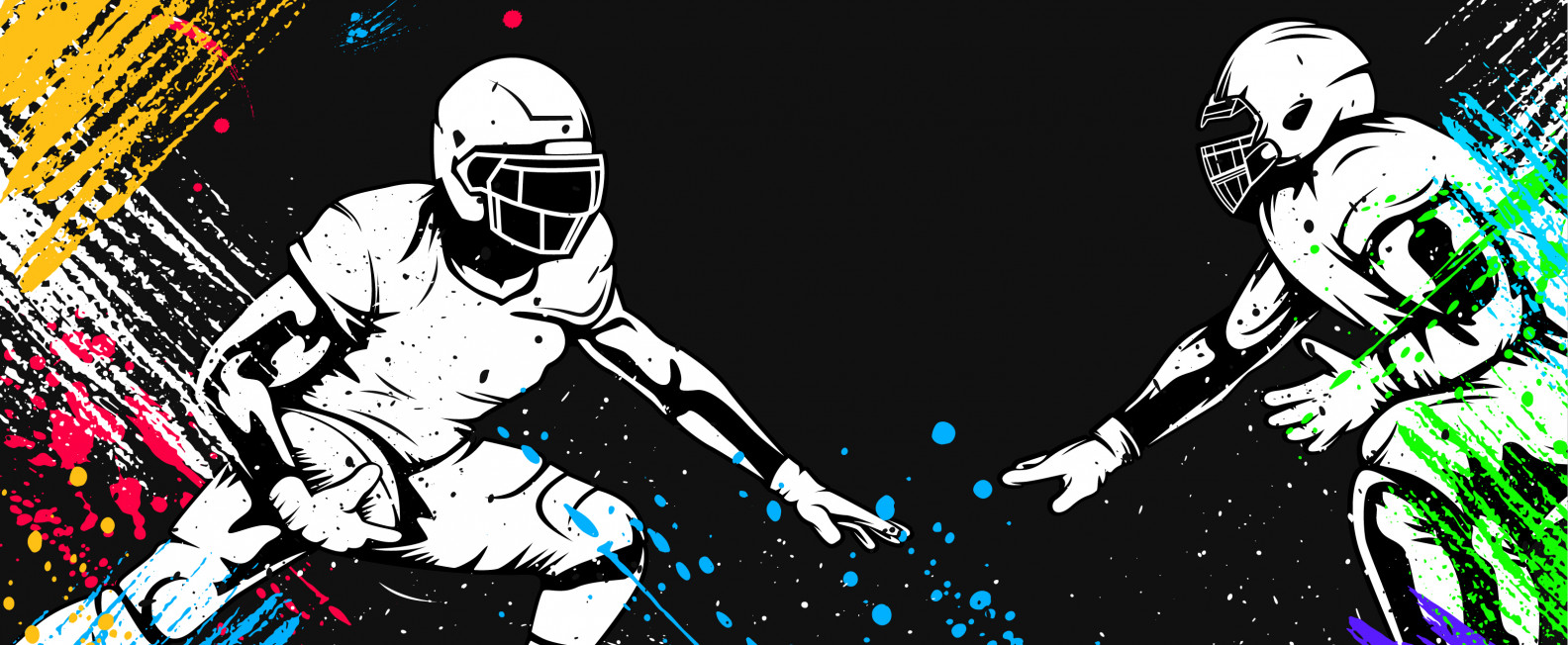 How to get an International NFL Game Pass in the US?
It's finally that time of the year again! The NFL is back, and we are as pumped as ever to spend every Thursday and Sunday glued to our TVs with friends and family, fighting over teams instead of politics. That is if we could figure out how to watch this year's season…
No matter what they tell you, what they did to the NFL Game Pass is a travesty. For years, the Game Pass has been our go-to platform for all of our NFL streaming needs. And yes, it was extremely expensive, there were blackouts, and you could seemingly never get the full season, but as 2022 has shown us, things can always be worse.
However, for those who are not willing to put up with this egregious violation of our NFL rights, things might not be completely hopeless.
So we're here to talk about just that: What happened? What can you do to fix it? And what do you need for that? In order to, hopefully, bring the fans a better NFL streaming experience!

Get the International NFL Game Pass with ExpressVPN!
What happened the original Game Pass and what is NFL+?
For years the NFL Game Pass has been our main platform to get our football fix. Sure, it wasn't perfect, but it wasn't half bad.
However, in 2022 the NFL canceled the Game Pass within the United States. Instead, it was replaced by NFL+ – an app that is supposed to be the next step in NFL streaming evolution.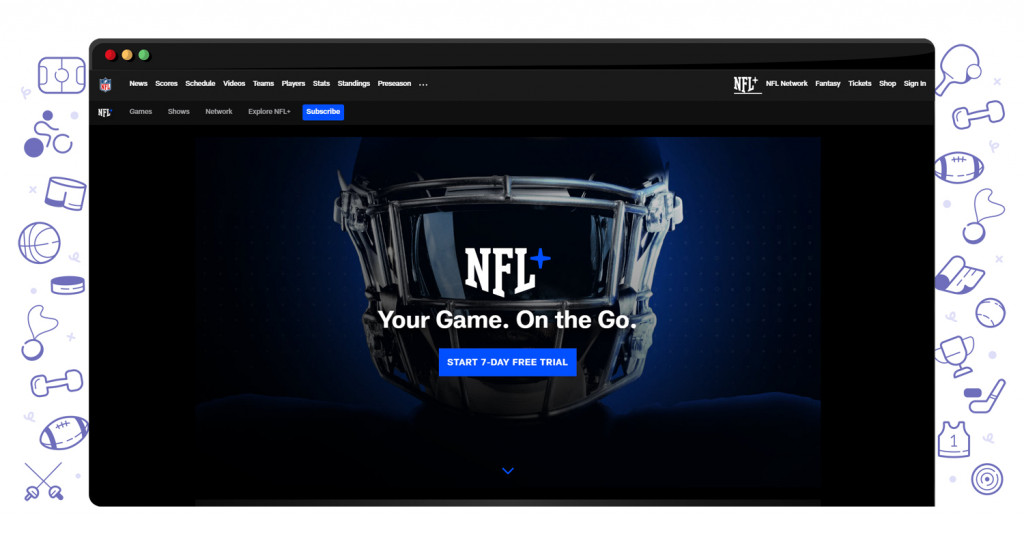 In concept, the NFL+ app is kind of cool. And it seemingly offers you everything the Game Pass did, wrapped in a nice little app-package with a cheaper subscription price, including:
All the preseason games.
Live prime-time and local gams.
Live match audio coverages.
On-demand NFL programming.
The Premium NFL+ subscription gets you all of that and throws in all of the game replays to sweeten the deal. The basic subscription plan costs $4.99 per month or $29.99 a year. And the Premium takes it to $9.99/month or $79.99/year.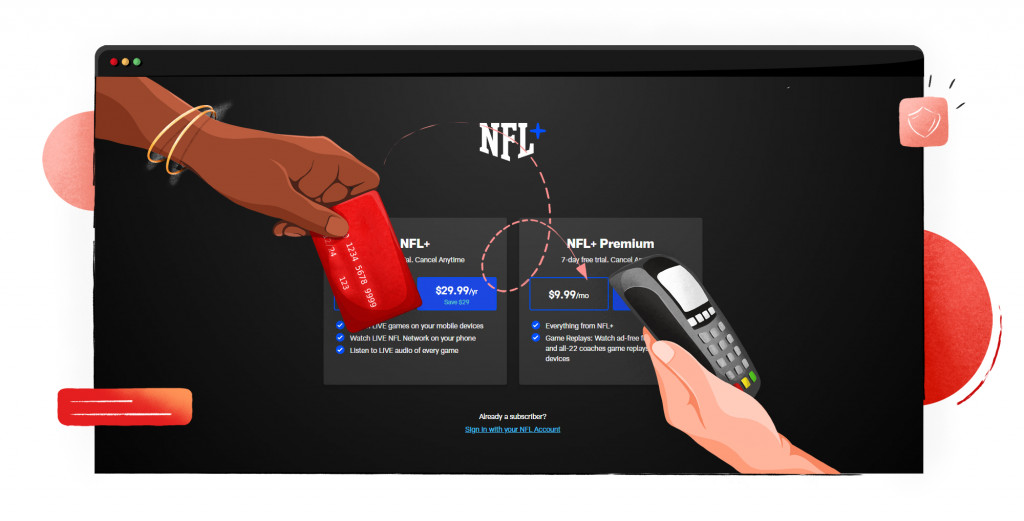 Sounds nice, doesn't it? Well, it does until you start looking at the fine print.
Although the price is much more tempting, you can only watch the live games on your phone or tablet. Which is… raise your hand if you and your friends wanted to yell at an iPhone every Sunday.
Sure, the replays are available on every device. But first of all, they are replays and any self-respecting fan will tell you they are not the same. And second, they're available exclusively with the Premium subscription, which isn't that much cheaper than the OG Game Pass.
Naturally, this isn't that great a deal. So most NFL fans are tempted to find better streaming options.

Interested in alternative ways of streaming the NFL?
We cover all of them in our guide!
However, if you were a fan of the original NFL Game Pass and can't stomach the heartbreak, all might not be lost yet…
The International NFL Game Pass: The NFL for the rest of the world
The Game Pass might be gone from the US, but that does not extend to the rest of the world!
That's right! The Game Pass we all know and love is perfectly available in pretty much every country in the world for any non-US fan!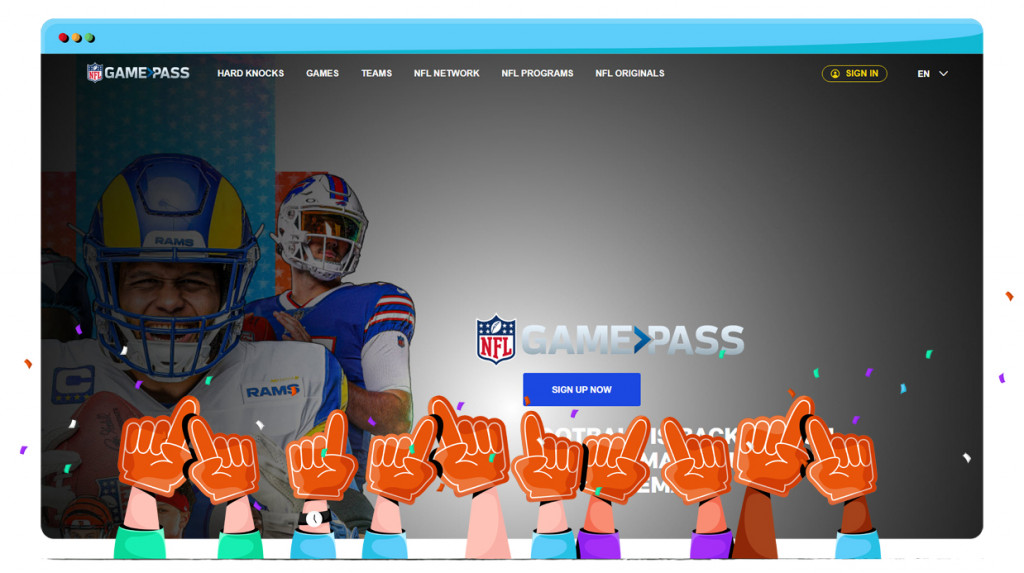 But it's not just the Game Pass being available elsewhere. It's also better than ever!
Excluding a few locations, namely, the UK, Ireland, and Mexico, the International NFL Game Pass gets you:
All 270+ games of the season streaming live
All of the playoff games, as well as the Super Bowl both live and On-Demand
The NFL Red Zone
The 24/7 NFL Network
A bunch of ways to catch up with every game's highlights
Lots of additional content, including the NFL originals and programs to both stream and download
Availability on any device
And even more still
This might already sound too good to be true, but that's not even all of it! The International Game Pass also has a free subscription, which, while not giving you any of the live games, is still free NFL content!
The prices for the International Game Pass can vary wildly. The Premium subscription might seem pricy wherever you go (it's still the NFL Game Pass after all), but on the other hand, in certain countries (such as India) the Game Pass gives you more than NFL+ at a fraction of the price!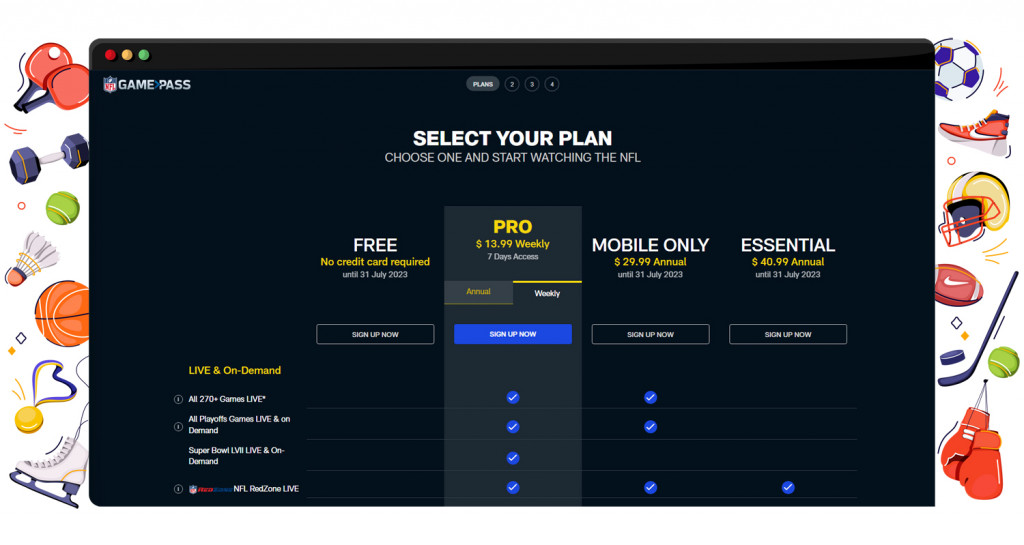 If there's such a thing as NFL heaven, this is it! And, without a doubt, you want to get in on the action!
Can you get the International Game Pass outside the US?
Well, it's definitely not going to be as easy as going to a website and subscribing, we can tell you that much.
The NFL has some of the most protected rights in all of sports streaming, and as such, it is subject to some of the fiercest geoblocks the streaming world has ever seen!

Never heard of geoblocking?
We will catch you up!
So in order to even marvel at the glory that is the International NFL Game pass, you need to enlist the services of a VPN. And in order to subscribe to it, you need the best VPN there is. And there's only one that can do that: ExpressVPN!
Here's why ExpressVPN is the only VPN that can help where all others fail:
Unlike most providers, ExpresssVPN knows that it's as much about streaming as it is about online security and privacy.
ExpressVPN makes absolutely sure it works with any streaming service you might want to get your hands on.
When it comes to sports streaming, no one can unblock as much as ExpressVPN!
ExpressVPN can crack some of the toughest sports streaming platforms like YouTube TV, Sling TV, and ESPN, and it definitely works with the NFL Game Pass.
It has great support, that will have your back every step of the way until the very first moments of the game.
ExpressVPN is fast enough to crack and stream sports from the further corners of the planet.
This way you can not only get the best deal but enjoy every game without a hitch!
Still want to know more?
Then check out our full ExpressVPN review!
Getting an International NFL Game Pass: A step-by-step
By now, you should be armed with the best VPN the world has to offer. And while that is the most important step to getting your hands on the International Game Pass, it also takes a bit more than that to get it. And we weren't about to ditch you in the middle of it all.
So, here's a complete guide on how to get your hands on the International Game pass right here, right now:
1. Get ExpressVPN. Without it, there will simply be no Game Pass.
2. Next, connect your VPN to any country outside of the US where the NFL Game Pass is available.
In order to get the best coverage, we suggest going with any of the European countries except for the UK and Ireland. And if you want to get the best deals too, you should go with the Asia-Pacific region, namely, India. 
3. Next, head over to the NFL Game Pass website and enjoy having access to it yet again.
Once the feeling of overwhelming joy subsides, start creating a brand new NFL Game Pass account.
4. One other obstacle you have to surmount on your way to streaming the NFL is providing the service with a local payment method and address. And here's where most call it quits. But not the true champs!
With an amazing service such as Wise, you can open a bank account that comes complete with a local address in pretty much any place in the world within minutes, Be it Europe or India, you will be streaming the NFL in no time!
Get a bank account from anywhere in the world with Wise!
5. Finally, stream it! Stream it all!
It's back, baby!
They may have taken away the International Game Pass from us in the US, but they will never take away our VPN-provided virtual freedom!
With a little patience, a bit of ingenuity, and a dash of ExpressVPN, you can start streaming the International Game Pass today and enjoy the NFL as it was meant to be – in all of its American glory!